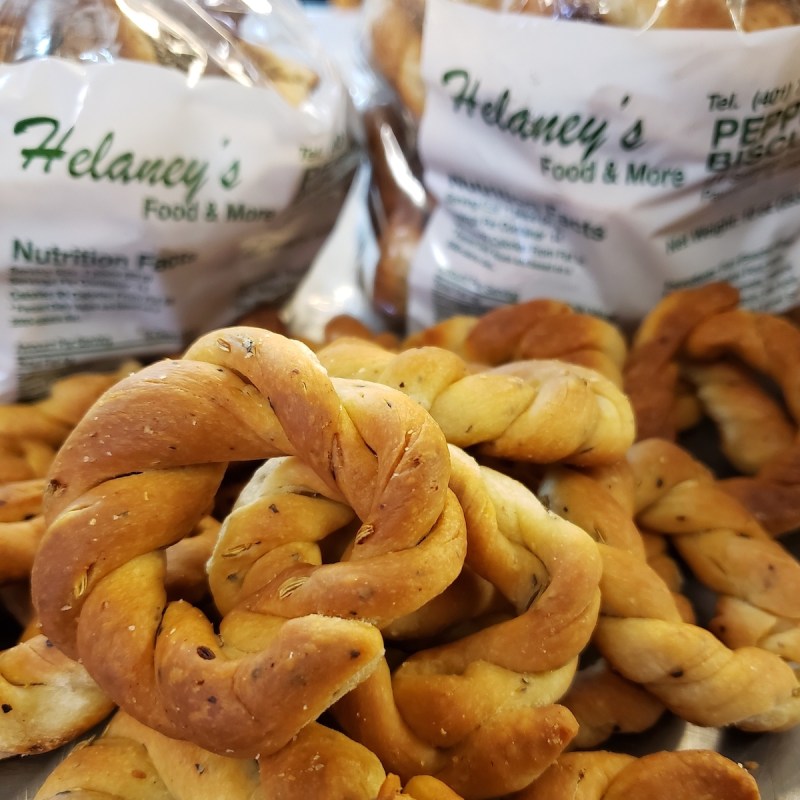 When I first moved from Rhode Island to upstate New York, I stopped in a local bakery, stepped up to the register, and cheerfully ordered party pizza. The aproned man behind the counter leaned forward with a quizzical look. He asked me to repeat my request. At his blank expression, I explained, "You know, the kind with a medium-thick crust covered in room-temperature tomato sauce and a sprinkling of Parmesan? The kind that's baked in a rectangular pan and cut into strips?"
"Oh, you mean Rhode Island pizza!" he said.
In the 20-something years I'd lived in Rhode Island, it had never dawned on me that the foods I'd grown up with were considered oddities to people in other states. In fact, many of my favorite treats from childhood — hot dogs smothered in ground beef and onions, crisp biscuits with the savory snap of fennel and black pepper, icy lemonade dotted with bits of frozen citrus peel — things I could get on practically every corner of the Ocean State, were considered entirely foreign beyond state borders.
Even today, I often find myself pining for my home state's gastronomic eccentricities. I've learned to make a few at home, but let's face it: They're just not the same as when I buy them from a roadside shack with the perma-smell of French fries, or from a dark and moody deli where the staff banters in Italian with the regulars seated on rotating stools in front of a circa-1960 Formica counter. The solution? Frequent visits, where I load up on favorites like these.
1. Clam Cakes
This is perhaps the king of only-in-Rhode-Island foods. Yes, you can find a smaller, denser version in neighboring Massachusetts, and a hockey puck-shaped take all the way up the coast in Maine. Having sampled them both near and far from my home state, I can unequivocally say: If you're not eating the Rhode Island clam cake, you're not eating the true clam cake.
Not a cake at all, this humble fritter is made by mixing a dough of flour, water, baking powder, salt, chopped fresh clams, and clam juice. Some restaurants and clam shacks also add their own proprietary blend of spices, or a bit of sugar or beer. The dough is either ladled or shot with a dough gun into a hot oil bath, where it develops its magical mix of crispy shell and tender, cakey interior.
I've learned to make clam cakes at home, and they're pretty good. Not as good, mind you, as those made by the state's many clam shacks, which are best savored straight out of a greasy paper bag, and without any dips or sauces. You can find clam cakes, from decent to great, all around Rhode Island. But my favorites are from Iggy's Doughboys & Chowder House on Oakland Beach, Aunt Carrie's in Narragansett (Open April – September), and Dune Brothers in Providence.
Editor's Note: You can read more on clam cakes in Robin's article Rhode Island Clam Cake Crawl: 8 Best Stops.
2. Stuffies
Another clam-tastic Rhode Island specialty food, stuffies elevate the quahog, the state's most famous native clam species, with a flavorful mix of herbs and breading. The clams are lightly steamed, and their meat removed and diced. The clam meat is then mixed with crushed Ritz crackers, chopped celery and onion, and grated Parmesan. It's seasoned with Worcestershire sauce, lemon juice, melted butter, and herbs. Some chefs add bacon or jalapenos to the mix for extra flavor. The empty quahog shells are stuffed with the mixture, and baked till golden and crispy on top.
Some people like to drizzle more melted butter over their stuffies. I prefer to squeeze a bit of lemon juice on top, then dig in.
Stuffies are widely available at restaurants around Rhode Island, especially seafood-focused venues. My top choices include Champlin's Seafood Deck in Narragansett, Amaral's Fish and Chips in Warren, and Anthony's Seafood in Middletown.
3. Snail Salad
Also called scungilli, its Neapolitan name, snail salad is a cold, marinated mix of chopped or sliced Atlantic conch (sea snails), herbs, and vegetables. The texture is somewhat similar to a grilled, marinated calamari, but the flavor of the snail is a bit sweeter. This is another one of those dishes you can find in other parts of the Northeast, but it's never quite as good as the type sold in Rhode Island (New Jersey's is a close second).
A mainstay of the Italian-American Christmas Eve Feast of the Seven Fishes, snail salad is made by boiling the meat of the snail, then marinating it in a mixture of olive oil, celery, onion, garlic, and spices. This step is essential; marination is what gives the meat its tenderness. Many traditional recipes use vinegar as the acid in their marinade. My father believes vinegar makes the snails tough and instead uses lemon juice.
The recipe is served at room temperature. It might also be served chilled, about a half-hour after removing it from the fridge. Refrigeration makes the oil congeal, so allowing the dish to sit at room temperature mitigates it.
Snail salad is an appetizer at a variety of restaurants. Try it at Pauly Penta's Gourmet Italian Deli in North Providence, Johna's Italian Restaurant in Johnston, and Andino's Italian Restaurant in Providence.
4. Pepper Biscuits
While they're sometimes overshadowed by the wine biscuit, another savory snack so beloved in Rhode Island that some bakers have asked for special legal provisions so they can make them in larger quantities, the pepper biscuit remains the favorite in my house. This crunchy Italian import is in such demand here that if I make a trip to Rhode Island without picking up at least a few bags, my husband will give me side eye for days.
This ingredient list of the humble pepper biscuit — flour, water, olive oil, black pepper, and fennel seeds — might not sound like anything to write home about. But the magic happens in twisting long logs of dough into braided rounds, then baking them until they're golden and firm. A soft, chewy biscuit is not a real pepper biscuit. It should have a satisfying snap and a savory explosion of fennel and pepper.
Helaney's is the current champion of the pepper biscuit. They're sold in many stores around the state, including the excellent independent franchise Dave's Fresh Marketplace, and also online.
Pro Tip: Many of Rhode Island's Italian-American specialties can be found on Federal Hill. This neighborhood has historically been home to a variety of immigrants, and Italians put a distinctive stamp on it that has lasted till this day. In addition to snail salad, pepper biscuits, and wine biscuits (the pepper biscuit's wine-infused cousin), you'll find all manner of imported pasta, olive oil, vinegar, wine, and charcuterie, plus prepared foods. Don't miss the pastry and cookies, from zeppole to sfogliatelle and pignoli.
5. Autocrat Coffee Syrup
Ubiquitous in grocery stores when I was growing up, Autocrat Coffee Syrup has been sold in Rhode Island for more than a hundred years. It was a near-daily treat in our house, with a couple spoonfuls stirred into a glass of cold milk or, if we were feeling really decadent, drizzled over a bowl of ice cream or whizzed into a milkshake.
We weren't alone. Coffee milk is the official state drink of Rhode Island, by vote of the state legislature in 1993. The milkshake version is also known as a cabinet, purportedly because the man who first made the drink kept his blender in a kitchen cabinet. For years, we Rhode Islanders would order cabinets in out-of-state diners and ice cream joints. Instead of a milkshake, we got a lot of raised eyebrows — as memorialized in illustrator Don Bosquet's famous "Grinder and a Cabinet" cartoon ("grinder" is Rhode Island-ese for a submarine sandwich).
There is nothing nutritionally redeeming about coffee syrup; its ingredient list includes lots of no-no's, like high fructose corn syrup and caramel color. And yet I still keep a bottle in my fridge. It's just that tasty.
There are other coffee syrup brands on the market these days, but Rhode Islanders are loyal to Autocrat. Most grocery stores, such as Shaw's, sell the syrup. You can also buy it online.
6. Party Pizza
Known by a wide variety of monikers — bakery pizza, strip pizza, and tomato pie, to name a few — this Rhode Island favorite is a descendent of sfincione, a street food sold in Sicily. It's found, in slightly different iterations, in several other Northeastern states with a large percentage of Italian immigrants and their offspring.
The pizza is made by stretching dough out to the edges of a rectangular pan, covering it with herbed tomato sauce and a sprinkling of grated Parmesan or pecorino Romano, and baking it till the crust turns golden. It's allowed to cool before serving; party pizza is always served at room temperature. The crust is medium-thick and something like focaccia, with a crispy outside and a chewy, breadlike top. The sauce also leans toward the thicker side and has a mild sweetness.
Party pizza is almost exclusively sold in Italian bakeries, rather than in pizza parlors. In my opinion, DePetrillo's, which has several locations, is the best. D. Palmieri's in Johnston and Antonio's Bakery in Warwick also make delicious versions.
7. Del's Lemonade
Much imitated but never duplicated, Del's is a sweet, slushy treat. While there's nothing especially magical about crushed ice, lemon juice, lemon peel, and sugar, the way it all comes together makes Del's frozen lemonade the quintessential Rhode Island drink. (Sorry, Autocrat Coffee Syrup.)
The company has said that the original recipe dates back to Naples in the 1840s, when the founder's great grandfather combined snow with sugar and lemon juice to sell at the local market. His son brought the recipe with him to the United States in the early nineteenth century. His son, Angelo DeLucia, engineered a machine that could reproduce the frostiness without snow. A legendary business was born as a roadside stand in Cranston. You can now find Del's stands and trucks all around the state in warmer seasons, selling the original lemon recipe plus a variety of fruity summer flavors, like watermelon and cherry.
Pro Tip: Now that my tastes are more grown-up, I find Del's a bit too sweet in its natural form. But that's why vodka was invented. Pour two fingers in a highball glass, fill with frozen lemonade, stir, and sip. Hot-weather beverage perfection.
Further Reading: