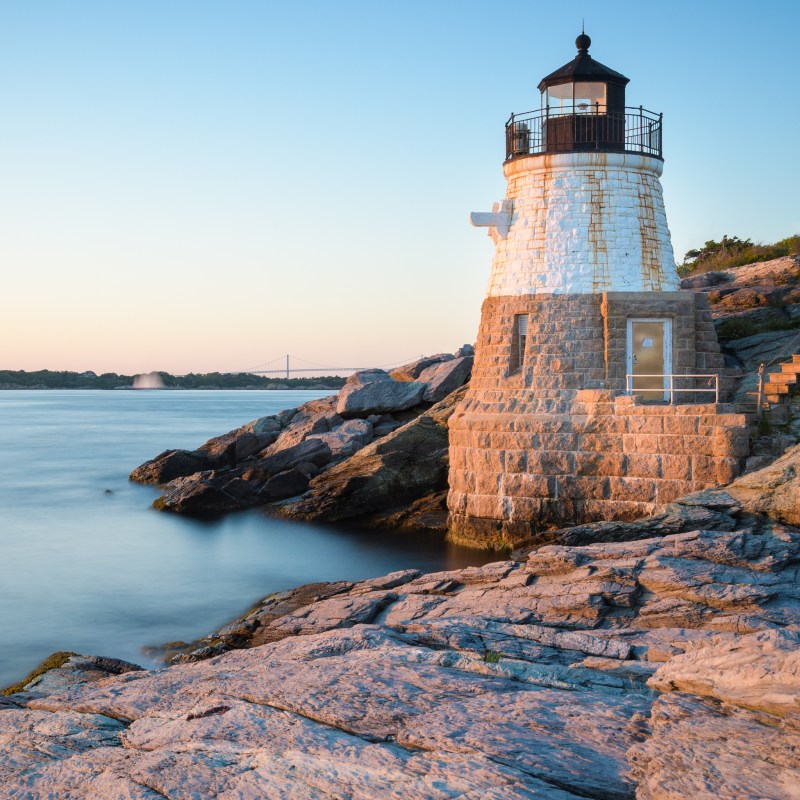 The Rhode Island coastline is a tangle of islands, inlets, beaches, and wildlife refuges. A road trip through the area can include quiet luxe getaways, seaside adventures, and ocean-view drives where you can relish the coastal beauty.
Accommodations along the way range from camping sites with panoramic Narragansett Bay views to gracious, turn-of-the-century seaside manors with private beaches.
You'll love all the ocean fun the Rhode Island coastline has to offer.
Providence
Providence, the capital of Rhode Island, sits in the elbow of the Providence, Moshassuck, and Woonasquatucket Rivers. If you are visiting from out of town, you can fly into T. F. Green International Airport and rent a fun convertible for a sunshine-filled adventure.
It's easy to spend a day or two in Providence. Plan to book a hotel in the Federal Hill neighborhood, where all the foodies gather. Here you can sample restaurants and pubs within walking distance of your lodging.
If you visit during the spring or summer, be sure to plan a night at the WaterFire art installation. Enjoy the brazier fires dancing in the water, spaced along the river. The lighting schedule varies, so check beforehand to avoid missing the spectacular show. This year, WaterFire is celebrating the 25th anniversary of the first lighting, and celebratory planning is still underway.
To learn more about how to spend your time in Providence, check out our articles highlighting where to eat, stay, and play.
Bristol
Next, head to Bristol, where you'll find Blithewold, which was once the summer home of the Van Wickle family. The lovely country house and sweeping gardens cover more than 30 acres, and the panoramic views of Narragansett Bay are a brilliant backdrop for a visit to the 45-room mansion. Take a self-guided tour, tour with a docent, stay for a fancy tea party, or bring your easel and sketchpad for a day of artistic discovery.
The Audubon Society of Rhode Island is also located in Bristol. Every Wednesday morning from September through June, the Audubon Society offers free naturalist-guided bird walks through the region.
Plan for dinner at a classic New England seafood restaurant, The Lobster Pot. The Lobster Pot offers diners beautiful waterfront seating and exceptionally fresh cuisine. The Narragansett Plate, loaded with lobster, crab, oysters, shrimp, and littlenecks, is a seafarer's delight. Everything is delicious, but the New England-style bouillabaisse is one of their classics. The Lobster Pot is open for lunch and dinner, which makes it a good stop for a yummy nosh.
Newport
Newport is a lovely place to spend a few days. There is much to see, do, and eat in this area. The town is known for its historic mansions and charming seaside homes, and it will capture your attention for several days — and your heart forever.
A visit to the OceanCliff Resort, whether for a drink or for the weekend, will whisk you back to turn-of-the-century elegance. The quiet beauty of the guest rooms plus the breathtaking views of Narragansett Bay invite dreamers to linger and the weary to rejuvenate in subdued luxury.
For an on-the-water experience, take a tour with Classic Cruises of Newport. Options include a trip on a Bermuda rig schooner or one on a 1929 classic motor yacht. You can also partake in a scenic cruise that highlights the mansions, a cocktail cruise, or a sunset sail. Relaxing out on the water is a must-do in Newport.
Want to sample the great food of Newport, but not sure where to start? The Newport Walking Food Tour offered by Viator is led by a local foodie and historian who will guide you through the streets of town, where you'll visit five dining establishments while learning about the town's history. The 1.5-mile tour takes about 3 hours. Walking tours are a fun way to get to know a new place and will give you a sense of the area's layout. Additionally, you can get great recommendations from your local guide.
If you are visiting in May, don your whites and enjoy the festivities surrounding the iconic Figawi Race. The race began in 1971 when some friends challenged each other to a race from Baxter's Boathouse in Hyannis Harbor to Nantucket Harbor — a 26-mile sail. Celebrations across town will mark Figawi's 50th anniversary in 2021.
Pro Tip: If you are interested in Baxter's Boathouse and Cape Cod, check out our guide to a weekend getaway in Cape Cod, another great beachy trip.
Jamestown
Across Narragansett Bay sits historic Jamestown on Conanicut Island. Renowned for its 18th-century buildings and named in honor of James, the Duke of York, Jamestown featured prominently in the American Revolution. Today, it's a good spot to take a break from the car, stretch your legs, and explore the cute shops.
A drive around Conanicut Island, with its coastal roads and expansive views, is a delightful way to spend an afternoon.
Stop at the Beavertail Lighthouse Museum on the southern tip of Jamestown. It's the third-oldest lighthouse in North America. The location is beautiful, and after exploring the museum, you can wander Beavertail State Park and enjoy the gorgeous water views.
On your way to Narragansett, you'll drive across the Claiborne Pell Newport Bridge over Narragansett Bay, one of the world's longest suspension bridges.
Narragansett
Spending a night or two in this fun, busy town will add a lively portion to your coastal trip. Narragansett Beach is at the heart of the city. Known to locals as 'Gansett, the city explodes in the summer as happy beachgoers descend on the town for some fun in the sun.
The Towers is the anchor of the beach area, offering historic tours, summer music series, and a very popular wedding venue. The stone edifice is synonymous with the beach town and its resort history. Once part of the Narragansett Pier Casino, which burned down in 1900, The Towers remains an iconic symbol of Narragansett's summer well-to-do playground heyday.
Point Judith And Block Island
Point Judith is home to the Block Island Ferry, where you can take a 30-minute high-speed ferry or 55-minute traditional ferry over to Block Island.
On the island, visit beautiful Crescent Beach, where you can spend the day soaking up the glorious sunshine.shine.
South Kingstown
Trustom Pond National Wildlife Refuge in South Kingstown offers several short, easy hiking trails. The refuge is open daily, and the ranger station is staffed most days between 10 a.m. and 4 p.m. Several of the trails and outlooks are handicap accessible.
Kingston, a village in South Kingstown, is home to the University of Rhode Island. This college town is a fun spot to stop for a cafe lunch and mingle with students and faculty.
Charlestown
Ninigret National Wildlife Refuge comprises 858 acres of preserved upland and wetland habitats in Charlestown. There are 4 miles of hiking trails that afford visitors views of Ninigret Pond. The refuge is a refreshing spot to visit on a hot summer afternoon.
Burlingame State Park offers campsites and rental cabins on Watchaug Pond that are perfect for a get-back-to-nature seaside stay. The park also offers hiking, fishing, boating, and picnicking opportunities.
Westerly And Watch Hill
In Westerly, you can play a vacation round of golf at the Winnapaug Country Club. A public course designed by Donald J. Ross, Winnapaug boasts gorgeous ocean views from many of its 18 holes. The hardest part about playing here is keeping your eye on the ball!
To round out your perfect Rhode Island coastal road trip, book a private sailing excursion with Sail Trim Again. Climb aboard the classic wooden sailing yacht Trim Again for a private 3-hour bay, sunset, or moonlit sail. Half- and full-day private sails are available where you can have an instructional, hands-on sailing adventure. The perfect way to view the Rhode Island coastline is from the comfy seat of a boat.
Nearby Watch Hill has a quaint harbor shopping district filled with chic clothing emporiums, sandwich shops, and traditional beach stores. The buildings clad in gray clapboard with the sailboats moored in the harbor make the town look like a postcard.
Stay at the quintessential New England beach house, Ocean House. Whether you choose a room, suite, or cottage, you will be immersed in the toes-in-the-sand culture of yesteryear. Ocean House opened its doors in 1868 and still offers a first-class stay featuring fine dining and plenty of relaxation.
The Rhode Island coast is an adventure. As you cruise down Route 1A, don't forget to explore the side roads, quaint little towns, and hidden beaches.