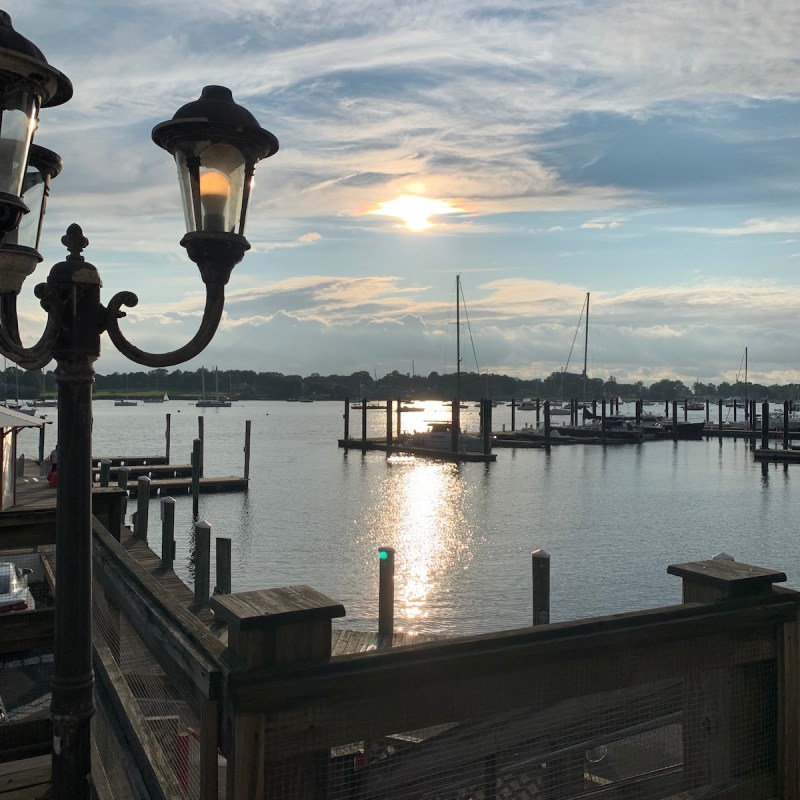 Bristol, Rhode Island, is one of America's most patriotic towns. Host of the oldest 4th of July parade in the country, Bristol is a beautiful coastal town with a fascinating history. There are so many fun and entertaining things to do and see in the charming town of Bristol. It will make a great stop on your next East Coast getaway.
Note: Some information in this piece was obtained during a sponsored press trip, but all recommendations are my own.
1. Blithewold Mansion And Gardens
Blithewold, the Old English word for "happy woodland," perfectly describes the expansive summer estate where the Augustus Van Wickle family escaped from the busy life in their home in Pennsylvania.
The original house burned down and the new English style manor was completed in 1908. Residing on 33 acres of land, Blithewold Mansion gardens are a thing of beauty year-round. As you wander the grounds discovering no less than 10 distinct garden areas, you will encounter over 500 different woody plants and countless numbers of annuals and perennials. The giant sequoia tree growing by the front portico is a particularly interesting specimen for a Rhode Island home.
The Blithewold Mansion is a delightful example of the American Arts and Crafts movement during the late 19th century architectural Country Place Era of mansions and gardens. The patio overlooks a grand lawn that sweeps down to Narragansett Bay, offering impressive water views.
Regularly scheduled events — like the Outdoor Yoga Series, Nature Drawing, and the Sunset Concert Series — happen weekly during the summer. Enjoy Tea & Scones on the patio then tour the mansion and gardens for a fun outing at this historic mansion.
2. Linden Place
Linden Place is a beautiful Federal-style mansion designed by architect Russell Warren. Built in 1810, it was home to the long and tumultuous history of the George DeWolf family. If these walls could talk, they would tell tales fraught with slave trading, privateering, rum running, and other nefarious goings on. Once the pillars of Bristol, DeWolf and his family fled Rhode Island in the middle of the night to escape creditors after a series of financial misfortunes. Years later, one of DeWolf's daughters, Theodora, returned to the family mansion with her husband Christopher Colt. She renamed the mansion Linden Place and once again the family took up their elevated status as Bristol royalty.
Linden Place holds a variety of tours including the Hauntings at Linden Place, Bristol and the Slave Trade Talk and Walking Tour, and the Ladies of Linden Place Tour.
3. Colt State Park
On a beautiful 464 acres — along Narragansett Bay — sits Colt State Park. Once a gentleman's farm built by Samuel P. Colt, a DeWolf descendent, the park was his private farm, but he graciously welcomed the public to enjoy its beauty. In 1965 the State of Rhode Island purchased the Colt Farm for the free and public use for residents and guests.
This gorgeous state park offers a beach, playing fields, picnic groves, a public boat ramp, rest facilities, walking trails, and bridle paths. It is also part of the East Bay Bike Path.
4. Mount Hope Farm
Listed on the National Register of Historic Places, Mount Hope Farm is a bucoli 127-acre, picturesque country estate. Visitors can stroll the farm's ponds, fields, and enjoy views of Mount Hope Bay. The Mount Hope Farm Trail is a paved, easy 2.5-mile loop that offers views of the fields and the bay.
You can also stay at the Inn at Mount Hope. Get away from it all at the historic, 1745 Georgian-style, Governor Bradford House, where the guest rooms represent famous past owners. The North Pasture House is an 18th century, post and beam cottage relocated from Maine. It is available for a quiet, contemplative stay. The South Pasture House is the former pool house. Built in the 1930s, it has large windows and beautiful views. These lovingly restored buildings offer a unique and peaceful stay only steps away from the bustling downtown area. Perfect for large family gatherings, each house can be rented for a group getaway.
5. Coggeshall Farm Museum
The Coggeshall Farm Museum is a living museum representing the work-a-day life of late 18th century Rhode Island farming families. The living museum grows heirloom plants, is home to heritage-breed animals, and offers live interpretations of life on the farm.
Join the costumed artisans for one of their special events. Textile Weekend offers visitors a peek into the start-to-finish creation of period clothing. Music and Art Weekend showcases 18th-century art and music along with a traditional fife and drum demonstration. At FairyTale Farm, children will love seeing their favorite fairy tale characters come to life. Visit Goldilocks, Hansel and Gretel, the third little pig, and many others scattered across the farm.
In 2020, the Coggeshall Farm Museum and Old Sturbridge Village joined together in a partnership to preserve the history of rural New England. If you are interested in more information on Old Sturbridge Village, visit our article How To Spend A Day At Historic Sturbridge Village, Massachusetts.
6. Herreshoff Marine Museum
The Herreshoff Marine Museum and America's Cup Hall Of Fame is home to the Hall of Boats, which houses over sixty boats. The largest is the 75′ Defiant, which defended the America's Cup Championship in 1992. Visitors can explore Herreshoff's model room where over 500 models are on display. You can climb aboard one of the restored ships for a first hand shipboard experience.
This is the perfect museum for every boat lover to gaze fondly over a wide collection of boating history.
7. Yellow Feathers Tours
Yellow Feathers Tours offers a unique peek into the tumultuous history of Bristol and the otherworldly beings that haunt local buildings. Their Bristol Haunted Walking Tour offers guests a nighttime stroll through central Bristol, filled with stories of betrayed loves and long forgotten residents. You can schedule a tour with Yellow Feathers Tours by emailing joanbq1@yahoo.com.
8. Ferry To Prudence Island
Prudence Island sits in the middle of Narragansett Bay a few miles from Bristol. The sparsely inhabited island offers few amenities, however, it is a beautiful spot for hiking and bird watching. Prudence Island Light is a pretty spot to enjoy a picnic lunch.
You can reach the island on a quick ride on the Prudence & Bay Islands Transport.
9. Claire D. McIntosh Wildlife Refuge
Nature lovers will be enchanted with the Claire D. McIntosh Wildlife Refuge. Visitors can explore the refuge's woods, wetlands, and walk the beautiful boardwalk out to Narragansett Bay. Search for ospreys, green herons, red-tailed hawks, painted turtles, snapping turtles and other saltwater marsh fowl and land animals. Be sure to stop by the Nature Center for an encounter with a life size, 33-foot-long model of the North Atlantic right whale.
Enjoy a walk down the Claire D. McIntosh Wildlife Refuge Trail. This easy 1.1-mile loop takes you through the marsh and down to the bay.
10. East Bay Bike Path
The East Bay Bike Path traverses from India Point Park in Providence to Independence Park in Bristol. The 14.5-mile-long path is mostly flat and passes along the Providence River, Narragansett Bay, Claire D. McIntosh Wildlife Refuge, and Colt State Park. With many beautiful vistas along the way, this is a lovely way to enjoy the beauty of coastal Rhode Island.
Not sure you want to pack your bike — no problem. You can visit Bristol Bikes and they will hook you up with just the right option to match your biking prowess. They offer everything from single-speed cruisers to Pedego electric cruisers.
11. Bradford-Dimond-Norris House
When you visit a town as charming as Bristol, you want your accommodations to reflect the history and stately grandeur of the area. The Bradford-Dimond-Norris Bed & Breakfast (BDN) is just the spot. Guests will enjoy the casual elegance of BDN along with the gracious and attentive innkeeper, Brian. The rooms are beautifully furnished with period antiques, including four-poster beds and cozy rugs, while the baths are modern spa-like spaces.
Situated in the heart of the historic downtown and a short block from the waterfront, staying at the BDN is like visiting a welcoming wealthy old relation. Be sure to enjoy your morning coffee on the wide front porch while you watch Bristol wake and meet the day.
12. Dining In Bristol
In this historic coastal town you will find a wide selection of dining options. Of course, there will be copious amounts of fresh seafood, but you will also find expertly crafted turf dishes too.
At DeWolf Tavern you can dine waterside on the patio, enjoy a nibble in the first floor tavern, or explore a finely crafted dinner in the upstairs restaurant. The menu changes seasonally to best utilize the local produce. The Shrimp Pakora with sweet chili sauce is a perfectly crunchy starter. For your entrée, try the Bacon Wrapped Bistro Filet with red onion marmalade and pickled Fresno chilis, or the roasted cod with Portuguese clam sauce for a taste of the sea.
Aidan's Pub is another great spot on Thames Street. The Fish & Chips are perfect with some Guinness, a classically delicious Irish pairing.
Pro Tip: When planning your trip to Bristol, visit Discover Newport for all the up-to-date information about the Bristol and Newport areas. If you are considering a visit to nearby Newport, check out some of our ideas for your coastal getaway in How To Spend A Perfect Weekend In Beautiful Newport, Rhode Island.