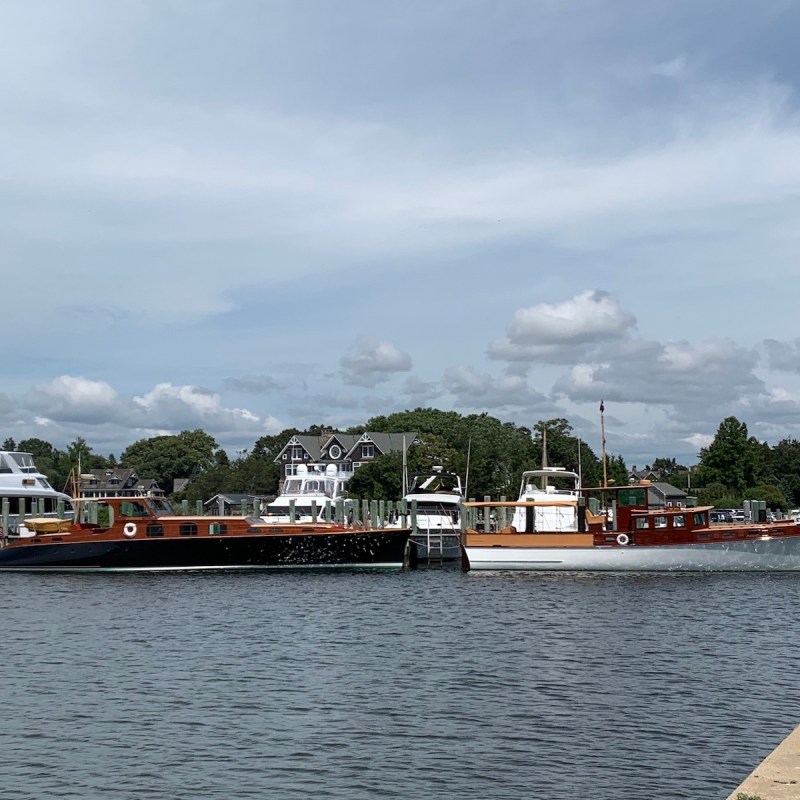 Sparkling ocean waters, long sandy barrier beaches, sumptuous local seafood, gorgeous vistas, and coastal adventures add up to a perfect summertime getaway. Spending a weekend in scenic Westerly, Rhode Island, whether it is with a group of friends and family, or a romantic escape, you will love the Westerly experience. A visit centered around the exclusive Village of Watch Hill, the Village of Misquamicut, and the greater Westerly area, this getaway is sure to be one of your favorite adventures. 
For those that want to explore more of the Ocean State, check out this Beautiful Coastal Rhode Island Road Trip: Providence To Westerly.
Things To Do In Westerly
Westerly and the surrounding area are home to some of the prettiest beaches in New England. Options range from private beaches to state parks and everything in between. You will easily find a beach to suit your personal style. Add in a dash of shopping, golf, fun entertainment, wonderful restaurants, and beautiful scenery; you have a recipe for a picture-perfect getaway stay.
Private Beach With Libation Service
When you want to get away to the beach with a guaranteed parking spot along with food and beverage service, The Andrea is a wonderful option. The restaurant allows you to book a spot right at the water's edge for the entire day. A sandy spot accommodates four guests for a day filled with toes-in-the-sand fun. It includes a dedicated waitstaff to deliver your delicious seaside fare and favorite libations making it a relaxing day at the beach hangout.
Ride The Merry-Go-Round And Enjoy The Beach
Since 1883, the Merry-Go-Round at Watch Hill has been entertaining generations of families. A tradition in the harbor, the carousel brings smiles to riders as they happily take their turn around the ring. Be sure to snap a few photos; they will make precious memories of your visit.
The Merry-Go-Round Beach is a pretty, private beach that offers daily and seasonal passes. Located behind the carousel, it is close to all the Watch Hill shopping and dining. Merry-Go-Round Beach is a great spot for a family fun beach day.
Spend A Day At Misquamicut State Beach
State beaches are a wonderful spot to plant your beach chair, umbrella, and bag of beach toys for a day of sandy fun in the sun. You can count on the state park to be a well-maintained space that is enjoyable for everyone, and Misquamicut State Beach provides guests with the perfect spot.
People love Misquamicut State Beach and you need to arrive early to get a coveted parking spot. You can, however, reserve your only Daily Flex Pass before you go. This gives you express lane parking privileges enabling you to get your toes in the beautiful water asap.
Drive In Movies With The Gang
The Drive-In Theater at Misquamicut runs classic, family-approved movies and streamed-in shows for a good old fashion night at the drive-in. Offered daily in season, the price is per carload. Pop some popcorn, put some soft drinks in the cooler, and pack everyone into the SUV for a throwback movie experience.
Shop Watch Hill
With views of the Watch Hill Yacht Club, cute shops and restaurants line the picturesque harbor. Two-hour free parking is plenty of time to explore the shops and purchase those got-to-have items. High-end resort-wear shops like Lilly Pulitzer, Rochelle's Boutique, and others grace the storefronts, enticing you with trendy styles and luscious colors.
If you are the non-shopper in the crowd, grab an ice cream and watch the boats in the harbor, or grace one of the many benches along the way for a less fashion-focused experience. And be sure to check out these 5 Unique Boating Experiences To Enjoy In New England.
Golf With A View
Hit the links with a beautiful view at Winnapaug Country Club. The 18-hole public course rewards golfers with gorgeous ocean views and skill challenging approaches. Seasonal membership options and single-round tee times offer residents and visitors the opportunity to play this beautiful course. Try not to get too distracted by the view, although it is a lovely spot to carry around a bag of sticks and chase a little ball.
Weekapaug Golf Club is a private, 9-hole course in Westerly that offers social memberships that include three yearly rounds, making it a great option for nearby travelers who want a private club setting.
Explore Napatree Point Conservatory
Jutting out into Narragansett Bay at the end of Watch Hill is Napatree Point Conservation Area. The beautiful sandy beach is a preserve and wildlife refuge that is open to the public. It is a lovely spot to enjoy a morning stroll, offering beautiful views of the harbor and the bay. For a peace break, bring your favorite book and a towel, and find a soft spot in the sand to read or simply enjoy the gorgeous view.
Saturday summer mornings at 9 a.m. you can join a free guided walk. Led by a local naturalist, you will learn about the history and bird sanctuary that define the conservatory. You might even catch a glimpse of some of the endangered birds that make Napatree their home, including Piping Plovers, Osprey, and American Oystercatchers.
Kick Your Heels Up At Foxwoods Casino
Ready to get dressed up and paint the town, Foxwoods Casino is in Mashantucket, Connecticut, a 30-minute drive north of Westerly. The casino is home to over 3,500 slot machines and almost every game you would love to play, including high stakes bingo. Foxwoods will rival any contemporary Las Vegas casino in style, size, glitz, and games. If you want to add an exciting night (or day) of gaming fun and great food, then Foxwoods should be on your Westerly weekend to-do list.
Best Restaurants In Westerly
Great seafood shacks, secluded private dining, vacation-required midday frozen treats, and fine dining restaurants dot the Westerly landscape. You will enjoy an assortment of foodie-focused and fun options for your getaway dining enjoyment.
The Andrea Beach Bar
From clam fritters to lobster bisque, this beachside bar is hard to beat. The Andrea has an expansive umbrella-adorned patio overlooking a swath of sandy beach with a panoramic ocean view. This is the closest you will get to dining right on the beach, without dining on the beach. Actually, they have a dining-right-on-the-beach option; their exclusive beach reservation service (see Private Beach With Libation Service above). Order local favorites like their creamy lobster bisque. For a fried option, check out the clam fritters or their fish and chips, both local favorites.
Gelato Cafe
Delicious frozen treats are an integral part of every oceanside getaway. Pompelmo Gelateria serves up the authentic Italian delectable gelato for your sweet tooth satisfaction. Classic Italian flavors like Nutella and pistachio sit alongside more unusual varieties like Cake by the Ocean and dark chocolate sorbet. Skip lunch, grab a cone, and enjoy your favorite flavor while watching the ships in Watch Hill Harbor.
The Pondhouse Private Dining
Unique dining experiences with exceptional cuisine can be a challenge to discover. The Pondhouse at the Weekapaug Inn offers an upscale yet rustic private dining exploration in their open air pond-view pavilion. Selections from the three-course menu, Champagne pairings, gorgeous views, and private seating for up to four makes for a relaxing culinary adventure.
Dining at the Pondhouse is like having your own private chef and waitstaff cater to your culinary wishes while you sit back and enjoy the shimmering water views.
Ella's Food & Drink
Plan a romantic, date night dinner at Ella's Food & Drink. Stunningly plated and expertly crafted, the menu at Ella's is extraordinary. Selecting your meal should be done slowly over a beautiful glass of wine and a nibble of calamari, cheese and crostini, or other delightful starters.
Choosing dinner is a difficult task when the menu is filled with decidedly delicious options. The squid arrabbiata, Crabby Scallops, and Duck A Deux Facons will require some serious consideration. Ella's also offers wonderful dishes for the less culinary adventurer like a 14-ounce New York strip or classic shrimp & grits.
Best Hotels In Westerly
Weekapaug Inn Beach Resort
Enjoy beautiful coastal luxury at the Weekapaug Inn. It is a wonderful venue for your stay in this oceanfront playground. Located in Weekapaug on Quonochontaug Pond, the Inn is a summer oasis with beautiful views at every turn. It will easily become your favorite hideaway.
Watch Hill Inn
Providing oceanfront views in the heart of the action is the Watch Hill Inn. Their "simple" stays encompass a casual luxury that you would want and expect from an oceanside getaway. Alternatively, you can opt for one of their "suites" or a "seriously suite" stay where you will live — if only for a weekend — on a posh upper floor with an exquisitely lux design.
Ocean House
Ocean House is a stately, old-style New England beach property with a long history of providing guests spectacular views and first-class amenities. You can explore the history of Ocean House and everything it has to offer in our recent property review.
Pro Tip: Westerly, Rhode Island, is one of those picturesque, coastal towns that is steeped in the gilded past of summer beach resorts and luxurious living. Your visit can be as down to earth or high toned as you envision. Either way, you will love spending a weekend in scenic Westerly.
If you wish to explore more charming destinations like Westerly, check out these nine quaint Rhode Island towns.