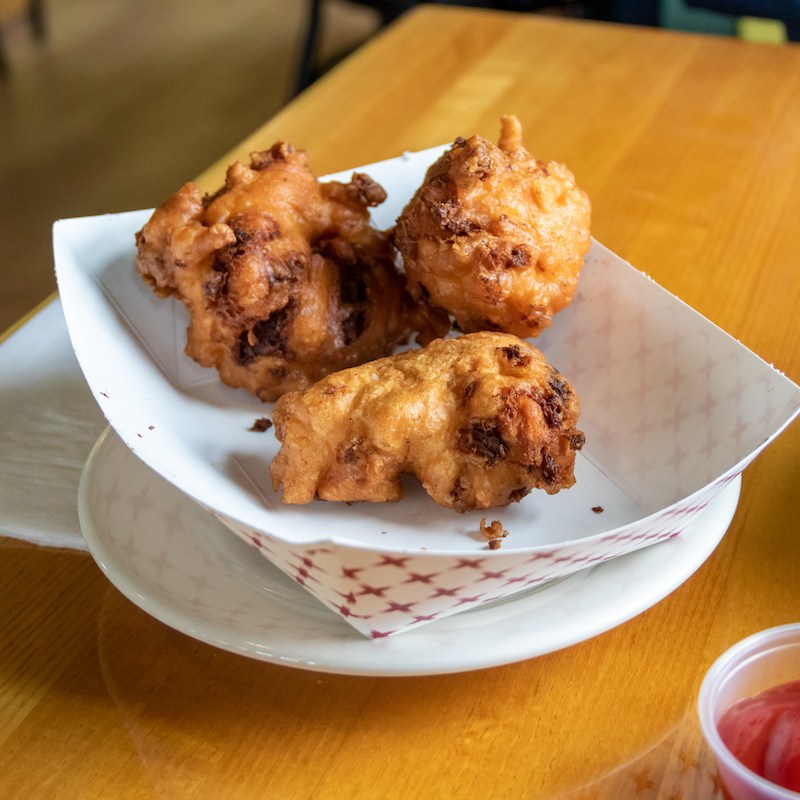 Let the politicos have their calamari. It may have shot to viral fame when it was declared Rhode Island's "official state appetizer" during roll call in the 2020 Democratic National Convention, but Ocean Staters know the truth: The clam cake is RI's true champion of appetizers.
Editor's Note: Here's the proof of calamari's baffling win. Okay, back to clam cakes.
In a state that boasts an eclectic array of food oddities, the clam cake — not a cake at all, but more of a fritter — stands out. It arose, in all its crispy-chewy goodness, from Rhode Island's proud tradition of clam shacks that studded the coast in the early 1900s. You might call the country's smallest state clam obsessed, given its many odes to the mollusk, from clam chowder to clams casino, fried clam strips, and "stuffies" (baked, stuffed clams).
Clam Cake Evolution
Originally, clam cakes were made with the hard-shell clam, known locally by its Native American–derived name, quahog. While there's no definitive proof of the first clam cake maker, some sources point to Carrie Cooper, founder of Aunt Carrie's clam shack in Narragansett. Known for her thrift, she is said to have substituted quahogs in her corn fritter recipe all the way back in 1920. (The restaurant was named an American Classic Eatery by the James Beard Foundation in 2007.)
Perhaps the best-known clam cake belonged to the Shore Dinner Hall, part of the late, great Rocky Point amusement park in Warwick, which operated from the late 1800s until 1995. Long, domed, and decidedly no-frills, the building squatted on a cliff above the ocean. Inside, it seated 2,500 (no, that's not a typo) and served delicious, on-the-cheap meals of lobster rolls, clam chowder, sweet corn, French fries, watermelon, and the famous fritter, which was shot out of dough guns into massive pots of hot oil.
No wonder Shore Dinner Hall perfected its fritter: on an average day, the restaurant served more than 20,000 clam cakes.
Today, clam cakes are made much as they were back in Cooper's day — from a mixture of flour, water, baking powder, salt, chopped clams, and clam juice. Depending on the restaurant, you'll occasionally find add-ins like cornmeal, herbs and spices, sugar, eggs, or beer. The magic happens when the cook crafts the perfect ratio of mildly sweet clam to dough, scoops up the batter with a spoon or a ladle, then deep-fries it to a toasty brown on the outside, and a soft, cakey texture on the inside.
A great clam cake is rarely perfectly round. Because contact with the hot oil causes bits of clam to migrate toward the outer edge of the batter, you'll often find small lumps — called nubs or nubbins by true clam cake aficionados — all around the fritter. The basic rule in Rhode Island is this: If it doesn't look like an alien planet rendered in miniature, then deep-fried, it probably doesn't have enough clams.
While other Eastern coastal states serve their own take on the seafood fritter, they're not quite the same. For example, Maine's is a short, round patty with a flaky interior, more like a crab cake. And although some Rhode Islanders swear by dipping their cakes in clam chowder, others find this maneuver tantamount to a gastronomic insult. The most popular way to enjoy clam cakes is as is, occasionally with a dash of hot sauce or tartar sauce, or, more rarely, a splash of malt vinegar.
What to drink with clam cakes? That's simple: a cold beer, a glass of unsweetened iced tea, or, in true Rhode Island form, a cup of Del's frozen lemonade from the iconic green-striped waxed-paper cup.
You'll find clam cakes — served by the dozen or half-dozen, out of a grease-dotted paper bag or takeout box — year round in Rhode Island. Some clam shacks shut down during the colder seasons, and some close up for the day without more warning than a hand-scrawled sign on the front door; it pays to check ahead.
Not sure which to choose? Use this native Rhode Islander–curated guide to the tastiest, crispiest, most clam-filled cakes. Go in the order you see here for a clam cake crawl that begins in the southern portion of the state and curls along the coast before heading inward.
1. Hitching Post — Charlestown
Founded in 1950 by a restaurant owner to sate the appetite of the dozens of customers who lined up at the kitchen door every day for a taste of the cook's clam cakes, The Hitching Post is, like Aunt Carrie's, a southern Rhode Island institution. Whether you choose the homey, diner-esque interior or the more accessible and jovial outdoor seating area, the fritters will be the same: oddly shaped, crunchy on the outside, with a fluffy interior chock-full of minced clams.
2. Iggy's Doughboys & Chowder House — Narragansett
Iggy's Doughboys & Chowder House has two locations — the original, at Oakland Beach in Warwick, and this venue, opened in 2005 in Narragansett. More than a simple clam shack, it's a spacious restaurant with inside and outdoor dining areas, plus ADA-accessible ramps and doors. While critics gripe that Iggy's clam chunks are small, they're plentiful and taste off-the-boat fresh. Coupled with a delightfully crisp exterior and an interior that's not too dense or too light, Iggy's has cakes down to a science. To accompany your cakes, order one of Iggy's excellent cocktails.
3. Aunt Carrie's — Narragansett
The oldest family-operated, continuously run clam shack in Rhode Island, Aunt Carrie's is simply designed with blond oak tables and lace valances over the windows. But what it lacks in flashiness it more than makes up for in flavor. From fish and chips to broiled swordfish and three styles of chowder, you'll be hard-pressed to find something you don't love. Aunt Carrie's clam cakes tend to be denser on the inside, with monster bites of clam, and crisper on the outside — making them perfect for those who like to dip. Both the restaurant seating and the parking lot can be tight on busy summer days, so plan to get there early if you need extra space for an accessible van or mobility vehicle.
4. Monahan's — Narragansett
At the corner of Ocean Road and South Pier Road, along the Narragansett seawall, lies Monahan's. If you're in the market for water views to enjoy along with your clam cakes, this is the place to stop. But be prepared to wait: It's not unusual for the line at the window to be a dozen or more deep, especially on weekends. Monahan's fritters are crispier than most, with chunky clams and a pronounced black-pepper flavor.
Pro Tip: If you have time — especially if there's a long wait at Monahan's — take a stroll about a half mile up Ocean Road to The Towers. They were originally part of the Narragansett Pier Casino, built between 1883 and 1886, and designed by McKim, Mead & White, with landscaping by Fredrick Law Olmsted. The Towers have survived two major fires, three hurricanes, and dozens of nor'easters, and today host public and private events.
5. Crow's Nest — Warwick
A "stealth" entry on the clam cake crawl, Crow's Nest has actually garnered something of a cult following over the past decade. You'll find all the clam shack staples here — red and white chowder, stuffies, and steamers (steamed clams in butter). But don't miss the clam cakes, which have a light exterior, a pillowy interior, and a proprietary mix of spices like onion and black pepper. Handicapped parking and ADA-accessible ramps make it a friendly option for the differently-abled.
6. Rocky Point Clam Shack — Warwick
You'd never expect this roadside stand — located not along the shore, but in the parking lot of the long-departed Ann & Hope, an early predecessor of the big-box store — to be a worthy stop. But skipping Rocky Point Clam Shack would be a mistake, and not just because it's decorated with the magnetic-look letters or an old Fisher-Price toy or the top-hatted lobster mascot of the defunct amusement park for which it's named.
David Cascioli, who worked at the original Rocky Point's Shore Dinner Hall in the 1970s and 1980s, helped get this eatery off the ground and transferred his expertise on the iconic clam cake to this venue. The new fritters are smaller and rounder than the originals. But the exterior has a satisfying crunch, with a wonderfully savory flavor inside.
7. Tommy's World Famous Clam Shack — Warwick
Ignore the dubious claims of a globally renowned, "award-winning menu," pull up a picnic table, and prepare to have your tastebuds teased. Tommy's World Famous Clam Shack— another clam shack located on a busy commercial road in Warwick — has an interesting take on the clam cake. They're similarly amber-colored and lumpy to what you'll find elsewhere, but they have a unique oceanlike flavor — thanks in part to the bits of coarse salt sprinkled on the exterior. Dab them with a napkin if you're sensitive to or cutting back on salt; it won't lessen your clam cake enjoyment.
8. Dune Brothers — Providence
"Providence" is rarely uttered in the same breath with the words "best clam cakes in Rhode Island." But that may change if Dune Brothers has anything to say about it. This sweet little red shack opened in 2018 in a busy corner of the capital city. Service is usually quick, the cakes are large, and they strike the ideal balance of light, crispy exterior, and pillowy interior chockablock with clam bits. There's some unidentified spice alchemy going on here — garlic? Onion powder? A dash of Old Bay? Whatever it is, prepare to be surprised and delighted.
While any best-of list will, by necessity, leave out some deserving entries, you'll be happy you tried some of Rhode Island's reigning clam cake champions.
Further Reading: