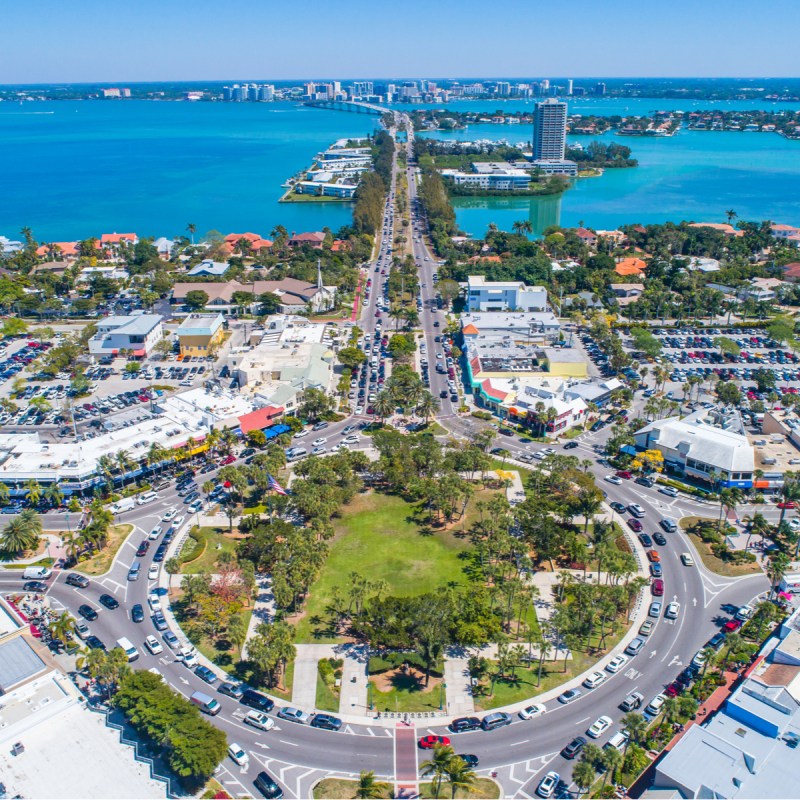 Florida sunshine year round makes for an ideal retirement destination. 
The state tax laws make it affordable, too, including no state tax. And every corner of the state offers a variety of things to do. Historical sites, hiking, boating, sports, and festivals will keep you busy during retirement. You can be as active as you choose in your Florida retirement home. Retirees have grown to love, and live their best lives, in these gorgeous cities in the Sunshine State.
1. Mount Dora
Mount Dora is a short drive from Orlando in Central Florida. With a population under 20,000, this is the smallest town in this list of Florida retirement cities. Many refer to Mount Dora as the "Festival City." If you enjoy participating in events, shopping in a charming downtown area, dining on a balcony overlooking Main Street, you will love Mount Dora. Theater comes to life in two theaters, alongside the numerous art galleries. You can walk along the lake, take up birding, biking, hiking, boating, and any other outdoor adventure your heart desires.
I listened to a couple have a conversation while visiting Mount Dora. They were house hunting in Mount Dora for a retirement home as they were ready to leave the Miami area. This couple was searching for a smaller town, friendly community, and a place they could call home in their retirement. One of the best parts of retiring in Mount Dora is having extra spending money, as housing is affordable. Mount Dora will win you over in a heartbeat.
Pro Tip: If you want to experience the bigger city for the day, Orlando is approximately an hour away.
2. Sarasota
If you have always wanted to retire in a beachfront community, Sarasota is ideal for you. With award-winning beaches all around and the ease of shopping and medical facilities, this destination will win you over. With 58,000 residents and 27 percent of them being retirement age, Sarasota will be ideal for your golden years. This city is big, yet it has a small town charm. You can remain active strolling the beaches or joining your friends for a game of cards now and then. A variety of restaurants will enhance your dining experiences, leaving you little time to cook. Challenge yourself to see how many different types of meals you can enjoy. And most importantly, indulge in the fresh seafood that is served up in many restaurants along the coast. 
Pro Tip: Antoine's Restaurant is the perfect place to celebrate a special event, serving up an elegant meal. 
3. Melbourne
With more than 20 percent of the population over the age of 65, Melbourne sits on the Atlantic Coast, with a cost of living at 4 percent below the national average. You are a short drive from Walt Disney World, Kennedy Space Center, and a short walk to the beach. Melbourne is a fantastic retirement home, as you will find it easy to keep the grandkids entertained when they come for a visit. You will find yourself in the middle of everything along the Atlantic Florida coastline. Outdoor enthusiasts will appreciate the nearby kayaking, hiking, and fishing opportunities. This city of 87,000, is home to the Melbourne Orlando International Airport, making it easy for you to stay connected.
Pro Tip: Tuckaway Shores Resort in nearby Indialantic offers fantastic lodging for family members when they come to town.
4. The Villages
When you hear of retirement and Florida, The Villages come to mind for many people. This retirement community has grown over the years to more than 79,000 retirees. More than 80 percent of the residents are 65 years of age and older. The cost of living is 1.4 percent below the national average, making The Villages one of the most appealing retirement communities in the Sunshine State.
With more than 3,000 social clubs, entertainment, and numerous outdoor recreation opportunities, you'll have a hard time finding a more welcoming community for the 65+ crowd. This community offers a rural feel, yet it provides all of the amenities seniors have grown to desire. There is something to be said about a big city with a small town feel. The Villages has all of that and more. With golf carts cruising the streets, and a friendly wave, it's no surprise that the Villages is called "Florida's Friendliest Retirement Hometown." 
5. Naples
Naples has a population of nearly 22,000 and is home to some of the most beautiful beaches in the world. You can find yourself within a short walk from a beach in many areas of this Gulf Coast community. Some of the best shopping in the state and medical care are at your fingertips in Naples. If you want the bells and whistles that you cannot find in other retirement areas, Naples will have them. With more than 50 percent of the population being 65+ and a per capita income of $110,000+, this high-end retirement will roll out the red carpet when you move into town. The best way to start your day is to visit one of the local coffee shops and get to know your neighbors. This upscale urban city feels small, and Naples knows how to play big.
6. Ft. Myers
Ft. Myers continues to rank as one of the top retirement cities in the country. This gorgeous city of 87,000 sits along Florida's southwest coast. With daytime temperatures that rarely dip below 60 degrees, anyone would be comfortable all year long. The thought of not needing a heavy coat should be instantly appealing to all retirees. History buffs will appreciate the historic sites, including the Edison and Ford Winter Estates. When family comes to visit, Manatee Park is a highlight for everyone in the family. Manatees can be spotted every day during the winter months, from 8 a.m. until sunset in the park. There is a small fee to park, and many retirees find themselves volunteering at this fun park. Ft. Myers seems like a smaller city than it is, as everything is spread out. The perfect way to end your day in Ft. Myers is to watch the sunset on the beach with your favorite drink in your hand.
7. Ponte Vedra Beach
If you're searching for the perfect place to retire and golf is your passion, look no further than gorgeous Ponte Vedra Beach. This incredible city of 38,000 and growing is located on Florida's Atlantic Coast between Jacksonville and St. Augustine. Many know this community as the home to the PGA Tour and the Players Championship. If ocean views are vital for you, choose Ponte Vedra Beach for your retirement. You will not regret your decision. With the water, outdoor activities, golf opportunities, and options for your place to call home, Ponte Vedra Beach will win you over. With a median household income of $118,000, this is an upscale beach community that welcomes retirees.
Pro Tip: Visit St. Augustine over the holidays to experience the annual magnificent St. Augustine Nights of Lights.
8. Key West
The Southernmost Point in the United States, Key West, is a gorgeous place for retirees to hang up their hats for retirement. The sunshine, warm temps, and island living make Key West appealing to many that can afford this island that many 65+ call home. If you want to remain active in your retirement years, you cannot go wrong with Key West. Fishing, swimming, diving, and the beaches are open all year long for retirees and visitors.
You will want to have a car in Key West, as you will want to take day trips exploring the other islands that lead back to the Florida Mainland. Your children and grandchildren can fly into Key West International Airport, making it easy for you to pick them up when they come to visit. The cost of living is higher in Key West, but the views and incredible beauty make it worth every penny. The majority of the residents in Key West, rent their homes, with an average monthly rental fee hovering around the $1,800 mark. 
9. Daytona Beach
When people hear Daytona Beach, they think of race cars, surfboards, spring breakers, and retirement. This beach town of 67,000, is more than events and revving motors, as retirees have grown to love the charm of this town. A nice variety of restaurants, bars, and parks make this attractive to retirees. Daytona Beach offers a nice mix of urban, suburban, and retiree feel. You will fit in wherever you wander, including Daytona Beach. My favorite thing to do in Daytona Beach is to arise at the crack of dawn and watch the sunrise. There's nothing like starting out your day, then watching the sunrise above the Atlantic Ocean. With the average price of a home being $153,000, there's something for everyone in Daytona Beach.
Each of these gorgeous cities in Florida offers something for all retirees, including sunshine. There's no doubt about it, Florida offers the best weather for all retirees that appreciate water. All 9 of these cities are on the Gulf of Mexico, the Atlantic Ocean, or have a lake nearby. There's something to be said about water, as it's soothing for the soul and does offer longevity. Retirees living their best lives is a common sight in Florida, whether on the beach, enjoying a meal in a restaurant, or simply kicking back and listening to the water with a good book in hand.
Be sure to read all the articles and tips related to retirement on TravelAwaits.