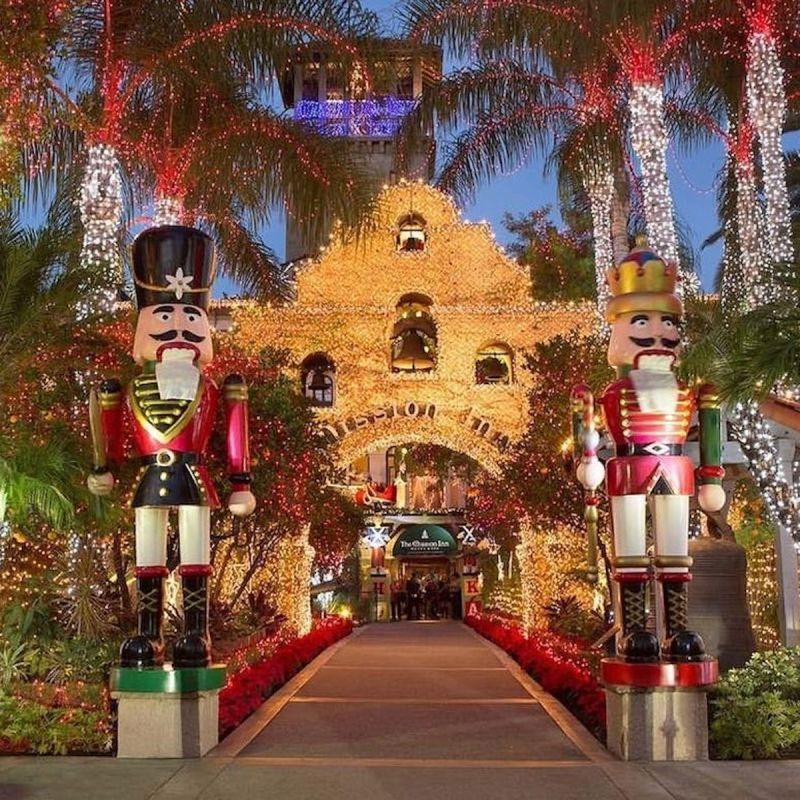 Among the best traditions during the holidays are elaborate light displays throughout Southern California. Ranging from a residential neighborhood with festively decorated historic trees to large drive-through displays made of millions of lights, there is something for every interest and budget. Some of these experiences have been around for 100 years while others came on the scene just this year. Californians love to celebrate this time of year and have found dozens of creative ways to do so.
Here are nine walk-through or drive-through displays in southern California. Most events require advance purchase and many will sell out, so it's recommended to buy your tickets as soon as possible.
1. Enchanted Forest Of Lights At Descanso Gardens
The Enchanted Forest of Lights returns to Descanso Gardens from November 21 through January 9. The gardens, located in La Canada Flintridge, have been opened to the public since 1950. Its nighttime holiday experience features a 1-mile walk through unique lighting displays and interactive experiences in some of the most beloved areas of Descanso Gardens. New this year is an entire town of magical stained glass creations built in the Rose Garden by contemporary sculptor Tom Fruin. Popular returning favorites include sparkling, swirling installations from HYBYCOZO on the Main Lawn, Flower Power on the Promenade, and impressive lighting effects in the Ancient Forest.
Tickets must be purchased in advance with a timed entry between 5:30 and 8:30 p.m. Allow about 90 minutes to see all the lights.
2. South Coast Botanic Garden's GLOW
Returning for its second year, South Coast Botanic Garden's GLOW features thousands of lights, music, and interactive experiences from November 20 to January 17. Once a landfill, this peaceful 87-acre garden can be found on the Palos Verdes Peninsula, west of Los Angeles. GLOW — Garden Lights & Ocean Waters — provides guests with the opportunity to stroll through The Bayou and Lakeside Meadow and "dive" into the Kelp Forest. Food and drinks are available for purchase.
Tickets should be purchased in advance with a time entry between 5:30 and 8:30 p.m. Accessibility is limited during the event, but special accessibility tickets are available on Monday evenings.
3. L.A. Zoo Lights
Returning for its 8th year, the wildly popular L.A. Zoo Lights features the world's largest illuminated pop-up storybook, a magical disco ball forest, giant glittering snowflakes, and a twinkling tunnel filled with dynamic swirls of color. Located in Griffith Park in the heart of Los Angeles, the zoo has long been a popular family destination during the day, but this time of year, it becomes equally interesting for all ages at night. From November 19 to January 9, visitors can take a self-guided 60- to 90-minute stroll through a large area of the zoo filled with wildlife-inspired displays. Along the way, enjoy seasonal treats and goodies. 
Tickets should be purchased in advance online for timed entry between 6 and 9 p.m. Traffic congestion can be heavy in this area on weeknights between 6 and 7 p.m., so plan accordingly.
4. Christmas Tree Lane Altadena
Each year, residents of Santa Rosa Avenue in Altadena put up almost a mile of multicolored lights in the historic, 135-year-old Deodar trees. Last year this all-volunteer effort celebrated the centennial of Christmas Tree Lane. In 1990, Christmas Tree Lane was listed in the National Register of Historic Places and became a California State Landmark.
There is no admission fee for this much-beloved and historic light display. Visitors are welcome to drive along Santa Rosa Avenue but are asked not to get out of their cars or impede traffic in any way. The lighting ceremony takes place on December 11 and typically lasts until the end of the month.
Pro Tip: As a complete volunteer effort, details about this event can be hard to find. Its Instagram account is a great place to check for updates.
5. Winter Wonderland At The Grove
Among LA's most popular and frequently filmed shopping centers, The Grove rolls out the red carpet for the holidays from November 20 until December 24. Every inch of The Grove will be covered in holiday decorations complete with a 100-foot Christmas tree, trolley, and Santa's workshop. Every evening, visitors can expect snow to fall. And the best part? This is all free. 
If you haven't finished your Christmas shopping, this is a great way to combine gift-buying and fun. With hundreds of shops, you'll find the perfect gift for everyone on your list. And when you get hungry, head next door to the Original Farmers Market offering dozens of small food stalls and restaurants featuring cuisines from all over the world.
6. Capistrano Lights Returns At The Mission San Juan Capistrano
For 3 weeks, the grounds of the historic Mission San Juan Capistrano will be transformed into Capistrano Lights, a holiday extravaganza complete with festive lights, community-designed trees, carolers, and a large scale nativity scene in the Ruins of the Great Stone Church. Known as the "Jewel of the Missions," the Mission San Juan Capistrano was founded in 1776 by Saint Junipero Serra.
Visitors can stroll through the colorfully lit grounds and appreciate the lush gardens and carefully restored historic buildings. A tree lighting ceremony takes place every evening at 5 p.m. Children's activities include Selfies with Santa along with children's crafts and vendors on select dates. "Elf On A Mission," a daily challenge to find Sullivan the Elf on the mission grounds, will be featured throughout December.
The mission is located in South Orange County in the town of San Juan Capistrano. Capistrano Lights takes place December 4–30 from 4–6 p.m. Tickets to the event can be purchased in advance online and include daytime admission and audio tour. 
7. Night Of Lights OC At The Orange County Fairgrounds
Whether or not the weather is frightful, you'll be warm and cozy in your car as you drive through the Night of Lights OC at the Orange County Fairgrounds in Costa Mesa. The 1-mile drive-through, interactive experience features over one million lights, festive music, live entertainment, and even snow flurries.
Night of Lights runs each evening from November 26 to January 2 from 5-10 p.m. Tickets must be purchased in advance online for timed entry. Food and drinks can also be ordered in advance to enjoy during the experience.
8. Newport Beach Boat Parade
For over 100 years, the residents and businesses of Newport Beach in Orange County have come together to celebrate the holidays by decorating boats and ships of all sizes. The Newport Beach Boat Parade features hundreds of brightly lit boats — many blasting carols — as they float through the largest recreational harbor on the West Coast. Participating boats can choose to enter each year's competition for Best Theme, Best Lights and Animation, and Best Overall Display. Homeowners on the waterfront are encouraged to decorate their homes to make the whole experience even better.
Visitors may watch from the shore for free or purchase tickets to ride one of the decorated boats. The official website provides a map of the parade route along with recommended viewing spots.
The boat parade takes place December 15–19 and begins each evening at 6:30 p.m. Parking in the area can be difficult, so plan to arrive early. 
9. Festival Of Lights At Mission Inn
Since 1992, the Mission Inn Hotel & Spa in Riverside has been hosting the annual Festival of Lights. It's become one of the nation's largest holiday light collections, voted "Best Public Holiday Lights Display" by USA Today. It's estimated that 4.5 million colorful lights will adorn the historic inn and its grounds. Giant nutcrackers welcome guests at the main entrance for a truly dramatic effect. This light show is beloved by locals and visitors, and many opt to make this a weekend getaway.
The Festival of Lights is free and takes place each evening from November 26 to January 6. To fully appreciate the experience, be sure to arrive by 5 p.m. to watch the lights go on.