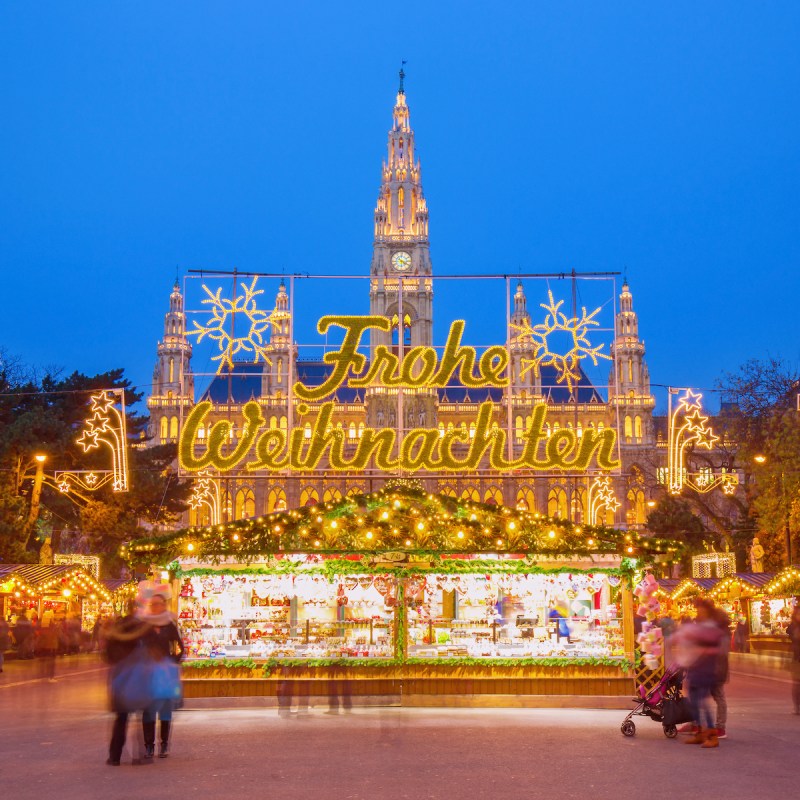 Decorating the Christmas tree is one of the great joys of the season. Many ornaments are valuable and have been in the same family for generations. They have become heirlooms. When the tree gets taken down, they are wrapped in tissue paper and stored in the attic until the next year. But, even if you don't have such treasured pieces, there are many craft shops in several European countries that make fabulous ornaments, such as colorful glass baubles, wood carved angels, Santas dressed in velvet. and, of course, for the treetop, sparkling spikes and angels blowing their trumpets. The imagination and creativity know no bounds. The traditional red wax candles have been replaced by electric lights for safety reasons. From Germany to Poland, Italy to Bohemia, we show you a treasure trove of shops that either create or sell these handcrafted little works of art. Note that some also offer the option to purchase online.
1. Toni Baur
Oberammergau, Bavaria, Germany
Oberammergau is a small town near Garmisch-Partenkirchen in the Alps of Bavaria. The town, in a valley and on the shore of the river Ammer, is famous for three things: the passion plays, its artfully decorated houses with frescos depicting rural and religious scenes, and the tradition of wood carvings. Around Christmas time it often snows, converting the town into a winter wonderland, well worth making the trip from Munich (1.5 hours along the A95) to buy your fabulous, handcrafted Christmas ornaments.
Approximately 60 artists work in their wood carving ateliers, so you are spoilt for choice. One of the best known is Toni Baur. His business has been in existence for over 40 years and, at Christmas, the emphasis is on nativity scenes to place under your tree and a great variety of angels to hang on the branches of your tree. Around this time, a special room in his shop is dedicated to nativity scenes and angels. If you buy something here, you get a work of art that will be treasured in your family for many years.
2. Kathe Wohlfahrt's Christmas Shop
Rothenburg Ob Der Tauber, Germany
Rothenburg ob der Tauber is a town near Ansbach in Bavaria. It's world-famous for its well-preserved medieval old town and deemed to be one of Germany's most romantic towns. In one of the old houses, you find Kathe Wohlfahrt's Christmas Shop, where you can peruse the biggest selection of Christmas ornaments from around the world. You will be overwhelmed by the choice. The ornaments made in Germany come from Oberammergau (see above) and the Erzgebirge. You'll also find baubles, mouth-blown in Bohemia, in all colors as well as Santas, angels, and everything you can possibly think of hanging on your Christmas tree. Best of all, the shop is open year-round, so you can plan on visiting picturesque Rothenburg in the summer and purchasing your Christmas decoration to take home with you.
3. Elfi And Otto Ziegler
Schwabach, Bavaria, Germany
Schwabach is a town near Nuremberg in Bavaria. It has a long tradition of gold foil craft. If you want to buy a very special and rare Christmas ornament, you will have to travel here and visit the workshop of Elfi and Otto Ziegler at Sieben Morgen in Schwabach. They are two of only about 12 artists who know the art of making the original Rauschgoldengel, which is roughly translated to "tinsel angels," but they are much more. The traditional angels have long, pleated skirts made from gold foil, golden crowns, glittering bodices, and, instead of arms, golden wings that reach the hem of their skirts. If not in Schwabach, you can buy Rauschgoldengel at the Nuremberg Christmas market. In fact, the biggest angel hangs at the entrance to the Christmas market.
4. Julia Crystal Factory
Jelenia Gora, Poland
Jelenia Gora is a city in the Polish Lower Silesian Mountains, about a two-hour drive southwest from Wroclaw. The city has a long tradition of glass blowing, and the best-known factory and shop is Julia Crystal Works. Visiting Julia, you can see the entire production process, from blowing to cutting to polishing, and then admire and buy the finished glassware in their shop. You'll find glasses, plates, and artfully decorated Christmas baubles of all colors. Nearby is also a fabulous glass museum that you shouldn't miss. My favorite exhibit is a curtain made of the thinnest glass threads that seems to be blowing in the wind.
5. Richard Glaesser Erzgebirge Volkskunst
Seiffen, Germany
Seiffen is a small town in the Ore Mountains, approximately 50 miles southwest of Dresden. The Ore mountains (Erzgebirge in German) is a mountain range forming the border between Germany and the Czech Republic. In the past, the mountains were deeply mined for silver and tin. When the ore ran out, the region and in particular the town of Seiffen developed an industry of a very different kind. The town became known as the place where it is always Christmas or as Santa's year-round workshop. The reason is that many workshops that make and sell wooden Christmas ornaments of every kind are to be found here. The workers may not be dressed like elves, but they busily toil away to prepare for the festive season.
One of the biggest shops in Seiffen is Richard Glaesser GmbH Erzgebirge Volkskunst. Legend has it that the Ore Mountains are home to the Seven Dwarfs. Therefore, many of the handcrafted wooden figures are in the shape of dwarves who are painted and dressed in traditional red. The same goes for a local wood spirit called Ruebezahl. Otherwise, there are angels, nativity scenes, and a Seiffen specialty: wooden pyramids with fans on top that make them turn. Some of them even contain musical boxes that play Christmas carols.
Pro Tip: Fuechnter Werkstatt is a smaller Seiffen workshop, now run by the eighth generation of Fuechnters. Their trademark, so to speak, is nutcrackers. Walnuts are an integral German Christmas food that sometimes appears, gilded, on the Christmas tree. They need to be cracked, and that's where these wonderful handmade nutcrackers come in. The shapes vary from miners to soldiers and Santas, and each nutcracker takes five days to make.
6. Christmas Ornaments Of Bohemia
Zdobin, Czech Republic
Zdobin is a village in the Czech Republic, located about 60 miles east of Prague. It has only about 100 inhabitants and the most important industry is a co-operative of glassblowers and glaziers called Christmas Ornaments of Bohemia. The company has assembled all the skilled glassworkers of the region who used to work from home and united them under one roof. It was formed in 1931 and has won many awards for the high quality and artistry of the glassworks. They currently make some 8,000 products in 600 color shades, all hand-painted and shaped. You'll find the most beautiful, shimmering baubles but also a plethora of other ornaments like angels, animals, and much more.
7. Christmas In Salzburg Egg Store
Salzburg, Austria
We have talked about Christmas ornaments made from wood, gold foil, and glass, but this shop truly offers something out of the ordinary. Salzburg's Christmas Egg Store is full to the brim with Christmas decorations made from eggshells. You have to see it to believe it, so make your way to Judengasse 11 in the old town of Salzburg. The eggs are painted in all colors plus gold and silver and decorated with glitter and even paper lace. When you enter. you see Christmas trees so full of the spectacular and unique ornaments you hardly see any green branches. To make your Christmas tree truly international, add a few eggs (but leave space for the Bohemian baubles and the German angels and of course the gold or silver tinsel chains!).
8. Wiener Christmas Salon
Vienna, Austria
If you happen to be in Vienna instead of Salzburg looking for original Christmas decorations, you can't do any better than the Wiener Christmas Salon. This shop, full of traditional, hand-crafted ornaments, from baubles to nativity scenes and angels, will make your eyes sparkle. Located in the center of Vienna at Franziskanerplatz 6, it's open year-round so you can shop for your Christmas decorations at any time of the year.
9. Andrea Tagliapietra
Murano, Italy
The fabulous works of art made by the master glassblowers of the island of Murano really need no introduction. But did you know that at Christmas time there is actually a competition going on to see who makes the most eye-catching Christmas decorations? The atelier of Andrea Tagliapietra is one of them. Murano is located in the Venice lagoon and easily reached by vaporetto from Venice. The trip only takes about 15 minutes if you depart from the Fondamento Novo stop, but twice as long if you take a vaporetto or water taxi from the stop near St Mark's Square. Once you alight at Murano, all you have to do is wander from one atelier, or furnace in Italian, to the next and be dazzled by the skills of the glassblowers and the colorful end products.
Pro Tip: If buying any object of Murano glass, make sure you get the real thing as countless Chinese counterfeit items are around. You can't go wrong if you buy directly from a furnace in Murano.