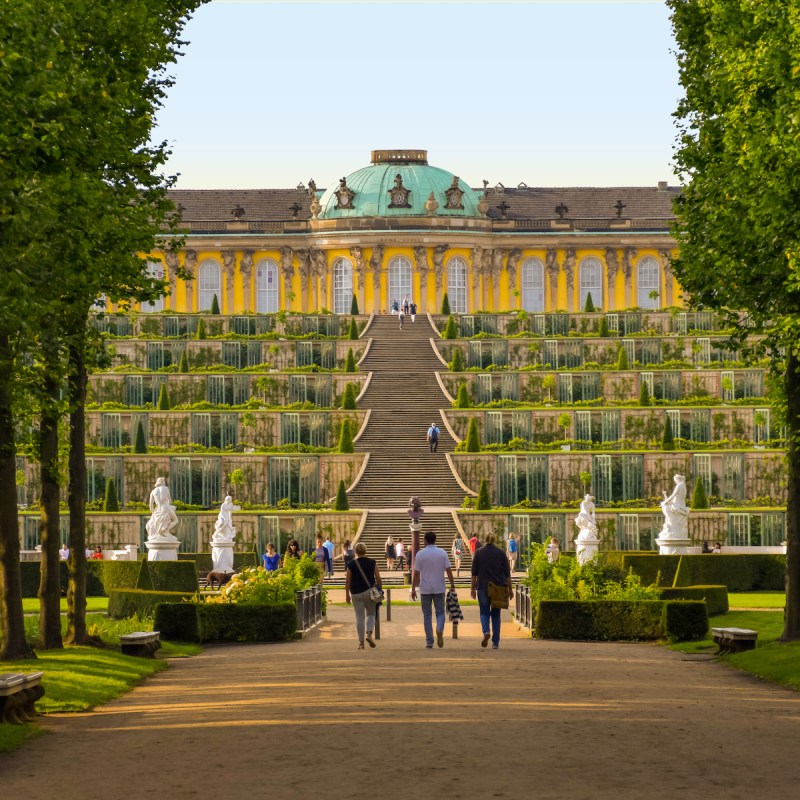 Many visitors to Berlin, Germany's capital, just stay in the cosmopolitan and vibrant metropolis to enjoy and explore. That's not really surprising, considering that Berlin has more than 170 museums, several parks, lakes, and rivers, the KaDeWe, one of Europe's most prestigious department stores on a par with Harrods in London, art galleries, and fabulous places to eat and sample the hearty German cuisine. Add theaters and a wild nightlife and you understand why days and nights are filled.
However, that doesn't do justice to the many beautiful and historical locations located just a few hours from Berlin and waiting for you to see. Some are romantic; others bear witness to Germany's very dark, most recent history that must not be forgotten. Born and raised in Berlin, I can't help but wax lyrical about Potsdam and the Spreewald.
If possible, plan at least for a week in Berlin and pencil in a few day trips for a complete Berlin experience.
1. Potsdam And Sanssouci
Only 15 miles from central Berlin and easily reached by S-Bahn, awaits Potsdam, the capital of Brandenburg, with the palace and gardens of Sanssouci and several other historical landmarks. Often dubbed the Versailles of Germany, Sanssouci, built between 1745 and 1747 as the summer retreat of King Frederick the Great, is more elegant than opulent in accordance with the difference in character between Frederick, the philosopher king, and Louis XIV, the sun king. That doesn't mean the palace isn't dripping with gilded features, inside and out. The style of the time is, after all, Baroque and Rococo. Frederick, a fervent representative of enlightenment, appreciated the benefits of integrating nature into everyday life, which is why he had the palace gardens laid out close to the terraces of his palace so that he and his beloved greyhounds had easy access.
He and his successors added other buildings to the vast gardens. There is the New Palace, the Roman Baths, the Chinese House, the Antique Temple, and the Orangery, a gallery that became the first museum to be opened to the public.
You'll need several hours to admire it all, then head into Potsdam proper to see even more fascinating landmarks. You might be surprised to find the Dutch Quarter, a group of 134 red brick houses built in the Dutch style for Dutch immigrants in 1734. Well preserved and restored, the inhabitants even celebrate a tulip festival in April. You can also visit a Russian village, Alexandrovka, with farms and houses made to look like Izbas.
Do you love spy movies? Then walk along the Glienicker Bruecke, the bridge over the river Havel where during the Cold War, real-life spies were exchanged.
2. Spreewald
The Spreewald, or "spree forest" in English, is a 187-square-mile biosphere located approximately 75 miles southeast of Berlin. The area is famous for its traditional irrigation system, consisting of more than 200 small canals, mostly fed by the river Spree, which gives the region its name. Punts navigate the canals and that, together with visiting typical villages and eating great food, is the best day trip activity.
Originally inhabited by the Slavic tribes of Sorbs and Wends, their descendants still preserve their language, customs, and clothing to this day.
Many species of birds live in the forests, alders on wetlands, and pine trees on sandy ground. There are several ways to reach the Spreewald from Berlin. One is by train in the direction of Cottbus, alighting in Luebbenau, the largest town in the Spreewald. You can also drive or take a bus. The duration of the journey is between 1 and 2 hours.
You may want to start your day in the Spreewald with one of several boat tours from Luebbenau. The advantage is that you don't have to do the punting yourself; just sit back, glide along, enjoy the views and listen to the stories. In Luebbenau, stop for a visit to the Freilandmuseum Lehde, a 700-year-old village with the traditional wooden houses covered with reed. You can also see some traditional clothing, such as huge hats with colored pompoms.
Although currently closed because of the pandemic, for future visits, a stop at the reconstructed Slavic fort Raddusch, which dates from 850 A.D., is a must to learn about the long history of the Spreewald.
There are also many well-indicted hiking trails to make your day trip an active one. In between a specialty, you must try the spreewaelder pickle — cucumbers pickled in vinegar, sugar, and dill.
The best times to visit are from spring to fall. Summers are nice for boat trips but can get very crowded, as the Spreewald is a popular weekend destination for Berliners.
3. Lueneburg Heath
Lueneburg Heath, Luenebuger Heide in German, is a vast area in the northeast part of Lower Saxony, covered in sand, geest, heath, and woodlands. Ninety square miles is a nature reserve. It is a very beautiful landscape that has inspired countless painters and poets because of the romantic wooden farmhouses, historical towns like Lueneburg and Celle, and flocks of moorland sheep called Heidschnucken. This is a full-day trip, or you might plan an overnight stay in one of the romantic Heide Hotels because the 'heath' is at a distance of 220 miles from Berlin. You can get there by car, bus, or (easiest) train, but it takes between 3 and 4 hours to get there. The best time to visit is from early August to the end of September when the heather is in full purple bloom.
Coming from Berlin by car or train, you may want to make the lovely town of Celle your starting point. From there, it's not far to the Suedheide Nature Park, which offers 23 themed walking trails to spend a part of your day. It gives you a good overview of the different landscapes that make up this area of Germany. Spend a few hours in Celle too. The Old Town is a delight with its medieval half-timbered houses, all located along a pedestrian zone, two museums, and the magnificent Renaissance Celle Castle. Have a rest in one of the many restaurants and try the local specialty, Heidschnuckenbraten, tender lamb roast with dumplings and red cabbage.
If hiking isn't really your thing, you might prefer to be carried along with a horse carriage ride. There are plenty around from various starting points.
If you decide to spend the night, one of my favorites is the Heidehotel Bockelmann which is lovely even in winter.
For a souvenir to bring back from your day trip: honey, and for winter, warm sheepskin slippers or a hand-knitted lamb wool sweater.
4. Dresden
Located at the shores of the mighty river Elbe, Dresden is the capital of Saxony and lies 120 miles south of Berlin. It's easily reached by car, bus, or train in between 2 and 3 hours.
Dresden is a symbol of the proverbial "Phoenix from the Ashes." Nearly totally destroyed by firebombing during the last months of WWII with a loss of at least 25.000 lives, it took until 1990 for the city's many famous landmarks to be restored to their former glory and, once again, justify the nickname Florence on the Elbe. The city is divided into two parts by the river, the old town and the new town. Many bridges connect them from all periods, so you can easily get from one side to the other via such lovely bridges as Augustusbruecke or Waldschloesschenbruecke.
For the best panoramic view over the river and city, walk along the Bruehl Terrace before visiting the restored Frauenkirche, Germany's grandest baroque protestant church. Follow with a visit to the iconic Semper Opera House and join a guided tour to get inside. A thrill is seeing the Royal Palace and the Green Vault, which was the site of a spectacular robbery on November 25th, 2019.
The Zwinger is a baroque palatial complex and garden most famous for the collection of Meissen china. In fact, if you have the time, make the short trip to Meissen and marvel at the 300-year-old Porcelain Manufactory. If you love beautiful things, you will be tempted to buy a piece.
5. Sachsenhausen
For a day trip into Germany's recent and very dark past, drive 22 miles north out of Berlin to Oranienburg to visit the memorial and site of concentration camp Sachsenhausen. It was in operation as a Nazi labor camp, prison, and place of killing Jews in gas chambers from 1936 to 1945. Don't shy away from memorials like this just because they are not "fun." It's a part of history that never should be forgotten.
If you're planning on visiting a concentration while you're in Germany, check out this list of unwritten rules to make your visit as respectful as possible.
Related Articles: