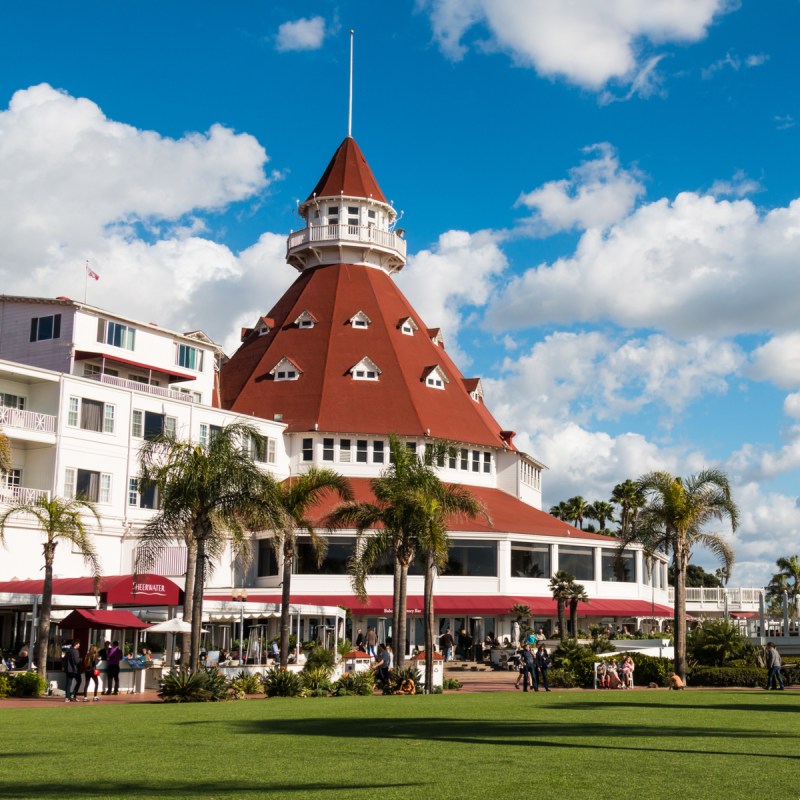 San Diego is home to the first European settlement on the California coast, one of the country's largest urban parks, a world-famous zoo, and 70 miles of beaches. It's also where you'll find dozens of oceanfront hotels and resorts boasting stylish interiors, expansive views, and gourmet restaurants. This resort town knows how to pamper its guests.
Located at the southern tip of California, San Diego is both a city and a county. Dozens of small beach towns dot the coast beginning in the north at Oceanside and ending in the south at Imperial Beach. Depending on your interests, there are large historic hotels offering an amazing array of amenities, or small, family-owned accommodations located along quieter stretches of sand. There's something for everyone in San Diego.
1. Paradise Point Resort & Spa
Located in the Mission Bay area of San Diego, the large and lushly landscaped grounds of Paradise Point Resort & Spa set it apart from many other resorts in the region. In fact, there are 44 acres of resort to enjoy during your visit, featuring five pools, a marina, basketball and tennis courts, and 14 miles of waterfront paths perfect for running or cycling. This is the place to check in and stay put for several days.
Accommodations include large guestrooms, suites, and bungalows, many featuring ocean views. And no matter where your room is, you are just a short walk to the beach.
There are three restaurants in the resort ranging from casual to upscale. Popular with guests and local residents, Barefoot Bar & Grill is known for its beachy cocktails and comfort food while Tidal serves great steaks and seafood.
Pro Tip: Thanks to the wide range of activities, this is a popular destination for multi-generational family vacations.
2. Hotel Del Coronado
Probably the most iconic and historic hotel in all of Southern California is the Hotel Del Coronado. Well known for its white facade and red conical roofs, the hotel is a favorite of both visitors and residents. Built in 1888, it has hosted U.S. presidents, royalty, and celebrities.
While most people picture the original, Victorian building when they think of Hotel Del, it has become a sprawling resort comprised of "neighborhoods," Guests can choose from the Cabanas, Beach Village, and Shore House, each with its own amenities. Its location on Coronado Island promises excellent ocean views spanning from Point Loma to Glorietta Bay.
The list of activities available to guests is long. Relax by one of the many pools, enjoy a massage at the spa, learn to surf, ride a bike along the beach, or take a morning yoga class. If you prefer to shop, there are a half dozen boutiques selling beach apparel, gifts, and leather goods.
With eight restaurants and cafes, there are plenty of dining options. For something quick and casual, there's Eno Pizzeria or Beach & Taco Shack. For an upscale seafood feast, be sure to make reservations at Serẽa. The sundeck is a romantic spot for couples to enjoy a cocktail while watching the sunset over the Pacific Ocean.
Pro Tip: It's said that the ghost of Kate Morgan, once a housekeeper at Hotel Del, haunts room 3327. Very brave guests can request to stay in this spooky room.
3. Loews Coronado Bay Resort
Not as well known as the Hotel Del, but with equally great views is the Loews Coronado Bay Resort. This 15-acre resort is perched on its own small peninsula far away from crowds and traffic. Many of the guestrooms and public spaces feature views of the bay and downtown San Diego in the distance.
Guestrooms and suites have an understated, elegant decor featuring light blues and greens and many have balconies overlooking the bay or marina. Walk out the door of your room to the lushly landscaped pool area or grab a shuttle to Silver Strand State Beach.
Many of the activities center around the ocean and include boat and jet ski rentals as well as surf and sailing lessons. If you'd rather relax in the sun, hang out at one of three pools, reserve a cabana, and enjoy an icy cocktail.
When it's time to eat, head to Crown Landing for upscale dining or select one of the lounges for something quick and casual.
Pro Tip: While both resorts on Coronado Island offer great dining and shopping, the charming downtown area offers even more options. Set aside a few hours to stroll Orange Avenue — the island's main thoroughfare where you'll find shops, galleries, restaurants, and theaters.
4. Crystal Pier Hotel & Cottages
Among the most unique beach accommodations in San Diego is the Crystal Pier Hotel & Cottages in the city's Pacific Beach neighborhood.
Built in 1927 and originally known as Pickering's Pleasure Pier, this was once the home to carnival-like attractions and a ballroom. Today, it's a popular destination for vacationers and fishermen. In addition to accommodations, there's a bait shop on the pier and plenty of space for fishing, strolling, and relaxing.
Every cottage provides guests with great ocean views and the experience of sleeping over the water. All come with fully equipped kitchenettes, separate bedroom and living spaces, and a private deck over the water. While the pier is open to the public during the day, only hotel guests are allowed to enjoy it in the evening and early morning.
There is no restaurant available, but there are many dining options available within a short walk.
These cottages book up to one year in advance for summer stays, so if this interests you, make your reservations as soon as possible. There are minimum night requirements ranging from two to four nights depending on the season.
Pro Tip: One of the best ways to explore this part of the city is on a bicycle. There are several rental shops within walking distance and there are miles of flat paths through both Pacific and Mission beaches.
5. La Jolla Shores Hotel
One of Southern California's most upscale neighborhoods is La Jolla, and within this lovely enclave of San Diego are several resorts perfect for a weekend getaway. Perched on the edge of a 600-acre underwater ecological reserve, the La Jolla Shores Hotel is ideal for both relaxing and adventure.
The resort offers 128 rooms, many with views of the ocean and the rocky cliffs in the distance. Other rooms feature views of the lush, tropical gardens of the property. Most rooms have balconies or lanais, perfect for enjoying the sea air.
If you're eager to relax, then lounge by the pool or grab a beach chair and sit on the sand while watching the waves roll in. For more adventure, consider booking a dive trip or kayaking tour. Several tour companies are located nearby and will lead divers through the ocean waters rich in marine life. Kayakers will enjoy the nearby sea caves.
For onsite dining, The Shores Restaurant offers comfort food classics for breakfast, lunch, and dinner. If you're ready to splurge and want an unforgettable dining experience, head to The Marine Room nearby. Arrive at high tide and you'll be mesmerized by the waves splashing against the large windows.
6. La Jolla Beach & Tennis Club
Located near the La Jolla Shores Hotel is its companion property, the La Jolla Beach & Tennis Club. Here you can combine your love of the ocean with your enjoyment of tennis. Despite being part of the city for over 80 years, this resort is lesser-known and still feels like a secret to many visitors.
Choose from rooms, studios, or suites with either an ocean or interior view. For the ultimate in privacy, consider reserving one of the cottages. All accommodations are tastefully decorated in neutral colors.
When it's time to play, you have plenty of options. The resort is home to 12 championship tennis courts that have hosted dozens of national tournaments and hundreds of world-class players. Reserve a court and play a few games or book a lesson with a pro to fine tune your swing. If you're not a tennis player, then borrow some chairs and umbrellas and head to the beach and lounge by the pool.
The Club Dining Room and bar is open all day for food service, but for something unique, book a beach barbecue. Reserve your spot on the beach, order your favorite barbecue items, and simply show up to cook.
Pro Tip: While it is possible to check into your hotel and stay put for a few days, be sure to allow time to explore La Jolla. Head to Prospect Ave. for some shopping, check out the sea lions at La Jolla Cove or head to Torrey Pines State Park for an ocean view hike.
With 266 days of sunshine each year in San Diego, it's practically guaranteed that your trip will be great. So choose your dates, make your reservations (far in advance for summer), and head to one of the most relaxing cities in the U.S.
San Diego is a year-round destination with some amazing sites. Check out: