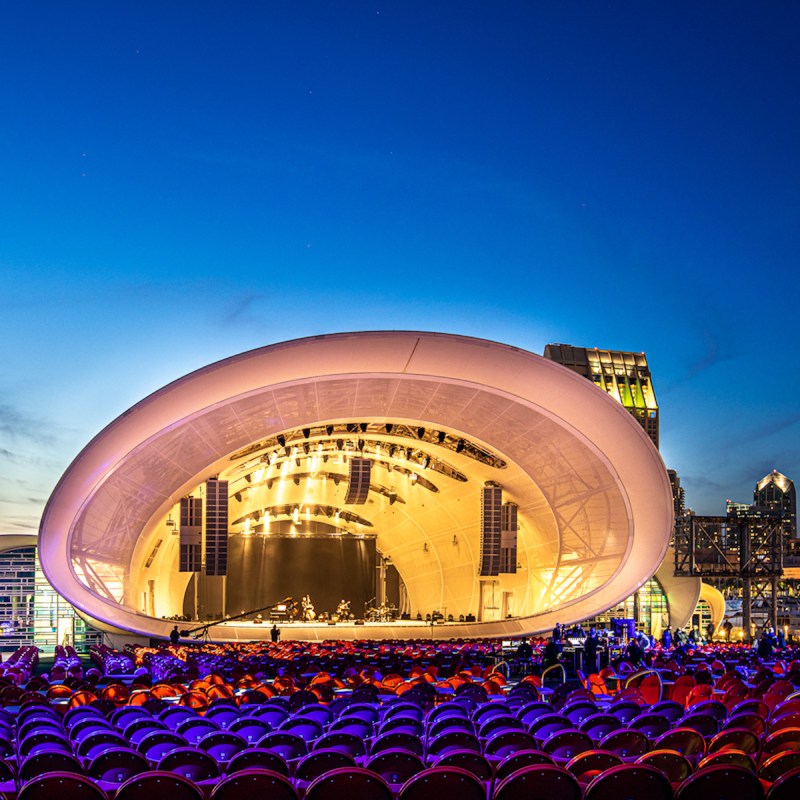 The reasons to visit San Diego were already too plentiful to count, but it turns out there's a new one: The Rady Shell at Jacobs Park. This sleek, state-of-the-art outdoor venue opened August 6 and is ready to entertain visitors with a combination of movies, music, and dance. While there are certainly similarities to LA's Hollywood Bowl, The Rady Shell's location in San Diego — set amidst the Embarcadero complex — makes it an even better destination for locals and out-of-towners. Luxury hotels, dining options for all budgets, nautical museums, and over a dozen public art pieces are within walking distance. If you're coming from a distance, go ahead and book a room to fully enjoy everything this area has to offer.
Chill At A Concert
The Shell is now the official summer home of the San Diego Symphony, the oldest orchestra in California. At the helm is Music Director, Rafael Payare, who joined the symphony in 2019. The symphony's summer and fall lineup includes Mariachi Los Camperos, 1812 Tchaikovsky Spectacular, Sergio Mendes, and Jason Mraz. Other performances will include Gary Clark Jr., Brian Wilson, and Bobby McFerrin. Movie lovers will enjoy viewings of three popular films — Rocketman, Goonies, and Star Wars: Return Of The Jedi — with the symphony playing their musical scores.
Built with state-of-the-art acoustics, there's not a bad seat in the house. The powerful sound system was designed to accommodate both the symphony and touring artists for an audience of up to 10,000. During symphony performances, the front section of seating is designed as tables of four so guests may dine while enjoying the music. The back section of the venue is an open lawn where guests can relax on blankets or their own chairs.
For anyone unable to afford tickets to one of the concerts, there are alternatives. Most San Diego Symphony rehearsals are open to the public free of charge. For their summer and fall lineup, 40 rehearsals are listed as open to the public.
Eat Great Food
You won't go home hungry after taking in a concert at The Rady Shell. The dining program has an array of offerings ranging from gourmet-plated dinners and excellent wines to street food and popcorn.
Certain sections of seating can pre-order meals from Blais By The Bay, a brand new venture led by Chef Richard Blais, best known as the winner of Bravo's Top Chef: All-Stars. Entrees include flat iron steak, Faroe Island salmon, grilled tuna steak, and a heritage grain bowl. Food is delivered to each table at the time requested, typically an hour before the show begins. This upscale dining experience can be accompanied by a selection of wines, beers, and spirits.
For guests seated anywhere in the venue, Urban Kitchen serves globally-inspired cuisine including a Korean-style chicken sandwich, Italian chopped salad, and Japanese soba noodle salad. Or stop by the Street Food Experience to pick up pizza and tacos. A large outdoor seating area is available for pre-show dining and alcoholic beverages are also offered.
Stroll Through Jacobs Park
One of the more unique features of The Rady Shell is its setting within a park that is open to the public when there's no concert scheduled, an estimated 85% of the year. When the silver gates roll open and stanchions are removed, anyone can stroll through the outdoor dining area, explore all sections of seating, and get an up-close look at The Shell. Built on a gentle slope to ensure good viewing for all, daytime visitors will enjoy climbing to the highest point for a view of the surrounding bay, Coronado Bridge, and downtown San Diego.
For more information on Coronado and the surrounding area, check out Coronado Island and Hotel del Coronado.
There's a paved path around the venue with newly installed benches, perfect for a quiet picnic. Nearby is a popular fishing pier. Even if you're not able to attend a concert, be sure to set aside time to explore this lovely new park in San Diego.
Pro Tips
Parking in the immediate area of The Rady Shell is very limited, however, shuttles are available from the nearby lot adjacent to the Hilton Bayfront Hotel. If you prefer to get some exercise, the walk from the Hilton is just 15 minutes. San Diego-area guests may prefer to use public transportation or ride-sharing.
If you're looking for alternatives to dining at The Shell, consider one of the many restaurants at Seaport Village, just a 15-minute walk. This charming shopping and dining complex has over two dozen restaurants serving international fare ranging from fast-casual to fine dining.
Make a weekend of your concert-going experience with a stay at one of the nearby hotels including the Hilton Bayfront, Marriott Marquis, or Manchester Grand Hyatt. All three highly-rated hotels are within walking distance of the venue.
If you plan on visiting the San Diego area, be sure to see these related stories: