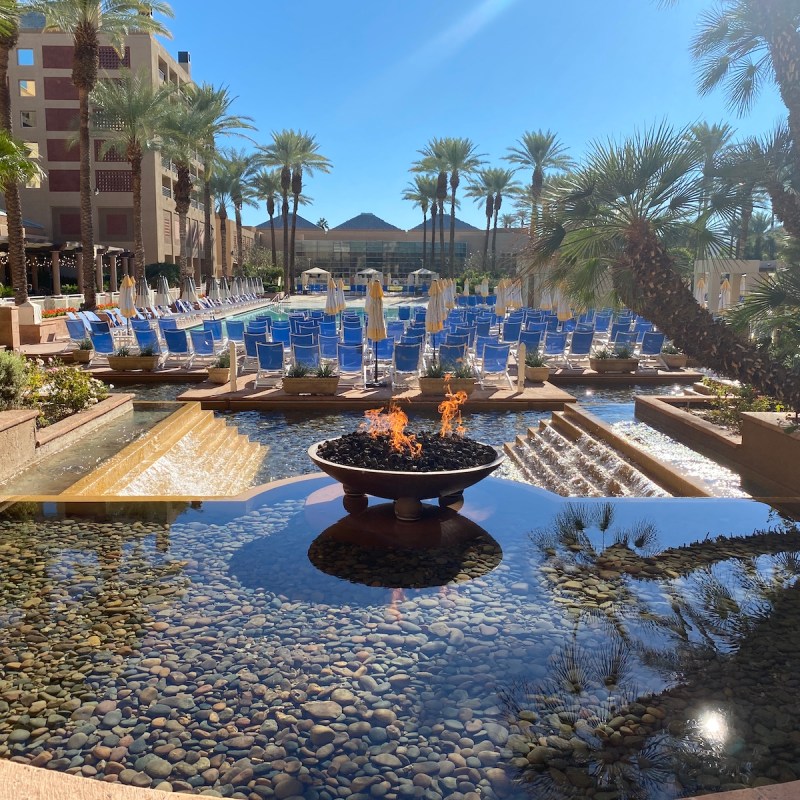 Palm Springs has a certain charm about it. It was a big hangout for celebrities beginning in the 1930s. Bob Hope, Frank Sinatra, Peter Lawford, Cary Grant, and many more owned vacation homes in this desert enclave. Top-rated championship golf courses make this a popular winter destination. Events like the Coachella music festival bring in the younger crowd and architectural buffs are drawn to Modernism Week, an annual 11-day festival with more than 350 events highlighting Palm Springs Mid-century Modern history. To enjoy all of Palm Springs and the surrounding area you need a great place to stay.
Thank you to Visit Greater Palm Springs for hosting me on a press trip and arranging visits to these great resorts. I was only able to stay at one resort during my stay but I did visit all the other resorts for either a meal or a spa treatment.
I stayed at the Renaissance Esmeralda Resort & Spa, Indian Wells during my visit to the area. My room was on the top floor with a large balcony that overlooked the pool with views of the Santa Rosa Mountains. I was in good company. The resort, which just experienced a multi-million-dollar reimagination, is the scenic backdrop for the Season 18 premiere of ABC's hit romance reality series The Bachelorette, which aired on October 19, 2021.
The pool area was everything you would expect in a luxury property. A sand beach leads into the large pool that has a waterfall feature. There is plenty of seating and the H2O Pool Bar offers cocktails and lite bites. The resort is lovely and highlights the outdoor space with plenty of floor-to-ceiling windows. Just off the lobby are outdoor fire pits and waterfalls, a great place to hang out in the evening. Golf lovers will enjoy the challenging Indian Wells Golf Resort ranked as a "Top 20 Courses to Play" by Golfweek magazine and just steps away from the resort. The 36-holes offer beautiful greens which pop against the stunning desert valley views.
The well-appointed La Quinta Resort & Club offers a variety of accommodations including suites, private casitas, and villas set on a lush 45-acre property that is beautifully landscaped. The 5 golf courses, 21 tennis courts, and the Spa La Quinta provide something for everyone. The 41 pools include the main resort pool that is family-friendly and an adults-only pool. Other pools are nestled among the accommodations.
I had the opportunity to explore the grounds of this historic property, which has welcomed guests since 1926, with many Hollywood legends visiting. Frank Capra and co-writer Robert Riskin penned the classic It Happened One Night at the hotel. The resort really comes alive at night with the area known as the Plaza. Spanish-style architecture and outdoor spaces with waterfalls and landscaped gardens beckon for alfresco dining and live music. I ate at Morgan's in the Desert, the resort's signature dining venue. The menu showcases contemporary American cuisine inspired by the Coachella Valley's bounty of agricultural products.
There is luxury and then there is the Ritz-Carlton, Rancho Mirage. I enjoyed breakfast at the resort and admired the stunning views it is known for. Sitting 650 feet above the Palm Springs Valley, it is nestled among the Santa Rosa Mountains. This scenic haven is beautifully landscaped to take advantage of the lovely natural surroundings. I enjoyed breakfast at the State Fare Bar & Kitchen and dined overlooking the pool and surrounding mountains. An excellent meal and the server Brando lived up to the Ritz-Carlton's reputation for legendary service. He truly enhanced the experience with his friendly, thoughtful service. The Ritz-Carlton, Rancho Mirage is also known for its award-winning spa. It is on my list for a return visit.
I visited the Westin Mission Hills Golf Resort and Spa for a facial at the beautiful spa located in a separate building on the resort grounds. This is an expansive resort situated on 360 acres. It has been ranked as one of the Top 75 Golf Course Resorts in North America by Golf Digest. There are three beautiful pools with one designated for adults only. Recent upgrades include a waterslide in the family pool and cool decking, a plus in a desert community. This is the only resort I know of with a Pet Adoption program and it is very pet-friendly. You can get a Westin Signature Heavenly Pet Bed, and two of the restaurants and room service offer pet bites on the menu.
My hydrating facial with Maya at the Spa at Mission Hills was fabulous. Being in the desert really dries out your skin, but after this hour-long experience, my skin was plump with moisture. I thoroughly enjoyed the pampering. There is a lovely courtyard surrounding a hot tub which is a perfect place to relax and unwind before or after your treatment.
The Hotel Paseo is not a resort but a boutique hotel. I included it on this list because of its location and "coolness" factor. It is just steps from El Paseo, an upscale shopping area filled with restaurants, art galleries, and designer boutiques. It is known as the "Rodeo Drive" of the desert. This one-of-a-kind hotel is part of Marriott's Autograph Collection of unique properties. This stunning hotel is a new build but with its midcentury vibe, you expect to find the "Rat Pack" hanging out by the pool. Speaking of which, it is designed to look like a California backyard and has an Airstream (currently being remodeled as a future hotel rental) overlooking a faux grassy area with games like corn hole. There is a one-hole mini-golf course, a beautiful pool, and a great pool bar. With incredible mountain views, it is a wonderful place to relax. Even if you aren't staying at the hotel, it is worth a stop for a cocktail.
The interior is a delight from the vintage car in the lobby to the eclectic art collection. Attention to detail has vintage rotary look telephones near the elevators. The guestrooms are well-appointed with soothing gray, white, and light blue tones and private balconies that showcase views of the San Jacinto Mountains and the surrounding palm trees.
You know you are in a special place as you drive up to the JW Marriott Desert Springs Resort & Spa and view the gorgeous grounds with vibrant desert gardens and lakes filled with exotic birds including flamingos. The resort just completed a multi-million-dollar renovation which took the guestrooms and magnificent lobby and transformed them into a modern desert oasis. The property is known for its signature lakes with one flowing right into the lobby where you can catch an electric boat to take you to fine dining venues, golf courses, the spa, or just a serene ride on the 18 acres of water.
There are activities galore at the JW. Nearby are two championship Ted Robinson-designed golf courses and the Desert Springs Tennis Club. There are five resort pools onsite, a full-service spa, and a brand-new JW Entertainment Zone with an arcade game room and supersized versions of your favorites: skeeball, duck bowling, virtual reality games, and seasonal activities. All this is set on 450 acres with beautifully landscaped desert gardens perfect for morning walks.
Location, location, location! The Kimpton Rowan Palm Springs Hotel is another boutique hotel but warrants being on this list due to its location in the midst of downtown Palm Springs and its stunning rooftop bar, Palm Springs' first and only one. The hotel has a trendy, urban, "I am here to be seen" feel to it. I visited to enjoy a cocktail at the renowned High Bar which sits adjacent to the rooftop pool. From the roof, the views of the San Jacinto Mountains, the desert landscape, and a breathtaking sunset make this the place to be before heading downtown for dinner.
The High Bar serves up classic and retro cocktails which live up to the hype. I ordered a "Rumble Tumble," which had people looking with wonder as the waitress delivered it to me. I received so many, "What is that?" Well, it was a "Rumble Tumble," a lovely concoction of Plantation 3 Stars and pineapple rums, almond orgeat (I don't know what it is either), pineapple comme, coconut milk, fresh lime juice, and a butterfly Pea Flower. Absolute perfection!
I was able to spend a half-day at the Azure Palm Hot Springs Resort & Day Spa Oasis before flying home that evening. It is located on Miracle Hill which got its name from the discovery of water in the middle of the desert. The resort is rather ordinary looking from the outside so I was blown away by this incredibly beautiful property with wonderful spa amenities. The resort offers half-day room rentals with spa treatments.  I checked into a Santa Rosa Suite which is just a stunning room. When you walk into the room, the windows come together in the corner to give drop-dead views of the Santa Rosa Mountain Range and the Coachella Valley. The 1000-square-foot suites have a concrete soaking tub that can be filled with the famed fresh, hot mineral spring water to enjoy in the privacy of your room. Additional amenities include a living room with a gas fireplace and a beautifully decorated room.
The resort has recently opened — a challenging event during the COVID-19 pandemic — but it has been very busy since opening and it is easy to see why. The pool deck feels like an oasis with the largest mineral pool in southern California and two outdoor hot tubs. Just off the pool deck is an indoor sauna, and another hot tub with a higher temperature. On the second floor, you have access to a Himalayan Salt Room and an Ice Room which is just a very cold room to cool down in after the hot pools and desert heat.
Azure is an adults-only sanctuary and during my visit, I saw couples and ladies on girl trips. It is the perfect destination to rejuvenate your mind, body, and spirit with over 30 spa treatments on the menu and other wellness options throughout the year, including cleansing retreats. The mineral water emerges from the ground at 174 degrees with a thick, silky texture infused with minerals. Calcium, magnesium, phosphorus, potassium, lithium, and surprisingly high sulfur content (because the water is odorless) are all absorbed into the skin providing healing properties and relaxation.
Pro Tip: The resort has a café, but the hours and selections are limited. I recommend bringing food and snacks with you.
Palm Springs is a great destination for a weekend getaway especially in the winter months when you want to get away and enjoy the endless days of sunshine in this desert oasis.
Check out these things to see and do around Palm Springs: