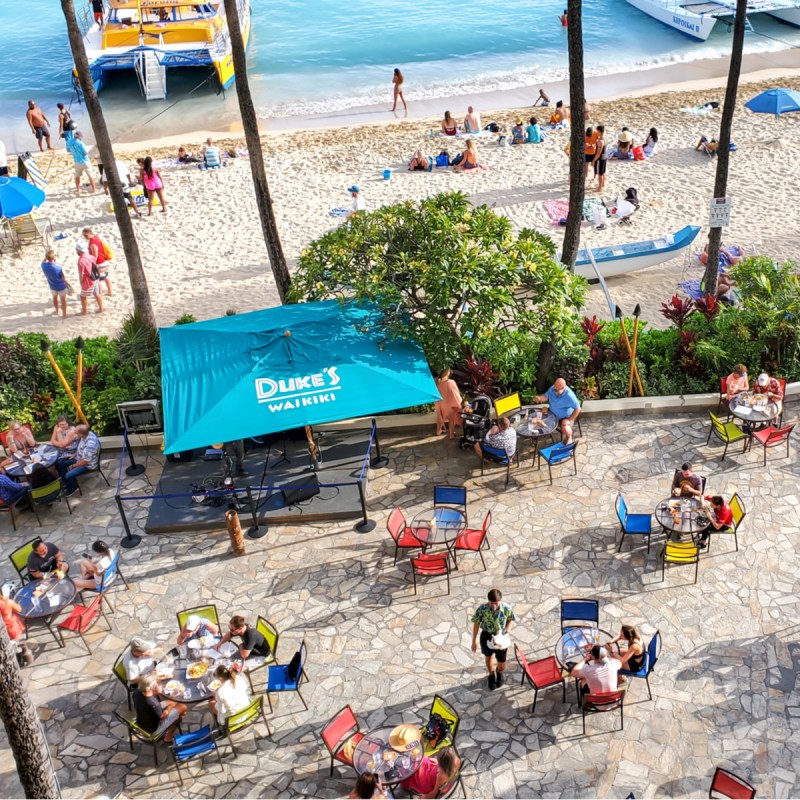 According to an announcement from Governor David Ige, travelers from outside the United States will be able to visit Hawaii once again after new federal guidelines begin on Monday, November 8. In a separate statement, the governor provided information about indoor and outdoor gathering rules.
A report from the Honolulu Star-Advertiser notes that the capacity of restaurants, bars, gyms, and other places where people congregate indoors will be limited to 50 percent unless the county where the business is located has implemented a requirement for patrons to be vaccinated or are able to provide proof of a negative COVID test. Ige also mentioned eliminating certain restrictions like wearing masks and social distancing while outdoors.
"As a reminder, indoor activities at restaurants, bars, and social establishments must continue to require patrons remain seated with their party, maintain 6 feet of distancing between groups, do not mingle, and wear masks at all times except when actively eating or drinking," said Ige. "Effective November 12 … outdoor activity at restaurants, bars, and social establishments will no longer be subject to these restrictions."
New Federal Requirements For International Visitors
Under the new guidelines, non-U.S. citizens who fly to Hawaii from outside of the United States will need to provide officials with a record of their vaccination status and a negative COVID test that was taken within 3 days of boarding their flight. Citizens, on the other hand, can choose between providing proof of vaccination or showing a negative COVID test that was taken within 1 day of flying to the United States.
U.S. citizens who fail to provide one of the above forms of documentation, or foreign travelers who fail to provide both documents, won't be allowed to fly. To ensure enforcement of the policy, the Centers for Disease Control and Prevention will perform checks in Hawaii.
While the required tests don't have to be taken with one of Hawaii's travel partners under the federal guidelines, they do need to be conducted with one of the partners for unvaccinated domestic travelers. (Hawaii's COVID-19 site has more information on the state's travel partners.)
Non-U.S. citizens who travel to Hawaii from a different state or territory will be considered the same as domestic travelers.
John De Fries, the CEO and president of the Hawaii Tourism Authority, released the following statement after the press conference:
"We are only able to reopen the visitor industry because of the measures taken by the people of Hawaii throughout this pandemic to keep each other safe and keep our community healthy," he said. "Thanks to your efforts, we can now continue the work of bringing Hawaii's economy back to support our local small businesses and kamaaina working families."
Domestic Rules
Safe Travels Hawaii still maintains some rules for domestic travelers. People from the U.S. hoping to travel to the tropical state will still need to create an account through the program's site, enter the details of their trip, complete health paperwork online, and sign off on all of the information being entered.
The state requires a 10-day quarantine period that travelers can avoid by providing documentation that proves vaccination status or a negative Nucleic Acid Amplification Test (NAATs).
Additionally, Hawaii (along with the federal government's policy) will accept FDA-approved vaccines as well as vaccines approved for emergency use by the World Health Organization. For a complete list of approved vaccines, check out the CDC's website.
Governor Ige maintained a positive tone in his statement. "Thanks to the people of Hawaii for their patience and for taking precautions to keep our communities safe. Our state continues to see one of the lowest incidences of COVID-19 and death rates related to the virus," he said. "As more and more people are vaccinated, we are moving to ease pandemic mitigation measures — including travel restrictions — in a way that ensures the health and safety of our communities."
For more information on Hawaii, be sure to check out these articles: