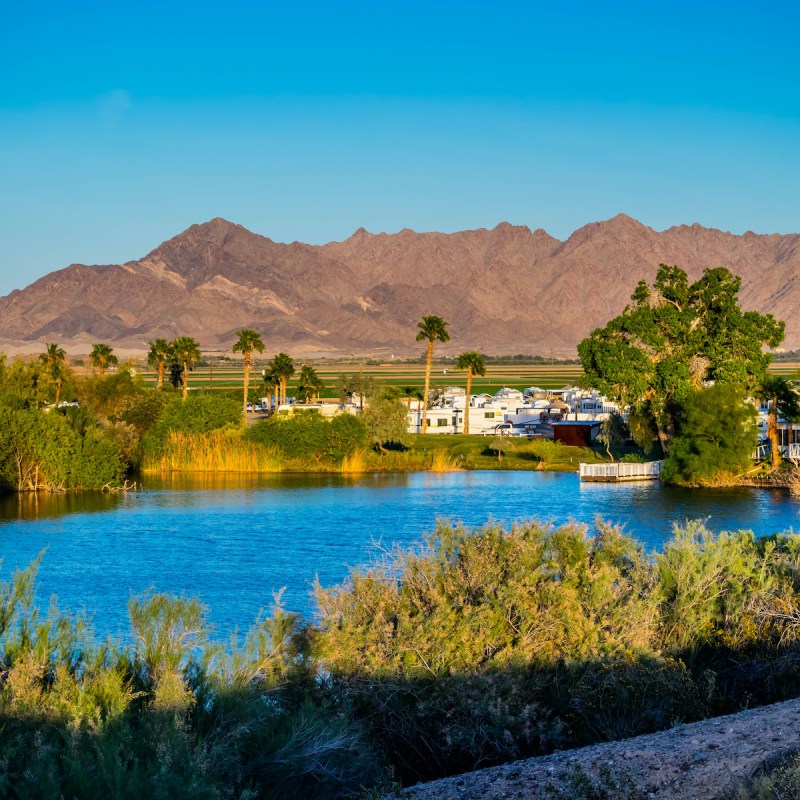 With more than 4,000 hours of sunlight per year, the small city of Yuma on the southwestern edge of Arizona near the borders of California and Mexico claims the title of the Sunniest City on Earth. Consistent sunshine and a dry climate make the city located alongside Interstate 8 popular with snowbirds. Its population doubles during the winter.
During my own snowbird winters in the Greater Phoenix area, a two-and-a-half to 3-hour drive away, I heard about Yuma mostly as an overnight stop before or after crossing into Mexico for inexpensive dental work in Los Algodones. When I finally visited Yuma, I discovered there were many reasons to make Yuma more than an overnight stop and to venture beyond the hotels along the Interstate.
1. Historic Downtown
Wide sidewalks, a small-town atmosphere, and historic buildings housing boutiques, galleries, eateries, and pubs make strolling through downtown Yuma a delightful way to spend a few hours.
Present day Main Street was once the Gila Trail used by thousands of fortune seekers who passed through what was then Colorado City on their way to California during the 1849 gold rush. Before dams were constructed up and down the Colorado River, the wide river ran fast and deep. Granite outcroppings near present-day Yuma squeezed the river into a narrower channel. Yuma Crossing was known as the safest and easiest place to cross the river. Colorado City was later renamed Arizona City and then renamed again, in 1873, to its current name of Yuma. Yuma is the oldest city on the Colorado River.
Many of the buildings on Main Street date to the 1920s when the road was paved. Buildings in the Brinley Avenue Historic District just west of Main Street date from the 1860s to the early 20th century. There are adobe homes, brick homes, and frame and stucco buildings. The City of Yuma has created this map of historic structures.
In the heart of downtown, you'll find Sanguinetti House Museum and Gardens. The 19th-century adobe home was originally built for businessman E.F. Sanguinetti and his family.
As you wander downtown, don't miss the little shops on side streets or in alleyways and shady arcades. On a section of Second Street known as Pottery Row, local potters display their wares.
Pro Tip: Look for plaques on buildings listing the construction date and a brief history.
2. Colorado River State Historic Park
Colorado River State Historic Park is part of the Yuma Crossing National Heritage Area. The park sits on the original home of the Yuma Quartermaster Depot, an army supply depot that operated from 1865-1883. Supplies traveled from the west coast of California on ocean steamers to the mouth of the Colorado River before being transferred onto steamboats for their trip upriver to the Yuma Depot. From there, mule-drawn wagon trains delivered supplies to Arizona's frontier outposts.
Colorado River State Historic Park provides a glimpse into the life and operations of the supply depot. See the quartermaster's office and the commanding officer's quarters as they would have looked at that time. The former depot warehouse contains an assortment of equipment and displays.
In 1904, the abandoned depot became the headquarters for the Bureau of Reclamation's Yuma Irrigation Project, which saw the construction of three main pieces of infrastructure. The Laguna Dam, the Yuma Main Canal, and the Colorado River Siphon alleviated Yuma's frequent flooding and provided irrigation to the area. The projects also ended the steamboat era. The Corral House, which stored grain and tack for mules and horses during Yuma Quartermaster Depot days, contains exhibits about the project, hailed as an engineering marvel. A diver's scuba suit is among the displays about the building of an inverted siphon underneath the Colorado River.
The Bureau of Reclamation ultimately constructed eight dams on the Lower Colorado River in Arizona. Information about those other dams can also be found at Colorado River State Park. While the dams brought hydropower, flood control, and water for farming, they also caused environmental damage. Conservation and restoration projects now seek to restore lost habitats. You'll also find information about Yuma wetlands restoration.
A visit to Colorado River State Historic Park is a great way to gain insight into Yuma's past, present, and future relationship with the Colorado River.
3. Yuma Territorial Prison State Historic Park
Yuma Territorial Prison State Historic Park is also part of Yuma Crossing National Heritage Area. The Territorial Prison at Yuma operated from 1876 to 1909. Today visitors to the state historic park can view remains of cell blocks, learn about the prison's history, and catch an eerie glimpse into its life.
Displays inside the building that was once the kitchen and dining hall highlight the prison's history, tell inmates' stories, and contain exhibits from the prison's past. Some of the stories are amusing and entertaining. Other displays prompt thoughtful reflection. Convicts called the prison a hell hole. Newspaper accounts listed the prison as humanely administered and a model for its time. It had more modern amenities, such as electricity, ventilation, sanitation facilities, than many Yuma homes as well as a library and a prison band, prompting some to refer to the prison as a country club. The starkness of the remains of the cells behind the museum building may cause shivers and a desire to escape.
From the guard tower built on top of a water holding tank, you have great views of the wetlands.
4. Dates Are Prized
The Yuma area is a major grower of Medjool dates. Medjool dates are considered the king of dates, prized for their large size, sweet taste, and juicy flesh. Medjool date palms were imported into the United States from French Morocco in the 1920s. After being strictly contained in Nevada for several years to ensure they weren't harboring contaminants or disease, they were brought to the southwestern deserts of California and Arizona.
Martha's Gardens offers tours of its scenic date farm. Its farm store sells dried fruits, nuts, and specialty and gourmet foods in addition to a variety of dates.
Pro Tip: Try a date shake. Date shakes are thick and filling. They can be quite sweet but recipes vary. Some include ice cream, others just ice cubes and milk. Cinnamon or nutmeg may be added.
5. Waterfront Parks And Trails
Stroll along beautiful waterfront trails, hike through one of the most remarkable wetlands restoration areas in the desert Southwest, or picnic in a riverfront park. This map shows the several parks and trails along the Colorado River in the heart of Yuma.
Pro Tip: Don't miss seeing the massive 1907 Baldwin steam locomotive at Pivot Point Interpretive Plaza near Gateway Park. It is located on the exact spot where the first train entered Arizona Territory in 1877. Sixteen colorful panels describe how people crossed the Colorado River at Yuma over the centuries.
6. Fun And Tasty Dining
Yuma contains a wonderful variety of eating places. There are family-run Mexican restaurants serving traditional made-from-scratch recipes, eateries updating traditional Mexican dishes to create new fusion flavors, and taco trucks. Although Yuma is in the desert, it is only a couple of hours from the Gulf of California. Shrimp and other fish are shipped in. Look for Baja fish or shrimp tacos and ceviche on menus. You'll also find steakhouses, Italian restaurants, coffee shops, and American-style eateries.
One of the most popular restaurants is Lutes Casino on Main Street. It is not a casino, but a restaurant serving burgers, dogs, sandwiches, soups, salads, and south-of-the-border fare. The food is very good, but it is the decor, described on the restaurant's website as "early eclectic, what might be called interesting junk" that makes this place stand out. Posters, paintings, murals, and decals hang on the 12-foot-high walls of this historic building, which was a grocery store and hotel when it opened in 1901. Unique pieces of memorabilia are found everywhere, including suspended from the ceiling. There are pinball machines and pool tables.
The Garden Cafe offers a varied breakfast and lunch menu served either in its dining room featuring arts, crafts, and vintage items or in its beautiful garden. River City Grill's unique menu features steak, seafood, vegetarian, and vegan dishes based on the regional cuisines of the Mediterranean, Pacific Rim, Indian, and the Caribbean. Prison Hill Brewery, Yuma's only microbrewery, serves pub favorites and American staples with its locally crafted beers and rotating guest taps.
Colorful shops, lively restaurants, and street food make the small town of Los Algodones, Mexico, a fun day trip from Yuma, but it is certainly not the only reason to visit Yuma. There is much to see, do, and enjoy in this vibrant city.