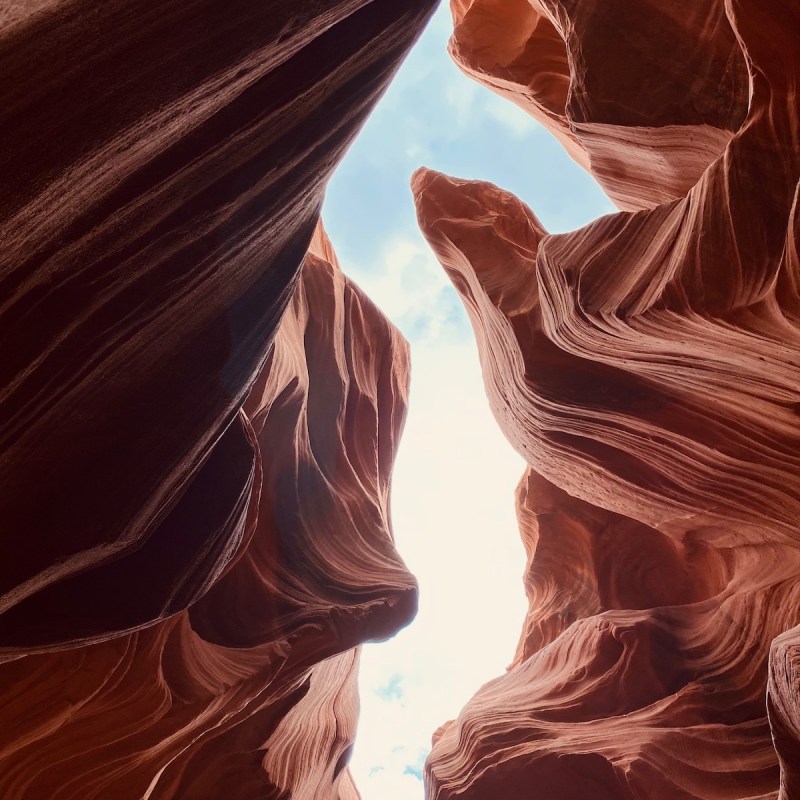 According to local legend, Antelope Canyon was discovered by a young girl while tending her sheep. Regardless of how and when it was discovered, it is no doubt one of the most beautiful natural wonders in the United States. Formed by water over millions of years, reddish-brown Navajo sandstone gracefully bends and curves as it stretches through one and a half miles of slot canyons just outside of Page, Arizona.
Opened to the public in 1997, Antelope Canyon has become one of the most popular attractions in northern Arizona, attracting over one million visitors a year. And for photographers, it's become a bucket list destination. Supposedly, professional photographer Peter Lik sold a photo of Antelope Canyon for $6.5 million. And while that story can't be verified, it underscores the popularity of this otherworldly site and the thousands of ways it can be captured by camera. 
It's important to plan your trip to Antelope Canyon carefully, so here are eight tips to make the most of your visit.
Note: My husband and I had the chance to tour Antelope Canyon recently thanks to Hyatt Place Page/Lake Powell and Ken's Tours, but all opinions are my own.
1. Getting To Antelope Canyon
Located on Navajo Nation land, Antelope Canyon is east of Page, Arizona, just a bit south of the Utah border. The closest international airports are Las Vegas McCarran International or Phoenix Sky Harbor in Arizona — each about a 4 and 1-half hour drive to Page. Public transportation is limited in the area, so it's recommended to have your own car or rent one at the airport.
2. Know The Difference Between Upper And Lower Antelope Canyon
There are actually two parts to Antelope Canyon; upper and lower, and each requires separate tour bookings. Be sure to consider in advance which one you'd like to see and plan accordingly.
The most famous photos come from the upper canyon, so photographers will likely choose this option. Due to the shape of this canyon — wider at the bottom like an inverted "V" — the sun often appears as beams of light jutting through the sandstone and onto the canyon floor. And it's in the upper canyon where photography tours can be arranged. There are five approved tour companies for the upper canyon, all of which are more expensive than tours for the lower canyon. 
We had the opportunity to tour lower Antelope Canyon, and while not as photographically famous, it is still spectacular. It also tends to be a bit less crowded. Here you'll see tourists happy to snap pictures with their iPhones. It is also twice as long as the upper canyon, giving visitors plenty of time to enjoy this natural wonder.
Lower Antelope Canyon does require climbing down five flights of very steep stairs at the start of the tour. Anyone with limited mobility — or a fear of heights — may not want to select this option. 
3. Book Your Tour In Advance
Since both canyons are located on the Navajo Nation land, they can only be visited with an approved tour company. There are five such companies for the upper canyon and just two for the lower. Prices range from $50 to $100 per person with discounts available for children and military members. Some upper canyon companies also offer discounts for "non-peak" times of day.
We had the opportunity to visit lower Antelope Canyon with Ken's Tours and had a great experience. Currently, group sizes cannot exceed seven people, yet we were fortunate to just have four. For this company, it's strongly encouraged to arrive 30 minutes prior to the start of the tour which gives ample time to grab a snack and browse the gift shop.
Tours to both parts of Antelope Canyon book far in advance especially during peak seasons — late spring and early fall. As soon as you've scheduled your travel time, be sure to make your reservations. 
4. For The Best Photos, Come At The Right Time
Any photographer knows the importance of good lighting, and that certainly applies during a visit to Antelope Canyon. Each canyon has an optimal time for photos, which varies depending on the time of year. In general, mid-day (11 a.m.-1 p.m.) between the months of March and October is the best time to photograph these slots, with the shafts of light shining down from the openings above. For more specific information, contact your tour company prior to making a reservation. Our tour was at 11 a.m. and I found the light to be great using both my iPhone and digital camera. 
Pro Tip: If you're planning to use a digital camera, do a bit of research prior to your trip about recommended camera settings. At the start, I was disappointed that the color of the sandstone was not accurately reflected in my photos. Our guide was able to assist me, and they improved, but I wished I had been a bit more prepared instead of scrambling to remember how my camera worked.
5. Understand How The Weather May Impact Your Tour
The canyons are located in the desert, and as a result, high heat and flash floods can be a problem. In the event of rain, the tours are canceled for everyone's safety. But tours do continue during the summer months when it can get very hot. During the peak of summer, you may consider an early morning tour. July is the hottest month in the area, so this may not be the ideal time to visit.
6. Consider The Limitations Of This Experience
I had high expectations for my visit to lower Antelope Canyon, and they were exceeded. This really was an incredible experience that I highly recommend. However, this may not be for everyone. If you have a fear of heights, I'd recommend the upper canyon. Anyone who is claustrophobic should also proceed cautiously. At points, the chambers of both slot canyons are very narrow. Once in the canyon, there is no quick and easy exit. Also, the floors of both canyons are sand, so they are not accessible for wheelchairs, strollers, walkers, etc. You will need to be able to walk at least a half-mile for the upper canyon and over a mile for the lower canyon. 
No purses or backpacks can be brought into the canyons with the exception of baby carriers. You are permitted to bring cameras, cell phones, and water. If you have questions about bringing young children, I'd suggest contacting the tour company directly before making reservations. 
7. Combine This Tour With Nearby Sights
For me, just seeing Antelope Canyon would make the trip to Page, Arizona, worth it. But it would be a shame to leave the area without enjoying a few other sights. The region of northern Arizona and southern Utah is full of national and state parks and monuments that are well worth exploring.
This was my second trip to Page, so I've had ample opportunity to explore the area. Here are a few of the sights I'd recommend seeing before or after Antelope Canyon.
Horseshoe Bend: This famous bend in the Colorado River has become a well-recognized sight on Instagram. I recommend avoiding the crowds and coming at sunrise — the light over the desert early in the morning is great for photos.
Glen Canyon Dam: Rising 710 feet above the Colorado River, this dam provides for the water and power needs of millions of people in the West. I recommend heading to the Glen Canyon Dam Observation Point to appreciate the engineering feat of the dam along with the steep and colorful walls of the canyon.
Toadstools Trail: About 30 minutes North of Page — in Utah — is a short trail to a unique rock formation that looks like giant toadstools. At just 1.5 miles roundtrip, this pet-friendly trail is great for families.
Within 2 and 1-half hours are three national parks; Grand Canyon (South Rim), Bryce Canyon, and Zion. Consider planning a road trip through Utah and Arizona to combine these experiences.
8. Stay For A While In Page, Arizona
A 2-night stay in Page will give you the time to explore all the area has to offer. I've been fortunate to stay at the Hyatt Place Page/Lake Powell twice and definitely recommend it. Reserve a room with a canyon view and enjoy a colorful sunset over the desert. A hot breakfast is included. Packages are available that combine the room and Antelope Canyon tour.
While I'd seen hundreds of photos of Antelope Canyon prior to our visit, it was even more beautiful in person. The varying sandstone formations and the changing light created endless surprises. I look forward to the chance to return and explore these canyons further.
Check out other dynamic areas in Arizona: