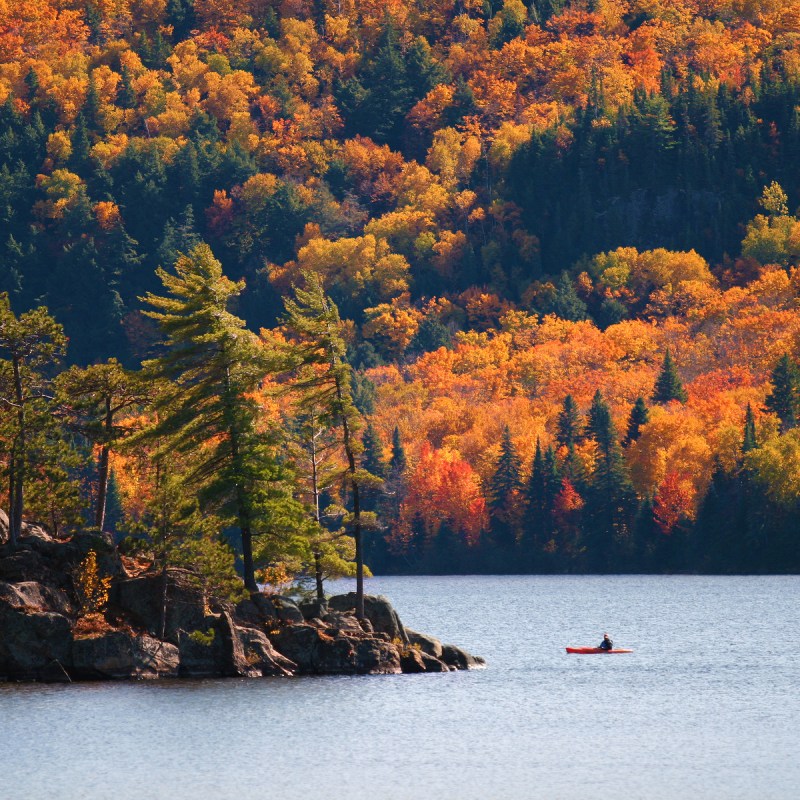 Established in 1893, Algonquin is the oldest provincial park in Ontario. Since its establishment, it has loomed large in the hearts and imaginations of Canadians. It was here that some of the country's most influential artists found their calling and it was, in particular, the muse of Tom Thomson, long regarded as Canada's premier landscape artist. Long considered the unofficial border between southern and northern Ontario, the autumn colors at Algonquin Provincial Park are just about the best you'll find anywhere. Whether you're "leaf-peeping" by foot, bike, boat, or car, you're guaranteed spectacular views. The park's hiking and canoe routes are a thing of legend. There's just one tiny problem:
Everyone — and I mean everyone — knows about Algonquin Park.
If there's an opposite to the proverbial "hidden gem," it's Algonquin Park. The park is famous, popular, and easy to visit from Toronto to Ottawa. That means crowds —and lots of them — during peak times, including when the fall colors are at their best. Crowds are annoying at the best of times, but in the era of COVID and social distancing, they're downright uncomfortable. The provincial park staff is mitigating some of these problems by introducing a day-use reservation system, not dissimilar from the one used to reserve overnight camping spots. But there's an even better solution: visiting nearby parks instead. All of these parks provide incredible opportunities to view the fall colors, with a fraction of the crowds at Algonquin. In fact, you might just have some trails entirely to yourself. Here are some of the best to check out.
1. Sharbot Lake Provincial Park
The Ridgeview Trail in Sharbot Lake Provincial Park may be small (just a third of a mile) but it is mighty. The path includes a short steep incline but these few minutes of exertion are worth it to get to the top and enjoy the spectacular view. You'll be rewarded with a fantastic sightline across the lake and, if you have a keen eye, you'll spot cute cottages on the opposite shore. In early autumn, you'll see the fall colors up close and all around you on the trail, while towards the end of the season when many leaves have fallen, you'll still see the color on distant hills. This is also a popular spot for paddling should you wish to admire the changing season from the water.
2. Murphy's Point Provincial Park
If you enjoy adding a bit of history and adventure to your autumn leaf-peeping, Murphy's Point Provincial Park is the ideal destination. While the park is home to many paddling and hiking routes for those craving a physical challenge, the gentle walk to the old Silver Queen Mine (less than 1.5 miles) is a must-see. This flat, easy walk offers beautiful views of the trees (and is great for birding — I spotted a woodpecker and a hawk on my last hike there) but the real star is the old mine and worker's bunkhouse at the path's end. Available for viewing only during guided tours organized by the park, you'll don hardhats to learn how minerals like mica were once mined in the area. On your way back, the Beaver Pond Trail is a nice alternative and takes you past wetlands. (Note that in some areas the path is partially obscured by large stones sticking awkwardly out of the ground. If you have tricky ankles, walk back the way you came on the Silver Queen path).
Pro Tip: Both Sharbot Lake Provincial Park and Murphy's Point Provincial Park are within a 30-minute drive of the town of Westport. This pretty lakeside community feels like the set of a Hallmark movie and cute shops abound. It's well worth a visit after your hike, as is nearby Scheuermann Vineyard (home to wood-oven baked pizzas which come highly recommended), as well as Foley Mountain Conservation Area. Foley's is home to several gentle hiking trails as well as a fantastic lookout to admire the fall colors.
3. Driftwood Provincial Park
Located just a few miles from the northern boundary of Algonquin Provincial Park, tiny Driftwood Provincial Park is dwarfed by its mega-neighbor. But by no means should it be overshadowed. This special spot is situated on the water (that's Quebec you see on the other side of the Ottawa River), making it the ideal place for paddling. The 1.5-mile Beaver Pond Trail (moderate difficulty) is steep in sections but its panoramic view of the river and the foliage is well worth the effort.
4. Samuel De Champlain
It's hard to pick a winner, but Samuel de Champlain Provincial Park may just be the finest spot for viewing autumn colors in all of Ontario. This drop-dead gorgeous park offers incredible hikes, including the gentle Wabashiki Trail (an easy loop of .6 miles that lets visitors explore the marsh via a peninsula in the middle of Moore Lake). On the other end of the spectrum when it comes to distance and effort, the Etienne System Trails offer a variety of loops, all strenuous, with the longest clocking in at 5.5 miles. Those exploring via canoe will enjoy everything from motor-free lakes flanked by cliffs to challenging rapids and views of waterfalls. If that wasn't enough, the park is also a prime spot for seeing bald eagles.
Pro Tip: The city of North Bay is just 30 minutes away and is the ideal spot for stocking up on camping groceries, outdoor gear, and all the classic treats for autumn adventures: craft beer, pumpkin spice lattes, and yummy baked goods. Check out Gateway City Brewery. Its Twiggs Fire Tower brew uses coffee from local roaster Twiggs. You can get your specialty coffee treats at Twiggs, along with road-trip-friendly breakfasts (like a Montreal-style bagel topped with cream cheese, dill, and hot banana peppers — yum!)
5. Restoule
Restoule Provincial Park has a stellar reputation as a mountain biking destination. If you're up for an adventurous way to enjoy the seasonal colors, this is it! But there's plenty here for hikers as well. At times, steep and with uneven terrain, the Fire Tower Trail (2.5 miles) isn't exactly the kind of route you'd tackle in flip-flops. You'll want some proper hiking shoes here. The trail brings hikers through flat forest paths, boardwalks, and rocky trails and rewards them with breathtaking lake views at the top. Alas, you can't climb up its namesake fire tower yourself, but that's okay. Take a moment to catch your breath on the ground while you admire the deep blue sparkling waters. (As an added bonus, autumn is the perfect time to explore this route, as it's famous for being buggy in the spring and on humid summer days).
Those looking for a gentler pace will appreciate the River Trail. At just under a mile, it's the perfect waterside getaway.
6. Mikisew
If you're traveling with kids and pets, Mikisew Provincial Park is the perfect fall destination. It's fantastic for birding (more than 90 species call the area home), fishing (especially for walleye, bass, perch, and pike), and paddling (standup paddle boards are available for rent). But it has some fun activities you won't find at just every provincial park. Take, for instance, the 18-hole disc golf course. Designed for beginners and intermediate players, this game uses similar rules as golf but instead of a ball and club, you're using your hands to aim a plastic disk at a target. Additionally, the park boasts both a pet-friendly beach and a rare off-leash pet area (which is fenced in for safety.) It's the perfect provincial park if you want to both enjoy the fall colors and blow off some steam.
7. Lake St. Peter
Much like Driftwood, Lake St. Peter Provincial Park is an Algonquin neighbor. Algonquin Provincial Parks' southeast arm is a few miles away from Lake St. Peter. This pretty, small park is a top destination for serious hikers — and serious fans of fall colors. Both the Lookout Trail (which takes about 1.5 hours) and the Cabin Trail (2 hours) are ranked as "strenuous." The Cabin Trail branches off from the Lookout Trail, so if you do both in one day, you're in for quite a workout. And also quite a view! As its name implies, the Lookout Trail offers awe-inspiring views. And the Cabin Trail offers some interesting vistas of its own, including an abandoned log cabin. Today, just a few fragile timbers remain of what must have been a beautiful woodland sanctuary.
Lake St. Peter Provincial Park is also the northern end of the Hastings Heritage Trail. Located just over a mile from the park, the trail is open year round to hikers, cyclists, horseback riders, skiers, dogsledders, snowmobilers, and recreational vehicles. Note that if you're camping at Lake St. Peter, your camping permit allows for free day-use at both Algonquin and Silent Lake Provincial Park (space permitting) — perfect for having further fall adventures!