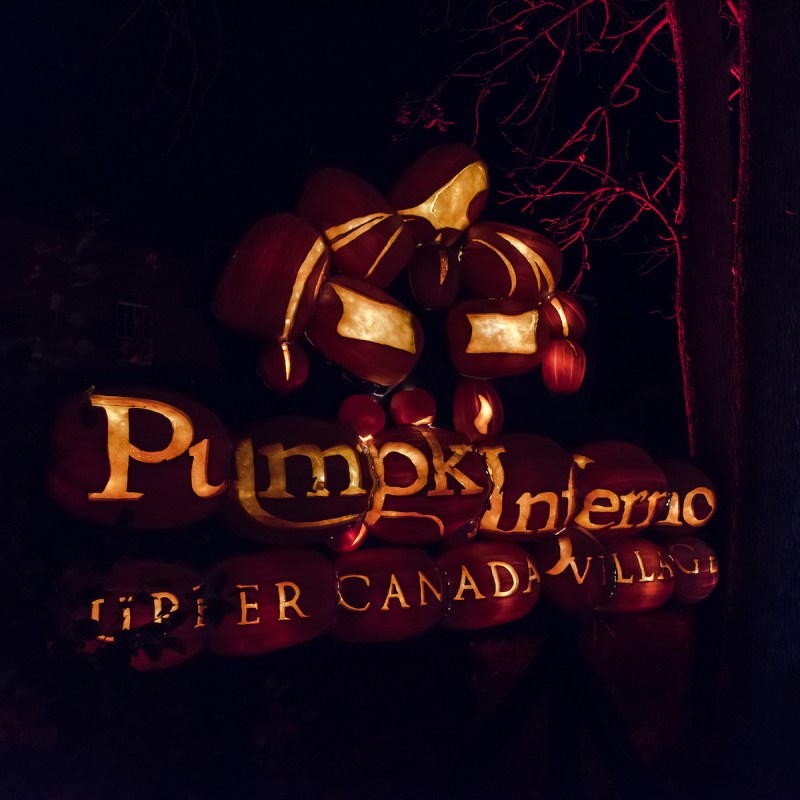 Carli Smelko knows a thing or two about pumpkins.
No, she's not a farmer or a baker but that doesn't lessen her expertise at all. Carli is a special events officer and she oversees all the special events at Upper Canada Village, a living history museum in southern Ontario dedicated to showcasing the life of English settlers during the year 1866. As you might imagine, much of Upper Canada Village's programming focuses on the rural life of an early Canadian community. But every autumn, the Village is transformed — thanks to Carli and her team — and the pumpkins take over!
Pumpkinferno is a magical event that uses over 7,000 pumpkins to transform Upper Canada Village into an autumn wonderland. You'll be forgiven if you think the pumpkins are real (I sure did on my first visit). They're actually made from a polyurethane material and modeled after real pumpkins, from the small and bumpy to the large and majestic. Carli knows these pumpkins intimately, having started as a student carver many years ago, and she's helped the event evolve into what it is today — one of Canada's must-see fall events.
Now celebrating its 10th season, this is what you need to know if you want to experience Pumpkinferno for yourself.
Getting There Is Easy
Upper Canada Village is situated in the community of Morrisburg, just 30 minutes from the border city of Cornwall, Ontario, and across from New York. It's just over an hour's drive from Ottawa, making an evening visit very manageable.
It's Really Affordable
Tickets are a great value at just $20 (plus tax). Kids four and under are admitted free.
New Crowd Control Measures Work
Reserving your tickets in advance is essential, as Upper Canada Village operates a timed entry program to aid in social distancing. In years past, things got busy. REALLY busy. Think upwards of 8,000 people a night, with cars backed up to the highway. I'm happy to report that the timed entry program works, both in terms of feeling safe with social distancing and for having some quiet time to enjoy the displays.
The Event Is Accessible
The wide, flat dirt roads of Upper Canada Village can accommodate strollers and wheelchairs. As well, every year there are several accessibility nights, which allow visitors to drive through the village (with a staff member staying close by to lead the way). However, it's worth noting that all admissions are at dusk and later and, while the glowing pumpkins do a good job of illuminating the path, you will be walking on imperfect terrain by dim light.
It's Wildly Creative
I must admit, I had no idea what to expect during my first Pumpkinferno visit. It took place in September 2020 and I was so excited to find a safe activity that complied with Ontario's COVID lockdown restrictions that I snapped up my tickets without even knowing exactly what I was going to see. When I arrived, it was love at first sight!
The intricately carved pumpkins are assembled together to create incredibly imaginative, fun, whimsical scenes. Imagine an under-the-sea world in which dozens of pumpkins are arranged to resemble a giant shark while tiny individual pumpkins represent starfish and pufferfish. In another tableau, giant dinosaurs are created out of pumpkins and a soundtrack plays in the background so you can imagine them crashing through the foliage. My personal favorite included daintily carved pumpkins hanging from a tree, giving the impression of twinkling lanterns.
Individually, these pumpkins are commendable displays of carving skills. But arranged together, they transform Upper Canada Village into an entirely new world. (For guests visiting in 2021, I did ask Carli which display was her favorite as well. I won't spoil the surprise here but I'll drop the hint that it's musically inspired.)
It's Not Scary
There are no scary scenes or haunted houses here, nor does anyone jump out of the bushes to spook you. It's extremely family-friendly and it's designed to delight, not frighten.
There's A Sweet Treat At The End
After visiting Pumpkinferno, you can buy a Beavertail. Beavertails are a flat, sweet, oblong pastry that is deep-fried and then coated in sugar and cinnamon (the classic style) or any number of sweet and even savory toppings. Look for a little basket of Beavertails coupons when you first enter Pumpkinferno and have your ticket scanned.
There's A Second Pumpkinferno Nearby
Every year, Carli and her team retire certain Pumpkinferno displays and develop new ones so the experience at Upper Canada Village is constantly evolving. But that also means there are a lot of retired pumpkins in storage! This year, a second Pumpkinferno is taking place in the nearby city of Kingston at Fort Henry. Fort Henry is a living history museum where visitors can experience 19th-century military life, but for 2021, its fortifications are playing host to an incredible array of Pumpkinferno's best displays from the past decade. Keep an eye out for the "Great White North." It's stunning!