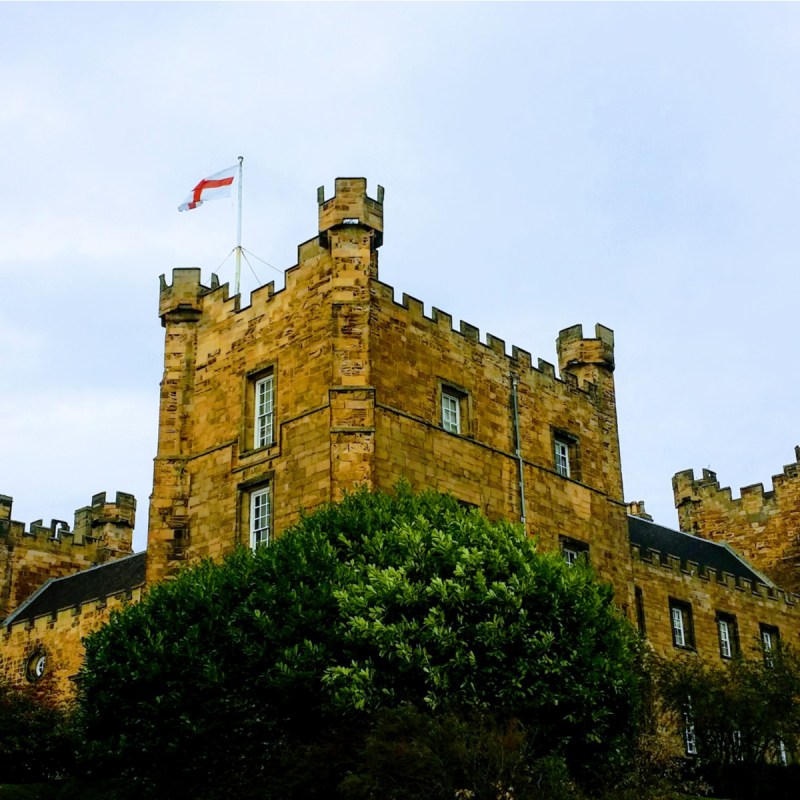 There's something special about the thrill of staying in a haunted hotel, the excitement of wondering if you'll experience something supernatural. Will you see a ghost? Will you feel its spooky presence? The UK has many very old buildings that are now hotels, from castles to old inns, and some of them are reported to be haunted. As the spookiest time of year approaches, whether you believe in ghosts or not, staying in a haunted hotel is a fun way to spend an overnight trip. I love a good ghost story and, for me, it's more about the story of what happened in the building and why it's said to be haunted, and who by, than the possibility of actually seeing a ghost. But with lots of people claiming sightings of ghosts in these hotels, there's always the chance of a paranormal experience.
1. Ballygally Castle, Northern Ireland
Just a mere 1,500 feet from the beach at Ballygally, County Antrim, is historic Ballygally Castle. The hotel is one of the largest on the spectacular Causeway Coastal Route. The castle dates back to 1625 and is unique in that it is the only 17th-century building still used as a residence in Northern Ireland today. It is ideally situated near the Norman Carrickfergus Castle and Carnfunnock Country Park, a 395-acre park located between Drains Bay and Ballygally. For the Game of Thrones fans, guests staying here can visit key filming locations that are most obvious with a guided tour through Hastings Hotels.
Ballygally offers six large family rooms, and there is enough room for everyone, including the hotel's very own friendly ghost, Lady Isabella Shaw. It's not certain how Isabella came to her death here, but by all accounts she's not angry about it and simply hangs around, making a few noises and leaving guests no doubt she's there. Those who dare can tiptoe up the winding staircase to the spine-tingling ghost room to catch a glimpse of Lady Isabella, who has been a resident at the hotel for over 400 years. If you're really brave, you can request an overnight stay in this haunted room.
Pro Tip: Take a picnic into the glen and imagine Lady Isabella Shaw wandering the grounds, or enjoy one of the many afternoon tea options alongside light bites in the lounge and a full menu in the Garden Restaurant.
2. Lumley Castle, Durham
With a history spanning 630 years, the medieval Lumley Castle, now a four-star hotel, at Chester-le-Street, County Durham, has welcomed kings and princes in its past. With its stone-flagged floors, dungeons, and battlements, it really is a storybook castle, set on a hill, amid acres of historic parkland. But a dark murderous event in the past has caused Lily Lumley to roam the castle forevermore. Lily was thrown down a well by two priests who were exasperated with her refusal to adopt the Catholic faith. And that was it for Lily. Many guests have reported seeing and feeling the ghost of Lily, including a visiting cricket team in 2005 who were all spooked by their stay.
Pro Tip: If you prefer the royal treatment, The King James Suite is named after King James I, who visited Lumley Castle as a guest in 1603. This suite was formerly the chapel of the castle, it has a magnificent 20-foot-high four-poster bed, views over the surrounding parkland, its own reception room, and a Jacuzzi bath. You'll feel like royalty from the moment you arrive!
3. The Wellington Hotel, Boscastle
This hotel, which is more of an old inn, has had many reports of ghostly sightings and odd experiences, so it's a great place to stay if you like spooky stuff. The hotel has so many varying stories of different ghosts you could encounter a ghost in any area of the hotel and grounds. But if you really want to up your chances of an experience, book into room nine. The predominant ghost story of The Wellington Hotel is that of an old lady who haunts the corridors, and guests have reported seeing her walk towards a door and then disappear into thin air. But if you stay inside room 9, you might get a bit more up-close and personal with this ghost. Many guests of room 9 have said they've seen the old lady in the room. One guest reported feeling as if they were paralyzed and had the experience of someone walking over them. Only check into room nine if you think you can handle it!
Pro Tip: Although the hotel has a beautiful picturesque old sweeping staircase and ornate landing, there's no lift, so if you have any mobility issues and can't manage stairs, request a room on the ground floor.
4. The Sun Hotel, Hitchin
This historic hotel dates back to the 1500s so you can expect to encounter more than one ghost when you stay at The Sun. The two most reported ghosts are one of an unknown woman who floats around creepily laughing and the ghost of Lord Havisham. Lord Havisham had a gambling problem and, in despair at the state of his debts, committed suicide in one of the upstairs rooms. No one is sure which room it was, so you might encounter the lord and you might not. One member of staff claimed to have seen a man, possibly Lord Havisham, help himself to a drink behind the bar and then simply disappear. If you want to raise your chances of experiencing a haunting, book into room 10 where the lady ghost is said to spend her time. One guest complained of feeling like he was being suffocated in the night, so it's not for the fainthearted.
Pro Tip: The hotel has a "lively" bar, so if you like things quiet you might need to consider this. If you like a good "spirited" bar, it's a great place to join in with the locals and have a good time. You might even see Lord Havisham there!
5. Warwick Castle, Warwick
Warwick Castle dates back over a thousand years and is steeped in historical tales of dark deeds and restless former residents, with a number of paranormal sights and sounds. A haunting figure of a black dog has been seen in ghostly form in various places around the estate. It is said to have been a curse placed on the castle by Moll Bloxham, a woman publicly punished for stealing. According to legend, shortly after Bloxham disappeared, a slavering dog with evil red eyes began stalking the grounds and terrorizing its inhabitants. The dog was eventually killed, but its ghostly form continues to stalk the castle with several sightings reported. Another famous ghost is that of Sir Fulke Greville, brutally stabbed by his servant Ralph Heywood in 1628, who then turned the knife on himself. Moans are often heard in the South Tower where Greville died in agony some weeks after the attack, poisoned by the treatment he received to try to heal his stab wounds. Many have claimed to have seen the figure of a man emerging from Greville's portrait found hanging on the castle's walls.
Pro Tip
Those wanting to spend the "knight" at the castle can stay at the "Fright's Village" for a dreadfully good sleepover among whispering trees in the castle grounds. Every stay includes two daytime entry tickets to the castle, a hearty breakfast in the Knight's Village restaurant, free parking, and an exclusive spooktacular evening ghost story before cozying up safe and sound in medieval-themed Woodland Lodges. Expect a visit from a witch or wizard at breakfast in the Knight's Village the following morning.
6. Weston Manor Hotel, Bicester
The oldest building on our list goes all the way back to the 11th century for the ghost who haunts Weston Manor Hotel. This was when the building, now a luxury hotel, was a monastery. A nun who lived here was caught having an affair with a monk, which was much frowned upon. The nun was sentenced to death for this sin and was promptly burned at the stake. If you want to fully experience the ghost of the nun you need to check into the Oak Room. This is where the nun and the monk are said to have been discovered and it's where most of the paranormal activity has been reported. In the 1970s, someone from the British Tourist Authority spent a night in this room and said he felt like he was burning. In more recent times, guests have talked of a feeling of dread in the room and one guest claimed to have seen the nun. This historic old manor has recently been renovated, but it seems they can't get rid of their resident ghost!
Pro Tip: Take your swimsuit with you, it might be a bit chilly depending on when you visit, but this incredible grade II listed building has an outdoor swimming pool. The new owners are also planning to reopen the paddock and offer riding experiences.
Castle stays without the threat of ghosts, or haunted houses you can visit without fear of being visited: