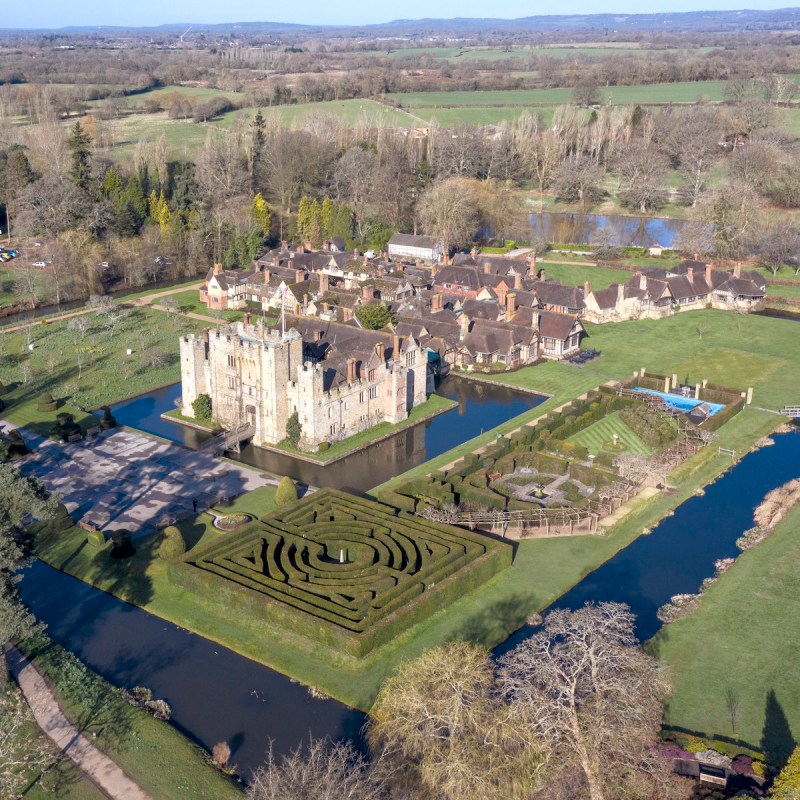 There is no better way to be treated like royalty and truly experience the British countryside than to spend the night in one of the UK's beautiful historic castles.
Be lord and lady of the manor as you admire the thick stone walls, suits of armor, and rich tapestries of your fairy-tale abode. The great news is this dream getaway doesn't have to cost you a king's ransom.
Start planning your pilgrimage with this guide to some of the best UK castles for an overnight stay.
1. Thornbury Castle
How often will you get the chance to retrace the footsteps of Henry VIII and Anne Boleyn, who once enjoyed a romantic retreat at Thornbury Castle? Built over 500 years ago in Gloucestershire, England, this luxurious Relais & Châteaux property today offers 26 regal bedchambers and elegant dining. Wander the spacious grounds, play croquet on the lawn, learn archery and falconry, or simply command a knave to fetch a goblet of something cool and refreshing.
2. Hever Castle
Can't get enough of Anne Boleyn? Then book a stay at Hever Castle, once her childhood home. This stunning property has everything you imagine in a Tudor castle — double moat, grand rooms with opulent furnishings, and majestic gardens throughout its 125 acres. Come during spring to witness the vibrant extravaganza of over 100,000 blooming bulbs.
3. Langley Castle
Dating back to the mid-14th century, Langley Castle in northern England offers a royal stay on a pauper's budget — less than $200 a night. Upon arrival, enjoy a complimentary glass of bubbly and a charcuterie platter. Later, stop by for afternoon tea. In any of the 27 bedrooms, you will be guaranteed a peaceful night's sleep courtesy of stone walls 7 feet thick. Lovely walking trails amid 10 acres of woodlands transport you to a tranquil bygone era far from today's hectic pace. History buffs will relish visiting Hadrian's Wall just up the road.
4. Peckforton Castle
By castle standards, this enormous structure built in the mid-1850s could be called "new construction." Originally a private residence designed to look like a medieval castle, today, Peckforton Castle is a 48-room luxury hotel perched high on a hill overlooking the towns of Beeston and Peckforton. The stunning property has been featured in many movies and television shows, most notably Robin Hood and Doctor Who. Considering the grandeur of the hotel and its surrounding 4,800 acres, rooms here are remarkably affordable.
5. Lumley Castle
Picture a massive castle in a movie about King Arthur and the Knights of the Round Table. That is exactly what Lumley Castle looks like — towers, battlements, and courtyards galore. It is a true spectacle to behold above the River Wear in Northumberland between Durham and Newcastle.
Lumley dates to 1389, when it was converted from a manor house to a castle. There are 68 spacious and lavishly furnished bedrooms and suites. Some rooms have private bathrooms hidden behind secret doors. The King James Suite is so magnificent you will be looking for your crown and scepter.
A proper afternoon tea is served, as well as a complimentary evening cocktail while deciding on your dinner reservation. The Knights Restaurant is everything you would expect with subtle lighting, vaulted ceilings, and stone columns. The waitstaff decked out in medieval costume adds an element of fun.
To elevate the merrymaking, book your stay during an Elizabethan Banquet or Murder Mystery Dinner. Huzzah!
6. Castell Deudraeth
Castell Deudraeth is part of a unique resort complex called "Portmeirion" built over a 50-year period by architect Sir Clough Williams-Ellis. Located in North Wales on the shore of an estuary, the vision of Portmeirion was to demonstrate how a naturally beautiful location could not only be developed without spoiling it, but could actually be enhanced.
The result is a quirky private village with Italian architecture inspired by the Riviera, two hotels (including Castell Deudraeth), cottages, spa, shops, restaurants, and cafés. Deudraeth is a small but handsome castle with 11 rooms and suites built in the mid-18th century. The common spaces retain much of the original Victorian finishes with an intricate Italian fireplace and grand oak staircase.
7. Glenapp Castle
Featured on BBC show Amazing Hotels: Life Beyond the Lobby, this luxury, award-winning five-star hotel in Ayrshire, Scotland, makes the setting of Downton Abbey look like a fixer-upper bungalow. As you approach this remarkable Relais & Châteaux property along its lengthy, tree-lined driveway, prepare to be awed by its fairy-tale turrets, towers, and battlements.
The Scottish Baronial-style Glenapp Castle is surrounded by breathtaking gardens, forest, and seascapes. Its 21 rooms are decorated with oak panels, rich fabrics, and fine antiques. Fox hunts are out of style, but the staff can happily arrange pheasant shooting or fishing for salmon and trout.
Dining choices include Azalea Brasserie in the original Victorian greenhouse on the grounds — one of only a few remaining in Scotland — or the formal dining room with a seven-course tasting menu.