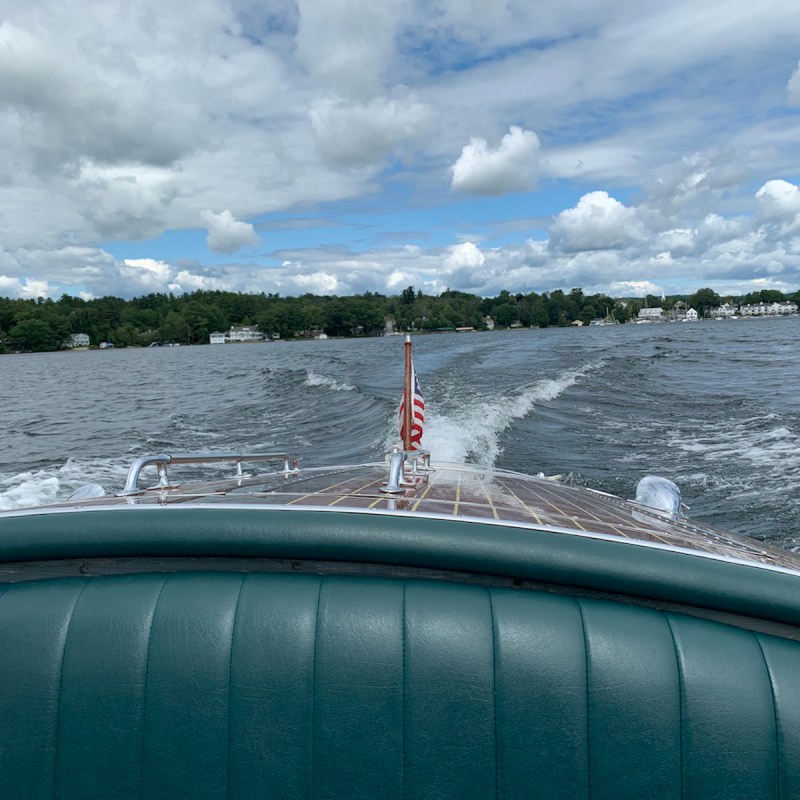 Charming Wolfeboro, New Hampshire, holds the title of the oldest summer resort town in America. In 1770, colonial governor John Wentworth built his summer home in Wolfeboro, making it the "Oldest Summer Resort in America." This friendly small town welcomes a swell of vacationers during the gorgeous New Hampshire summer days. After years of summer camps and family cottages along the lakefront, the area has morphed into gorgeous waterfront homes with expansive lawns, private docks, floating playgrounds, and all the on-the-water fun you can handle.
For more charming towns to explore in the region, check out these 11 Must-Visit Quaint Towns In New Hampshire.
Some information in this piece was obtained during a sponsored press trip, but all recommendations are my own.
Things To Do In Wolfeboro
Wolfeboro is more than just a waterfront playground for weekend getaways. Of course, water play is central to the town, however, history is uniquely captured at local museums and a focus on health and wellness is held deep in the heart of Wolfeboro.
Rock The River
The Winnipesaukee Belle is a fun replica of a classic 19th-century paddleboat and the perfect way to casually explore Lake Winnipesaukee. All aboard for a raucous sunset Brews or Booze Cruise where you can enjoy an adult beverage or two while tapping your toes to the steady musical beat of the band. As the stars begin to shine over the lake, you can feel yourself slipping into a relaxing vacation vibe.
The WWII Homefront
Museums that portray history from a unique perspective are hard to find. When you think about a WWII museum, you expect tanks, guns, and other battle-ready gear. The Wright Museum of WWII offers guests the opportunity to explore all the classic WWII memorabilia, but they add so much more to the experience. The museum's displays are presented from the perspective of life on the home front, a relatable experience for many guests.
Yes, you will find an M26 Pershing Tank — the sole surviving tank from the capture of Ludendorff Bridge at Remagen, Germany — along with other historic military vehicles. But, you will also find meticulously recreated tableaus depicting classic scenes of life at home. A walk-through timeline of Life Magazine Covers, pop culture, music, and other iconic reminders offer visitors a tangible experience. The museum creates a flip side of WWII and immerses guests in the current events of the day.
Be sure to check their event calendar for upcoming lectures and other events you can experience during your vacation getaway.
Ohm Wellness
Ohm Lifestyle is more than a spa; it is an immersive, holistic approach to centering your body and spirit. Spend a day with the staff at Ohm and they will guide your wellness journey along a path of healing and inner joy.
Experience the weightlessness of the Float Room where you can exhale and completely relax in a warm, buoyant Epsom salt pool. As the twinkling ceiling transports you from day to night, body tension slips away, providing mental and creative clarity.
The Hyperbaric Oxygen Therapy Chamber surrounds clients with pressurized oxygen while relaxing in a private therapy chair. Guests begin the much needed healing process their bodies require, reducing internal inflammation, and improving health after years of deterioration and simply living well.
A therapeutic massage is not only relaxing, it offers healing outcomes that are important to keeping our bodies in the best shape. Ohm specializes in a variety of massages including Spondylogenic Reflex Therapy (SRT). Utilizing a specialized hand-held SRT thermal scanner, the clinician is guided by identified "hot spots" giving direction to the massage for a positive and therapeutic outcome.
Ohm offers a wide variety of traditional spa services with a keen eye to healthy and positive outcomes for its guests. It is the perfect spot to relax and rejuvenate your body, mind, and spirit.
Visit The New Hampshire Boat Museum
The New Hampshire Boat Museum (NHBM) is more than just a display of vintage boats. It is an interactive and engaging organization encouraging hands-on boating education. With adult and youth boat building instruction, model yachting, interesting lectures, and fun events, the NHBM is the embodiment of life on the lake.
Ride The Millie B
Part of the NHBM experience is a ride on the Millie B. Zipping around in the 28-foot, mahogany replica 1928 Hacker-Craft is an exciting way to see Lake Winnipesaukee. As you glide across the lake, your captain will entertain you with spectacular scenery, intriguing stories of past and present lake residents, and the history of the lakes region.
You can plan a private ride on the Millie B where you can personalize your "woodie" boat experience.
Explore The Outdoors
Exploring outdoor activities is the best way to enjoy New Hampshire's beauty.
Abenaki Tower in nearby Tuftonboro rewards visitors who climb the tower with a panoramic view of Lake Winnipesaukee and the Ossipee Mountains. The tower is a short, uphill walk from the parking lot.
Cotton Valley Rail Trail is an 11.2-mile-long, easy walking path along Lake Wentworth and beautiful forests. The trailhead in Wolfeboro is at the Old Railroad Depot downtown. The point-to-point trail ends in nearby Wakefield.
Hikers that are seeking more adventure can explore the Brook Walk at Castle In The Clouds. The moderately difficult half-mile hike rewards visitors with seven waterfalls in the beautiful Ossipee Mountain forests.
For more information on hiking near and around Wolfeboro, visit The Most Picturesque Hikes In New Hampshire.
Street Piano Project
Located throughout downtown is a collection of vibrantly painted pianos. The Street Piano Project encourages passersby to pluck a few joyous notes or tickle the ivories with abandon. Maybe you can start an old fashioned, spontaneous sing-along.
Shopping Downtown
Downtown Wolfeboro has a wide variety of shops for your entertainment. Browse the window real estate listings and search for your perfect million-dollar waterfront home, enjoy a sweet treat, or hunt for the perfect souvenir.
Best Restaurants In Wolfeboro
Casual fine dining, rustic pubs, and busy breakfast cafes are on everyone's vacation getaway dining list.
O Bistro
O Bistro offers guests casual fine dining with a chef-driven menu and nightly specials. These tempting culinary creations are made from the freshest local ingredients. O Bistro is a popular restaurant with area locals for good reason — the food is expertly prepared and definitely delicious.
The menu features sumptuous entrees like mushroom "risotto" made with riced cauliflower, beef short rib stroganoff, and tips & frites where the frites are garlic parmesan goodness. If you see the tempura fried brie as an appetizer special, order it. It will entertain you with ooey gooey cheese goodness while you ponder your main course.
The well curated wine list is anchored by their signature wine, O Pinot, a custom blended Oregon pinot noir from the Willamette Valley. Enjoy a glass or two with dinner, and be sure to purchase a bottle to enjoy later, it is that good.
Morrisseys' Front Porch
An Irish pub with a New England twist, Morrisseys' Front Porch is the perfect spot to enjoy a delicious plate of house-made comfort food. The cozy lakefront porch atmosphere has a throwback vibe. When you wander to the bar and game room, it transitions into a friendly Irish pub. It's the perfect spot to sit and enjoy a pint with your mates while watching the game.
The extensive menu is filled with classic New England offerings like their award-winning Haddock stew, whole belly fried clams, and baked lobster pie. The Irish side includes a flavorful Reuben sandwich with house cured corned beef, pub pie, and bangers and mash.
Morrisseys' Ice Cream bar features all the classic premium ice creams you expect along with a selection of flavors that will intrigue you. The Monster Mash is vanilla ice cream loaded with caramel, Oreos, M&Ms, and malted milk balls. The Frozen Pudding is made with rum flavored ice cream studded with peaches, cherries, raisins, and apricots. Finally, the Purple Cow is black raspberry ice cream with white chocolate, dark chocolate, and blueberry chips. Who's ready for a sweet treat now?
The Farmer's Kitchen
Breakfast all day is exactly the vacation spot you are looking for when you enjoy a sleep-in morning. At the Farmer's Kitchen in downtown Wolfeboro, the food is delicious, the servings are huge, and the options are plentiful. Whether it's French toast, omelets, or eggs benedict you crave, the Farmer's Kitchen will satisfy your morning hangries.
Best Hotels In Wolfeboro
Charming historic inns and lakefront cabins afford guests a tranquil spot to unwind after a day of exploring the New Hampshire lakes region.
The Wolfeboro Inn
Comfy and cozy with a classic New Hampshire lakeside vibe, The Wolfeboro Inn wraps guests in a sophisticated rustic décor. Large, well appointed rooms and spacious suites are a welcome oasis to relax and unwind.
The original structure was built in 1812 as a private home, has been expanded several times, and is beautifully restored. The now sprawling inn is anchored by a private beach where you can sit and watch the boats glide across the lake while soaking up some sunshine. A welcoming fire pit for late night chats and a lawn area with a quaint gazebo for quiet contemplation make guests feel right at home. The Wolfeboro Inn also offers pet friendly rooms, perfect if you are traveling with a four-legged family member.
Dine at Wolfe's Tavern, their onsite pub, where you will enjoy a cocktail and delicious classic American dishes. Delicious and hearty platefuls are served up Thursday–Sunday.
Waterfront Rental
The Family fun, on-the-water Vrbo rental on Winnipesaukee Bay is the way to go if you have a gang for your getaway vacation. This waterfront cottage, which sleeps eight, includes standup paddleboards, kayaks, and canoes for everyone's on-the-lake entertainment.
Pro Tip: Wolfeboro has so many options to keep you happily busy, you need to stay for a long weekend or a full week to embrace America's oldest summer resort. Many visitors return every year and love the kick-back lakefront vibe.