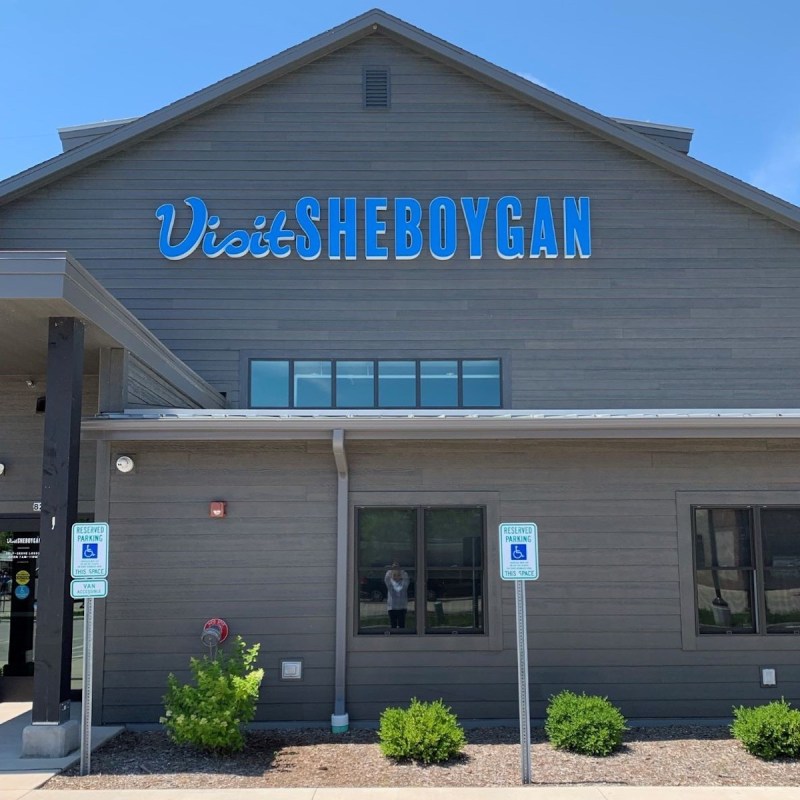 Sheboygan, Wisconsin, with its unique location on Lake Michigan, is known for awesome freshwater surfing. In fact, Sheboygan has earned the nickname "Malibu of the Midwest" for good reasons (though its name is thought to be a Chippewa word meaning "passageway or waterway between the lakes"). The cold water surfing may draw locals and visitors alike to the beach, but the waves of Lake Michigan are not the only thing that the town has going for it. 
Sheboygan is a hotbed of great places to eat, features an outstanding art scene, and outdoor activities. From hiking the dunes at Kohler-Andrae State Park to seeing your favorite children's books come alive at Bookworm Gardens, this city with a population of over 60,000 located just an hour north of Milwaukee is a fantastic family weekend destination.
We were hosted at a couple of the restaurants and were shown around town by Visit Sheboygan. I wish we could have stayed longer. All my opinions are my own.
Things To Do In Sheboygan
Sheboygan's proximity to Lake Michigan makes it a perfect draw for those that enjoy the water. From an exceptional beachside park and marina to the restaurants located along the downtown Riverwalk, the lake and river take center stage in Sheboygan. There is also plenty to do away from the water with a world-class arts center, a wonderful botanical garden, and more. Making a weekend out of a visit is effortless.
Explore Kohler-Andrae State Park
Kohler-Andrae State Park is among the most popular parks in the Wisconsin state parks system. Campers, hikers, and beach fans sing its praises. Located about two miles south of Sheboygan, there are seven different trails to hike that take you through the abundant natural beauty of the park. You'll see sand dunes, white pines, and marshy areas. Birdwatching is a popular activity, with over 150 species known to call Kohler-Andrae home at least part of the year. Other recreational activities include horseback riding, biking, kayaking, snowshoeing, and cross-country skiing in the winter.
Stroll Through Bookworm Gardens
Bookworm Gardens is nothing short of an oasis in the city. This botanical garden is made up of over 70 individual gardens that are inspired by popular classic and modern children's books. Jump on the magic school bus, step inside the little house that inspired the Little House In The Big Woods book by Laura Ingles Wilder, or clean up Harry the dirty dog. Bookworm Gardens is a treat for all ages, whether you love the books or appreciate the beautiful flowers and greenery. And, it's free, but you do have to make pre-reservations. The gardens are open from May through October and closed on Monday.
John Michael Kohler Arts Center
The arts are very much alive in Sheboygan, and the downtown John Michael Kohler Arts Center is in the center of the art action. Founded in 1967, the John Michael Kohler Arts Center is a not-for-profit dedicated to making the arts accessible to a broad audience. Featuring nine galleries, a theater, meeting spaces, classrooms, a café called ARTcafe, and so much more. The bathrooms at the arts center are part of the many displays, and you are highly encouraged to take a look at all of them.
Opened in 2021, the newest addition is the John Michael Kohler Arts Preserve. The preserve is an internationally renowned collection of artist-built environments. It began as an idea back in the 1970s when Ruth DeYoung Kohler visited Fred Smith's property in Phillips, Wisconsin, where he had created a whole environment around the concrete sculptures he made on his property. This sparked an idea to create these artists' environments from the massive collection acquired through the years by the arts center. The new preserve sits on 38 acres and is 56,000 square feet on three floors.
Take In Sailing Lessons
The Sailing Education Association of Sheboygan (SEAS) wants to create an extensive boating community in Sheboygan. It offers inexpensive lessons like its two-hour First Sail class that introduces the beginner to the basics of sailing with a 100 percent hands-on approach. Even the weekend visitor will enjoy getting out on the water and enjoying the Lake Michigan shoreline from a fun perspective and learning a new skill at the same time.
James Tellen Concrete Park
The James Tellen Concrete Park is home to over thirty life-sized and miniature concrete sculptures. John Tellen created his concrete art from 1942 until his death in 1957. His subjects are religious and mythical figures, and the woodland backdrop of the former Tellen summer home provides the perfect setting for his work. A walk through the park provides viewers with an eerily cleansing feeling. If you're lucky, you will spot deer and other wildlife. The Tellen's log cabin, the "brat house," and a boy scout house serving as an "artist in residence" retreat are also located on the property. The park is always open and free to the public. We could have stayed there all day.
Deland Park
Deland Park, also known as north beach, is the place to catch the surfers when it's cold and windy. The locals spend their beach time here, and you can also access the walkway to the lighthouse. A major attraction within the park is the wreckage of the Lottie Cooper, a schooner that sank just off the harbor in 1894.
Best Restaurants In Sheboygan
In recent years, Sheboygan has become a foodie destination, with the 1991 James Beard Semi-Finalist chef Stefano Viglietti opening his Trattoria Stefano in 1994. Since then, he has opened three more restaurants in Sheboygan (three are located on 8th street within the same block) which has helped to put the town of Sheboygan on the culinary map. You won't go hungry here!
Field To Fork
Field To Fork, the third restaurant to open under chef Viglietti, is open for breakfast and lunch. As the name implies, the restaurant uses local farmers and producers to source its ingredients and then craft menu items that are creative and delicious. With an industrial vibe, there is inside seating on two levels and ample outside seating. The Italian egg-white omelet was my favorite.
Parker John's BBQ And Pizza
Enjoy a riverfront view while sipping your loaded bloody Mary at Parker John's BBQ & Pizza. It's well known throughout northeastern Wisconsin for its tasty pizzas and best barbecue this side of Kansas City. Try the smokehouse mac and cheese.
Majerle's Black River Grill
Order an Old-Fashioned as you're waiting for a table in this authentic Wisconsin supper club. We were hosted here, and I have to say its Old-Fashioned beats all — brussels sprouts and all! Majerle's Black River Grill is housed in a log cabin in a woodland setting. Watch the deer frolic outside the large windows as you dine on your steak and shrimp. It's a small place, so reservations are recommended, but I guarantee it will be worth it. Majerle's is a well-kept secret among the locals.
Duke Of Devon
Located on the riverfront and number four of chef Viglietti's restaurants, Duke Of Devon is modeled after the classic English pub. The inside is friendly and warm, and there is a nice size outdoor seating area facing the river. Dinner here takes me back to a vacation in the English countryside — menu suggestions: Have the fish and chips or the poutine. Of course, this Texan had to have a Wisconsin grilled cheese — it was delish!
IL Ritrovo Pizza
IL Ritrovo is a VPN certified Neapolitan pizzeria and the second restaurant of Stefano Viglietti. The wood-fired pizzas made here come out of an authentic oven made in Italy that I must say is a piece of artwork in itself. In my opinion, the pizza here is like none I've ever had, and patrons drive from miles away just to experience them. Try the boscaiola!
City Bakery LLC
City Bakery located downtown can be called a Sheboygan institution. Locally owned since 1939, it has been the local's favorite place to buy pastries, cakes, pretzels, and Fleishbrok. I would say, hands down, its classic Sheboygan hard roll is the local favorite, and you usually have to call and order them because they sell out so fast.
Hotels In Sheboygan
Blue Harbor Resort And Conference Center
Blue Harbor is the ultimate place to stay in Sheboygan. It's located right on the waterfront with access to South Beach and offers a variety of suites and villa options depending on the number of people you have in your party. The indoor waterpark, restaurants, and event space make it a destination in itself.
Inn On Woodlake
The Inn On Woodlake is situated on its own 11-acre lake with a beach. It has many guestroom options as well as 10 multi-bedroom suites. Make sure to stop and visit the Kohler Design Center if you stay in Kohler.
La Quinta Inn By Wyndham
Located on Kohler Memorial Drive, La Quinta Inn by Wyndham is a nice hotel chain with easy access to downtown Sheboygan. With free parking, breakfast, and Wi-Fi, it's a satisfying choice after a long day experiencing all Sheboygan has to offer.
Pro Tip
Sheboygan is the brat capital of the world, and every summer, the locals celebrate with Brat Days, a weekend festival honoring that special sausage. If you want to eat your Sheboygan brat like the locals, make sure and ditch the hot dog bun and put two brats on a Sheboygan hard roll.
Wisconsin has many unique destinations and attractions that will appeal to the entire family: