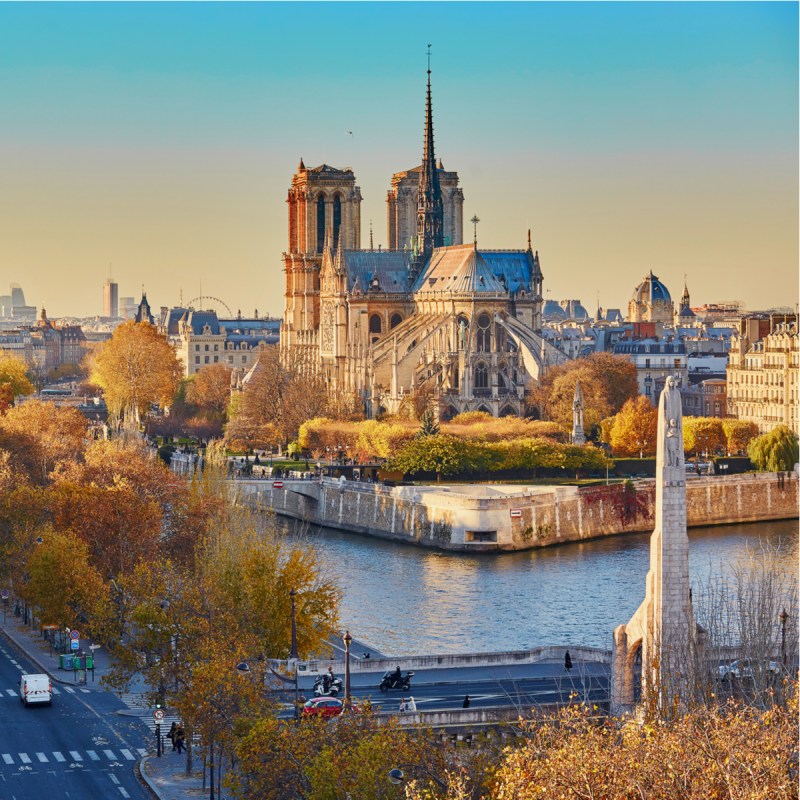 Europe loves a good festival, and during the summer months festivities usually involve music, be it modern or classical. But come October, many a local fete embraces all things food related. From onions to truffles, wine to saffron, all mixed with a hint of art and culture, Europe in October tempts travelers with a great variety of occasions that add a bit of something special to their long-overdue visits to gorgeous European cities.
Yes, the weather can be temperamental at times in this month, but generally, the temperatures are still good, perfect for sightseeing at any rate, and the odd shower of rain can always be ignored in a nice museum or restaurant.
Here are my favorite places to visit in October, chosen because not only are the destinations worth a visit at any time but also because some previously canceled events are back in full swing, waiting for visitors to come and join in.
1. Weimar, Germany
Weimar, a city in central Germany, is not only famous for its political history but was also home to two of Germany's most revered writers and poets: Johann Wolfgang von Goethe and Friedrich Schiller. In addition to that, architect Walter Gropius brought to life the Bauhaus School of Design in the city, and composer Johann Sebastian Bach, as well as philosopher Friedrich Wilhelm Nietzsche, called Weimar home at some point. It follows that Weimar is generally regarded as the home of Germany's — and indeed Europe's — intellectual past and as a cultural center.
Always worth a visit with its old town center and beautiful architecture, in October, the lovely old Market Square gets taken over by the Zwiebelmarkt, which translates to Onion Market. These festivities embrace a concept of selling fresh produce together with cultural performances and much merriment, all of which date back to 1653 and have been celebrated every second weekend in October since then. This year, the market will take place between October 13 and 15.
Pro Tip: As if you needed any more convincing that Weimar is a superbly intellectual city, along comes one of the most beautiful libraries in the world: the Duchess Anna Amalia Library where the modern library is just as stunning as the original Rococo Room dating from 1766, and both of which make any book lover's heartbeat that much faster.
2. Oslo, Norway
A visit to Oslo not only involves Vikings, dragons, and good food, but also The Scream. One of the most famous paintings by Edvard Munch, there are in fact, four versions of The Scream, and when in Oslo, posing in front of one of them is a must-do for any visitor. There is one version at the New National Gallery. When I went to Oslo, there were two versions at the Munch Museum, but alas, only one was on display. And that is also the reason behind the opening of the new Munch Museum, fittingly called MUNCH, which opened 2 years ago in October 2021. The old museum simply did not have sufficient exhibition space for the 28,000-odd pictures in its collection. This one claims to have, if not all, many more pictures on display.
Pro Tip: Even if it is a little colder than in the summer months, going for a fjord cruise brings its own delights in fall: The trees along the coastline and on the islands burst into amazing orange and red hues. Another good spot for foliage viewing is the Vigeland Sculpture Park.
3. Certaldo, Italy
The town of Certaldo lies roughly central in the triangle made up of Florence, Pisa, and Siena, in the heart of Tuscany. The picture-perfect medieval walled part of the city, Certaldo Alto, is worth including in any Tuscany road trip itinerary.
If you find yourself in the region on the weekend of October 13, 2023, then don't miss Boccaccesca, when the narrow streets of Certaldo fill with stalls celebrating the best of Tuscan cuisine and wine. From fresh produce to street food, to local restaurants selling samples of their specialties outside on the streets, this is a must for food (and wine) lovers. Don't miss the roasted chestnuts, the chianti, and the special, flat local onions only grown here.
Pro Tip: If you are not on a road trip but based in Florence, Certaldo is only 50 minutes away by train.
4. Alba, Italy
Just 180 miles further northwest in the Piedmont region, closer to the French border, you'll find Alba, and Alba is famous for its truffles. The annual truffle fair, celebrating Alba's white truffles is heaven on earth for truffle enthusiasts, and you don't even have to rush: The festival begins on October 7 and lasts through December 3, 2023.
While this is mostly a fair for restauranteurs from around the globe here to buy the precious fungus all fair long, but especially on weekends, you'll find cooking displays, wine tasting events, food stalls, and all sorts of festivities celebrating the region's white gold.
Pro Tip: If you are tempted to splurge and buy a truffle, be aware that they only last a maximum of two weeks when stored correctly. If you are not heading home immediately, you may want to shop for dried truffles.
5. Paris
When I lived in Paris, the Fête des Vendanges was always one of my favorite events to attend. Over a long weekend, the lanes of Montmartre just below Sacre Coeur fill with stalls selling food and drink to celebrate the grape harvest. From wines to champagne, but also in recent years cocktails and beer, a nice glass is offered at every corner at decent prices, and the drink stalls are interspersed with food trucks selling anything from tapas-like nibbles to charcuterie to cheesy potatoes, omelets, and sandwiches. It gets crowded, but if you go at around 7 p.m. and leave before 10 p.m., it's busy but fun. This year, it takes place between October 5 and 9.
Pro Tip: Once your head is clear again, don't miss the Füssli (also known as Henry Fuseli) exhibition at the lovely Musée Jacquemart-André on January 23, 2023.
6. Alcalá De Henares, Spain
If you are coming to Spain in October, you can enjoy not just one but two unusual but spectacular traditional festivals. The first, taking place between October 1 and 9, 2022, celebrates the writer Cervantes, famous for writing Don Quixote, in a week-long extravaganza taking place in Alcalá de Henares a few miles northeast of Madrid. This is where Cervantes was born, and people dress up and reenact his famed tome. There is also a medieval fair, and, of course, plenty of food, drink, and music.
Once you are done with that fiesta, head to Consuegra, some 80 miles south of Madrid, for the annual Rose of Saffron Festival. Taking place October 28 and 29, 2023, there is again lots of dressing up in traditional costumes and festivities, but most importantly, you will get the best paellas and other local dishes flavored with the region's mainstay — saffron. And to link the two festivals perfectly, on the hill overlooking Consuegra, there is not only a castle but also Spain's best-preserved windmills, seven of them. These windmills are said to have been Cervantes' inspiration when writing Don Quixote.
Pro Tip: Read Don Quixote in preparation for your trip. This is Cervantes country and while thick, the book is hugely enjoyable and will make traveling through this part of Spain much more meaningful.
7. Santarém, Portugal
Less than 50 miles inland from Lisbon along the river Tagus lies the city of Santarem. It is home to the old kingdom's strongest fort, making the city second only to Lisbon. The old houses are beautifully decorated with the blue Azulejos tiles and there is much history to be explored. But, in line with so many worthwhile reasons mentioned in this lineup, there is one more reason to visit Santarém in October: the National Festival of Gastronomy taking place between October and November this year. It consists of 10 days of tasting local produce, enjoying cooking shows and displays, markets, and stalls, and, most importantly, eating out in the many participating restaurants which will serve up the best of Portuguese cuisine, paired with some fine local wines. This festival has been celebrated every year for 40 years, except in 2020, so this year there will be even more reasons to enjoy it.
Pro Tip: October is a good time to embark on the Camino Portugués, the Portuguese pilgrimage path to Camino de Santiago, with the path starting off in Lisbon and Santarém being the first stop on the itinerary.