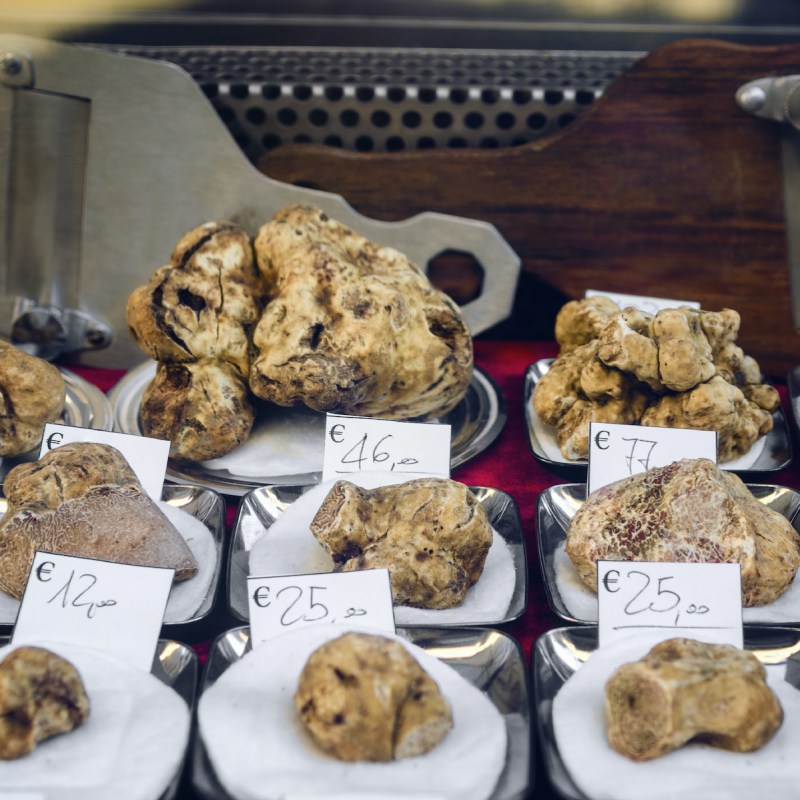 A renowned Italian chef once told me: "The flavor of truffles is so exquisite, they are best paired with the simplest of dishes, like pasta, scrambled eggs, or risotto." Like many precious things, truffles, be they white or black, aren't easy to come by. Growing in the shelter of the roots of mostly oak trees in the dense woods of Italy and France, they need to be sniffed out by specially trained dogs and carefully dug out. Once upon a time, it was pigs, but that method has been banished because the pigs caused too much damage to the soil. You can buy truffle oil to dress a salad or get them preserved in small jars.
Still, nothing beats the excitement of going on a truffle hunt yourself and subsequently enjoying your harvest with dishes expertly prepared by the chef mentioned above. I did so in Borgo Pignano/Tuscany, a wonderful country retreat where they also grow the wines to match.
Truffle season lasts from spring to fall, and in these months, the precious truffle is celebrated with several colorful festivals. Some are big and last several days, some are small or take place only at weekends. I have chosen a few of each, but it doesn't really matter which one you might want to visit, all of them will make you fall in love with truffles, and the locals know how to throw a festival. It's Italy, after all!
1. International White Truffle Festival Alba, Piedmont
White truffles are the more expensive of the two, and they also have a stronger flavor. Alba is a town in the Northwest of Italy, easily reached from either Turin, Genoa, or Milan. It's famous for three things: Ferrero chocolates, wine, and white truffles. Could you think of a better combination?
The International White Truffle Fair is held from October to December. Two months are packed full with events and entertainment that can be enjoyed by the entire family as kid's interests aren't forgotten either.
The centerpiece of the fair is the White Truffle Market, where apart from the tubers, you can also try and buy local products like cheeses, wine, cured ham, and the famous Piedmont hazelnuts and chestnuts. Every Saturday and Sunday, there are events featuring famous chefs, wine tastings, and three large areas dedicated to kids. One of them is a kids' kitchen where the little ones can learn to cook and get their first taste of haute cuisine using … truffles. Need to change nappies or feed the baby? No problem, facilities where you can do so in peace are also provided at the fair.
2. Acqualagna Truffle Festival Le Marche
Acqualagna in Urbino province/Le Marche is the only location in Italy where fresh truffles can be enjoyed year-round. This is because there are three truffle fairs, The Regional Black Truffle Fair on the last Sunday of February, The Black Summer Truffle Fair on the last Sunday of July, and most important, The National White Truffle Fair that starts 2 weeks after the last weekend of October.
The centerpiece is the market in Piazza Enrico Mattei, where there are stalls selling truffles. Next to it is Palatartufo (tartufo being Italian for truffle) where you can buy any amount of truffle-based products, such as truffle butter, truffle oil and sauce, local cheeses with truffles, and fresh bread with salt, eggs, and truffles.
As in Alba, well-known chefs of the region stage show cookings.
3. Festival In Tignale, Lake Garda
Fall is a great time of year for a visit to Lake Garda. On its western side sits the small town of Tignale, where a truffle festival is held from the end of September to the beginning of October. During the festival, restaurants in town offer truffle-based menus. One of them is Il Calderone with pleasant, rustic décor and a rich variety of seafood apart from the truffle dishes during season.
4. Moncalvo Truffle Fair
Moncalvo is a small tourist town in the Monferrato Hills of Piedmont. If you want to enjoy a rather intimate local festival, this is your best bet. The fair takes place during the last two Sundays in October in the central square, Piazza Carlo Alberto. On offer are fresh truffles and other mushrooms, cheeses, wine, and local pastries. All can be tasted as well as bought in a very relaxed atmosphere.
5. San Miniato Truffle Fair, Tuscany
San Miniato is famous for its historical center and is one of the main locations where the coveted white truffles can be found and enjoyed. This is due to the extensive oak and willow woods in adjacent Valdegola, where white truffles thrive in the moist and fertile soil. An anecdote: In 1954, the biggest ever white truffle was found in a neighboring village and was sent as a gift across the Atlantic to President Eisenhower.
The annual truffle fair, which started in 1969, is held every second, third, and fourth weekend of November right in the historical downtown. It's a unique occasion to combine the delights of truffles and all the other local products, including pork specialties and exploring centuries of fascinating history and historical buildings. You might consider a day trip to Pisa, which is only 32 miles to the west, or Volterra.
6. Dovadola Truffle Festival, Emilia Romagna
Like neighboring Tuscany, the Emilia Romagna region of Italy is famous for truffles. Dovadola is a small town in the Montone River Valley with a big truffle festival, celebrated on 16th and 23rd of October. Truffles galore plus all the other delicacies of Emilia Romagna await to be tasted and, of course, purchased because that's one of the main reasons for the festival. The other is raising awareness of the truffle culture and the many attractions this area of Italy has to offer. At this festival, you have the opportunity to meet actual truffle hunters and to buy directly from them.
Pro Tip: The fair is very popular and can be crowded in the afternoons and evenings. Make sure to visit in the morning for the best experience.
7. Truffle And Potato Festival Pietralunga, Umbria
Umbria is a region in central Italy, halfway between Rome (south) and Florence (north). Pietralunga is a cozy, little town in Umbria that comes to life with the truffle and white potato festival in October.
Apart from the restaurants offering a great variety of truffle and potato dishes, there are some specific activities you might enjoy. Among them, a truffle dog race and even a car and motorcycle race, all with the theme of truffles. Kids will find a play and learn area where they are well looked after.
8. Truffle Festival Sant' Agata Feltria, Rimini
Located at the foot of the medieval fortress Castello Medievale di Sant'Agata Feltria this small but historical town not far from either Rimini or San Marino celebrates the annual truffle festival at all four Sundays in October.
The truffle market is held in the historical streets, and apart from the tubers, you'll also find local honey and herbs. Throughout the festival, shows and exhibitions take place in the entire village. And, there is more to Sant'Agata. After a stroll through the market, visit one of several museums, most notably the museum of rustic art.
If you have time, go on a day trip to San Marino or, if you prefer the sea, drive over to the popular seaside resort of Rimini.
9. His Majesty The Truffle In Brisighella, Ravenna
The setting is perfect. Brisighella is a small medieval town framed by three castle-topped hills and rolling vineyards in the Italian province of Ravenna. Pastel-hued houses, narrow streets, few tourists, and smiling people are ready for the big festival in late November, which is actually called His Majesty The Truffle.
Black truffles and the more pungent white truffles are everywhere during the festival, and it's a joy to amble along the stands, smell the truffles, and taste the other delicacies of the region: local wines, salami, and olive oil. If huge festivals are not to your liking and you want to see a really picture-perfect medieval Italian countryside, this is the place to go. Ravenna is only 32 miles away to the east via Faenza and toward the sea.
When you have had your fill of countryside romantic, head to Ravenna for a day to marvel at the Byzantine era architecture and mosaics, in particular, the 6th-century tomb of King Theodoric the Great.
Pro Tips
If you decide to buy a fresh truffle at one of the festivals, make sure you have the facilities to use them quickly because truffles don't last very long in the fridge and quickly lose flavor. Never wash them, just use a soft brush to remove any dirt or soil.
Truffles are carefully shaved over hot pasta or scrambled eggs, never cooked with them. And remember, less is more, the flavor comes out with the heat of the pasta, risotto, or eggs, and you don't want to overdo it.
Related Reading: