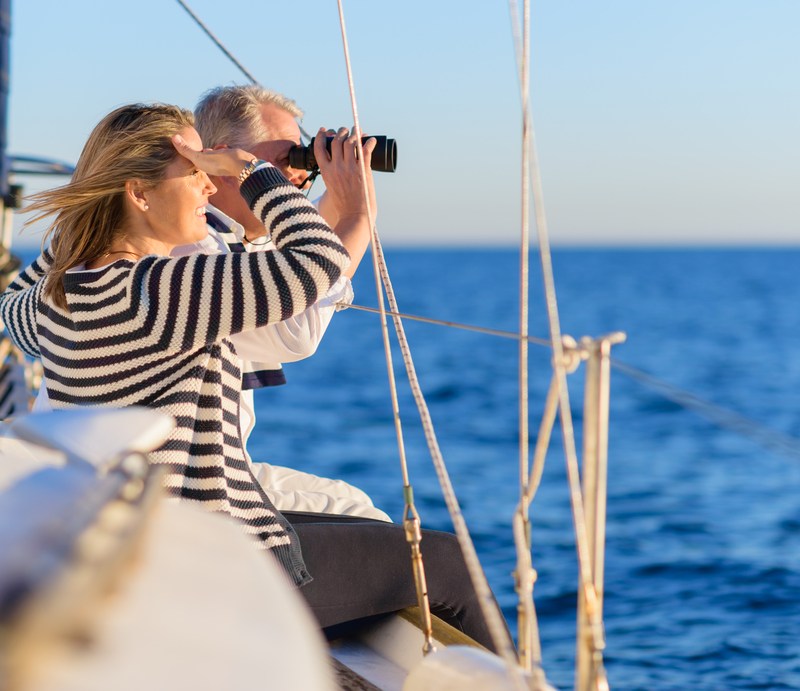 With 3,288 miles of coastline, Michigan showcases the longest freshwater coastline in the world. The Mitten State is second only to Alaska for the longest coastline in the nation. The Great Lakes State is also the only state in the country to touch four of the five Great Lakes, so water adventures are the obvious choice for Michiganders and visitors alike.
In addition to the Great Lakes, while you're in Michigan with thousands of inland lakes, you're always within six miles of a lake. So the must-do activity in Michigan is getting out on the water, and GetMyBoat is the place to find a variety of boating options. In no particular order, here are seven Michigan beach towns perfect for water enthusiasts.
Thank you to Pure Ludington for hosting my visit to Ludington.
1. Ludington
With 28 miles of Lake Michigan's shoreline, a few inland lakes, and three rivers, Ludington offers numerous sports — swimming, boating, kayaking, canoeing, and fishing.
For those who enjoy fishing, Ludington is Michigan's top salmon fishing port. Ludington Salmon Fishing Charter rents its boat with a captain to take away any fishing-related concerns you might have. The captain knows the best-kept fishing secrets on the lake. They know the Ludington area and work with other captains to get you to the right spot at the right time. Fishing the deep waters in July, August, and September brings opportunities for big salmon, steelhead, and lake trout.
Another option is to rent the 38-foot Sports Fisherman Rental, with or without a captain. Those over 16 who fish need a fishing license. You can purchase one-day licenses ahead of time at Pere Marquette Expeditions in Ludington.
If you enjoy camping along with your water adventures, Ludington State Park Campground is the place to stay overnight. The state park has three campgrounds, but if you prefer a bed to a sleeping bag on the ground, rent a mini-cabin, where each cabin sleeps five.
Pro Tip: If you love the water, you'll love the deck at Jamesport Brewing Company, where you'll have a view of the Pere Marquette Lake. Michigan offers an intense craft brew scene, and you'll enjoy not only drinking the beer here but also find several dishes that incorporate their brew. For example, try the Jamesport ale cheese soup with a honey mustard pretzel garnish.
2. Saugatuck/Douglas
Situated on Michigan's west coast, Saugatuck, along with the adjacent town of Douglas, are Lake Michigan beach towns. Outdoor enthusiasts will have plenty to keep them busy with miles of award-winning Lake Michigan beaches, boating activities, and hiking trails.
Bring up to 15 of your closest friends and enjoy a minimum of four hours on the water when you charter the 25' Crest Pontoon. It's nice to have the option of including the boat captain along with your rental, so everyone can enjoy the day without the responsibility of being the captain.
If you prefer a Guided Tour Charter, you can charter the 32' Carver Voyager Motor Yacht and take five people along with you. Boating is the perfect activity for those who enjoy relaxing on the water but don't enjoy the physical movement of paddle sports. This tour cruises along Lake Michigan, where we love the stunning sunsets. This experience features a visit to some of your favorite lakeside beach towns. They will create an individualized tour just for you.
Pro Tip: After you've worked up an appetite playing on the water, end your day at one of Saugatuck's award-winning restaurants. Chef Matt Miller at The Southerner is a two-time James Beard Award semifinalist. The cooking stars are fried chicken, biscuits, and other Appalachian favorites. Chef Missy Corey at Pennyroyal Café and Provisions competed on Chopped and won. She uses local ingredients from her farm.
3. Muskegon
Muskegon is a town rich in maritime history. Located on Lake Michigan between Ludington and Holland, Muskegon features 26 miles of beaches. Lake Michigan Water Trail West offers paddlers a dream come true with a 90-mile course along the Lake Michigan coastline that starts north of Ludington and continues south through Grand Haven. The Muskegon River Water Trail is another great place for paddle sports, kayaking, canoeing, or stand-up paddleboarding (SUP).
After spending the day with various paddle sports, you can continue your time on the water in a less strenuous manner by chartering the 41' Morgan Classic Sloop for a Lake Michigan Sunset Cruise and then overnight on the boat at the dock, as a way to extend your time on the water.
Pro Tip: For dinner, check out the Lake House Waterfront Grille, where you can enjoy a view of the marina while dining. During dinner, the water theme continues with the menu offering various Michigan fish — perch, salmon, and whitefish.
4. Traverse City
Situated on Michigan's Grand Traverse Bay, Traverse City has a lot to offer water enthusiasts. You'll find kayaking, boating, water trampolines, and pedal boats.
Kayaking is an excellent activity in Traverse City, where Grand Traverse Bay is fun for coastal kayakers. You can kayak along the Leelanau Peninsula, going toward Suttons Bay. Another route outlines the Old Mission Peninsula.
Jet skis are a fast, fun watersport adventure. On GetMyBoat, you can rent high output Yamaha jet skis, then enjoy an afternoon on the open water of Grand Traverse Bay. I like the fact that two can ride in tandem on the jet skis for double the fun.
When I go to Traverse City, I love to stay at the Cherry Tree Inn & Suites, where I don't have to leave the hotel if I want to get out on the beach. Request a balcony room facing Grand Traverse Bay, where you can start your day with a cup of coffee, slowly waking up to the sound of gentle waves.
Pro Tip: If you're tired after a long day on the water, Don's Drive-In is an excellent place to grab dinner and retire. If you prefer a fine-dining option, on the tower's 16th floor at the Grand Traverse Resort and Spa, Aerie's wall of windows wraps around the restaurant providing excellent views along with a farm-to-table meal.
5. Holland
Holland, situated on the shores of Lake Michigan, is known for its Dutch heritage. The Tulip Festival is an annual early May event where over 6 million tulips burst forth in colorful blooms. In addition to tulips, Holland offers many year-round activities that showcase the town's Dutch heritage. For example, artists paint Delftware and carve wooden shoes at the DeKlomp Wooden Shoe & Delft Factory. Also, you can tour the DeZwaan windmill, an authentic Dutch windmill that still grinds wheat into flour.
But if you can't make it to Holland in May, Lake Michigan and Lake Macatawa offer wonderful beach times all summer. Of course, a beach day with Big Red, Michigan's most photographed lighthouse, is always fun.
But be sure to take time to get off the beach and get out on the water. Whether you're interested in a party on Lake Michigan, plan to catch your dinner, or simply want to lounge onboard, The Sea Ray Express yacht provides all of these opportunities. And you won't need to be an experienced boater because the rental comes with a captain to take care of all the details.
Pro Tip: Boatwerks Waterfront Restaurant, situated on Lake Macatawa, features a waterfront deck where you can enjoy Michigan's sunsets over dinner.
6. Marquette
Marquette, located on Lake Superior in Michigan's Upper Peninsula, is no stranger to boats. The town is a great base to take water-based day trips to nearby attractions. Tahquamenon Falls and Pictured Rocks National Shoreline are accessible day excursions from Marquette.
A guided fly-fishing adventure is a must-try experience in Michigan's Upper Peninsula. trout — brook, rainbow, and brown, along with salmon in a wide variety — Atlantic, chinook, coho, and pink in a remote setting make for a true adventure.
Check out the options on GetMyBoat for a fishing day that includes a captain. Lake Superior can be a challenge, and one advantage of renting a boat with a captain is their knowledge and experience. In addition, the captain is licensed by the U.S. Coast Guard and insured.
Pro Tip: One of my favorite restaurants in Marquette is Iron Bay Restaurant and Drinkery, located on Marquette's waterfront district. The Lake Superior whitefish are fresh from the lake and come in many forms — fish and chips, whitefish tater tots, Superior whitefish tacos, or Superior whitefish chowder.
7. Port Austin
Located on Lake Huron's Saginaw Bay, Port Autin offers miles of sandy beaches. Port Crescent State Park is one of Michigan's noted seven dark-sky preserves. Before the sun sets and the sky goes dark, Lake Huron is a fun place for boating and fishing.
Charter a sportfishing boat to take on Lake Huron. The Sandpiper features a big fishing deck which works well for reeling in that giant fish. In addition, the bridge makes a great place to watch the anglers and snap a few pictures for social media.
Pro Tip: The crew will clean your catch for you, so be sure to take a cooler to take home your catch. But if all you can do is talk about the one that got away, make reservations for The Farm Restaurant, where they make every dish from scratch.
To find your new rental cruiser in Michigan, browse GetMyBoat now.