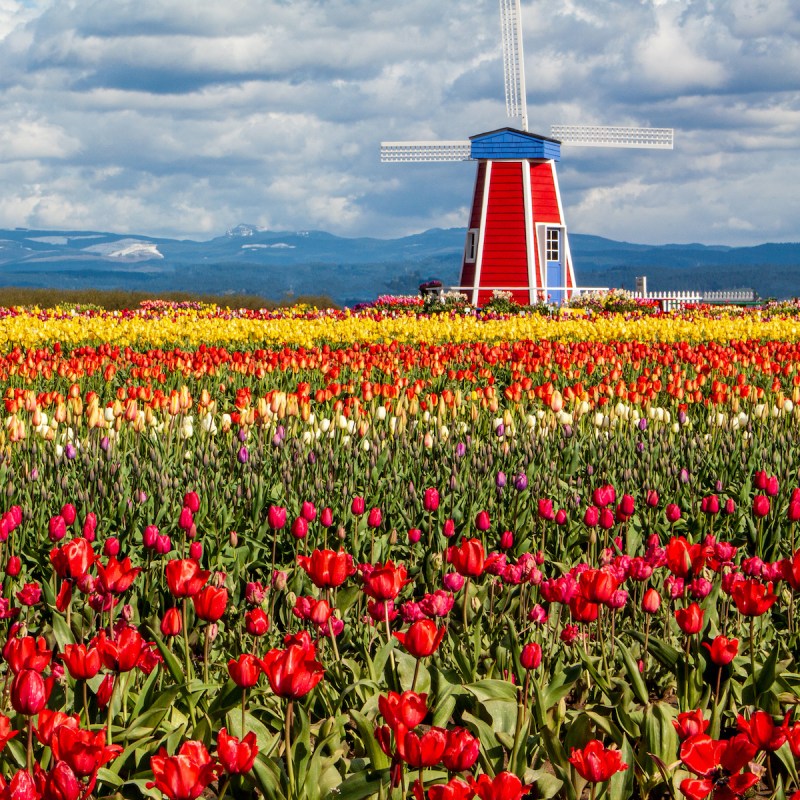 Just an hour from the rugged Oregon coast and an hour from the lush green forests of the Cascade Mountains, Eugene, Oregon, is ideally located for day trips ranging from the cultured to the adventurous. In less than two hours, you can be gazing at waterfalls, discovering coastal art galleries, sipping a fine pinot noir, admiring snow-covered mountains, or touring historic covered bridges.
These seven unforgettable day trips provide a sampling of western Oregon's unique history, delicious bounty, and natural splendor.
1. Silver Falls State Park
Waterfalls — 10 of them — take center stage at Silver Falls State Park near Silverton, Oregon. The 7.2-mile Trail of Ten Falls connects them on a loop trail rated moderate (elevation change 800 feet). Shorter loop hikes and additional trailheads make it easy to view some of the waterfalls without hiking the entire distance. Ask park rangers which trails have stairs and uneven terrain.
The star attraction is South Falls, a spectacular 177-foot waterfall with a trail behind the cascading water. The falls are a short but steep walk from the South Falls Day Use Area parking lot. A bridge across Silver Creek at the foot of the falls creates a perfect spot for photos and connects with the trail back to the parking lot and the South Falls Lodge and Café. RV camping, cabins, and tent spaces are available in the campground.
From Eugene, it's an hour and a half drive to the park, just east of Salem. A day-use fee (payable on-site) or Oregon State Park Pass is required.
Pro Tip: Bring a paper map or download directions to your phone; cell phone reception can be spotty to nonexistent near the park.
2. Tulip Fest
For six weeks from late March through April, the Wooden Shoe Tulip Farm & Vineyard celebrates the blooming of 40 acres of tulips with food, tours, entertainment, and music. Wide rows of tulips in an array of colors create a photo-worthy landscape. Visitors are welcome to walk the rows, take photos galore, and order tulip bulbs for delivery in the fall. Tulip Fest also features local food carts, vendors selling handmade goods, field tours, a children's play area, a gift shop, wine tasting, and tethered hot air balloon rides.
The Wooden Shoe Tulip Farm & Vineyard is located near Woodburn, Oregon, an hour and a half from Eugene. The fields are open to visitors rain or shine and are often muddy. Check the website for information on tickets and the festival schedule. Some activities are only offered on the weekends. Dogs are welcome on a leash.
Pro Tip: Weekends tend to be crowded, so if you want to avoid the masses, go during the week. Several hot air balloon companies offer rides over the tulip fields. Links and contact information are available on the Tulip Fest website.
3. McKenzie Pass-Santiam Pass Scenic Byway
The central Cascade Mountains are Eugene residents' outdoor adventure playground. To sample both the lushness of the wet west side and the arid beauty of the east side, there's no better route than the 82-mile-long McKenzie Pass-Santiam Pass Scenic Byway. Clear, cold rivers, sparkling lakes, thundering waterfalls, rugged peaks, deep forests, wildflowers, and stunning mountain views make this a prime area for outdoor recreation.
The byway begins an hour east of Eugene at the junction of Highways 126 and 242, also known as the Old McKenzie Highway. Narrow, winding, and not recommended for RVs, Highway 242 is closed from November to mid-June; check online or call the McKenzie River Ranger Station for opening and closing dates. If it is closed, you can drive the half of the scenic byway that is open year-round, from the junction of Highways 126 and 242 to the town of Sisters, and simply turn around. You'll find waterfalls, lava rock, mountain views, lakes, and hiking opportunities on both sections of the route.
The scenic byway follows Highway 242 across Old McKenzie Pass to the charming Old West-themed town of Sisters. From there, the route heads west on Highway 20 back over the crest of the mountains. Follow signs for Eugene to return to Highway 126. A Northwest Forest Pass, Interagency Pass, or day-use pass (available on-site and online) will be required for parking at some trailheads. Allow five to seven hours roundtrip from Eugene, or longer if you hike to waterfalls along the way.
Pro Tip: For an easy 1.6-mile loop hike to two waterfalls, stop at Proxy Falls. To avoid most of the uneven terrain, stick to the eastern half of the loop trail. Wild rhododendrons bloom trailside in early summer.
4. Florence
The nearest town on the Oregon Coast is Florence, typically an hour and 20 minutes from Eugene (although it can take longer with traffic). Located at the mouth of the Siuslaw River, historic Old Town Florence displays the weather-beaten charm common among Oregon beach towns. That's where you'll find unique, locally owned shops, galleries, and restaurants, including Mo's restaurant, famous for its clam chowder.
For more sights and grand vistas, head north on Highway 101 to the Sea Lion Caves and the photo-worthy Heceta Head lighthouse, built in 1893. For beachside views, stop at the Heceta Head Lighthouse State Scenic Viewpoint (Oregon State Park Pass or day-use pass required). A trail leads up to the lighthouse. Several turnouts along the way offer panoramic views.
Editor's Note: Heceta Head is featured in our picks for 7 Historic Lighthouses To Visit Along Oregon's Coast.
North Jetty Beach, South Jetty Beach, and Strawberry Hill Wayside are among the best beaches in Florence, but for towering dunes, head south to the Oregon Dunes National Recreation Area. Wheelchair-friendly viewing platforms and a 1-mile hike across the dunes to the beach make the Oregon Dunes Overlook and Day Use Area worth a visit. Businesses along Highway 101 offer dune buggy tours for a wilder trip across the dunes. A Northwest Forest Pass, Interagency Pass, or day-use pass (available on-site and online) is required for parking.
Pro Tip: Jessie M. Honeyman Memorial State Park offers yurts, RV, and tent camping at the foot of the dunes. For fancier digs, spend the night in the historic keeper's house at Heceta Lighthouse Bed & Breakfast and wake up to a seven-course breakfast.
5. Covered Bridge Tour In Cottage Grove
Oregon is proud of its 50 covered bridges. Six of these historic treasures are in and around Cottage Grove, a small town 20 minutes south of Eugene. Driving tour maps and information are available in town at the chamber of commerce or online. The tour starts on Main Street, an excellent place to grab coffee or lunch before beginning the 30-mile route.
A pedestrian-covered bridge and a rare covered railroad bridge are located in town. Visiting the remaining bridges makes for a scenic drive along Dorena Lake in the Cascade foothills. Of the six covered bridges, only Mosby Creek bridge, built in 1920, and Dorena Bridge are still open to use by cars. The bridges can be toured year-round but are most photogenic in the summer and fall. Allow one to two hours to complete the tour, or longer if you add Wildwood Falls or a hike along Brice Creek to your adventure.
Pro Tip: Look for a swimming hole beneath Stewart Bridge and a picnic spot on the rocks at Dorena Bridge.
6. South Willamette Valley Food Trail
Nearly a dozen wineries are just the beginning of the artisan food and craft beverage producers featured on the South Willamette Valley Food Trail. Starting with urban wineries and farm-to-table restaurants in downtown Eugene, the food trail rambles through the countryside. Farmers markets, bakeries, a dozen farm stands, and u-pick farms are also on the trail.
The food trail features more than 50 places to sip, sample, and shop, most within 30 minutes of Eugene. You can visit the stops in any order. A few favorites along the trail: cinnamon rolls at the Creswell Bakery, wine and lavender at King Estate Winery, dark chocolate truffles at Euphoria Chocolate Company, and fresh berries at the farm stands. The best time to visit is between Memorial Day and Labor Day.
Pro Tip: Check websites or call ahead to check open hours and special event calendars for wineries, farm stands, and other rural stops. Many are open seasonally.
7. Aurora
Best known today for its collection of antique shops, the small town of Aurora traces its beginnings to the Aurora Colony, a utopian communal society founded in 1856. The colony's story is told through exhibits at the Old Aurora Colony Museum. The museum includes a few old buildings from the colony, and a self-guided walking tour leads to several more.
Antique shops fill many of the historic buildings. One of the best is Aurora Mills Architectural Salvage, which is packed with an astounding array of architectural salvage, antique and vintage home decor, lighting, kitchenware, and much, much more. The town is along Highway 99 East, an hour and a half north of Eugene.
Pro Tip: Round out the day with a visit to the Aurora Colony Vineyards and Winery.