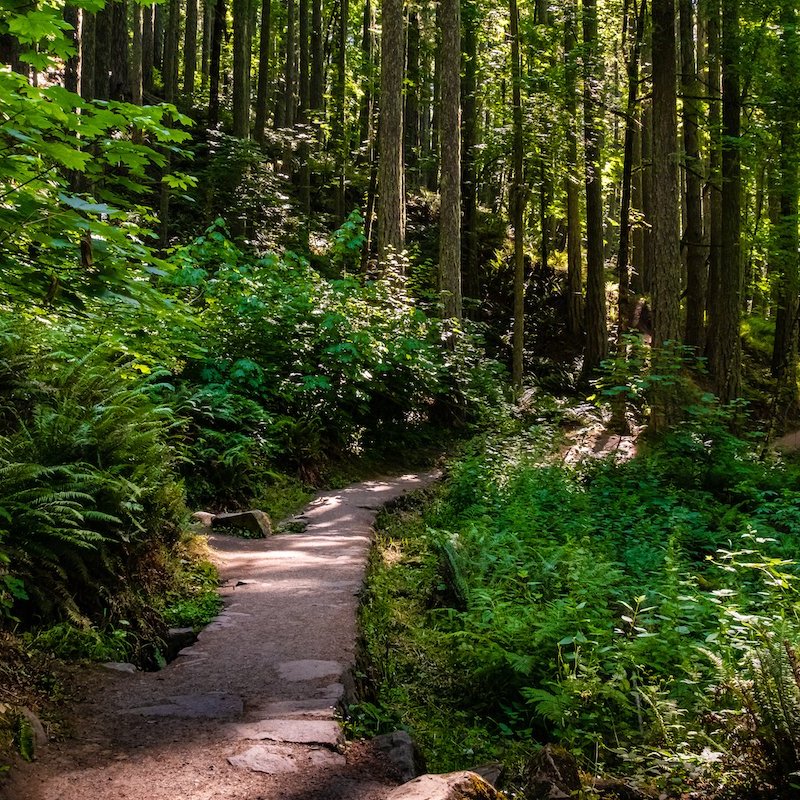 Nestled among wooded hills and surrounded by the fields and vineyards of the southern Willamette Valley, Eugene, Oregon, shares much of its culture with Portland, 100 miles to the north. Eugene's environmental ethos, outdoorsy lifestyle, and embrace of microbrews, locally produced wine, and farm-to-table dining — as well as a bit of weirdness — would be right at home in the bigger city. Parks and bike paths hug the Willamette River, and forest trails encourage hiking without leaving town.
But Eugene has its own unique culture, borne from the influences of the University of Oregon, the 1960s counterculture crowd, the organic food movement, and an outsized appreciation for creativity in everything from painting fire hydrants to brewing beer. The tongue-in-cheek SLUG (Society for the Legitimization of the Ubiquitous Gastropod) Queen — "the official unofficial ambassador of Eugene" — reigns over it all.
Downtown and the University district are easy to get around using PeaceHealth Rides bike-share bikes or EMX, the local bus system's express line. Uber or a car are handy for getting to trailheads and other attractions.
Things To Do In Eugene
From outdoor adventures to wine tasting or art-filled excursions, you'll find an array of things to do in Eugene for weekend fun. Take a morning hike or go rock climbing at Skinner Butte? Leisurely brunch at a farm-to-table cafe or lunch and shopping at Saturday Market? Here are a few of the best things to do in Eugene.
Spencer Butte
One of my favorite easy hikes is Spencer Butte, part of the Ridgeline Trail system in south Eugene. With more than 12 miles of trails, hikers can explore shady forests and grassy ridges without even leaving town. Seven trailheads offer access to the trails. The most popular is the trailhead for Spencer Butte, the peak seen rising on the southern horizon from downtown Eugene. The 1.7-mile hike snakes through the trees, gradually climbing to a rocky summit with panoramic views of the city and a patchwork of fields, woods, and farms far below.
Pro Tip: Watch out for poison oak on the summit.
Ruth Bascom Riverbank Path
The 12-mile multi-use Ruth Bascom Riverbank Path along the Willamette River rolls through parks and past some of the most interesting sites in town. Put on your walking shoes or grab a blue PeaceHealth Rides bike and cruise by the Owen Rose Garden, Autzen Stadium, Eugene Science Center and planetarium, Valley River Center, and a scale model of the solar system in Alton Baker Park. The best place to fill your basket with picnic supplies is Provisions at 5th Street Market, just a few blocks from the river.
Pro Tip: Be sure to ask if your hotel loans bicycles to its guests.
Jordan Schnitzer Museum Of Art
Located on the University of Oregon campus, the Jordan Schnitzer Museum of Art hosts visiting exhibits as well as those drawn from its collections. The museum's collections include Russian icons and art from China, Japan, Korea, South Asia, the Islamic World, Europe, and the Americas. The Guide by Cell program (ask for it at the front desk) uses your cell phone to provide a guided tour of the museum at your own pace. Allow at least an hour to see the exhibits. Admission fee required.
20x21EUG Mural Project
The organizers of the 20x21EUG Mural Project had planned to install 20 world-class murals in Eugene by 2021. Instead, the project has added more than 22 murals around downtown, joining an ever-expanding collection of murals and other public art. Most of the project's murals are concentrated in a seven-block area of downtown, and all are within a three-mile radius. Artists from all over the world transformed buildings into canvases. Like the many other murals around town (keep an eye out and you may spot the Simpsons or a giant pink donut), some are whimsical and others are thought-provoking.
Download a map and information for a self-guided tour or pick up the brochure at the Eugene, Cascades and Coast: Travel Lane County visitor information center. Allow one to two hours for a self-guided walking tour to see the murals and more time if you choose to do a little shopping or grab a bite to eat along the way.
Pro Tip: Bring a good raincoat. Summer and fall are mostly dry, but spring and winter weather can be wet. If you want to look like a local, leave the umbrella at home.
Museum Of Natural And Cultural History
The world's oldest running shoes — 10,000-year-old sagebrush sandals — are just one of the highlights of the Museum of Natural and Cultural History on the U of O campus. The museum explores archaeology spanning 14,000 years in Oregon, connecting prehistoric people to Native American tribes today. Interactive exhibits explain the changes in the Pacific Northwest climate and landscape over the last 300 million years. The museum also hosts fascinating temporary exhibits such as Native American beading or Eugene's Civil Rights movement.
Pro Tip: Museum admission is free on the first Friday of each month.
Cascades Raptor Center
Steely-eyed eagles, colorful kestrels, and aloof snowy owls await at the Cascades Raptor Center in Eugene. Aviaries set among the forest in the south hills shelter more than 35 birds of prey. Gravel paths, sometimes on slopes, lead you between the aviaries. Parking is limited; RVs and larger vehicles will need to park across the road in the gravel lot off Christensen Road. Timed admission tickets are available online.
Pro Tip: Call ahead to find out when the staff is feeding and working with the birds.
Best Restaurants In Eugene
With the bounty of the Willamette Valley farms to cook with, it's not surprising that many locally owned restaurants in Eugene are proud of their farm-to-table dining or use of fresh ingredients from the Pacific Northwest. You'll find a wide range of dining choices, from American with a Northwest flair to French, Thai, Mediterranean, and everything in between.
Beergarden
With 42 taps pouring beer, wine, cider, and soda, Beergarden is a relaxed, family-friendly place to sample five of the best food trucks in town. Juicy burgers, gourmet macaroni and cheese, burritos, and much more are dished up in the festive outside garden. The tasty bacon mac n' cheese from Bounty Meat and Cheese might just be the best in town. If the weather turns wet, head indoors and grab a seat by the fireplace in the spacious dining room.
Sweet Life Patisserie
It's a rare Sunday morning when there isn't a line out the door at Sweet Life Patisserie. This is the place to find the most decadent treats in town, from whole cakes and pies to slices of the same. You'll also find tarts, brownies, eclairs, cream puffs, pastries, and more. Sweet Life has two locations: Monroe Street near downtown and a smaller shop on Nineteenth Avenue near the university. At either one, your best bet for parking is on the street.
Pro Tip: For more sweet treats, there's also a Voodoo Donut shop in town.
Falling Sky Brewing
Craft beer and fresh, local food come together at Falling Sky Brewing's pub. It's a little hard to find because it's tucked out of sight in Oak Alley, but the effort is worth it (from Thirteenth Avenue, make a right turn into the central alley in the block between Willamette and Oak Streets). Farm-to-table burgers, sandwiches, and more are all made fresh in-house. The chefs even make their own condiments.
Best Hotels In Eugene
When it comes to places to stay, Eugene offers a wide variety of hotels and Airbnb options. Three of the best hotels in Eugene — the Graduate Eugene Hotel, Inn at the 5th, and Campbell House Inn — are all located downtown within easy walking distance of restaurants, shopping, Saturday Market, and the Hult Center for the Performing Arts.
Perhaps the most Eugenian of the trio is the Graduate, which pays homage to Nike shoes (Eugene is the birthplace of Nike) and the University of Oregon Ducks in its decor. It sports a fun, collegiate atmosphere, waffle-iron lamps, and a giant duck pull toy in the lobby.
The Inn at the 5th is all about luxury, pampering, and impeccable service. Guests enjoy complimentary wine, fine Italian linens, and a pillow menu. Room service is delivered via a private butler's pantry. Shopping at 5th Street Market is at your doorstep.
The Campbell House Inn, built in 1892, is an elegant, classically furnished bed and breakfast at the foot of Skinner Butte. Guests enjoy breakfast with freshly baked scones and a complimentary glass of wine in the evenings.
Pro Tip
The best time of year to visit Eugene is April through October. The weather warms up, flowers bloom, and Saturday Market resumes in the park blocks downtown. Although some tasting rooms are open year-round, many wineries and farm stands begin welcoming visitors on Memorial Day weekend. Summer is a great time to find free concerts in the park, smell the roses in the Owen Rose Garden, and catch a local festival or the annual SLUG Queen competition.