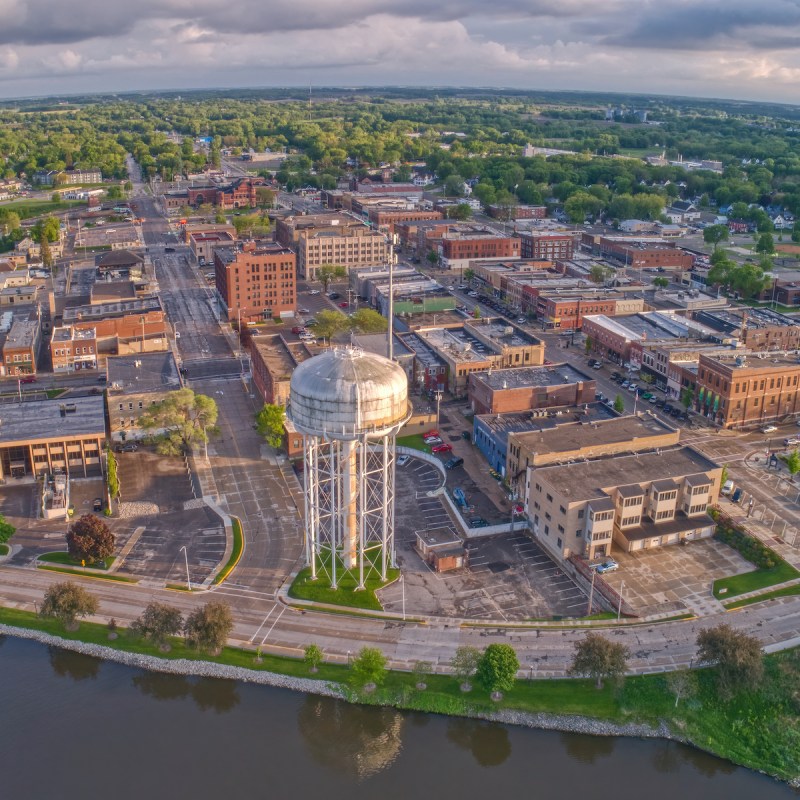 Minnesota is known as the land of 10,000 lakes. If you enjoy fishing, boating, swimming, kayaking, canoeing, or hanging out on a beach, the lakes of Minnesota are for you. Several beautiful lake towns are surrounding all of them. I have always enjoyed spending a day on a Minnesota lake and ending the day in a charming town.
Each of these towns offers something unique to the area as well as some old-time favorites such as a slice of homemade pie. Summer is the most popular time of year for visitors. Minnesota offers four seasons, which means you can visit four different times during the year for a different experience. These are some of my favorite beautiful Minnesota lake towns, and I hope you will consider planning a visit to some of them. 
1. Albert Lea
A fun lake town that is a short drive to the North of my hometown of Mason City, Iowa, is Albert Lea, Minnesota. It is in South Central Minnesota and is home to Albert Lea Lake and Fountain Lake. The town is right off of I-35, making it easy to find. I have enjoyed the views on the lake when hopping on board the Pelican Breeze. This boat ride is a fantastic way to view the lake and its surroundings. 
In case you were curious, some pelicans live on and around the lake during the warmer months of the year. You will want to make time to stroll around the lake for an opportunity to relax and enjoy nature. I enjoy walking downtown during the thick of the summer. The colorful flower pots are bursting with color that lines the streets, and the warm sun feels terrific. Pack a picnic lunch, place a blanket on the ground, and enjoy the view of one of these lakes. If you want to spend a few nights in Albert Lea, book a stay with a home through Vrbo, there are several to choose from in Albert Lea.
2. Bemidji
Bemidji, Minnesota, is the first town on the Mississippi River, and it's home to Paul Bunyan and his famous Blue Ox, Babe. As a young girl who liked to talk, I can recall having a conversation with Paul Bunyan. This lake town is a lake lover's paradise come true. With numerous lakes nearby, you can fish in several separate locations in one day. Lake Bemidji, Lake Irving, Big Wolf Lake, and Lake Plantagenet are all within a short distance of Bemidji. Paul Bunyan Drive is home to several restaurants, including chains and family-owned.
Antique enthusiasts will enjoy Bemidji, as there are several fun places to look for a treasure, including Grandma's Attic Antique Mall. With 5,000 square feet of space and approximately 30 antique vendors, you can stroll through here for hours on end. If you're looking for a souvenir, 218 Clothing & Gift Shop offers Minnesota-themed souvenirs and trendy home decorations for you to take home with you. The perfect way to end your day is to sit by the lake and enjoy the sunset. Ruttger's Birchmont Lodge offers the view and a Minnesota lake experience that you will remember for years.
3. Walker
Walker, Minnesota, is in the middle of lake country. It is a home base for many who visit and explore Leech Lake. If you enjoy fishing for Northern Pike and Lake Perch, this is your lake. You may even snag a walleye or two. Portage Brewing Company is a popular stop when visiting Walker. Hang out on the deck and enjoy a beer or two from the local pub. There's nothing like hanging out on the deck with a beer in hand after a day of exploring the lake. Walk Main Street and visit the shops and restaurants on a summer day. This small town grows throughout the summer seasons as visitors flock to the lake.
A must-experience when in Walker is a stop at the Christmas Point Wild Rice Co. You can shop for rice, chocolate, soups, and all sorts of fun gifts and home furnishings. Indulge in a Tuscan turkey melt smothered in caramelized onion; you will be glad you ordered off of the menu. The menu also includes other sandwiches, soups, wraps, and lighter fares, including coffee. For a night on the lake, book a stay at The Walker Hotel. The location of this property places you within walking distance of the downtown area, making it a top choice for a place to lay your head in Walker.
4. Brainerd
Brainerd, Minnesota, is known for its fishing, biking trails, golf courses, shopping, and more. This Central Minnesota town is surrounded by hundreds of lakes, including the Gull Lake Chain and Mille Lacs Lake. Many people come to Brainerd to enjoy the lake, but the charming town of Brainerd offers experiences that you will enjoy. For a good old-fashioned home-cooked meal, I would suggest that you visit The Barn. My suggestion would be to enjoy a slice of your favorite pie. 
The historic downtown area allows you to experience several types of foods, drinks, and artistic experiences. If you enjoy delicious chocolates, you will want to spend some time at Fancy Pants Chocolates. If you are not a chocolate fan, you will want to note that they offer ice cream and soda floats. As you stroll through the historic downtown area of Brainerd, look up to see the incredible architecture that makes up this area of town. The older buildings in Brainerd add charm to the town and offer you an opportunity to unwind. Lum Lark RV Campground in Brainerd offers level campsites with free Wi-Fi, including sites that average 40 feet by 55 feet in size. 
5. Willmar
Willmar, Minnesota, makes up part of the popular Willmar Lakes area in Central Minnesota. This area includes more than 300 lakes and offers an incredible art scene and historical attractions. The Becker Market sources fresh, locally-based foods from vendors in the area. Enjoy a cup of your favorite coffee at The Goodness Coffee House. This coffee house is the ideal place to get a feel for the community and meet some of the locals. Their Italian sodas are the perfect solution for cooling off on a hot summer day. There's a common thread with all of these charming lake towns; most of them have a unique chocolate shop. Mr. B's Chocolates is out of Wilmar and also offers online ordering. 
The art scene continues to thrive in Willmar through the Willmar Area Arts Council. Look for the art benches that are scattered throughout the town. Take a stroll around town and see how many of them you can find. There is one decorative bench in front of the Willmar Public Library, one in front of the Barn Theater, another in front of Rositta's, one in front of the Midtown Market, and another in front of the Health and Human Services Building. The Lakeview Inn offers affordable and clean lodging near the heart of everything. 
6. Crosslake
With more than 14 interconnected lakes of the Whitefish Chain of Lakes, outdoor enthusiasts will not find themselves bored in Crosslake, Minnesota. After a long day of fun in the outdoors, unwind in the shops and restaurants in the charming town of Crosslake. Pine Peaks Restaurant & Gifts offers home decor and clothing that you will want to take back home with you. And in case you need lodging, they also offer accommodations at Pine Peaks Lodge and Suites. A fun place to visit is Kicks on Route 66, an artisan venue that features restored and refurbished furniture for purchase. You can also create your masterpiece by enrolling in one of their arts and craft classes. 
The town of Crosslake is known for being helpful and rolling out the red carpet for its visitors no matter where you go, including restaurants, boutiques, specialty shops, or the local hardware store. The folks in town will be ready to help you feel welcome. Crosslake is known for the best St. Patrick's Day Celebration and Parade in the state of Minnesota. As with any charming town in Minnesota, you can plan to visit all year long with a different experience. The seasons change, and the events and festivals change along with them. Kick back and enjoy Crosslake. If you find yourself longing to hold a fishing pole, buy one with a fishing license in a local shop, and find a quiet place to toss your line into one of the surrounding lakes.
All six of these charming towns in Minnesota have something unique to offer. Put on a good pair of walking shoes and hit the pavement in these towns. The historic sites and incredible architecture will leave your jaw dropped at times. If you enjoy birding, be sure to have a good pair of binoculars on hand at all times. After all, you never know when that famous Minnesota Loon will show up floating on the lake. Minnesota is known for mosquitoes, be prepared and have bug spray with you at all times. Dress in layers and enjoy yourself as you slow down and enjoy the charm that these Minnesota towns have to offer. 
Related Reading: