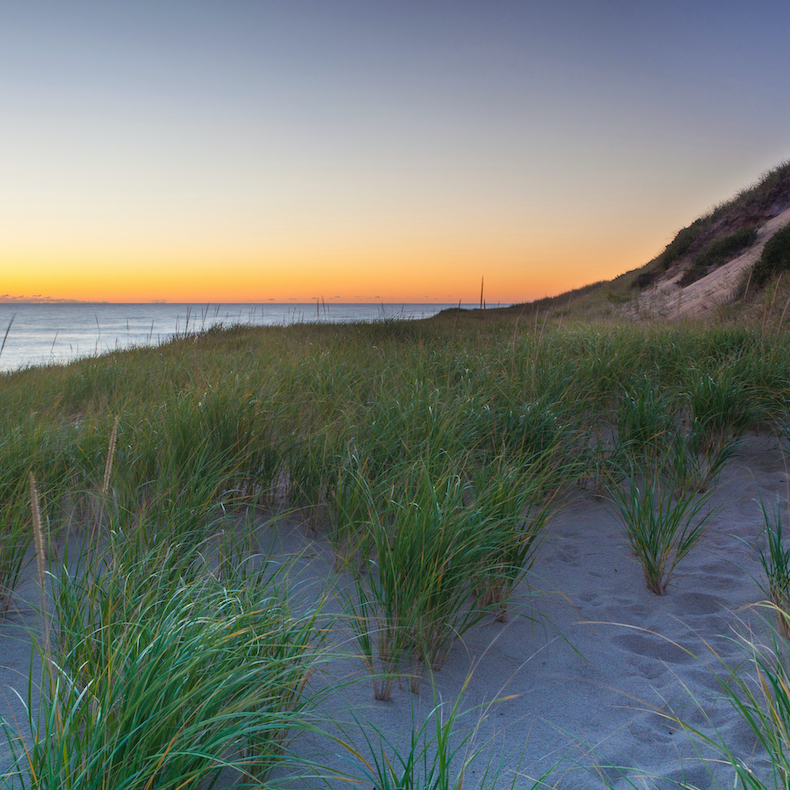 Gentle ocean breezes offer relief from the gloriously hot summer sun. Water options include everything from soft, rolling waves on the bay side to crashing surf on the ocean side. Grab your favorite beach blanket and a great book and head out to enjoy some beautiful beaches. The best things to do in Truro make for a relaxing and rejuvenating getaway.
When you need a break from the sun, there are wonderful hiking and biking trails where you can stretch your legs, a winery and distillery where you can wet your whistle, and some old-fashioned golf links to test your drives.
The town of Truro is made up of two villages: Truro and North Truro. Situated between Provincetown and Wellfleet, Truro is all about the beaches and beach life. It's close enough to Provincetown for visitors to enjoy the antics, but far enough away to offer a relaxing stay.
Here are 11 of the best things to do in beautiful Truro.
1. Head Of The Meadow Beach
The Cape Cod National Seashore offers visitors plenty of beautiful beachfront to enjoy on their vacation. Head of the Meadow Beach is one of the prettiest beaches on the Cape.
If conditions are right, you may get a glimpse of the wreck of the Frances, a German ship that ran aground in a storm in December 1872. Every few years or more, when the storms, moon, and a dead low tide come together in perfect harmony, the ship seems to rise from its watery grave for a spectacular photo opportunity.
2. Longnook Beach
Visiting this out-of-the-way beach is a time-honored local tradition, but reaching the beach requires some effort. The enormous dunes at Longnook Beach give it an isolated and wild feel.
The sandy trek down the steep and narrow dune path is 50 feet, which isn't too bad. However, the walk up the sand dune at the end of the day can leave you exhausted.
Longnook Beach has a reputation for being a clothing-optional beach, popular with the local "I loved the '70s" crowd. Parking is limited, and a town sticker is required.
3. Coast Guard Beach
Coast Guard Beach in Truro, not to be confused with Coast Guard Beach in Eastham, is part of the Cape Cod National Seashore. This oceanside beach is the perfect spot for those who enjoy a good stroll. You can walk for miles along the beautiful shoreline hemmed in by dunes and surf.
Since Coast Guard Beach is on the ocean, the surf can be rough, but if you love bodysurfing or playing on your boogie board, this is a great beach to visit. Parking is very limited, so arrive early — or consider biking to the beach.
4. Ballston Beach
Ballston Beach is another wonderful Truro beach. This oceanside beach offers sun worshippers good surf for boarding. It's a quieter beach with lots of room to stretch out your blanket and spend the day reading a great novel.
5. Corn Hill Beach
Corn Hill Beach is a beautiful spot to spend a warm summer day. This bayside beach is long and narrow, and the waters are calm and great for swimming. It is a relaxing area that attracts families with its gentle surf and sandbars that appear at low tide. A town beach parking sticker is required.
6. Fisher Beach
Fisher Beach is a lovely bayside beach that offers a quiet spot for enjoying the sand, swimming, and walking. As with the other Truro beaches, a parking pass is required.
7. Beach Fires
Corn Hill Beach and Ballston Beach offer the opportunity to light it up at night. Both beaches offer a limited number of beach fire day permits. You can obtain your permit through the Truro Fire Department.
Having a fire on the beach is a memorable experience. Gather with friends and family to watch the sun set, have a picnic dinner, toast marshmallows, and enjoy the quiet peace of the beach at night.
8. Truro Vineyards And South Hollow Spirits
Lawn chairs and picnic tables dot the front lawn as happy visitors sip fruity wines and fiery spirits. Truro Vineyards and South Hollow Spirits share space at the vineyard for tours and tastings.
Truro Vineyards offers tours of the vineyard and winery and tastings of their finely crafted wines. Sip a glass on the sprawling front lawn. Wander through the peaceful vineyard as you enjoy a glass of wine.
South Hollow Spirits strives to bring back the rum-runner days of yore. Their Dry Line Rose Gin is an interesting blend of gin and rose, resulting in beautifully hued cocktails. Stunning in a martini or perfect for sipping on the rocks, it offers flavor and style. Be sure to take a tour, and then try a few samples of South Hollow's locally crafted rums and gin.
Not to worry — you can dine while you sip. The gift shop offers specialty cheeses and assorted foods to munch on while you enjoy the beautiful Cape weather and delicious Cape wines or spirits. If you're in the mood for a full meal, you can head to the Crush Pad, a food truck run by Truro's Blackfish Bistro.
9. Highland Light
Visiting lighthouses is a coastal pastime that has been going on for generations. The Highland Light has been welcoming visitors for more than 200 years. Currently undergoing renovations, the exhibits and keeper's shop are closed for the 2021 season. The lighthouse grounds are still open for you to visit and enjoy, however.
The Highland Light was commissioned by George Washington in 1797 and was the 20th light station to be built in the United States. Its long and storied history makes it a unique landmark. The original lighthouse is gone, but the current structure dates to 1857, making it a historic building in its own right.
10. Biking And Hiking
Pamet Cranberry Bog Trail, running down the Cape Cod National Seashore, is an easy, 1.9-mile out-and-back loop. The trail offers peeks of shoreline scrub forests. There is a fee to park at the Cape Cod National Seashore, and there are pet restrictions. Pamet is one of 11 trails operated by the Cape Cod National Seashore — be sure to check their website for trail information.
For a hiking trail that is a bit more challenging, consider the Ryder Beach Loop. This trail is a 3.2-mile, moderate hike that offers beach views and inland trails. Be sure to pack bug spray to ward off the mosquitos.
Head of the Meadow Bike Trail is operated by the Cape Cod National Seashore. It's a 2-mile out-and-back trail that runs from High Head Road to Head of the Meadow Beach.
11. Highland Links Golf
Playing a round at a true links course without visiting Scotland is a challenge. But Highland Links is the closest you can get to a classic links course. It's situated high on the bluffs with panoramic views of the Atlantic Ocean that could distract even the most dedicated golfer.
You will be delighted at the reasonable fees and challenged by the course play. But the views will make it one of your most memorable rounds of the year.
Pro Tip: Truro is a popular spot on Cape Cod due to its proximity to Provincetown, its beautiful beaches, and its laid-back summer vibe. Many of the beach parking lots are small and require a permit, so planning your beach visit ahead of time will help ensure your Truro getaway is truly relaxing and stress free.
The quiet town of Truro, Massachusetts, is a wonderful spot for a summer escape when you just want to soak up some glorious seaside sunshine and forget all about your workaday worries for a little while. Now is the time to plan your next Cape adventure and take care of you!