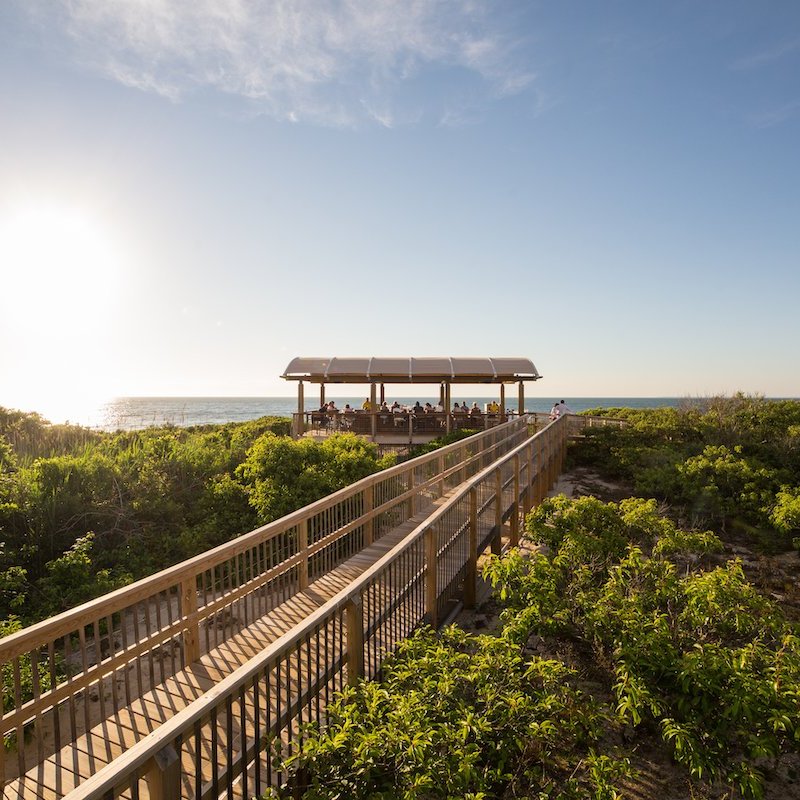 Luxury resorts are not just for the rich and famous. Personal pampering coupled with a wealth of activity options is just the thing for a relaxing getaway weekend or extended vacation. Cape Cod, Martha's Vineyard, and Nantucket offer a picture-perfect beach vacation where you can soak up the warm sunshine while immersing yourself in a great book, swinging a golf club, dining on sumptuous local cuisine, or exploring the great outdoors.
Cape Cod and the Islands have amazing luxury accommodations that will cater to your every vacation whim. Wonderfully vibrant and perfect for a summer break, these luxe hotels and resorts also offer shoulder season options for a quieter, budget-friendly stay.
Note: Some information in this piece was obtained during a sponsored press trip, but all recommendations are my own.
1. Ocean Edge Resort And Golf Club, Brewster
Anchored by a turn-of-the-century mansion overlooking a beautiful, sprawling lawn is the elegant Ocean Edge Resort and Golf Club. With accommodations for every visitor's need, from grand suites and Mansion rooms to townhouses and waterfront villas, Ocean's Edge offers more than just a Cape stay; It offers a Cape Cod experience.
In the summer, the lawn is a fun gathering place for an aperitif and nosh before dinner, where friends meet up to recount their day's adventures. You can plan your day to be as busy or not so busy, whatever suits your getaway dreams. Chillax at one of the five pools, play tennis on one of nine courts, or try out the latest pickleball craze with six new pickleball courts. Spa treatments, biking, kayaking, and paddleboarding are all at your fingertips.
The beach, of course, is why everyone flocks to the Cape. Soft sandy beaches beckon weary vacationers to soak up the glorious Atlantic sunshine and dip their toes in the often chilly water. Ocean Edge offers guests public beach transportation and optional private beach settings with your vacation package.
Enjoy a fun dining experience in one of the Frost Bar's private bubbles where you can dine under the stars in your own cozy igloo. If you are a true foodie, you can catch your own dinner. Take the Oyster Tour and experience Brewster's shelling industry to gain new insight into food agriculture. Taste the freshest oysters you have ever eaten on this unique adventure.
The resort's private, Nicklaus-designed golf course offers guests 18 challenging holes with tree-lined fairways, bunkers that you'll replay in your mind, and beautiful Cape Cod vistas.
Pro Tip: Off-season stays to relax, play golf, or change your work setting are budget-friendly and just the ticket to get out and enjoy this unique property.
2. Wequassett Resort And Golf Club, Harwich
Sweeping views of Pleasant Bay and luxurious accommodations await Wequassett Resort and Golf Club guests. The Wequassett is not a hotel; it is a lifestyle. Choose from a classic Cape Cod-inspired room with a view, sporting a private deck for an alfresco aperitivo before heading off to dinner. Or enjoy a cozy suite with panoramic views, a private fireplace, and a secluded patio.
For a family reunion or friends getaway, the Mother Goose House is a separate three-bedroom home that is perfect for a group stay. It is your own private home enveloped in casual elegance with everything the Wequassett has to offer her guests.
Twenty-Eight Atlantic, the Forbes five-star rated restaurant, is the epitome of luxurious dining. With a menu steeped in elevated local cuisine, your sumptuous dining experience is complemented by the gorgeous views, expertly recommended wines, and unsurpassed service.
For a more fun and casual atmosphere, grab a seat at the Outer Bar and Grille. Dine under the tent or on the patio, either way, you will enjoy a casual meal with a stunning view.
Pro Tip: Shoulder season, mid-week deals run through the end of May and are a perfect pampered break to kick back and relax in luxury without breaking the bank. Minimum stays are required in the height of the summer season and on the weekends in the shoulder season.
3. Chatham Bars Inn, Chatham
The sprawling Chatham Bars Inn has been a symbol of Cape Cod luxury since its beginning in 1914. It surrounds guests with windswept ocean vistas, private beach sunbathing from your personal cabana, and other upscale amenities. The Inn offers all the classic summertime activities like tennis and lawn croquet, immersing you in a relaxing summertime vacation vibe.
A private boating fleet is at your disposal for a romantic evening cruise, photography starring the local seals, or to set out to fish for your dinner. Catch a striped bass, bluefish, or any other number of local fish, and the captain will clean your fish and deliver it to the resort's kitchen for your evening dinner.
In addition to world-class restaurants, Chatam Bars Inn's Dine on the Lawn option gives you backyard dining in a perfect beachside setting. This is the one experience you need to share with your friends and family. It's like having an alfresco diner catered by a top-notch culinary team.
Pro Tip: Off-season rates run through the end of May and kick in again in October. For an off-season weekend stay, consider October and early November when the Cape is cool and uncrowded.
4. White Elephant, Nantucket
Hop on the ferry and set sail for the beautiful island of Nantucket and book a stay at the White Elephant Nantucket Island for the best casual beachy island vacation getaway. The coastal cottages are just steps away from the quaint downtown shops but miles away from the hustle of daily life. The cottages are literally on the harbor, so the unobstructed views of the comings and goings of waterfront life surround you. These charming waterfront cottages have all the rustic Cape ambiance while the supporting amenities are top-notch.
Alternatively, stay at the hotel, inn, or downtown lofts to make your stay match your unique oceanfront getaway plans.
Pro Tip: In April, May, October, and November, you can find great off-season rates for this special island stay. The off-season weather may not be prime sunbathing time, but there is still plenty of opportunity for relaxation, amazing dining, and beautiful beach walks.
5. Winnetu Oceanside Resort, Edgartown
The Winnetu Oceanside Resort is the picture-perfect, classic summertime Cape Cod resort, famous for its Martha's Vineyard, South Beach location.
Martha's Vineyard is beautiful off-season. Biking is especially enjoyable when the summer throngs have yet to land. You can easily navigate the island on bike; leave your car on the mainland and take your bike across for a few days of cycling exploration.
Pro Tip: Take advantage of the townhouse rentals in the shoulder seasons. You can rent a sleeps-eight home that is a short walk to the beach, has a full kitchen, outdoor space, and access to the resort's amenities for half the price of an in-season rental. Grab your friends and plan a work-cation on the Vineyard for a spectacular mood-shifting stay.
6. The Charlotte Inn, Edgartown
Elegant, refined, and extraordinary describe The Charlotte Inn. From the moment you step through the front portico, you feel transported to an exceeding well-appointed English country manor. Meticulously decorated in luxurious antique stuffed rooms, leather-bound books, classic portraits, dark stained woods, and opulent window coverings make your workaday stress melt away. Afternoon tea, evening turndown service, beautifully manicured gardens, meandering walkways, and gracious hosts are the hallmarks of The Charlotte Inn.
You must dine at The Terrace while staying at the Inn. It is one of those restaurants that locals choose to celebrate all their special occasions. The French-inspired menu celebrates regional ingredients while applying classic techniques resulting in sumptuous cuisine.
Pro Tip: Their off-season rates are excellent for the richly decorated accommodations. The peace and tranquility of the Inn are, in part, due to their no-children-under-12 policy, making The Charlotte perfect for a luxurious work-cation or grown up getaway with an elegant European flair.
7. Harborview Hotel, Edgartown
The historic Harborview Hotel on Martha's Vineyard is the quintessential New England beach hotel. Their spectacular sprawling resort, with a wrap-around veranda overlooking the lighthouse and ocean beyond, is loaded with bygone charm and top-notch amenities.
Enjoy a sumptuous dinner at their premier restaurant Bettini to celebrate a special occasion or just because. After an adventure-filled day, gather around the firepit at the Roxy Pool Bar and enjoy just being on the island.
For an exceptional stay, book the Presidential Skyhouse Wing, the ultimate in luxurious experiences.
Pro Tips
Off-season rates are surprisingly affordable, making this the perfect opportunity to live like royalty. Cape Cod and the islands have always been a playground for the rich and famous. While seasonal resort prices range from moderate to sky's-the-limit, shoulder season prices will satisfy your taste for a luxurious getaway in a mid-level price range. Whatever your luxury vacation dreams are, visit one of these luxurious resorts — it will be good for your relaxation and rejuvenation. For additional inspiration, consider