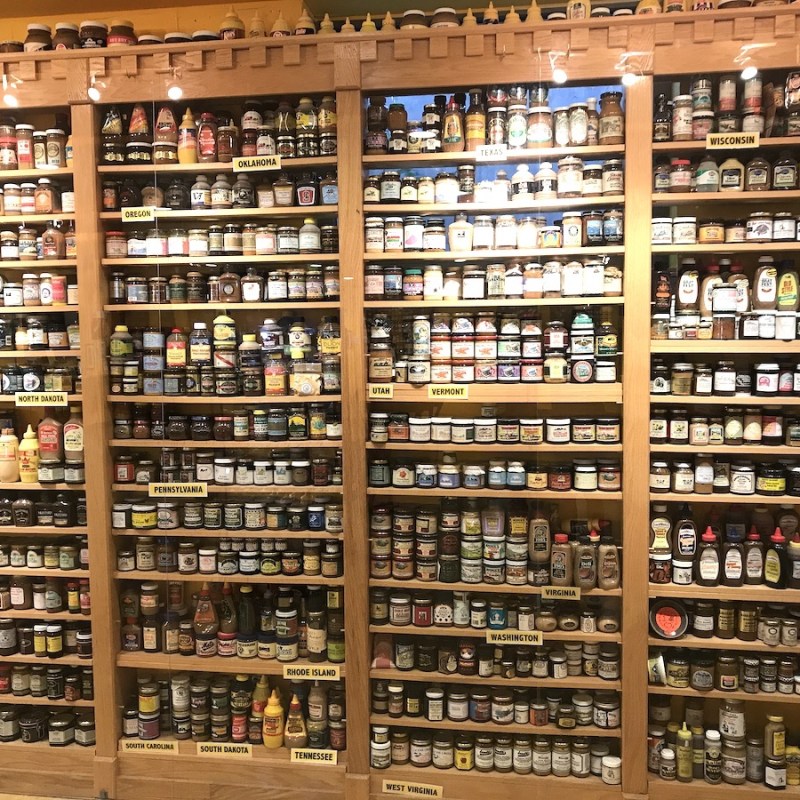 Middleton, Wisconsin, is one of those hidden gems that is known and loved by locals as well as those who seek out the best places off the beaten path. Under 15 minutes from Madison, the busy capital of Wisconsin, Middleton makes for an easy day trip and has lots of charm as well as many fun things to do. There are also plenty of delicious ways to enjoy Middleton's dining scene while you're there. Here are our suggestions for how to spend a perfect day in charming Middleton.
Things To Do In Middleton
As a small town with a strong connection to its history and heritage, Middleton offers a range of activities for lovers of both outdoor and indoor pursuits. The variety of experiences is great, making Middleton an ideal place to spend a perfect day.
1. National Mustard Museum
One of the best-known and most unique attractions in Middleton is the National Mustard Museum. The museum started out as a pet project of Barry Levenson, a former Assistant Attorney General for the State of Wisconsin. His passion for collecting mustards became a full-time pursuit, as is demonstrated by this collection of more than 5,500 mustards and hundreds of mustard-related memorabilia. The museum moved from a smaller location to its home in Middleton in 2010 and is one of the most popular places to visit in Middleton. Whether you love mustard or just have an interest in cultural history, the vast collection of mustards from around the world is fascinating. There are interactive exhibits as well as a shop where you can taste lots of mustards and purchase tasty souvenirs. The museum is free to visit, but you can make a voluntary donation if you like.
2. Pheasant Branch Conservancy
For some outdoor enchantment, head to Pheasant Branch Conservancy. This beautiful setting offers 160 acres of nature with great trails for hiking, running, biking, walking, and taking it all in. Dedicated volunteers tend to the area, ensuring that native plants take center stage. There is a bubbling spring-fed stream that heads into Lake Mendota, offering a restful place for contemplation surrounded by a peaceful environment. Native American burial mounds can be seen near the top of Frederick's Hill, a lovely spot from which to take in gorgeous views of the surroundings. Wildflowers, birds, and occasional local wildlife sightings make for a lovely way to enjoy the outdoors.
3. Middleton Historical Museum
Lovers of American history, particularly of the daily lives of small-town pioneers, will enjoy the exhibits at the Middleton Historical Museum. Focused on the "lives and struggles" of unsung members of the community in its early days, the museum contains archives and displays artifacts from homes, farms, and businesses. Seeing how these dedicated folks transformed the town from wilderness into a productive, vibrant, and thriving community is exciting and fun. The museum itself is the result of visionaries in the town who wanted to create both a testament to and an accurate historical record of Middleton's evolution. In its location at historic Rowley House, right next to City Hall, it serves as a proud achievement for the locals and an interesting place to visit.
4. Capital Brewery
Fans of traditional German-style lager beer will want to make a stop at Capital Brewery. Winner of hundreds of awards and focused on sustainable practices, Capital Brewery offers fun experiences all year round. In the winter months, the Bier Stube and Grain Room welcome visitors indoors while the Bier Garten is open April through October. Live music and different events have led to the place being called "Middleton's Backyard." Those interested in the brewing process itself can schedule a tour directly on the website. For those who want to keep their beer bellies at bay, the Capital Brewery Bike Club offers rides twice a week when the weather permits.
5. Lake Mendota And Mendota Park
One of Middleton's best features is beautiful Lake Mendota, the largest of the "Big Five" lakes that stretch out from Madison. People love it for fishing, swimming, and other aquatic pursuits. A fun way to spend a perfect day in charming Middleton is to rent a boat, kayak, canoe, or stand-up paddleboard and while away the time on the lovely lake. Marshall Boat Rentals provides rentals for Lake Mendota. Winter activities on the lake abound, too, with ice fishing, hockey, snowkiting, and the Union's Winter Festival, during which a full-scale head of Lady Liberty peeks out over the ice.
If you're more of a landlubber or want to mix things up during your visit, Lake Mendota County Park offers a great place to relax with a campground, picnic area, volleyball courts, and swimming. There are also unpaved biking and walking trails as well shore fishing spots for the avid angler.
6. Greenway Station
Middleton has no lack of shopping. Greenway Station offers more than 50 acres of lifestyle retail with stores, restaurants, entertainment, and more. A farmers market comes to the center during the season. Shops offer a wide variety of items, making it easy to shop for everyone in one place. Outdoor enthusiasts will enjoy Orvis adventure goods and Playtri, which caters to triathletes. DSW shoe warehouse, Christopher & Banks, J. Jill, and Chico's are favorites for apparel. Home Goods, Marshall's, and World Market provide fun for the bargain hunter. And dining options include sushi, Italian, steak, Mediterranean fare, ice cream, and more.
7. Pleasant View Golf Course
Another way to enjoy the great outdoors in Middleton is with a fun round of golf on a beautifully maintained golf course. Pleasant View Golf Course has been a winner of Madison Magazine's Best of Madison Gold for the past several years and with good reason. With 27 holes of championship golf, a practice range, and a scenic nine-hole par-three course, Pleasant View has options to appeal to the beginner and scratch golfer alike. There's a bar and grill with outdoor seating for some tasty refreshments, not the least of which include Wisconsin cheese curds. Open to the public, Pleasant View offers extremely affordable prices. You can rent clubs and even take a lesson if you like. It's easy to book tee times directly on their website.
Best Restaurants In Middleton
For a small town, Middleton offers a huge variety of great places to eat. One of our favorites is the Hubbard Avenue Diner. Some of their classics like Meatloaf of the Gods and Oven Roasted Turkey Dinner are huge crowd pleasers. They have lots of other choices including sandwiches and salads. Breakfasts are a big deal here, too, with skillets, buttermilk pancakes, and "mile high" omelets. But the bakery can cause a lineup as Hubbard's is known for its scratch-made pies, baked fresh daily right in the diner.
Another great dining option is the Longtable Beer Cafe. The menu includes artisanal dishes made from local ingredients. Double-fried Belgian style frites, cheese and charcuterie boards you can build yourself, and our favorite buttermilk fried chicken are just terrific. They offer family-sized meals, salads, sandwiches, and veggie items as well. Another fun aspect of a visit is their massive beer selection. Whether you choose from their 12 rotating taps or their selection of 300 brews, which you can pick for yourself from self-serve open coolers, it's easy to find something new and fun to try. And for a great taste of Wisconsin burgers and cheese curds, Craftsman Table and Tap is bound to please.
There's great ethnic fare in Middleton, too. Biaggi's Ristorante Italiano and Villa Dolce offer great Italian. Dhaba Indian Bistro and Amber Indian Cuisine are local favorites. Mediterranean fare at Sofra Family Bistro or Freska Mediterranean Grill and Mexican dishes at Compadres and Lupe's Taqueria also get high marks.
For sweets lovers, great choices in Middleton include Hurts Donut Company with fun, colorful, and creative flavors and Chocolate Shoppe Ice Cream, which never fails to make us laugh at the names of their innovative flavors. Exhausted Parent and This $&@! Just Got Serious are among our faves. And, for bakery lovers like us, Clasen's European Bakery will easily fill a basket with delicious breads, pastries, chocolates, and more.
Pro Tips
It's easy to spend a perfect day in charming Middleton. For those who want to stay and enjoy this gem of a town a little longer, comfortable stays are available too. Familiar name brands such as Hilton, Marriott, and Holiday Inn offer great amenities and convenient locations.
Middleton offers tons to see, do, and eat any time of year. It's close enough to the capital city of Madison for a day trip or, for those who want to dive even deeper, an overnight visit. Outdoor activities, cultural attractions, and many opportunities for eating and drinking make Middleton a fun place to explore. For more Wisconsin inspiration, consider 11 Charming Small Towns To Visit In Southern Wisconsin and 9 Best Hikes To Experience In Wisconsin.