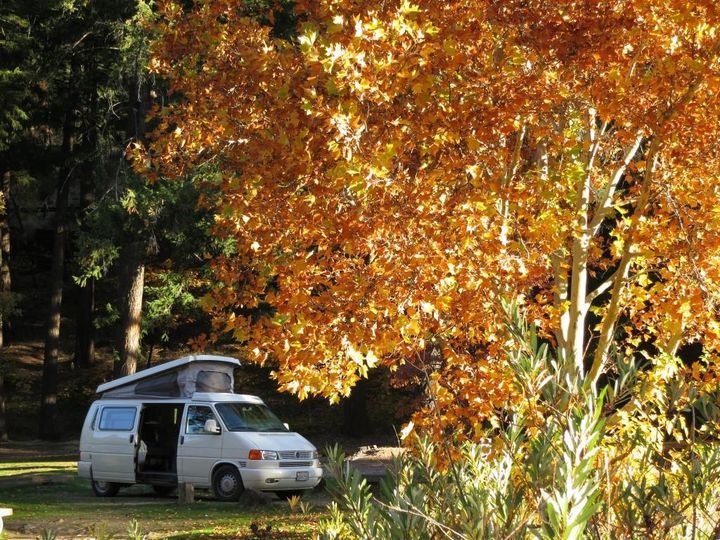 It's imperative to feel comfortable and safe while traveling. Medjet provides premier air medical transport, travel security, and crisis response memberships, providing peace of mind for an affordable price.
Way back in the mid-'70s, my boyfriend Barry and I tested our commitment to each other by taking a three-month trip to the British Isles. (Happy to report we passed the test!). Soon after we arrived, we bought a "Dormobile," a popular but now-extinct British camper van, and traveled around the spectacular countryside exploring Britain's national parks and villages. When we left the country, we sold the van for the same price we had bought it for.
It took us another 25 years, but we eventually bought a secondhand camper van on this continent, a Westfalia, or "Westie," as they're affectionately called. That van lasted us from 2001 to 2013, before its motor died — in a remote part of Death Valley! We survived that adventure, thanks to an ex-Iraq War mechanic we met in our campground, but decided that at our age we were too old for such mishaps and were overdue for an upgrade. We were thrilled to eventually buy a Eurovan, which is hard to find because they're no longer manufactured. We hope it'll last us the rest of our lives.
In both vans, we've explored all over the West Coast in every season, on short trips of two nights to up to three weeks. While we love road trips, we far prefer a camper van to an RV. Here are 10 reasons why.
1. Size And Maneuverability
What's not to like about a compact, nimble vehicle that you can drive not only on country roads but around town? We're intimidated by the size and length of an RV! Plus, with a van you don't have to tow a car to run a simple errand, nor do you have any height restrictions.
Thanks to our van's small size, we often camp in informal, inconspicuous, off-road spots, what the French call sauvage, or wild camping. We find these secluded places by driving down rutted, narrow tracks, which an RV could never negotiate. We're often by bodies of water or overlooking jaw-dropping views, usually (but not always) legal ones an RV couldn't fit into. If on the off chance the spot isn't legal, odds are we won't be seen. (In all our years of camping, only one time have we been moved on, and one time ticketed. Take it from us: If you don't want to pay a hefty $180, don't spend the night in the Visitor's Center parking lot of the Point Reyes National Seashore Visitors Center north of San Francisco).
Editor's Note: Sauvage or wild camping is also known as boondocking and dry camping. If the concept is new to you, consider our Guide To RV Boondocking: Why We Love It And What You Need To Know.
If we have friends we'd like to see in a town we're passing through, we sometimes ask ahead if we can spend the night on their driveway, and as a way of saying thank you, we'll cook dinner. (Not that simple to park an RV on a driveway). My go-to meal is pasta with sun-dried tomatoes, mushrooms, and feta. "Make" is an overstatement: It's an assembly-only pasta dish, simple but always a hit with our hosts.
2. Spontaneity
Not much pre-planning is required because our van is so compact. For example, we're leaving within a week on a road trip and spending the first couple of nights in Mendocino, California, where we'll see old friends. After that, we have tentative ideas, but nothing confirmed. It'll depend on the weather and where our moods take us. We wouldn't have this degree of flexibility with an RV.
3. Ease Of Driving
Our van is low-stress, barely different from driving a sedan, whereas we've heard that driving an RV can get tiring very fast.
4. Frequency Of Use
The Eurovan is so simple and inviting, we use it a lot — a couple of times a month and even more all last year during the pandemic, when it saved us. I'm sure we wouldn't use a huge RV as often.
5. Efficiency And Organization
I'm not by nature a highly organized person, but our van forces me to be. If we drove an RV, I'd be free to spread out as much as I wanted. Having a smaller van prevents me from bringing too much stuff.
6. Fewer Arguments (And Marital Harmony!)
Barry, meanwhile, is alarmingly tidy. My tendency to create small puddles of clutter can cause tension between us at home. A smaller van helps to prevent that — and to preserve our marriage!
7. It Serves Multiple Purposes
Because our van is small and simple, we can use it for short outings of only an hour or two. Sometimes, on a pretty evening, we'll drive the van a few blocks from our apartment to a road overlooking our bay, park the van sideways to the curb, open the sliding door, and enjoy a sunset glass of wine. During the pandemic, on Sundays, we'd often drive the van to a nearby nature spot, take a walk, then heat up soup and tea for a cozy lunch under a tree in the parking lot — a satisfying way to cap the outing.
When the van is parked in the lot opposite our apartment, I've used it as an art studio, where I play around in my sketchbook in the afternoon. And when I'm out of town, Barry will occasionally drive the van to a nearby beach early in the morning and make himself a cup of coffee while he watches the waves.
8. Breaking The Ice
Folks are interested in vans. There's something accessible and inviting about them. People often admire ours and ask if we'd mind showing them the interior. When we're on the road, our van has been a great icebreaker and led to many enjoyable conversations with strangers and fellow road warriors.
9. Lower Costs
Not only are vans less expensive than RVs, they require less gas and are charged less on toll roads, at campgrounds, and in storage. We leave our van in a covered storage area when we go to Mexico for part of the year, and the fees are very reasonable.
10. Carbon Footprint-Conscious
We like knowing we're doing our part to reduce our carbon footprint by driving a smaller, more fuel-efficient vehicle than a mammoth RV. Our van gets 18 to 20 miles per gallon, versus an RV's 8 to 12.
All that said, vans aren't for everyone. We have traveled with a friend by bringing an extra tent, but more than that would get crowded. Even with just two of us, we have to unfold our "sofa" (a comfortable padded bench) to make our bed every night.
And although some vans come with a toilet, ours doesn't, though we do have an outside shower that we rarely use. Since we go on van outings mostly in the warmer months, we're often swimming in rivers or lakes during the day anyway. If we need a shower, we stay in a formal campground or spring for a motel room.
As for a toilet, we prefer not having one because it takes up valuable space. Between campgrounds, visitor centers, trailheads, gas stations, and restaurants, it's not that difficult to find public restrooms in the U.S. and Canada. If no other option is available, we keep a small spade handy to do our business in the woods.
In the end, it comes down to personality and preference. We're two people who like to keep it simple, leave no trace, and live in small spaces, wherever we are, be it our 700-square-foot apartment in Eureka, California, or on the road in our Eurovan.