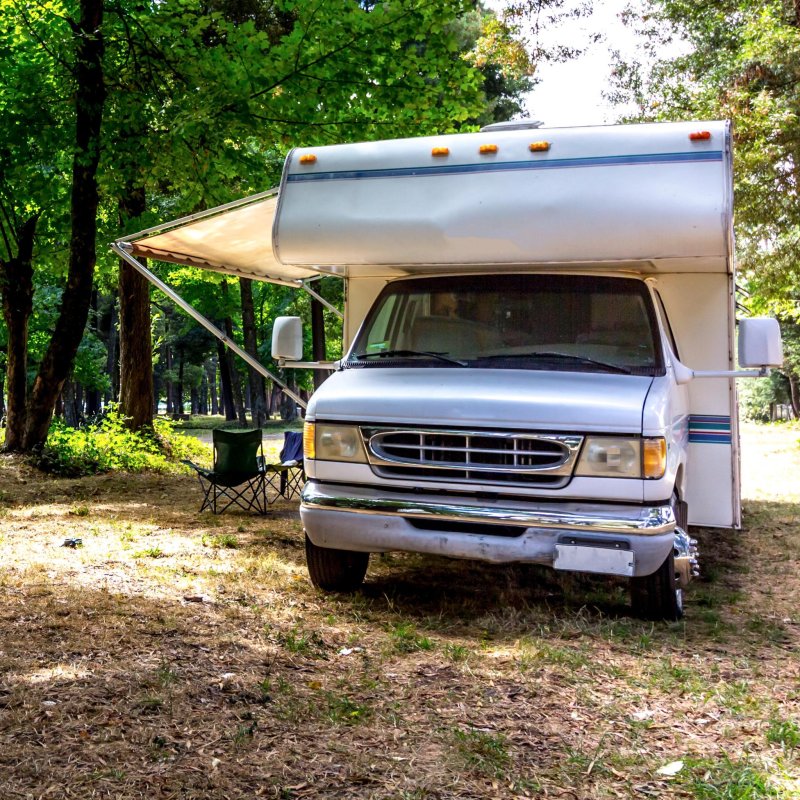 So you'd like to do a spot of boondocking, but you're not totally convinced that it's for you? After 30 months of boondocking at 438 different spots in 30 countries around Europe, we reckon we know exactly why you will love it, wherever you're RVing.
In Europe, they call boondocking wild camping. Not because we throw wild parties every night, or because we are surrounded by wild animals. Far from it, in fact. In New Zealand, it's called freedom camping, and I've also heard the terms free camping, boondock camping, and dry camping. Whatever you call it, boondocking can add another dimension of experiences to your RV trip.
For us, boondocking is not necessarily about being out in the bush surrounded by bears and moose — it is about finding a place to stay for the night, away from the usual options of campervan parking or traditional campgrounds. We have slept at all sorts of places: car parks, laybys, unused "wasteland," picnic spots, and many other areas of open, preferably flat ground along our intended routes. We've wound up near the beach, in the mountains, overlooking a lake, beside a motorway, at a marina, and down country roads. There are so many great opportunities to stay the night for free. Once we find our safe spot, settle in, and close up the blinds, we are home for the night, wherever we are.
You may ask why we choose to boondock as opposed to using campgrounds or RV parking areas. Here are our tips and reflections on why boondocking is so wonderful. You can also read up on:
What You Need For Boondocking
Here is how we set ourselves up for boondocking and what we've learned along the way.
The equipment we installed or purchased to set our RV up for boondocking included
Two big solar panels
An extra leisure battery
A large 1500W inverter
A small, quiet generator
A portable washing machine
Two good quality water containers (that hold 22 liters in total)
We also have electric bikes, which makes life easier when it comes to hunting for and collecting fresh water.
For added security, we have a safe and a good alarm system with internal movement sensors as well as sensors on the windows, cab doors, habitation doors, and garage doors.
Safety When Boondocking
People do ask whether it is safe to boondock, and this is a valid concern. I remember the feeling of trepidation on our first time out in the wilderness alone, but I really had nothing to fear.
A common-sense approach and following our safety routine allowed us to boondock through 30 non-English speaking European countries without any trouble whatsoever. People just tend to leave us alone to get on with our peaceful existence.
Cost
It saves us valuable dollars. We are long-term RVers, and if we were to spend money each night on camp fees or camper parking spots, that would add significant costs to our budget. By staying for free, we can travel further and enjoy this lifestyle for longer. We prefer to keep our money to enjoy different experiences, foods, and attractions during our travels. Spending money locally with small business owners makes us feel like we are giving back to the economy.
Finding Amazing Scenery
Boondocking spots are found in many places — if you know how and where to look. This allows you to travel and stay where you want, not just where there are suitable campgrounds nearby. Some of the out-of-the-way places have been the most memorable, for example in the parking lot, located on the top of a spike of rock over a thousand feet high, beside a 13th-century monastery in Greece.
Peace, Quiet, And Privacy
We rate these three things very highly. When boondocking, if there are noisy neighbors, then just leave and find a quieter place. There are usually no barking dogs, kids screaming, or people sitting outside late at night talking loudly. Certainly, we have come across some spots that are noisier than others, and that is where a good set of earplugs comes in handy — or you just move. But at least you haven't booked and paid for two weeks at that spot.
Space
Unlike the few campgrounds we've visited, we are not crammed into a small pitch with neighbors sandwiched so close beside us that we can hear them change their mind! Often there is just us in the places we find and if there are other RVs around they usually keep a respectful distance. We can choose which way we face, how close we park to the edge, and how much room we might need to put out our chairs, table, awning, washing machine, et cetera.
Location
Finding interesting locations is by far one of the great advantages of boondocking. Campgrounds are often located outside of the city center or away from the attractions, and oftentimes are unlikely to have much of a view. We have had stunning views, unobstructed ocean vistas, and mountaintop outlooks throughout our travels. In the Aland Islands of Finland, we stayed overnight by the water's edge in total seclusion, and in Greece, my husband even fished from the RVs window — we were that close to the sea.
We are fortunate to have many apps to help us find good, safe boondocking spots that other RVers have reviewed. In Europe, we use Park4Night. In the U.S., Campendium and Boondocking are popular. These apps can also help you to find dump locations and fresh water.
No Public Transport Needed
When boondocking, we can often locate ourselves a short bicycle ride away from the city center or main attractions. Occasionally we will meet up with people who have stayed in the campgrounds — located some five to eight miles out of town — and hear about their efforts and costs to use public transport or a taxi. Staying close to the town makes access much simpler, cheaper, and easier.
No Check-In Or Check-Out Times
I like to stay up late and work, which means I tend to sleep in later in the morning. Therefore having a time when I have to check out doesn't suit my lifestyle. This is an issue that is simply avoided with boondocking.
On one rare occasion using a campground, we had neighbors turn up at 11 p.m. making a lot of noise setting up just a meter away from us. They then decided it was a good idea to knock on our door and ask a question!
Meeting The Locals
You have more chances to meet and interact with the locals, which usually adds to your overall experience. People tend to be friendly toward us when boondocking. Sometimes they are curious as to what we are doing, or they might offer for us to stay on their property for the night. Children, especially, want to look inside our RV. While in Hungary, we had a friendly local, who spoke no English (and our Hungarian was virtually non-existent) knock on our door to give us some of his homemade honey. At campgrounds, the locals are not welcome, unless, of course, they are working onsite.
Enjoying Nature
Appreciating your surroundings while boondocking is fabulous. You might even be visited by some of the four-legged, (friendly), fury animals that don't go near campgrounds. We enjoyed the cats in Turkey, the dogs in Greece, and the herd of goats that visited us in Morocco. In addition to meeting the animals, boondocking allows you to visit some very special remote locations and drive to areas you may have otherwise missed. One night we stayed high up on Mount Etna — a live volcano in Sicily — an experience not to be missed.
Campground Versus Boondocking
I have to confess that we have stayed the occasional night in campgrounds, and it's important to look at both sides of RV life. There is a tradeoff when you boondock, and below I've identified what a campground is likely to provide as a comparison.
Security would have to be the number one issue on people's minds when boondocking, especially when you are parked alone at night in an unknown area, and that's when campgrounds have an advantage. Safety, for us, is a top priority, and we have developed principles and procedures that have given us the confidence to boondock.
There is no guarantee of finding a suitable location to park for the night, although with some planning, and using the array of apps available, this is rarely a problem for us. At least with a campground, you can book ahead of time to be sure of securing your spot.
When boondocking, it takes time to do some of the basic things that are easy at a campground — including finding and filling with water, dumping grey and black waste, and catching up on the laundry.
Boondocking usually means that there is no electricity available — unless you are very lucky. At a campground, you will have the opportunity to just plug in. This gives peace of mind when it comes to switching on lights or charging up the laptop computer without worrying about your batteries or whether there is enough sun for your solar panels.
While boondocking is tolerated throughout most of Europe and in the U.S., there may be restrictions on what you can do. For example, in many European countries, you are not supposed to exhibit any camping behavior. This includes setting up chairs, winding out awnings, or hanging out the wash. Being aware of local regulations is part of being a dedicated boondocker.
I would like to wish you happy and peaceful boondocking!