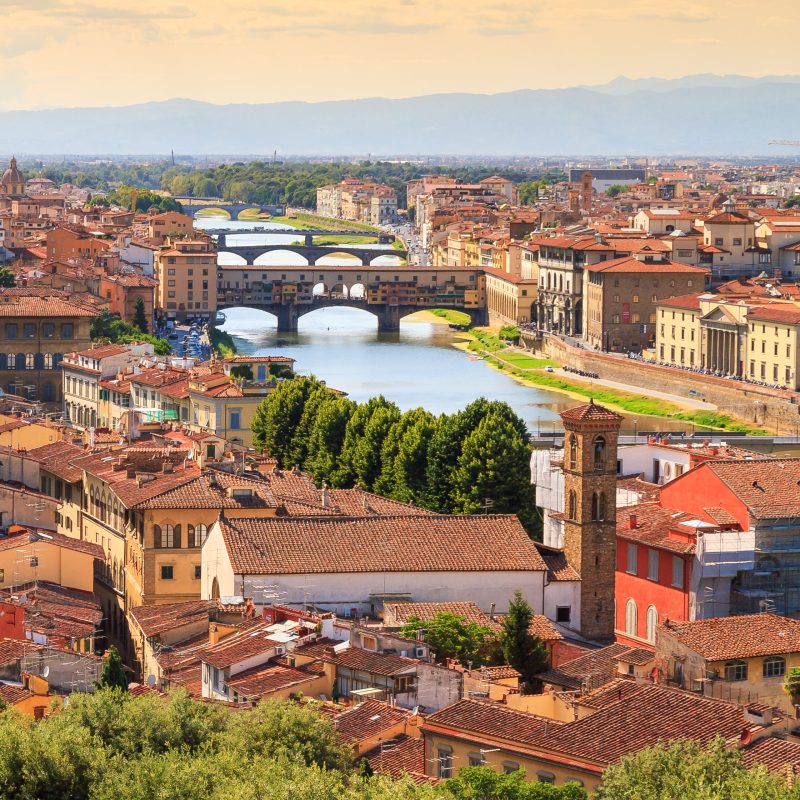 Florence, Italy, offers art, architecture, food, wine, and romance. Put all of that together, and you'll see why it's a place that should be on everyone's bucket list. Packed into the cobblestone streets of the old city are some of the world's best museums, loads of restaurants offering delicious Tuscan food, and beautiful piazzas perfect for shopping and dining.
Here are seven reasons to visit Florence on your next Italian holiday.
1. It's Home To Some Of The World's Finest Art Museums
It's impossible to separate Florence from its art. During the Renaissance, the city was home to some of the world's most recognized painters and sculptors, including Michelangelo, Botticelli, and da Vinci. Fortunately, many of the original works created there have remained, resulting in several excellent museums with unparalleled collections.
The first stop for any visitor should be the Uffizi Gallery, home to thousands of works by the Old Masters. Be sure to allow plenty of time for this museum — it includes 101 galleries and 135,000 square feet of exhibition space! And definitely take advantage of the museum's audio guide, which helps identify the most famous works.
Additionally, every visitor must make the pilgrimage to the Galleria dell'Accademia to see Michelangelo's David, one of the world's best-known sculptures. This museum is always packed with visitors, but thanks to the larger-than-life size of the David, it is easy to view and appreciate. Again, the audio guide is quite helpful and recommended.
While the Uffizi and Accademia are critical stops for first-time visitors, there are a number of other places to see great art, including Pitti Palace, Palazzo Vecchio, and several of the local churches.
2. It's Got Incredible Food
Italian food is well known around the world, and the region of Tuscany offers some of the country's best cuisine. Florence is full of top-notch restaurants offering both Tuscan and Italian specialities.
Don't leave the city without trying its signature meat dish, bistecca alla Fiorentina. This Florentine version of the T-bone steak is cut thick and served rare. Traditionally, potatoes accompany the steak, and the dish is served after a pasta starter.
It's hard to go wrong with any type of pasta dish in Florence, but for a local specialty, try wild boar ragu with pappardelle. Filled pastas, like ravioli, are also a popular option, but in Florence they're often called tortelli or tordelli. While cheese is the most common filling, meat, potatoes, vegetables, and fruit are also used.
Save room for dessert: Florence is known for its gelato. Not only are there great gelato shops on every corner, but there are many flavors unique to the area, including ricotta with fig, chocolate hazelnut, and lavender.
Visiting the local market is a great way to experience food in any city, and Florence is no exception. To see what produce is offered in the region and to sample local specialties, head to the Mercato Centrale or the Mercato di Sant'Ambrogio.
3. …And Incredible Wine
Tuscany is practically synonymous with red wine, so every meal in Florence should be accompanied by a good glass — or bottle — of local wine. Chianti is probably the best-known varietal, and certainly an affordable option. However, that's just a starting point. Brunello di Montalcino, Vino Nobile di Montepulciano, and Montecucco are just a few outstanding Tuscan varietals. Not sure what to pair with your meal? Your server will have recommendations.
Wine lovers should set aside time for a wine tasting or winery tour while in this part of Italy. Not only is the Tuscan countryside beautiful, but the locals take great pride in their wines and are eager to share them with visitors. A number of companies offer half-day or full-day tours that include transportation from the city.
But be sure to sample some of the other alcoholic beverages offered in Florence, including the city's own creation, the Negroni — a combination of gin, Campari, and sweet vermouth. While not native to the city, the Aperol Spritz is also popular there, especially during the warm-weather months.
For a proper end to your meal, try grappa, a digestivo made from grapes. It's believed that a small serving of this beverage aids in the digestion of heavy meals (like pasta and steak). But proceed with caution — grappa is 35 to 60 percent alcohol!
4. The Duomo Will Amaze You
There is no doubt that Florence's best-known attraction is its cathedral, Santa Maria del Fiore, or more simply, the Duomo. The giant red dome of the cathedral can be seen from many of the city's rooftops and is its most iconic image.
The story of how the Duomo came to be is filled with intrigue and tragedy spanning 140 years. Construction was interrupted during the floods of 1333 and the plague of 1348. When the original architect designed the dome, the technology to complete it didn't exist; it had to be invented by a subsequent architect, Brunelleschi, who unfortunately died before its completion. Today, the structure is the third-largest cathedral in the world.
If you'd like to see the Duomo during your time in Florence, you'll need to do a bit of planning in advance. Admission to the interior of the cathedral is free, but you'll probably need to wait in line. To visit the baptistery, bell tower, crypt, or museum, you'll need a ticket. Climbing the stairs to the top of the dome requires both a ticket and a reservation. To get to the top, you'll need to climb numerous narrow flights of stairs — the experience isn't for the claustrophobic or for those who are afraid of heights!
Every part of the Duomo is spectacular. Be sure to reserve the tickets you need and allow plenty of time to experience the iconic site.
Finally, don't skip the museum, where you can learn more about the creation of this architectural masterpiece. The cathedral is an evolution of art and architecture that is better understood through the museum's exhibits.
5. There Are Plenty Of Places To Shop
Stroll through the streets of Florence, and you'll see many of the world's luxury brands represented: Gucci, Burberry, Ferragamo, and Louis Vuitton, just to name a few. Florence is well known as a luxury shopping destination.
But there are plenty of great buying opportunities beyond the luxury brands. Florence has long been known for its leather goods. Throughout the city there are dozens of small shops and stalls selling high-quality leather purses, wallets, belts, briefcases, and more.
Gold jewelry is also a popular item available for purchase in Florence, especially along the Ponte Vecchio. This historic bridge houses dozens of small vendors selling jewelry — plus, the structure offers lovely views.
6. You'll Hear Stories Straight Out Of The Movies
Florentine history is full of intrigue and disaster. Many of the popes came from Florence, and wealthy families sought the favor of the powerful religious leaders in order to advance their businesses.
The most famous Florentine family was probably the Medicis. The drama within this family alone has provided a popular Netflix television series with two seasons and sixteen episodes of material. Over the course of 300 years, the Medicis rose to power, fell out of favor, were exiled, returned, and then rose to power again. Much of the art and architecture of Florence was financed by the family. When Florence went to war with neighboring cities like Siena or Milan, its troops and weapons were provided by families like the Medicis.
A great way to hear the incredible stories of this city is to take a tour. Walking tours lasting 1 to 3 hours can provide an overview of the city and its most notable citizens.
7. It's As Romantic As Can Be
Wander down any street in the old city, and you'll see window boxes full of colorful flowers, small tables and chairs on the sidewalk, and tiny shops selling gelato, coffee, and wine. Then head to one of the cafe-lined piazzas, and you'll see someone playing the accordion or violin in the middle. It might look like a movie set, but it's just a typical day in Florence.
Then stroll across one of the bridges at sunset and admire the lovely views of Ponte Vecchio, or find a rooftop bar and watch the light change over the Duomo. There is no dearth of romantic places in Florence, making the city ideal for an anniversary getaway.
It's hard to compete with Florence when it comes to art, architecture, and food. The historic city delights with cobblestone streets, romantic restaurants, and museums unlike any other. Add some excellent red wine to the mix, and you'll see that this city deserves to be on your bucket list.
Planning a trip to Florence? Here's what to know before you go.