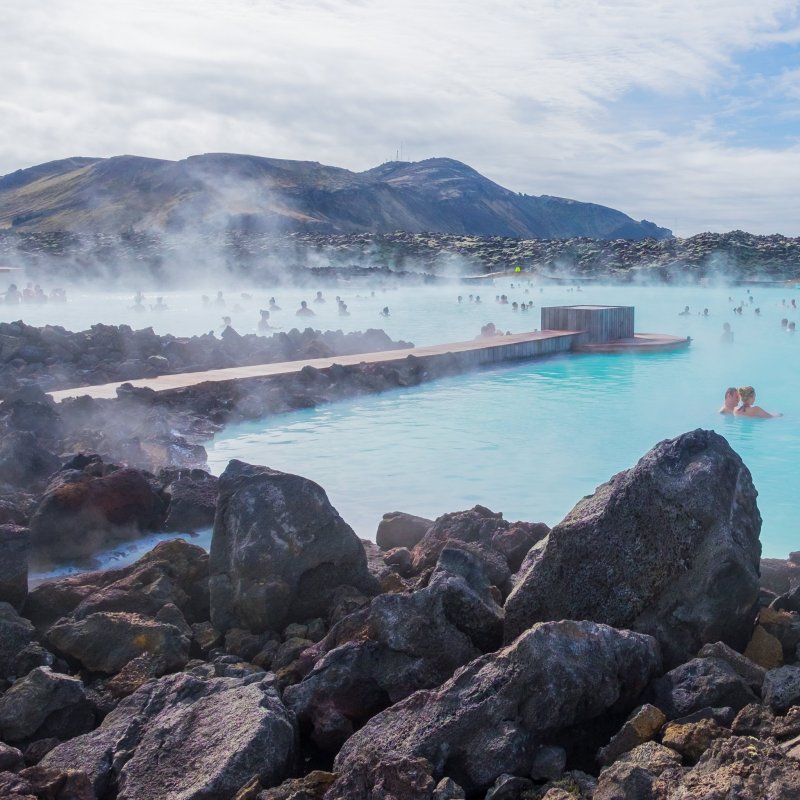 Natural hot springs are a powerful reminder of the forces of nature. Some of these forces are destructive, like earthquakes or volcano eruptions, and others, like hot springs, are not only beautiful but also beneficial. I never tire of the experience to submerge myself in hot, healing waters, whilst around me, snow and ice are covering the landscape.
Our list of hot springs spans the globe. It reaches from Alaska to New Zealand, China to Chile, and Turkey. Each one is different and a work of art, created by nature. We not only show you the springs and their locations but also some amazing nearby sites so that you can plan short (or longer) side trips when you have frolicked enough in the hot waters. You don't want to risk a heart attack by staying in too long.
1. Pamukkale, Turkey
Located in the River Menderes Valley not far from the city of Denizli in western Turkey, Pamukkale is a rather small village, dominated by 17 hot springs and pools that cascade down a hillside, forming snow-white travertine terraces. Blue sky, white travertine, aquamarine water, and mountains in the background, nothing could make for a more spectacular panorama, which is why it is a UNESCO World Heritage site. Right next door is the ancient Roman spat town of Hierapolis, founded around 190 BC. The water is mineral-rich and reaches various degrees of heat. Apart from admiring the view, people also want to swim in the healing waters, the highest pool being Cleopatra's Pool, where it is rumored the Egyptian Queen herself bathed in.
There is also another pool with ancient sculptures and columns and a museum. Pamukkale means cotton castle in English, and the name is well deserved. Being one of Turkey's major tourist attractions, there are some things you need to know before you visit. Sadly, a lot of damage to the delicate terraces has been done by countless visitors. To prevent further damage, you are not permitted to climb the terraces as such. Getting from one pool to the next, you are not allowed to wear footwear. Bring them in a bag and wear your swimsuit and a sunhat.
Visit in spring or fall when it is less hot and as early as possible to avoid the biggest crowds.
An easy way to get to Pamukkale is from the pretty coastal town and popular cruise ship stop Kusadasi. It's also a great starting point for a day trip to the wonders of antiquity that are Selcuk and Ephesus.
Editor's Note: Visiting Turkey soon? Check out our list of four lesser-known places in Turkey that are well worth a visit.
2. Blue Lagoon, Iceland
Iceland, the land of fire and ice, is rich in hot springs because of the island's volcanic origin. The most spectacular is the Blue Lagoon, located on the Reykjanes Peninsula in the southwest corner of Iceland. The peninsula is also the location of Iceland's international airport.
Surrounded by a black basalt moonscape, the Blue Lagoon's geothermal waters are rich in Silicia, a mixture of silicon and oxygen, and is 70 percent from the sea and 30 percent from freshwater. On its way to the surface, it cools enough to be ideal for swimming and, incidentally, various beauty treatments available in several hotels.
Great day trips are to the capital Reykjavik or the volcanoes close to the Blue Lagoon.
3. Chena Hot Springs, Alaska
How do you fancy enjoying hot springs in a location with authentic gold rush history? Chena Hot Springs in the Fairbanks North Star Borough, Alaska, is just such a place. The hot springs are gathered in several pools, a rock-lined outdoor pool, a comfortable wading pool for adults, and indoor pools. The springs were discovered in 1905 and became famous because gold prospectors found relief for their aches and pains in the healing waters. It's the best developed and accessible resort in Alaska's interior. You can admire the Northern Lights at the right time of year, and there is a massive, year-round ice museum.
Editor's Note: For a more well-rounded experience in Alaska, consider an epic Alaska RV road trip starting in Kenai and spanning all the way to Chena Hot Springs.
4. Grand Prismatic, Yellowstone National Park
Grand Prismatic in Yellowstone National Park is overwhelming in every sense. Starting north from Old Faithful, the entire area consists of the largest spring, the Grand Prismatic with Opal Pool, Excelsior Geyser, and Turquoise Pool nearby. Grand Prismatic alone measures more than 370 feet in diameter but what really takes your breath away are the colors. The outer ring is bright orange and yellow, with deep blue water in the middle. These colors are caused by thermophiles, heat-loving bacteria living in the water, which comes from deep cracks in the earth that rise to the surface and change colors as it cools. As you can imagine, the water is very, very hot, which is why these springs are not for soaking. You might suffer terrible burns or even die. You can get from one pool to another by crossing the Firehole River on short boardwalks. It's strictly forbidden to stray from the designated paths.
Whilst you are admiring the springs, you may consider visiting the many other sites in Yellowstone or explore more of Wyoming.
5. Huanglong National Park, China
Located in northwest Sichuan in a 5-mile-long valley part of the Minahan mountains, you find another colorful wonder of nature: the Huanglong National Park. It's a vast area, stretched out along the valley of calcified ponds, streams, waterfalls, and caves, bordered by mysterious woods. It's also known as Calcification Museum or Heaven Lake. You can only explore by foot; no vehicles of any kind are allowed.
The waterfalls all have romantic names, like Lotus Waterfall or Flying Waterfall, and the ponds' water comes in all colors of the rainbow. Bear in mind that the park sits at an altitude of over 9,800 feet, so be prepared for altitude sickness. Take your walking tour very slowly, but if you have breathing problems, there are visitor centers throughout which provide oxygen if needed.
The nearest airport is Jiuzhaigou Huanglon, and from there, tours are available, which might be the best option. The best time to visit is summer and fall.
6. Uunartoq Island, Greenland
How would you like the unique experience of sitting in a hot pool whilst icebergs are floating past? That's exactly what you can do on Uunartoq Island, located in the southernmost tip of Greenland.
Contrary to Iceland, the hot springs are not caused by volcanic activity but by deep crusts of the earth rubbing together. You best go on a guided tour because you can't reach the island any other way. Your captain will greet you in Quaqortaq harbor and steer you safely across the sea and through the icebergs to the uninhabited island where you still have to walk through rich vegetation until you can jump into the natural pools. The island is supposedly haunted, but never fear you will be in safe hands.
7. Termas Geometricas, Chile
The incredibly lush vegetation of Parque Nacional Villarice Sur near Conaripe/Pucon in the South of Chile combines with a Japanese-style labyrinth of red-painted wooden pipes, pools, and walkways created by architect German del Sol. He made use of 17 natural thermal springs steaming in the middle of the Chilean jungle. Some of the walkways are crossing a flowing river. Not only can you relax in the hot and healing waters, but you can also admire a rare architectural achievement of combining great design with untamed nature.
It's best to drive from Pucon to the area and then pool hop from one to the other. There are lockers and facilities plus a cafe.
8. Travertine Hot Springs, California
A visit to these beautiful hot springs near Bridgeport in California is something for the ultimate nature lover. Located just a few miles off Highway 395, you come upon several hot pools facing the impressive panorama of Sawtooth Ridge. The magma of the surrounding earth is so hot that you can boil an egg. The water in the first pools is hotter than the one higher up, so test before you jump in, you want neither a heart attack nor blisters. Camping is allowed nearby, but be prepared, there are no facilities of any kind. Bring your own food and drink and find the perfect dispersed camping spot, then set off for the pools early in the morning because these springs are popular, and you want sufficient space to enjoy your bath.
9. Champagne Pool, New Zealand
One of the most surreal hot springs in our collection is located in New Zealand, Walotapu, on North Island, about 20 miles from Rotorua. The best known is probably Champagne Pool, a geothermal feature with hot waters reaching in color from yellow to dark green and so named because of the abundant efflux of carbon dioxide, which makes the water bubble like a glass of champagne. Hot mud, volcanoes, and rock formations contribute to the moon-like landscape. There are three different walks around the area — just remember to stick to the designated paths.
Another nearby attraction is the Lady Know Geyser which erupts every day at 10:15 a.m. on the dot.
Pro Tip
To avoid nasty accidents and to protect the sometimes fragile nature of these springs, adhere strictly to instructions and do not stray from the designated paths.
Related Articles: