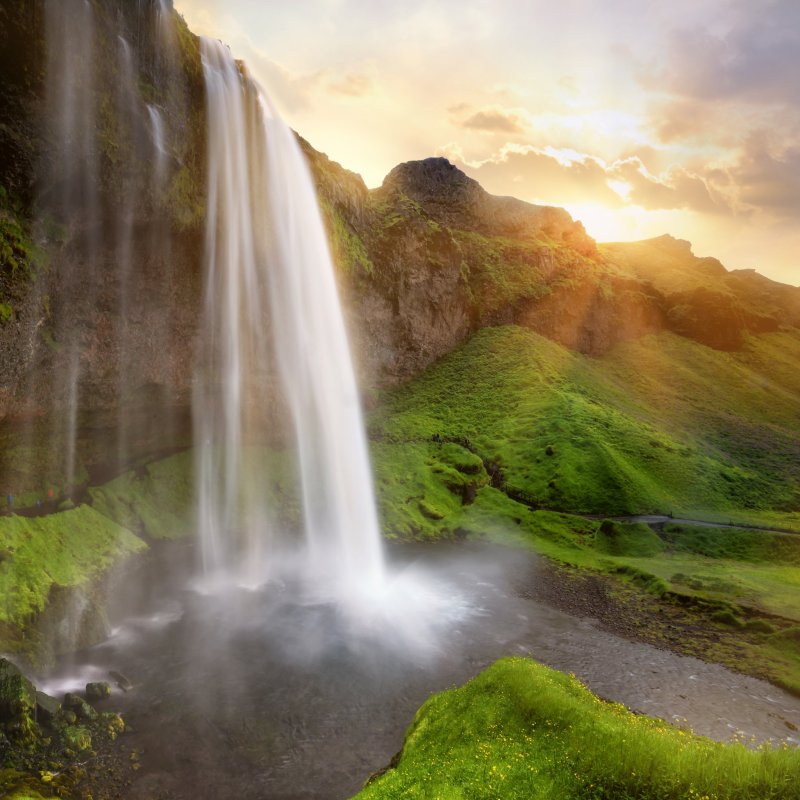 Iceland is a country blessed with natural wonders, and there is a lot to see and explore. With limited public transport and the sheer size of the main island, one of the best pieces of advice I can give is to hire a car, get a good map and guidebook, and set out to circumnavigate the entire island, taking at least a week to do so. But time is a luxury, and many visitors use Iceland as a brief stopover between the U.S. and Europe, or visit over a long weekend, trying to see as much as possible during a limited stint.
With everybody landing in Reykjavik, luckily there are many tour operators who are aware that visitors are time-poor, and many will allow you to see and experience several sights in organized, small excursions that take from one day to two or three with overnight stays.
Here I will give an overview of some of the most amazing places within a day trip's reach of Reykjavik, some close to each other, so if you decide to hire a car, you can see them in one go, others a little further out, taking a bit more dedication and making for a long day.
Pick and choose which ones interest you the most and locate them on the map. If you can, plan to stay away from Reykjavik for one night at least so that you don't find yourself driving up and down the one main road two days running, and, if the weather is too harsh to drive, go on an organized tour. Even if you typically avoid tours, this will keep you from missing out on some unique sights.
While there are no trains in Iceland, there is an extensive public bus system that will get you to some of the sights mentioned here, but it takes time.
Marvel At The Basalt Columns On Reynisfjara Beach
Here, you'll walk along a black beach, made up of tiny miniature pebbles rather than sand grains, with the Atlantic's waves crashing onto the shore. Eventually, you'll come across a cliff and a cave. These are not your run-of-the-mill formations but are made up from countless hexagonal basalt columns. The columns were formed either by lava cooling and breaking the flow into these stunning shapes, or, according to Icelandic legend, by nightfall turning naughty trolls into stone.
When I visited, there was a fashion photoshoot in progress, and the black and grey surroundings were the perfect background for the girl's yellow dress. I wish I had seen the final result.
Top Tip: Reynisfjara Beach is a truly other-worldly sight, so much so that it's featured in TV and movie productions such as Game of Thrones, Noah, Rogue One: A Star Wars Story, and Star Trek Into Darkness.
Walk Around Seljalandsfoss Waterfall
In Iceland, there is a waterfall on nearly every corner, and they range from wide and low to tall and thin, from many in one spot to a single column of water. All ending in foss, meaning waterfall. This one, Seljalandsfoss, dropping 60 meters and originating from the Eyjafjallajokull glacier on the volcano that back in 2010 nearly completely stopped international air travel, has the distinction that you can walk around it and stand behind it for a unique experience. A wet experience.
Many tour buses stop here. Since you can hike up to the top (a fair number of steps and quite steep), stay at mid-level, or walk along below, you have a range of options that are particularly good for keen photographers. Getting to Seljalandsfoss takes approximately 2.5 hours by buses #STp, TXp, THp, STS, and STG.
Top Tip: Near the waterfall, there is a small cafe selling really good hot chocolate and a souvenir shop with some cute mugs.
Get Up Close And Personal With The Icelandic Horses
The small Icelandic horses, which, when it comes to their size, are technically ponies but are always referred to as horses, are iconic. Short and stout with bushy manes, they are a sight to behold. For those who that either have horse-riding experience or want to give it a go on a gentle steed, you can organize guided rides on the beach. Vik Horse Adventure is located off the main southern route, near a small town with a supermarket and service station stop for buses #51 and STG from Reykjavik (roughly 4 hours by bus and 2.5 hours by car), and the location is stunning, with large cliffs looming at the end of the black beach.
The setup involves some very calm and patient horses for those without much experience. And the horses are, on average, under five feet tall, so they're easy to get onto and off of.
Top Tip: Please note that due to the small stature of the horses, the weight limit of riders is a maximum of 242 pounds.
Dip Into The Blue Lagoon
Probably the best-known place in Iceland, the Blue Lagoon is also the most touristy. But, that said, spending time in a warm lagoon while it is freezing out — maybe even snowing — is quite a thrill, and just the phrase Blue Lagoon has a special ring to it. The mineral-rich, salty water is pumped into the man-made lagoon from below sea-level and reaches temperatures of 98 to 102 degrees. Beware that this is a crowded and pricey outing, but you'll save money if you buy the entrance ticket combined with a transfer from Reykjavik, unless you have hired a car.
Top Tip: If you have hired a car, opt instead for Gamla Laugin, Iceland's oldest thermal lagoon. Just 1.5 hours from Reykjavik, you'll have a more majestic setting at a fraction of the cost.
Tour The Golden Circle
This is a well-known day trip that circles the area near Reykjavik and allows visitors to take in several interesting sights. You'll travel through the geothermal Geysir area, full of hot springs and impressive waterspouts; see the Golden Waterfall of Gullfoss, which is interesting to compare to Seljalandsfoss, as it is not as high but is much wider and just as stunning.
The tour also takes you to the Thingvellir National Park UNESCO World Heritage site, where the North American and Eurasian tectonic plates are pulling apart at a rate of a few centimeters every year, causing plenty of tectonic disruption to the island. Then the tour usually finishes off at the volcanic crater at Lake Kerid.
Top Tip: This is a well-known tour offered by many suppliers, so you can choose from cycle tours to big bus tours, private hires to Super Jeeps.
Snorkel Between The Continents
One of the coolest things to do in Iceland, quite literally, is to go snorkeling or scuba diving in Thingvellir National Park to explore the Silfra Fissure, where the tectonic plates come together, or actually, draw apart. It is an otherworldly experience that offers you views you won't get anywhere else in the world. You will be in dry suits that will keep you relatively warm, but it still takes a little determination to hop into the lake — even in summer.
Top Tip: Try to get ahold of an underwater camera. The colors down there are quite magical!
Visit The Ion Adventure Hotel
Just by the Thingvellir National Park lies the modern Ion Adventure Hotel, a hotel whose architecture both blends into and stands out of the local landscape. It is designed so that all rooms have large windows to spot the Northern Lights, plus a bar with enormous windows for the views. There is a lovely spa, an outdoor (!) pool for summer and winter use, and an award-winning restaurant. Should you want to extend your day trip by a night, this is a great place to stay and go for hikes through the national park. Or just pop in for dinner and a drink before heading back to Reykjavik.
Top Tip: If you are feeling flush, or are there for a special occasion, the hotel can organize helicopter tours across the region.
Want more Icelandic waterfalls? Here are 11 fast facts about Godafoss: Iceland's mythic waterfall. Also read up on Iceland's Svartifoss waterfall, set against a backdrop of dark lava columns.