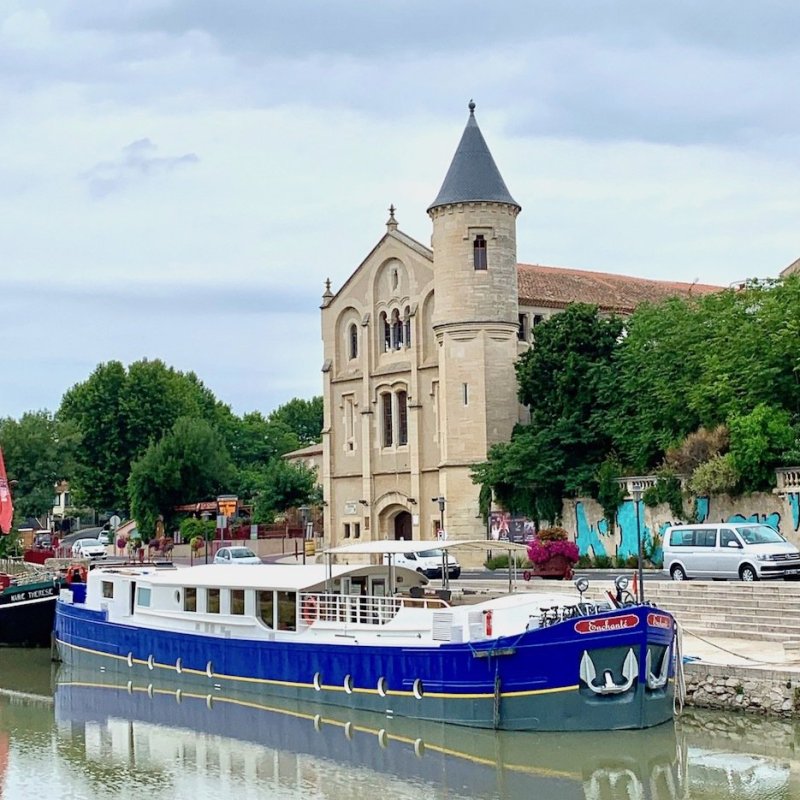 When we think about the most wonderful travel experiences we've had, barge cruises rest near the top of the list. When looking for an experience that offers comfort, variety, culinary delights, learning opportunities, and social interaction, barge cruising ticks all the boxes. There are many reasons we've fallen in love with barge cruising, so we wanted to share some of them with you.
1. Intimate And Personal
With just a handful or two of passengers, the size of a barge cruise is perfect for us. Barges usually take 4 to 20 passengers, and our cruises have been in the 8 to 12 passenger range. The crew is usually about half that amount, so it's an intimate experience.
Barge cruising is also highly personalized. You'll provide information on foods, beverages, and even alcohols you prefer as well as allergies or food sensitivities. The crew is very attentive to your needs. Sue's birthday fell on the first day of one of our barge cruises. They suggested that we celebrate a few days later so fellow voyagers could get to know her first. We did just that, and her birthday celebration was one of the most memorable she's ever had.
2. Luxury And Comfort
In some ways, barge cruising defies the concept of traveling on a boat. The barge itself is spacious and cozy. It's more like a plush boutique hotel than a small flat vessel. You won't have a balcony in your room, but there's a sun deck for dining and reclining outside. Some include a hot tub or pool. Others offer a demo kitchen where you can learn new recipes from the chef. Each has fun ways to spend your time onboard.
The staterooms are quite comfortable. They have clever ways to hide your bags and keep your clothes and belongings easily accessible. Bathrooms are surprisingly well-equipped, and you will have everything you need and more. Sitting and dining areas are inviting, with plenty of spots to sit and relax. Best of all, anywhere you go will offer a view of the scenery outside. The barge cruise environment makes you feel pampered and relaxed, so you can truly unwind for a while.
3. Amazing Cuisine
There are not many times we've traveled for a week or more and thoroughly enjoyed every meal. But when it comes to barge cruising, this is the norm. On one of our barge cruises in France, the chef, a self-taught young man, managed to delight all of us with his culinary excellence. After one of our stops for dinner at a famous restaurant with three Michelin stars, every single passenger agreed that we would rather have had a meal from our barge chef instead. On another cruise, the activities director took us to help pick the bread and pastries for our meals that day.
On one of our barge cruises, the chef gave us a cooking lesson for fish baked in a rock salt crust. Shore excursions let us explore markets, meet artisans, and taste flavors on a hyper-local level. Once, we visited a nobleman who gave us berry jam he made himself at his centuries-old family chateau. This type of uniquely intimate culinary experience makes barge cruising special.
4. Tailored To Your Interests
Some people love to shop; others enjoy historical sites, art, architecture, culinary experiences, and more. With so few passengers, it's easy to accommodate everyone's interests. Barge cruise companies also cater to people with particular interests. On one of our barge cruises where culinary passion was universal, each lunch and dinner included several local wines and cheeses. They were presented to us before the meal, along with stories about the producers who made them.
Barge cruise itineraries can indulge personal whims as well. When one of our fellow travelers in Burgundy said she would like a photo of herself in the middle of a sunflower field, many of us thought it sounded like fun. We suggested that we come along too. The captain knew the perfect place, piled us into a luxury bus, and drove out to a huge sunflower field where we all took many photos and made many special memories.
5. Explore Local Scenes
Because barges travel at a very slow pace, it's easy to get off the barge to explore. Planned excursions are built into each itinerary, which you may take or skip at your election. We have visited vineyards, bakeries, olive producers, and farmers markets as well as historical sites, museums, local restaurants, and attractions. Most barges keep a few bicycles on board so you can ride along the route or head into a local town. We did so on one summer day for a little exercise, sunshine, and the glorious scent of flowers in the air.
Meeting the locals is one of our favorite things to do while traveling, and barge cruising makes it easy. You can find out the amount of time it will take the barge to go from one lock (part of the canal that the barge goes through to elevate or lower itself and continue on the waterway) to another, decide how far you'd like to go, and how long you want to explore. This flexibility offers the freedom to dive into the local scene without a rigid schedule.
6. Make Wonderful Friends
Before our first barge cruise, friends asked if we were nervous about being with passengers we didn't know in such an intimate environment. We told them we weren't, and now being experienced at barge travel, we know there is little reason for concern. Something wonderful happens when a group of people, who may have nothing in common but their love of travel, get together on a comfortable barge. Everyone becomes happy, relaxed, and, dare we say it, friendly. Though we probably never would have crossed paths with our fellow passengers otherwise, we got to know one another through our mutual shared experiences. We have made wonderful friends that we still stay in touch with to this day.
One time a fellow traveler, the CEO of a pharmaceutical company, decided that each of the passenger couples onboard should make a presentation about who we were and how we met at dinner the following night. We all grudgingly agreed to do our "assignment." The presentations were fun and enlightening. By the end of the meal, we had laughed a lot and felt like old friends, even though it was the beginning of the trip. Barge cruising can create friendships that last long beyond your trip.
7. Learn History And Culture
Barge cruising offers a chance to discover the history and culture of the place you are cruising. Countries such as France, Belgium, England, Germany, and Italy host many barge cruises and have abundant culture and history to explore. But because barge cruising goes slowly and covers a small territory, you will also learn about particular regions and the small villages and towns within them.
Off the barge, you can visit museums, attractions, historical sites, markets, and other parts of local culture. On the boat, your fellow travelers and crew will share their own history and culture with you too. Some barge companies cater specifically to North Americans or people from English-speaking countries, while others attract a broader clientele. You can choose a company that offers what you want. We learned about a unique British liqueur favored by an English couple and the Canadian hockey raffle which funded a fellow passenger's cruise.
8. All-In Pricing And Open Bars
One of our favorite things about barge cruising is that the price includes everything except an optional crew gratuity. That means you don't have to keep opening your wallet every time you want an extra coffee, cocktail, or cookie. The price of a barge cruise is all-inclusive, so you can take all the excursions and enjoy everything onboard without a second thought.
Our favorite expression of this is the open bar. Some barge cruises offer a pre-dinner happy hour to join your fellow passengers for a cocktail, appetizers, and stories about your day. Others have a more DIY approach — make and take what you want. In all of our barge cruise experiences, if you want something specific, like a certain scotch or particular beer, they either have it ready when you arrive or pick it up along the way. We also had fun exchanging cocktail recipes with the crew and fellow passengers and celebrating birthdays and anniversaries with favorite bottles of champagne.
9. Time To Do All The Nothing You Want
Among the many reasons you'll fall in love with barge cruising is the fact that you have enough time to do all the nothing you want. Unlike some trips where you come home exhausted and in need of a vacation after your vacation, barge cruising encourages you to read when you want, sleep in if you like, play cards, take naps, sit in the sun, or just idly chat whenever you choose. Though mealtimes are planned and there are scheduled activities, you can opt out of anything and just relax as you like.
Some of our favorite memories are of places we've visited, people we've met, and meals that we've shared, slowly floating down a canal on a barge. These are just a few reasons we've fallen in love with barge cruising, and we think that you will too.
Related Articles: