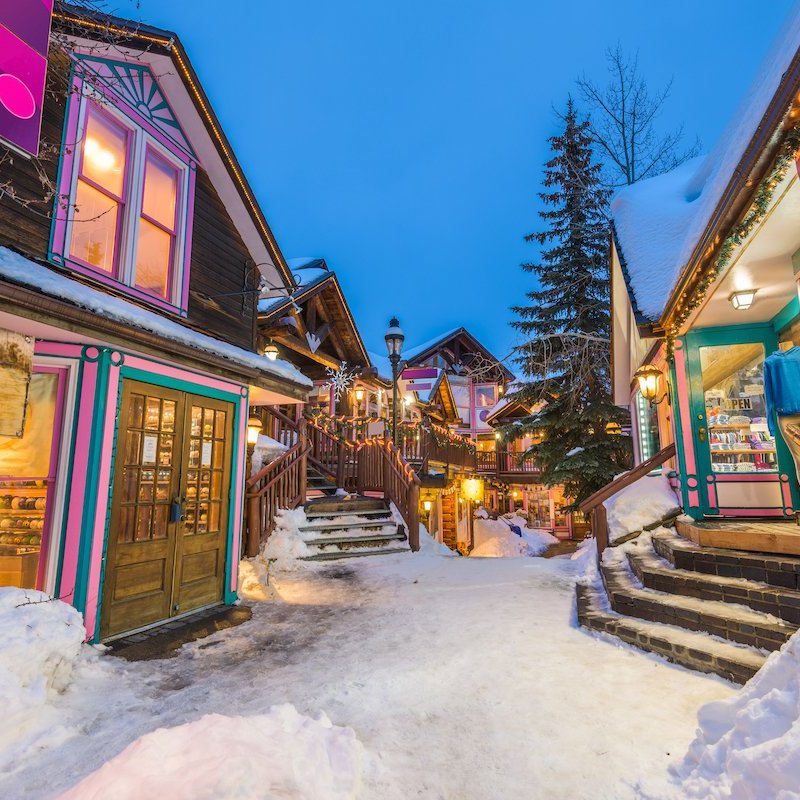 Breckenridge, Colorado, is a casual mountain town that highlights outdoor activities. In the winter, that means skiing, and in the summer, hiking and biking. The makers also make a strong showing in Breck, with jewelry making and stained-glass creations as examples. The maker mindset carries over to the food and beverage landscape with coffee shops roasting their own beans, artisan distilleries, and a craft beer scene like no other.
Throughout Breckenridge, you'll find Colorado products emphasized on menus. Lamb, bison, and trout frequently star in chef's creations, and vegetables always play a vital role. Listed in no particular order are the eight best restaurants in Breckenridge, Colorado, to fuel that active Breckenridge lifestyle.
Disclaimer: Some of my visit to Breckenridge was hosted by Visit Breck. The opinions are mine based on my experience.
1. Breckenridge Coffee Roasters – Cuppa Joe
Breckenridge Coffee Roasters – Cuppa Joe, located on Ridge Street, is the perfect place to savor an early morning coffee and grab a light breakfast. The cafe offers counter service where you can get muffins, oatmeal, and breakfast burritos. They roast their beans on site, so the coffee tastes deliciously fresh. If you're not a coffee lover, try one of their smoothies.
The cafe, found upstairs in a house-like structure, is a bright and sunny room with wood floors and a counter trimmed in accordion-pleated metal. Bright yellow furnishings punctuate the space.
2. Giampietro Pasta And Pizzeria
If you've spent the morning on the slopes in the winter or biked some of Breck's many bike trails in the summer, you're ready for some carbs at lunch. Giampietro Pasta and Pizzeria is just the place. Located on Main Street, its casual atmosphere with iconic red-and-white checkered tablecloths is a great place to eat if you brought along the grandkids.
While they offer a complete Italian menu, their New York-style pizza is some of Breckenridge's best. Giampietro's makes everything in-house. All the sauces from the marinara to the balsamic vinaigrette are house-made. Even the bread and pizza dough are made there. The plate-sized calzones make a delicious option to share. They come stuffed with plenty of mozzarella and ricotta and a side of marinara. Add variety by loading the calzones with your favorite pizza toppings.
If you prefer something a bit lighter, Pietro's chopped salad starts with a bed of crisp romaine and adds in provolone, salami, cucumber, chickpeas, tomato, and red onion. They top it with a red wine vinaigrette.
Pro Tip: Giampietro's doesn't take reservations, so if the line is long, order a meal to go.
3. The Canteen Tap House And Tavern
Located on Main Street, in one of their oldest structures, The Canteen Tap House and Tavern specializes in modern comfort food. To accompany their food, they offer Colorado craft beer on-tap, world-class wines, and hand-crafted cocktails. We enjoy The Canteen for lunch or a lighter dinner, where the ambiance is the rustic old west. They serve a great burger here, but what we love are the items featuring their smoker.
They have a smoker in the back, where they make house-smoked salmon. One of my favorite appetizers is the smoked salmon dip. Fresh dill and green onions accent the dip's cream cheese base. It's a flavorful dish, decorated with more house-smoked salmon, pickled red onion, and fried capers. The dipping vehicle is pita chips.
They put that smoker to work, making other smoked meats like pulled pork. They combine the house-smoked pork shoulder with the house-made barbeque sauce and serve the pork on a potato bun. The sandwich comes with house-made bread-and-butter pickles and slaw.
4. Breckenridge Tap House
Breckenridge features a craft beer scene second to none, and you'll want to try the Breckenridge Tap House. They offer the largest craft beer selection in Summit County. If you prefer liquor, choose from over 125 premium whiskeys or 130 premium tequilas. With all that fresh mountain air, we were famished. Their slow-braised meat tacos curbed our hunger. The meat stays in the oven for hours, so it's tasty and tender.
5. Blue River Bistro
Located at the town's center, on Main Street, Blue River Bistro features eclectic-American farm-to-fork dining in a casually elegant setting with modern, clean lines. Pre-pandemic, it was known for its live music that included everything from instrumental Jazz to Delta Blues, but the live music has been suspended for now.
Dinner entrees range from local favorites like buffalo short ribs to international dishes like paella and Scottish salmon. No matter the dish, you'll eat with your eyes first on these artfully presented plates. Even the meat-focused dishes have the Colorado focus on vegetables offering a variety on a single plate. For example, slow-roasted buffalo short ribs come with a sweet corn spaetzle and cauliflower puree accented with shishito peppers.
Even though Colorado is known for its wild game offerings, Blue River Bistro provides menu items that will please vegetarians and vegans. One option is a hearty vegetarian dish known as keema. This stew-like meal features flavorful slow-cooked lentils with tofu. Add in some chilies, tomatoes, red curry, and cilantro served over jasmine rice; even carnivores will enjoy this dish.
Pro Tip: The Blue River Bistro stays open through the shoulder season when other restaurants close. We suggest reservations, but they do welcome walk-ins.
6. Gold Pan Saloon
On Main Street, Gold Pan Saloon's premises have the longest standing liquor license west of the Mississippi River. Breckenridge features more than 200 structures on the National Register of Historic Places. We sat at Brunswick mirror-lined bar, a tradition since 1879. Unlike salon-goers during the Gold Rush, we didn't need to watch our backs in the mirror. We savored our libations. The north room holds a large safe so that a prospector could safeguard his gold while he had a drink in the saloon.
While the saloon is full of history, it's also a great place to have a meal. They offer burgers and bar food, but you'll also find some Colorado specialties on the menu. For example, they have a French dip featuring Colorado lamb. They also serve breakfast all day, featuring breakfast burritos smothered in the pork green chilis for which Colorado is famous.
7. Breckenridge Distillery Restaurant
Breckenridge Distillery, located on Airport Road, is the highest distillery in the world. We explored their store while we waited for the behind-the-scenes distillery tour and tasting. They've suspended tours during the pandemic, but check their website before you go to see if they have resumed them.
After touring, we were eager to try some of their food. James Beard award-winning Chef David Burke received Best Chef in New York twice. His innovative style gained him a United States patent for his unique dry-aging process, using pink Himalayan salt to dry-age steaks for up to 100 days. The menu features change regularly, but currently, they offer Ramen and dishes with an Asian flair.
Chef Burke integrates the distillery's products into his dishes. The Rocky Mountain snowmelt creates the distinction in the distillery's spirits. The distillery's spirits continue on the dessert menu. The day we were there, the bourbon float made with the Breckenridge Distillery bourbon, cherry syrup, Mexican Coke, and vanilla ice cream combined an after-dinner drink and dessert. The chocolate mousse had the chocolate flavor amped up using the Breckenridge Espresso Vodka. This gives you an idea of their desserts, but they change daily.
Pro Tip: Your designated driver can be the complimentary shuttle rides from 11 a.m. to 10 p.m. daily.
8. Briar Rose Chophouse And Saloon
Located at 109 Lincoln Avenue, just off Main Street, Briar Rose Chophouse and Saloon got its name from the Briar Rose Mine on Peak 10. In the late 1890s, silver miners would return to the Lincoln Street boarding house for a warm meal. Then it became a destination for diners looking for good food in a comfortable environment. As mining in the town evaporated, they abandoned the boarding house, and a fire burned it to the ground. In the 1960s, they rebuilt today's building in the same place as the original construction.
The meat-focused menu ranges from fresh Colorado game to aged beef. The Emerald Valley and Harris Ranches are where the restaurant sources its meats. Their Colorado game choices include Cervena elk medallions. They feature other Colorado favorites like sauteed Rocky Mountain trout and Colorado double-cut lamb chops.
The chef offers a variety of sauces to accompany the proteins, and we enjoyed the lingonberry demi-glace. Lingonberries are a tart yet slightly sweet berry related to the cranberry. Other sauces include everything from traditional hollandaise and bearnaise sauces to wild mushroom demi-glace and Port wine demi-glace. If you want to further the lingonberry flavors in your meal, try the Swiss Mule; ginger beer mixed with a lingonberry spiced Breckenridge vodka.
The restaurant offers two different spaces you'll always be comfortable no matter your dress or the occasion. After a day on the mountain, you might prefer the more casual atmosphere of the saloon. It has a mountain cabin feel. The more sophisticated environment of the formal dining room has white tablecloths for that special occasion dinner.
Related articles: