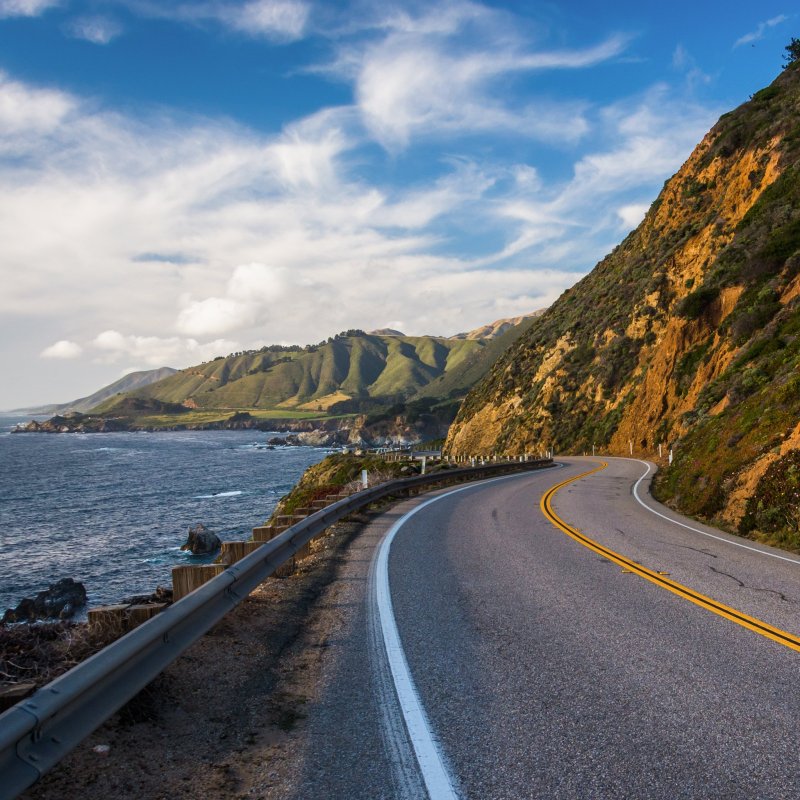 Road trips aren't just for the summer. For starters, it's always fun to get away in the winter. Another benefit is that national and state parks as well as other famous attractions are usually less crowded in the winter. And, as an added bonus, a winter road trip often offers a chance to watch animals as they migrate.
With that in mind, let's take a look at some classic winter road trips.
Tennessee: Memphis To Knoxville
Music lovers will enjoy this road trip with stops at Graceland, the Country Music Hall of Fame and Museum, and other sites. The trip starts in Memphis — known for blues music, barbecue, and historical sites — and ends in Knoxville, not too far from Great Smoky Mountains National Park.
With a driving distance of just under 400 miles, this is a trip you can take your time exploring. And, while Tennessee does experience winter, it typically is mild, with an average temperature of 40 degrees, so it won't be too cold for adventures along the way.
Florida: Miami To Key West
There's a reason so many people dream of driving on the Overseas Highway (US 1) from Miami to Key West: It's beautiful. This Miami to Key West road trip is more than 100 miles long and crosses 42 bridges that connect 34 islands. What's more, many stretches of the highway are only two lanes wide, so you'll have terrific views of both the Atlantic Ocean and the Gulf of Mexico.
The trip begins in beautiful downtown Miami and ends in Key West, where you can even take a picture at Mile Marker 0. Along the way, you can see famed Key Largo, drive past Everglades National Park, cross Seven Mile Bridge connecting Marathon and Little Duck Key, and, of course, stop for Key lime pie.
Texas: Dallas To Amarillo
Considering that Texas is the largest state in the 48 contiguous states, it's not surprising that the Lone Star State offers something for everyone. Given its sheer size, not all Texas road trips are feasible, unless you have an abundance of time. However, a road trip from Dallas to Amarillo is a classic that offers visitors a good taste of Texas.
The trip, which is 365 miles, begins in the major metropolitan area of Dallas and ends in Amarillo, where you can visit the famed Cadillac Ranch where 10 Cadillacs are buried nose-first. Along the way, you'll have plenty of chances to visit museums, explore Texas history, find great places to eat, and even visit Palo Duro Canyon — the second-largest canyon in the U.S.
New Mexico: Las Cruces To Tucumcari
Mention New Mexico, and people will immediately think of Albuquerque, Santa Fe, and even Taos. For a real treat, however, you need to see the southern and eastern parts of the state. A road trip from Las Cruces To Tucumcari will take you through the least traveled and prettiest parts of New Mexico.
The trip begins in Las Cruces, home of New Mexico State University, on the edge of the Chihuahuan Desert. Along the way northeast to Tucumcari, you'll pass both White Sands Missile Range and White Sands National Park, the New Mexico Museum of Space History in Alamogordo, and the Lincoln National Forest.
California: Pacific Coast Highway
For many, a trip down California State Route 1 — better known as the Pacific Coast Highway (PCH) — is the ultimate road trip. This PCH road trip begins at Point Reyes National Seashore, 30 miles north of San Francisco, where you can visit Point Reyes Lighthouse, and — hopefully — see humpback whales. It ends almost 470 miles south at Dana Point, about an hour north of San Diego.
Along the scenic route hugging the coast, you'll cross San Francisco's Golden Gate Bridge, pass Carmel-By-The-Sea, drive along the coast in Big Sur, and see the Spanish mission at San Luis Obispo. Other notable stops include Santa Barbara and Santa Monica before arriving at your final stop just north of San Diego.