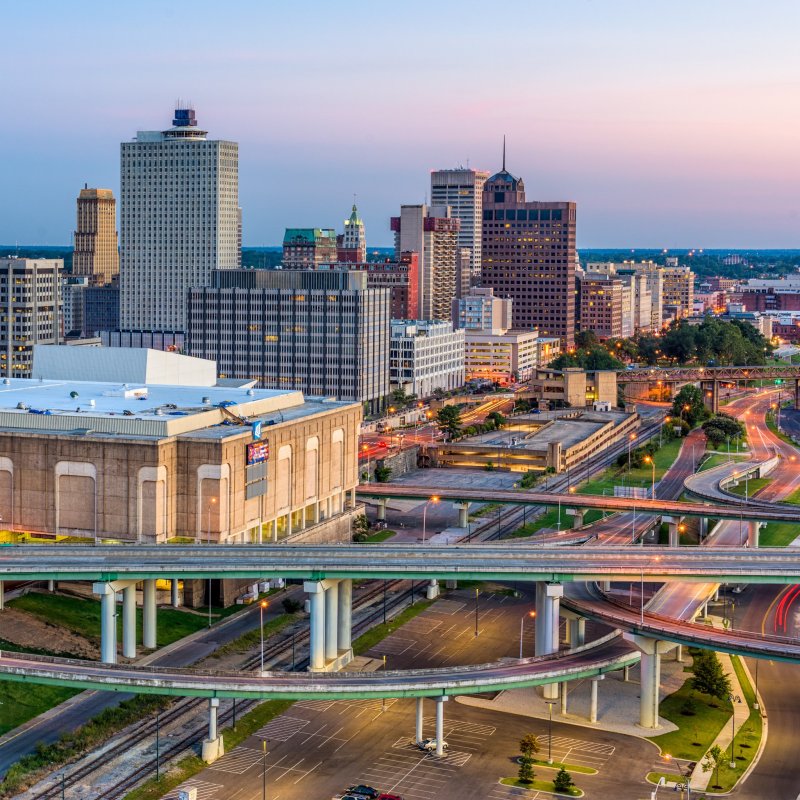 Immerse yourself in the beauty of Tennessee with a road trip. The slower pace allows plenty of opportunities for hiking and viewing the great outdoors. Start along the Mississippi River in Memphis to travel through lush landscape and end at the Great Smoky Mountains near Knoxville. A Tennessee road trip is rich with outdoor activities and scenic views, history, music, and plenty of Southern barbecue.
Memphis
Memphis is hailed for its blues and barbecue, but it's also known for its historical sites, outdoor activities, and, of course, Graceland.
Discover rich cultural history at sites such as the Memphis Cotton Museum and the National Civil Rights Museum, located in the Lorraine Motel where Dr. Martin Luther King Jr. was assassinated.
Immerse yourself in this musical city. Beale Street, once a hub of the jazz and blues music scene, has museums and venues to take in the music scene and history. Take a guided tour of the most famous recording studio in the world at The Legendary Sun Studio, the "birthplace of rock 'n' roll." Then visit the Memphis Rock 'n' Soul Museum and learn the Memphis music story — and about the pioneers who overcame racial and socio-economic barriers to create music that impacted the world.
There is an abundance of great restaurants, but be sure and sample the barbecue while you're in the Barbecue Capital of Tennessee — the dry rub ribs are a specialty. Each restaurant puts their personal spin on barbecue, and it's hard to make a wrong choice, but Central BBQ and Corky's BBQ are two (of many) local favorites.
And then there's Graceland. A visit to Memphis wouldn't feel complete without a tour of Elvis's Graceland.
If staying a few nights, check in at Central Station Hotel. Memphis Central Station, known as Grand Central Station before 1944, was built in 1914. The Grand Hall of the station, with 33-foot ceilings, is now an elegant ballroom. Stay in one of the 123 guest rooms in this historic location.
West Tennessee Delta Heritage Center
About an hour's drive outside of Memphis, stop at the West Tennessee Delta Heritage Center. While there, visit a collection of museums such as the Tina Turner Museum at Flagg Grove School, a one-room schoolhouse attended by Tina Turner (Anna Mae Bullock back then) that now houses a collection of the Queen of Rock memorabilia. The West Tennessee Cotton Museum shows the impact cotton has had on the people in the region. The West Tennessee Music Museum features Elvis memorabilia and other artists who hail from the Music Highway. Other museums in the cluster include the Hatchie River Museum and the John Adam Estes Home.
Jackson
Next stop, Jackson, where you'll find the Casey Jones Home and Railroad Museum at Casey Jones Village. There you can tour the original home of the world's most famous railroad engineer, Casey Jones. The 8,000-square-foot train museum is dedicated to his life and to railroad men and women everywhere.
Discover the home of Rockabilly, the fusion of country and rock music, in Jackson. Visit the Legends of Tennessee Music Museum to learn about the emergence of rock 'n' roll.
Sample a selection of the best wines in Tennessee at Century Farm Winery. Try a wine tasting, take a winery or vineyard tour, or relax in the country atmosphere. Their award-winning wines include dry, sweet, red, and white so there's something for every preference.
At Pinson Mounds State Archaeological Park, discover Native American mounds believed to be both burial and ceremonial in purpose. The 1,200-acre park contains at least 15 mounds and is a national historic landmark, listed on the National Register of Historic Places.
Stay for an artisan pizza at Rock'n Dough Pizza and Brewery, and if spending the night, check in at Peaceful Oaks Bed Breakfast and Barn located on 36 acres of secluded woods.
Wildersville
Stop for a hike ranging from a half-mile up to 4.5 miles (or a 40-mile overnight trail) at Natchez Trace State Park. President Franklin D. Roosevelt's New Deal Program preserved approximately 48,000 acres of land that led to what is now Natchez Trace State Park. The hiking trails wind through the forest and fields and along the waterways of the lake and streams. There's also a museum that features local and park history. If fishing is of interest, choose from several lakes.
Camden
Then stop in Camden to see how freshwater pearls are cultured and harvested at the Tennessee River Freshwater Pearl Farm and Museum. The Pearl Farm is the only freshwater pearl-culturing farm in North America. The museum provides displays about the freshwater pearl and mussel industry through storyboards, exhibits, and other items of interest.
Spend the night near the water at one of the rustic cottages at Birdsong.
Hurricane Mills
In Hurricane Mills, visit Loretta Lynn's Ranch, the former home-turned-museum of the country music icon. Tour replicas of Loretta's coal mine, Butcher Holler's childhood home, and Loretta's plantation home featured in the movie Coal Miner's Daughter. Also plan to visit the Coal Miner's Daughter Museum to see artifacts from her six-decade career.
You can camp or rent a cabin on more than 3,000 acres of rural Tennessee to hike, fish, or swim in the pool. Or grab a bite to eat at one of the two country stores before heading to the next stop.
Nashville
Stay for a day or more in Nashville. Discover don't-miss activities and hidden gems at Ryman Auditorium and Country Music Hall of Fame and Museum. Walk down Broadway, listen to live music, eat, and enjoy the river/skyline views at Acme Feed and Seed. Or enjoy a meal at Hattie B's or Husk, then tour and sample treats at Olive and Sinclair Chocolate Shop. Take a hike at Percy Warner Park, then spend the night at Germantown Inn.
Burgess Falls State Park
Stretch your legs and enjoy the water at Burgess Falls State Park, where you'll find one of eight stunning must-see waterfalls in Tennessee. This day-use park is noted for four waterfalls that cascade down from over 250 feet in elevation. The area was originally populated by Native American Cherokee, Creek, and Chickasaw tribes who used the land as hunting grounds until the late 19th century.
Cookeville
A hidden gem of its own, Cookeville is a great walkable town. Visit the Cookeville Depot Museum. Originally built in 1909, it's listed on the National Register of Historic Places. The museum houses many Tennessee Central Railway artifacts for train enthusiasts. Surrounding the museum is a park area with a 1913 Baldwin steam engine, a 1920s classic red caboose, a 1960s caboose, and two small track cars on display.
Walk across the street from the museum for ice cream at Cream City Ice Cream and Coffee. A great stop for breakfast or lunch is Poet's Coffee. Enjoy a cup of coffee, or try one of their specialty hot drinks such as the turmeric ginger tea. Pair it with an acai bowl or the avocado toast for a healthy start to the day.
While you're there, be sure and browse the local boutiques downtown including 31TwentyFive Boutique, Cigi's, Broadway Boutique Mall, Luxe Boutique, and Tennessee Shirt Company.
From Cookeville, take a short drive (about 20 minutes) to Monterey to hike Bee Rock. It's a short hike to the top to picnic and see a beautiful view from the overlook.
Crossville
Tennessee's Cumberland Plateau range includes multitudes of waterfalls, arches, sandstone outcroppings, natural bridges, and gorges. Some nearby places to take in the views include Cumberland Mountain State Park and the Ozone Falls natural area. Ozone Falls plunges 110 feet then disappears underground until it reemerges several feet downstream. It's easy to access and was selected for filming scenes for the movie Jungle Book.
While in Crossville, stop at the family-owned Stonehaus Winery for a complimentary wine tasting. Located high atop Tennessee's Cumberland Plateau, the winery produces a variety of wines, both dry and sweet, and sells homemade fudge, gourmet foods, and unique gifts.
If it's a fall visit, stop at Autumn Acres. The family-friendly farm has hayrides, a pumpkin patch, a corn maze, food, and a general store.
Knoxville
End your road trip in Knoxville, where you'll find great Southern cooking and a renovated downtown area. Music fans can catch a live radio show each day at noon, called the WDVX Blue Plate Special. Or see the artwork at the Knoxville Museum of Art, free to visit. Then visit Pretentious Glass Co. to view unique beer glasses made by expert glass blower Matthew Cummings. Next door to the glass blowing studio, sample one of 16 brews on tap, kombucha, or handmade soda.
Satisfy a taste for Southern food at Sweet P's Downtown Dive, where you'll find classic comfort foods such as red beans and rice, a smoked meatloaf, and barbecue specialties. Or sample Oliver Royale's chef-driven food scene.
Stay a few nights at The Oliver Hotel, a trendsetting luxury retreat. Located in the heart of Knoxville, you'll find modern amenities and contemporary elegance at this recently renovated hotel.
Pro Tip: While you're in Knoxville, don't miss a visit to the nearby Great Smoky Mountains National Park.