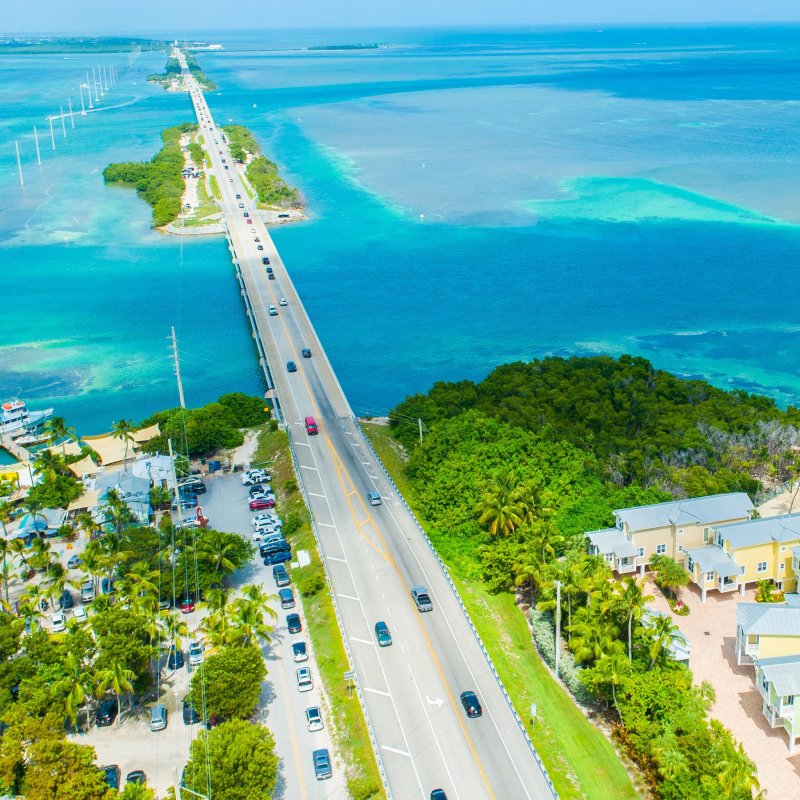 Driving along the Overseas Highway (US1) from Miami to Key West is one of the great American road adventures. Over 100 miles and 42 bridges connect 34 islands. The route is best driven in a convertible, takes you through a wonderland of mangrove trees, coral reefs, tropical savanna, quaint islands, and historical sites, and you'll have the unique sensation of literally driving on water as you cruise over the bridges, with the Atlantic Ocean on one side and the Gulf of Mexico on the other. Many stretches of the highway are only two lanes wide, so you feel like you only have to stretch your hand out the window to touch the ocean.
There are two things along the way that you definitely want to take pictures of: the famous mile markers, with 0 Mile in Key West, and the signs warning of gators. You are bound to see a few, especially near Miami where the road skirts the Everglades.
The best time to go is between March and May. The temperatures are, on average, in the 70s and there is little risk of rain. Avoid the hurricane season starting in September. The Keys are more prone to being badly hit than Miami itself and sometimes have to be evacuated, turning the highway into a one-directional escape route to the mainland.
This trip is also a journey down memory lane as it is closely connected with another great American adventure: The Flagler Over-Sea Railroad. The first train from Miami pulled into Key West in 1912. The dream came to an end in the Labor Day Hurricane of 1935, which destroyed tracks and bridges, part of which can be seen (and visited) near Marathon. After this, the Overseas Highway came into being, and now it's one of South Florida's most visited attractions.
We start our trip in Miami and show you that there is a lot more to do and see than Ocean Drive and South Beach.
Starting Point: Miami
How long you stay in Miami before embarking on your road trip to Key West depends on the time you have. But you should spend at least one day and one night to enjoy the relaxed and colorful lifestyle in an American city where Spanish is the most-spoken language.
Iconic Fontainebleau Hotel
The Fontainebleau on Collins Avenue in the heart of Miami Beach is a landmark luxury hotel, one of the oldest and most prestigious in Miami, combining the emblematic architecture of South Beach in Morris Lapidus's curvilinear design with seemingly endless beaches, pools, gardens, and every luxury you can possibly want. Once you've checked in, make your way over the causeway to explore Downtown Miami.
Downtown Miami
Many visitors who come to Miami for the first time think South Beach because they are not aware that the biggest treasures are actually located downtown. For one, the Miami River, a busy waterway from the Everglades, empties into Biscayne Bay and can be enjoyed with a river cruise if you have extra time.
Mary Brickell Village
Combining modern office blocks and high-rise condos with art galleries, shops, fabulous restaurants, and cobbled streets, Mary Brickell Village is a one-of-a-kind urban oasis in the middle of downtown Miami.
Stroll along at your leisure, treat yourself to a meal at Moxie's or any other of the many restaurants in the village, take a look at art galleries, or have a drink at Blue Martini. There is some pretty street art to be admired, too, and of course a statue of Mary Brickell, one of the founders of Miami.
Cross over the draw bridge, look down at the Miami River, and with luck, you'll see some manatees. Then head to Flagler Street to learn about history at a unique museum.
HistoryMiami Museum
Located at West Flagler Street, the HistoryMiami Museum is a complex of several buildings including a library documenting the Indian heritage of Miami, mainly that of the Seminole and Miccosukee. You'll see sepia photographs, a reconstructed village, traditional clothes, bead artwork, and much more.
Bayside Marketplace
Follow Flagler Street to Biscayne Bay and discover the most relaxed and colorful shopping mall you can imagine: Bayside Marketplace. Of course, there are plenty of shops, but most important is the Caribbean festival atmosphere of the precinct. Giant mangrove trees with parrots in them greet you at the entrance. There is always live music and people are dancing to it. Have fresh smoothies and Cuban snacks or embark on one of the boat trips which specialize in taking you past the lavish homes of stars and celebrities in Biscayne Bay and on the islands. There is even a little strip of white beach with wooden loungers where you can rest your feet.
Key Largo, Marathon, And More
Once you have your fill of Miami, it's time to embark on your road trip. The most popular stops along the way to Key West are Key Largo and Marathon. Our intention, however, is to help you explore lesser-known keys you will cross over (remember, there are 34 in all!) and show you their picturesque and unique attractions. Stop wherever you like depending on how much time you have planned for this adventure. In the first miles out of Miami, you really get a feeling for the nature of this trip as you drive past the fringes of the Everglades, and swamp grass and mangrove trees can nearly scratch your car.
Islamorada
Just south of Key Largo you come to Islamorada. Although it's best known for water sports and incredible ocean life, Islamorada gives you a chance to learn about history at the Florida Keys History and Discovery Center and the History of Diving Museum. Round out your stop with a stroll and your first taste of hogfish and Key Lime Pie in the Morada Way Arts and Cultural District.
As you drive on, watch out for the Shell Shack, a typical Florida conch house. It's overflowing with the most colorful Florida kitsch, made from shells, wood, beads, and much more. Everything's for sale, of course.
Duck Key
You are nearly halfway there, and just before driving over Seven Mile Bridge, you should put in a stop at relaxed and lesser-known Duck Key. Tropical vegetation, beaches, Hawks Cay Resort, and more legitimate a brief stop or even an overnight stay.
Seven Mile Bridge
Seven Mile Bridge connects Marathon with Little Duck Key. It's actually two bridges that run parallel, the older one built in 1919 as part of the Flagler Railroad and the new one, which you'll drive over. Part of the older bridge is open to foot traffic, and you can see its remains above the water. This bridge was severely damaged in a 1935 hurricane. Bridge details aside, the best part of this section of your road trip is the experience of literally driving for miles on end across two tremendous bodies of water: the Atlantic on one side and the Gulf of Mexico on the other. Just enjoy the sensation.
Big Pine Key
Just having crossed Seven Mile Bridge and only about 30 miles from your final destination, make a little detour to visit Big Pine Key. It's rumored to have the best seafood in Florida. Try some at Springer's Bar and Grill. Apart from seafood, Springer's also serves vegetarian dishes.
Only in Big Pine Key can you see a different kind of animal, the tiny Florida deer, which is no bigger than a dog. Make time for a visit to the National Key Deer Refuge.
Sugarloaf Key
Make a final stop in Sugarloaf Key. This separate island actually has two communities: Upper Sugar Loaf and Lower Sugar Loaf. The key's name is derived from the pineapples which were once grown here. The U-shaped island wraps around Sugarloaf Sound, a calm paradise for snorkeling, swimming, and fishing. And here is another attraction for history lovers: the American Shoal Lighthouse. One in a string of lighthouses erected to help ships navigate through the dangerous shoal, the distinctive red structure is visible with good binoculars from Sugarloaf Key, but if you want to have a closer look you can go there by boat.
Key West
Once you have arrived, you'll definitely want to take the ultimate selfie posing under Mile Marker 0. You want to spend at least one night and a day in Key West to be able to see some of the many attractions in and around the hub of the city, Duval Street. And don't forget to head out for the daily sunset celebration in Mallory Square.
The entire trip can be made in about four hours, if you drive nonstop. But, what would be the point? To experience the very best of South Florida nature, culture, and lifestyle, take the local laid-back attitude and make the trip with plenty of time and stops. That way you'll have the adventure of a lifetime.
As you plan your route, find more Florida Keys inspiration here.