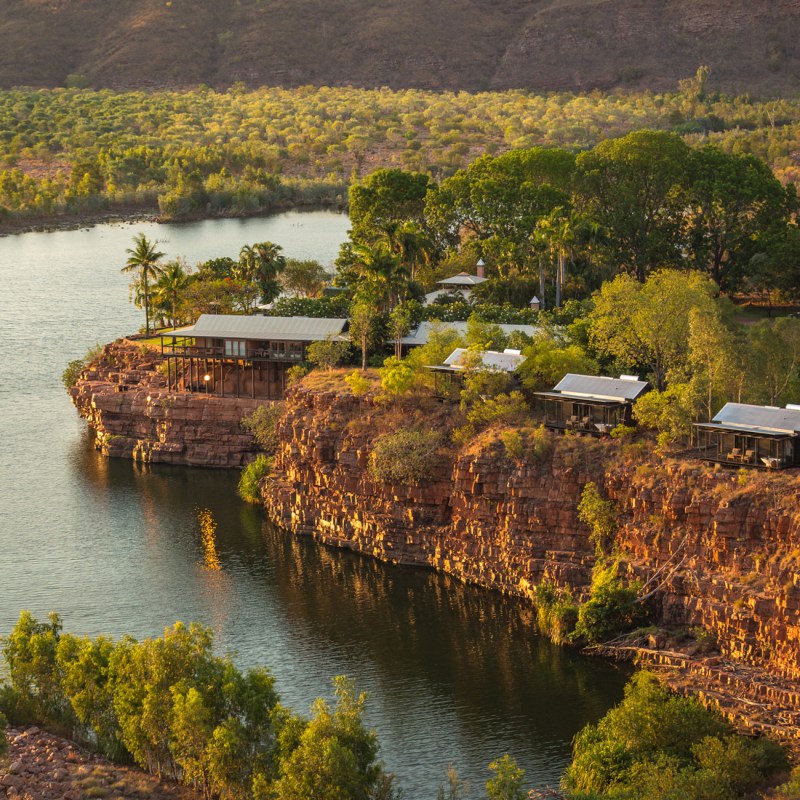 Overseas travelers treasure their stays in Australia's luxury lodges. For many, they are long-awaited bucket-list items to celebrate special birthdays or anniversaries. They offer the chance to cocoon in luxury while looking out at some of the world's most iconic views — over Uluru (also known as Ayers Rock), the rugged-red Kimberley, vast outback stations, and coral-reef-fringed islands. Here are a few of these luxury lodges worth lodging in your mind when considering a trip to Australia.
1. Longitude 131, Northern Territory
It can't get any more iconic Oz than a wilderness camp with private views of Uluru. No jostling for views with the crowds in the car park — instead, luxury, air-conditioned tents with floor to ceiling glass providing views of the chameleon colors of the world's most famous rock. Watch from your bed or from your private, elevated deck with its own fireplace. You have the choice to sleep outside in a swag so you can star-gaze. Wander off to a dune-top plunge pool or stand under the delights of a spray-mister. Help yourself to a bar stocked with premium beverages. Stays come with a famous dining-in-the-desert experience under the stars and guided excursions to discover the authentic outback and Aboriginal culture. A three-night stay includes dining, guided experiences, and airport transfers. Here's a look at the prices and packages.
Pro Tip: Guests with limited mobility have the option of transport in four-wheel-drive vehicles, and one tent is wheelchair accessible.
2. Mount Mulligan Lodge, Northern Queensland
There is something about the thrill of arriving at a remote property by helicopter and being met by a glass of champagne and a soothing wet towel. Mount Mulligan Lodge has the serenity and beauty of the outback but none of the deprivations. The lodge is on a 66,000-acre cattle property looking out at Mount Mulligan, a sandstone escarpment 10 times larger than Uluru and known as Ngarrabullgan by the traditional owners. Mount Mulligan Lodge has only eight suites, and, like all Australian luxury resorts, you can do as much or as little as you like. Laze in the infinity pool or in an outdoor bath made from a rainwater tank looking out at Mount Mulligan's ever-changing hues. Make the scene your backdrop as you paddleboard or kayak on the adjacent lily-covered waters. Stays include guided tours of Mount Mulligan and a mining ghost town, chef-prepared gourmet picnic hampers, wildlife spotting, sunset drinks, barramundi fishing, a dining experience under the stars with seasonal dishes accented with native and bush foods, and your own electric buggy to explore the vast property in. Packages include meals, Australian wines and beers, a minibar, and activities.
3. Capella Lodge, Lord Howe Island, New South Wales
Lord Howe Island, a UNESCO World-Heritage Centre, is reached by yacht or a two-hour flight from Sydney or Brisbane on a 32-seat Bombardier Dash 8 aircraft. Only 400 visitors are permitted on the island at one time to preserve the unique ecosystem that rivals the world-famous Galapagos archipelago. Capella Lodge is perched above the secret beach at Lovers Bay and has nine exclusive suites offering views over coral reefs and the twin extinct volcanic peaks of Mounts Gower and Lidgbird. Soak up the scenery through floor-to-ceiling glass windows, either lazing on the deck daybed or from the infinity plunge pool. Guests enjoy spa treatments and fine dining, coastal walks and forest hikes, and snorkeling across secluded, pristine, and protected waters. Packages include gourmet breakfasts, sunset drinks and canapes, and an inspired dinner menu. Learn more about rates here.
Pro Tip: For the less mobile, an electric buggy is available for hire (but is best to book in advance).
4. El Questro Homestead, The Kimberley, Western Australia
The luxury of El Questro Homestead sits in stark contrast with the rugged and fiery red cliffs of the Kimberley region. It's accessed via a 90-minute drive from the outback town of Kununurra or a private airstrip. Perched on a clifftop overlooking the Chamberlain Gorge, the homestead offers luxurious accommodation with just nine rooms. Enjoy three-course dinners with matching wines under the stars, at either the communal table or at private dining spots overlooking the gorge. Stays include expeditions and activities with expert guides through this outback station five times the size of Singapore. There are activities for all ability levels, from intrepid explorers to novice hikers and first-time four-wheel drivers. Experience amazing sunsets and gorge walks followed by dips in swimming holes. Complimentary excursions include a cruise through sun-lit gorges, a 4WD safari for a history, nature, and wildlife tour, and a chance to see jabirus, brolgas, saltwater crocodiles, bullocks, and wallaroos. Add-on options include a scenic flight to the UNESCO World Heritage-listed Bungle Bungle Range. El Questro, owned by American company Delaware North, is open between April and October. Learn more about rates and accommodations here.
Pro Tip: El Questro offers many types of accommodations, including camping, but the cliff-top cabins are the show stoppers, with special open-air showers and baths positioned to watch the sunset.
5. Sal Salis, Cape Range National Park, Western Australia
Australia is turning luxury camping into an art form. Sal Salis comprises 15 eco-luxe wilderness tents with views over the Indian Ocean. Hidden among sand dunes, Sal Salis offers a touch of Sahara Desert-like dune camping in this remote wilderness area. The tents are mere steps away from the World Heritage-listed Ningaloo Reef, where you can snorkel with turtles, manta rays, and schools of tropical fish. This is also one of the best places in the world to swim with whale sharks and humpback whales — both gentle giants, more interested in krill than you. Sleeping with the sound of the waves crashing is sublime, as is waking up to the idyllic view seen easily from your bed or day hammock. A shared lounge and dining area provides a communal meeting point with an open bar. Nightly sundowners and canapes are served before dinner, and communal meals are served on the spectacular deck. Every day, there are activities that you can participate in (or not), such as snorkeling, kayaking, or guided walks in Cape Range National Park, which abounds with Australian wildlife. Learn more about packages and rates here.
6. Saffire Freycinet, Coles Bay, Tasmania
Not every tourist thinks of coming to Tasmania — in fact, some maps even leave this tiny state off the grid. But if you love English-style countryside, convict heritage, and incredible wilderness experiences, this is the place.
Saffire Freycinet has been named the best luxury hotel in Australia by TripAdvisor for the past six years. It is a way to connect to the magnificent Freycinet National Park and Wineglass Bay. The lodge is architecturally significant and offers panoramic views of the Hazards and the Freycinet Bay. They make for a stunning scene to wake up to. Saffire features 20 private suites, a luxury day spa, a not-to-be-missed oyster experience where you don a pair of waders to a tasting table in the sea, and delectable degustation dinners with matching wine flights. Enjoy hiking, mountain biking, boat tours of the bay to spot seals and eagles, winery visits, and seeing Tasmanian devils. You can also go behind the scenes in the kitchen for a chef's cooking class and learn how to create cocktails in a mixology class. Deluxe suites are over $1,000 per night (for up to two people). Even the lowest room rate includes breakfast and lunch, pre-dinner drinks, a complimentary minibar, and most activities.
7. Qualia, Hamilton Island, Queensland
Qualia is an adults-only resort and a popular choice for celebrities such as Oprah Winfrey, Chris Hemsworth, Taylor Swift, and Johnny Depp. The Latin name means "a collection of deeper sensory experiences." The award-winning Qualia is in a picture-perfect location on the northernmost part of Hamilton Island, surrounded by the natural wonder of the Great Barrier Reef and with views across the Coral Sea and the Whitsunday Islands.
There are 60 rooms, but all are genuinely private, shielded by bushland and with water views. Suites feature natural timber and stone, floor-to-ceiling windows, massive bathrooms, private decks with daybeds, and private plunge pools. For golfers, there's the nearby Hamilton Island Golf Club, an 18-hole championship golf course designed by British Open winner Peter Thomson and is only a quick ferry ride away. Pebble Beach is the resort's private beach, and the complex's infinity pool overlooks the sparkling Coral Sea. The spa offers a comprehensive menu of treatments, including holistic and wellbeing therapies. Guests enjoy hiking, snorkeling on the Great Barrier Reef, and catamaran trips to the stunning Whitehaven Beach, named the best beach in Australia by TripAdvisor readers in 2013. There are helicopter rides to the much-photographed Heart Reef, and for guests staying between June and September, the possibility of spotting migrating whales. Dinner includes signature dining experiences, such as sake, sashimi, and wine and cheese pairings. Some accommodations come with a private buggy so you can hotfoot it into town in about 10 minutes. Learn more about rates here.
Pro Tips: There are direct flights to Hamilton Island from Sydney, Melbourne, Brisbane, and Cairns. There are passenger ferries from Shute Harbour, near Airlie Beach.
Related Reading: