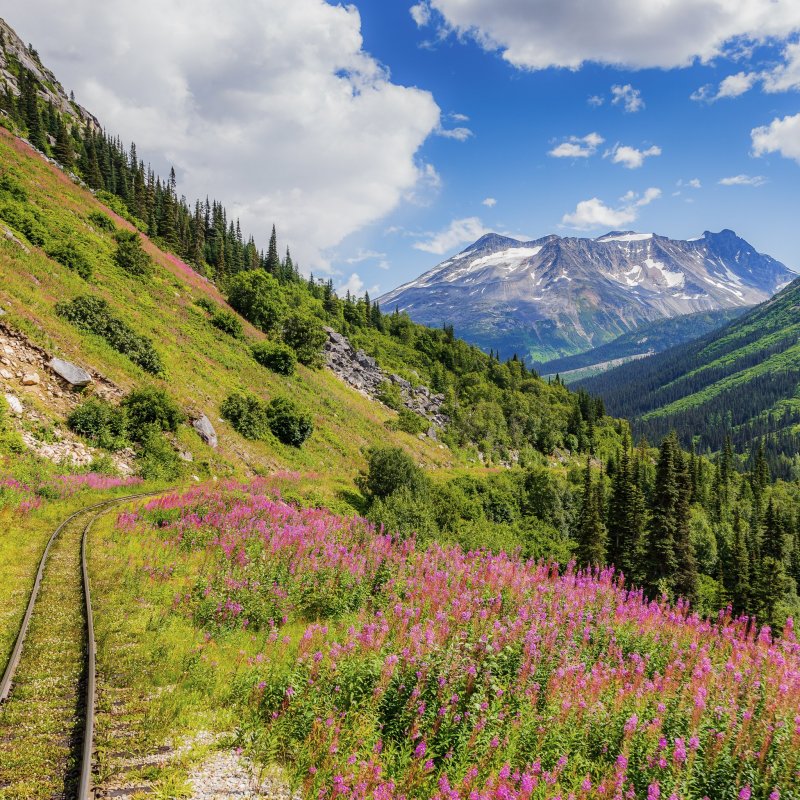 A compact, historic city in the Alaska Panhandle, Skagway has activities for just about everyone. We visited Skagway when it was a port stop on an Alaskan Inside Passage cruise. With a little over 1,000 residents, I wondered what there would be to do in the town. I was pleasantly surprised by the variety of activities and after visiting, I totally understand why so many people love it. It was our favorite stop on the cruise.
Nearly a million tourists visit each year. The community offers spectacular scenery, Klondike Gold Rush history, and access to the most breathtaking train rides you can imagine.
A gateway town during the Yukon gold rush, Skagway enjoyed hundreds of gold-seekers who visited on their journey north. Let's look at some favorite activities you can enjoy in Skagway.
1. Ride the White Pass And Yukon Route Railroad
My favorite is The White Pass and Yukon Route Railroad. Known as the Scenic Railway of the World, it runs vintage locomotives past the famously steep Chilkoot Trail. It offers gorgeous sweeping mountain views during its climb toward the Yukon Territory of Canada.
While riding the train, you will enjoy some of the most majestic sightseeing Alaska offers. As the train climbs up 2,865 feet to the summit of the White Pass, you will see the original Klondike Trail of 1898, Bridal Veil Falls, Dead Horse Gulch, and Inspiration Point.
This is one of the most popular activities and cruise excursions. You board the train right in Skagway near the cruise port, so it is just a short walk. The tour is fully narrated with lots of opportunities for photos and video of the spectacular scenery.
The vintage passenger cars go past canyon views, glaciers, gorges, tunnels, trestles, waterfalls, historic sites, and mountains touching the clouds as you retrace the route miners used all those years ago. This scenic train ride is round-trip up and down the mountain pass.
The passenger coaches hold approximately 43 passengers. Once you are assigned a car, you pick the seat you desire. The train cars have restrooms and heat, and each person receives bottled water during the trip. There are a few steps into the train with limited wheelchair accessible seating available.
Snacks and non-alcoholic beverages in closeable containers are permitted. There are no snacks sold on the train.
Pro Tip: Passports are not required even though you enter Canada as you are not permitted to exit the train.
2. Enjoy A Skagway Dog Sledding Tour And Musher's Camp
Dog sledding is a thrilling excursion for the adventurous 50+ traveler. Some friends did this excursion and enjoyed it immensely.
There are several tours available, and you can get to the camp by van and sled or by helicopter. Both provide spectacular scenery.
A van will take you from town to the Musher's Camp. While on the way, you will enjoy a narrated tour through historic Skagway to the Klondike Gold Rush National Park.
Each sled accommodates six guests. When riding the dog sled, you can choose to stand and mush or sit and relax. But you can be sure the friendly huskies will give you a blood-pumping ride of your life while you enjoy breathtaking views of the wildlife and magnificent mountains.
After the ride, you have time to cuddle with the adorable puppies and enjoy some photo opportunities before heading back to town. Can you think of a better way to enjoy Alaska?
Allow a half-day for this tour. Walking short distances is required and you must be able to raise your knee 8 inches. There are limited spaces for collapsible wheelchairs and walkers; you must make arrangements in advance.
Pro Tip: Wear warm layered waterproof clothing and boots.
3. Glide Above Glaciers In A Helicopter
The Skagway Glacier Helicopter Tour takes you to Alaska's remotest glaciers as you leave civilization behind and experience untouched beauty. As you glide toward the glaciers, you will fly over scenic mountains and majestic valleys. Once you reach the magnificent glaciers, you will have time to explore Mother Nature's greatest marvels, learn about glacier creation from experienced guides, wander around, snap photos galore, and walk on the river of ice.
There is a short transfer to the heliport from the pier. Upon arrival, you view a safety video and are outfitted with vests and boots, and off you go. The flight routes and landing zones vary based on weather to make sure you see the best sites. Each helicopter carries a maximum of six people.
The helicopter tour usually lasts around two hours, so plan for half a day. Those taking this adventure must walk short distances on uneven and icy surfaces and climb a few steps without assistance. Food and drink are not permitted during this tour.
Restroom facilities are available at the helicopter base before you depart. There are no restrooms available at the glacier.
Pro Tip: When the helicopter lands, you are not permitted to stay inside, so be sure you're wearing plenty of warm clothes appropriate for the weather. Sunglasses are strongly recommended.
Can't get enough glaciers? Consider these five fabulous glaciers to visit in Alaska.
4. Watch The Salmon Run
Not far from the cruise port, you can walk along a stream to see salmon swimming upstream to spawn in their natural habitat at Pullen Creek Stream Walk. You might also see other wildlife such as bears or seals enjoying a salmon meal.
5. Visit The Visitor Center At Klondike Gold Rush National Historic Park
The Klondike Gold Rush Visitor Center and Museum are just a short walk from your cruise ship. Explore exhibits and watch presentations from rangers that help you retrace the history and experience of the Gold Rush. There is also a historic home, saloon, and parlor museum to enjoy.
6. Walk Around Skagway
A walking tour of Skagway's National Historic District takes you on a stroll back to 1898. The Klondike Gold Rush comes to life as you explore the streets of Skagway. There are various tour options offered, including a look at the Buffalo Soldiers, an all-ages Gold Rush 101, and an "untold stories" tour with more grown-up themes (including discrimination and prostitution). You can find the various tours on the National Park Service's website.
7. Take A Glacier Wilderness Safari Tour
Travel through the rainforests and fjords as you're guided through this stunning wilderness adventure. You will have the opportunity to see everything from seals and whales to wildflowers and cascading waterfalls. You will walk through the forest to arrive at your canoe, which will carry you to the Davidson Glacier. A picnic lunch is provided before ending your tour!
Please note that guests must be in good physical condition and be able to hike in natural terrain for a quarter of a mile. This tour is not wheelchair or limited mobility accessible.
This tour is a full-day tour lasting about six and a half hours.
8. Set Out On A Day Hike
Get outdoors and explore the scenery on foot. There are several excellent one- and two-hour hikes that start in Skagway. Explore Yakatuania Point, Reid Waterwall, Dewey Lake, or the Gold Rush Cemetery. A list of more challenging hikes originating in Skagway is available from the National Park Service if you desire more of a hiking challenge.
9. Spot Wildlife
A catamaran ride along the fjords from Skagway to Haines provides views of a dozen stunning waterfalls and the possibility of spotting bald eagles and harbor seals. When you arrive at Chilkoot Lake State Park, you'll find a tranquil lake surrounded by important Tlingit cultural sites, mountain peaks, a salmon-filled river, and abundant wildlife.
Pro Tip: Don't forget your binoculars.
10. Float Down The River
The Taiya River (also known as the Dyea River) near Skagway, Alaska, flows for 17 miles. Rich with lush flora, abundant wildlife (including bald eagles and bears), and beautiful glacier views, the Taiya River valley makes a lovely float trip. Learn about Gold Rush history and enjoy the views as you relax and float.
11. Hit The Links
Enjoy a round of golf at Valley of the Eagles Golf Links, one of the world's most scenic golf courses, in nearby Haines. Enjoy a par 36, 9-hole course surrounded by wildlife and the stunning Alaska landscape.
Pro Tip: Golf equipment provided.
12. Escape Into History
If the White Pass and Yukon train ride was not long enough, consider traveling the 67.5 miles between Skagway, and Carcross, Yukon Territory (Canada) by train. The Skagway Bennett Scenic Railroad Journey takes the same route used in 1898 by Klondike stampeders. Then take a motorcoach transfer along the scenic Klondike Highway back to Skagway, stopping along the way at Emerald Lake. This is a marvelous Canadian and Alaskan adventure.
Lunch is provided and served as the train travels by the exclusive Bennett, British Columbia. The best thing about this trip besides being a railroad adventure is the untouched, breathtaking scenery.
The train cars are heated and are equipped with restrooms. There are five steep steps to get into the train with limited wheelchair accessible seating available.
This is an all-day excursion lasting approximately 8 hours.
Pro Tip: Passports are required for this trip.
There are so many possibilities when you visit Skagway, Alaska; you will have trouble choosing just one. So go for a week and kick back and relax in the most beautiful, untouched paradise you can imagine. Also consider