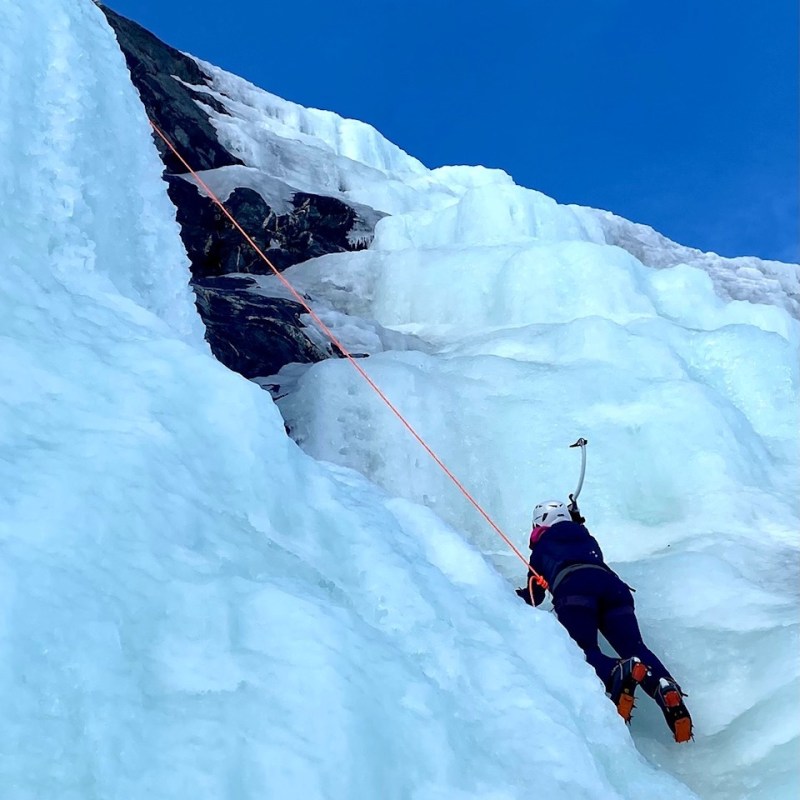 In the deep heart of a February winter, the vast and eye-watering huge Chugach Mountain range near Palmer, Alaska is covered, like everything else in Alaska, in a thick layer of snow. Snow blankets the trees, the roads, the craggy peaks, and the roofs of the houses in the area.
Nearby, the Knik Glacier glows with its eerie blue lights, beckoning adventurers to brave a walk on its ancient ice or test their mettle by ice climbing its frozen waterfalls. That day, however, my travel photographer Lyle and I sped across a nearly unspoiled landscape deep in the Chugach Mountain Range.
I had never been on a snow machine (snowmobile) before, but here I was, navigating tight turns in the thick snow and roaring up steep hills. No matter what you called the motorized beast on skis and tracks that I was racing on, you couldn't call it anything but fun.
Many visitors eschew Alaska in winter, fearing extreme cold or winter weather or citing that the state's famous bears are all in torpor for the winter. However, Alaska in winter offers a whole different look and feel than it does during the busy summer and fall months.
For those who seek bold winter adventures, here's the good news. You don't have to be a young extreme athlete to enjoy these bold winter adventures. While you do need to be physically mobile and healthy, these wild winter adventures — ranging from snow machining to ice climbing — can be enjoyed by travelers of all experience levels and ages.
I've been to Alaska in summer, fall, and winter. While gorgeous at any time of year, a two-week hosted trip by Travel Alaska in winter offered the boldest experiences of all three trips and was my favorite time to visit.
For those of you ready to experience the extremes of Alaska, here are seven bold winter adventures to experience in Alaska.
1. Fat Tire Biking In Anchorage
Cycling in Alaska isn't just a pastime for the milder months in Alaska. Thanks to the advent of fat tire biking, which provides improved grip and traction on ice, snow, and other troublesome terrains, these bikes will allow you to explore Anchorage and beyond on two wheels.
We decided to take in the views of frozen coastal marshes and forested hills along Anchorage's Tony Knowles Coastal Trail along the shore of Cook Inlet from Downtown Anchorage to Kincaid Park by bicycle. Thanks to Pablo's Bicycle Rentals, we were equipped with two sturdy (and fast) e-bike fat tire bikes to navigate the snow and ice-packed walking and biking trail.
The Tony Knowles Coastal Trail runs for 11 miles through Anchorage, passing a site of the worst damage from the 1964 earthquake, Earthquake Park. It weaves past Point Woronzof, public ice skating parks, and through wooded areas, all of which have convenient rest points and great views.
On clear days, you can spot Dghelishla, the mountain otherwise known as Mount Susitna, Denali, and nearby Mount Foraker.
Pro Tip: The trail is mostly paved with a few rough, unpaved areas and a couple of inclines through tunnels, but it should be just fine for anyone fit to ride. I found the e-bikes easier on the body for going up hills or catching some speed, and the fat tires were absolutely a necessity in the snow and ice.
2. Ice Climbing At The Knik Glacier
Some days are forever burned into my memory. This was one of those outstanding days where you had an adventure like no other, days you will remember on your deathbed. Our day of ice climbing in the Mat-Su Valley region outside of Palmer, Alaska, is one of them.
After a short drive from Anchorage to the Knik River Lodge headquarters to start our helicopter/ice climbing excursion with Alaska Sundog Guiding, we were fitted for boots and gear, then loaded up on a helicopter flight over the Knik Glacier.
Alaska Sundog Guiding — a small adventure company owned by a truly delightful young couple named Kate and Tom with a combined 13 years of experience guiding in the Knik River Valley — teams up with Alaska Helicopter Tours to offer helicopter flights and ice climbing on the massive glacier all year around.
I had never been ice climbing before and I'm certainly not experienced in regular climbing, but I couldn't pass on the experience of climbing a 200-foot frozen waterfall on top of one of the prettiest and most striking glaciers in Alaska. Luckily our guides were patient, detailed in instructions, extremely professional, and encouraging on my first-time ice climbing.
Although I battled my fear of heights and had shaky legs the whole time, I actually thought ice climbing was a bit easier than regular climbing. The stunning and weirdly blue landscape of ice from the glacier added a surreal and otherworldly feel to the adventure. After a few climbs, Tom and Kate led us on a hike through this striking place.
As an adventurer over the age of 50, I found the whole day mesmerizing and challenging, but not impossible for someone my age.
It ranked as one of my favorite adventures of the entire trip.
Pro Tips: Like most extreme adventures, ice climbing does have its inherent risk of dangers, so be sure you are physically able to tackle the challenge. If not, Sundog Guiding offers paddling, hiking, and ridge running excursions all year round at the Knik Glacier. Another great thing about Alaska Sundog Guiding is that they share 1 percent of their profits each month with a nonprofit organization that supports the protection of this big ol' beautiful planet.
3. Snowmachine Tour With Alaska Backcountry Adventure Tours
Our snowmachines roared up the peaks of the Chugach Mountains with the views of the snow-tipped mountains splayed out below us. Bundled up in heavy-duty winter riding gear, I didn't feel the bitter cold thanks to the adrenaline racing through my blood.
I had been ATVing before, but the snowmachine was new to me. While pretty timid on this great mechanical beast at first, soon I was keeping up with the rest of the group and taking the slick turns like a pro.
We signed up for a half-day adventure ride with Alaska Backcountry Adventure Tours out of Palmer. Our knowledgeable (and funny) guides took us deep into the most beautiful and remote areas of Alaska to see sights that the average tourist never has the opportunity to see. While they also offer glacier tours, they also offer Alaska ATV & Snowmobile Tours that make you feel as if you are part of this wild landscape itself. They even offer multi-day Alaska Snowmobile Tours for those who want to get lost in the mountains.
All in all, one of my favorite excursions full of adrenaline, laughter, breathtaking sights, and fun.
4. Flightseeing Ride In The Alaska Range
All around our tiny little plane, great shear walls of gray and icy rose-like menacing sentinels surrounded us. I was dumb-struck, the only words I could form were "Holy cow" and "Oh my god." I felt like I was in the presence of something ancient, mighty, and unbelievable.
Our K2 Aviation pilot calmly navigated the thrusts of wind that swirled around our little plane, diving deep between peaks in the Alaska Range to give us an aerial view of one of the most intimidating, gorgeous, and dramatic landscapes in Alaska.
As we made our way to Talkeetna, the giant mountain of Denali loomed above the town, though it was hidden behind the thick veil of winter clouds. As North America's highest peak, soaring to 20, 310 feet, Denali is the giant king of the 600-mile Alaska range in Denali National Park and Preserve.
While more than 1,000 climbers try to conquer Denali's summit each year, we opted for a scenic flight around Denali and the Alaska Mountain Range. K2 offers a variety of tours, but these flights hit the most scenic points of interest, including Kahiltna Base Camp, Denali's West Buttress, Denali's North Face, Wickersham Wall, the Peters, Muldrow, Traleika Glaciers, and more with expansive views into Interior Alaska.
We were nearly in tears with the beauty and majesty of the flight, so while flightseeing tours may be pricey, they are worth the nearly religious experience of seeing this jaw-dropping view of dramatic Alaska.
Pro Tip: If you are prone to air sickness, definitely take medicine to help. The flight got a little rough in places, but our pilot handled it all like a pro. Of all the adventures we had in Alaska, this one was the most emotional in its beauty. Be sure to wear layers, as it can get pretty chilly on the plane.
5. Snowshoe Hiking
Our fun in Talkeetna continued with a guided snowshoe hike through thick, untouched snow with Go Hike Alaska and its founder, Matt Worden. Who says hiking is only for the milder months? While challenging if you've never used snowshoes before, this hike took us deep into the forests around Talkeetna where we spotted moose and other wildlife.
Matt, who is ridiculously knowledgeable about the ecosystem and wildlife, offers both beginner and advanced snowshoeing tours, heli-snowshoeing into more remote areas, winter hikes, and hikes to view waterfalls throughout Alaska.
He also offers multi-day backpacking tours in the summer and specialty tours like foraging adventures that I am dying to go back to experience.
While we got the hang of snowshoeing quickly, we worked up a sweat and tackled a few challenging terrains, but if you can hike, you can snowshoe. It's a great way to spot wildlife and enjoy that crisp Alaskan air.
6. Riding The Dalton Highway To The Arctic
Made famous by the Discovery Channel show "Ice Road Truckers," The Dalton Highway is a 414-mile gravel stretch of desolate highway that connects the town of Livengood to Prudhoe Bay through some of Alaska's most remote wilderness. Ice-covered and lacking in service, this highway is home to truckers shuttling supplies to and from Prudhoe Bay at the top of the Arctic Circle along the Trans-Alaska pipeline.
While dangerous and challenging to drive in a private vehicle in the summer months, it's near impossible to drive yourself in the winter. Instead, opt for a scenic tour to Coldfoot, Alaska, home to the most northern truck stop and saloon in North America.
Our tour with the Northern Alaska Tour Company led us on an eight-hour bus journey starting in Fairbanks that traveled through stark winter landscapes, across the mighty Yukon River, and past the eerie and magical Enchanted Forest to the Arctic Circle. From there, we were transferred into smaller tour vans for our two-day visit to Coldfoot.
Our guide Tim was astonishing, relating facts and stories about Alaska history, the highway, and the Trans-Atlantic Highway for eight hours straight! This was one of the most educational and interesting tours we had, and it was easy to see why The Dalton Highway is considered one of the most dangerous highways in North America.
Pro Tip: Bring snacks. Although you will stop for lunch along the way, it's a long drive. Luckily, you can opt for a plane ride back to Fairbanks when you are done exploring Coldfoot.
7. Northern Lights And Dog Sledding Above The Arctic Circle
Coldfoot, Alaska is one of the few Alaskan communities accessible above the Arctic Circle. It serves as one of the only service stations along The Dalton Highway. Located roughly 174 miles north, it sits in the southern foothills of the Brooks Range, home of the Gates of the Arctic National Park and Preserve and the Arctic National Wildlife Refuge.
Coldfoot is also home to the most northern "saloon" in North America, and when you aren't sipping on Alaskan brews, it is also a place to go on a wildlife safari, take a dog sledding ride, or purchase an optional evening Arctic Village Aurora tour at a historic cabin in nearby Wiseman, Alaska, all of which can be arranged through the Northern Alaska Tour Company.
Pro Tip: Coldfoot Camp is still pretty rough-and-tumble in its simplicity and rustic nature. The bunkhouses were designed for pipeline and highway workers, so don't expect modern luxury. The food at the restaurant and saloon, however, will not leave you hungry.
For more information on traveling to Alaska, check out these articles: