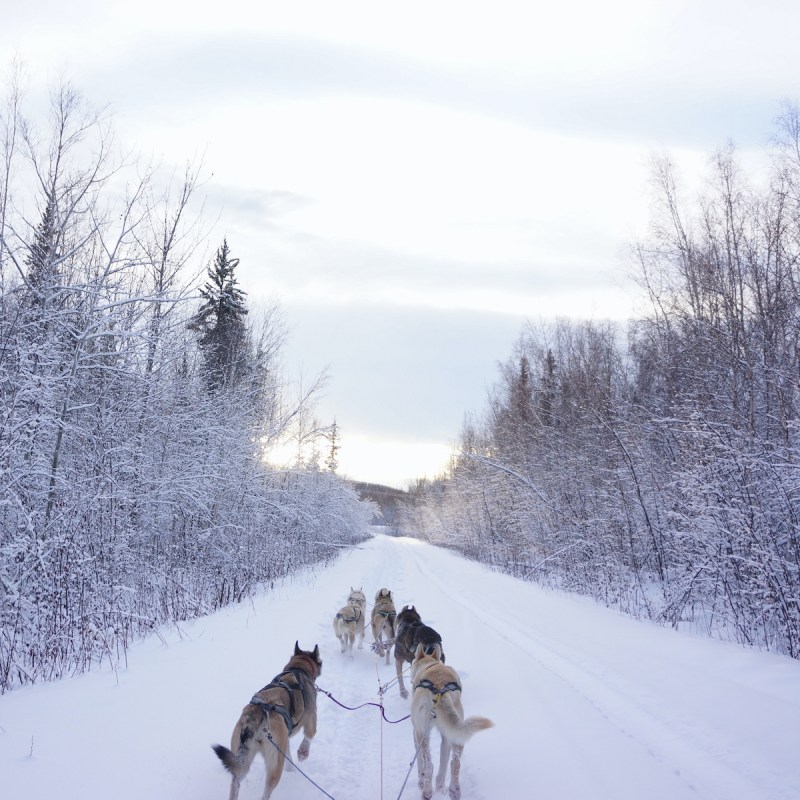 When I was invited to a Society of American Travel Writers meeting in Fairbanks in February 2022, I was excited but thought about how cold and dreary Alaska might be in the winter and wondered why they chose February of all months.
Although I grew up in chilly Cleveland, I live in California now and didn't even know if I would have the right clothes, boots, and underlayers to pull off a trip to Alaska, but I signed up to go to Fairbanks and began preparations. Digging out jackets, sweaters, wooly socks, and boots and packing an enormous bag, I really didn't do much research about what awaited us in this northernmost state.
1. Fairbanks Is A 24-Hour Town
My first clue to why Fairbanks in the winter should have been the odd hours of flights arriving and departing from the charming little airport. I left Sonoma County for Seattle then caught an Alaska Airlines flight to Fairbanks that arrived close to midnight. When I left Seattle, shops were closing down, but when I arrived in Fairbanks, the airport was bustling. Shops and restaurants were open, taxis and shuttles awaited, and the surreal worry I had when I wondered whether I could get into my hotel room quickly evaporated when I saw the shuttle for Pike's Waterfront Lodge parked at the curb.
Hotel offerings are not extensive in Fairbanks, but you will find a few of the major chains like Hyatt Place, Candlewood Suites, Hampton Inn, Best Western, and La Quinta. Pike's Waterfront is a good choice for location, an extensive complimentary breakfast, and a free scoop of ice cream every evening, plus their Aurora Viewing Room and library committed to everything "Alaska."
Vacation rentals are readily available, whether in more populated areas or in the wilderness. Read the fine print to avoid situations like a "honey pot" in the bathroom for your nighttime needs and an outhouse for all other bathroom activities. Yes, this was the fate of a Houston mother and daughter I met ice fishing who endured this primitive living for four days before moving to a more civilized hotel.
Pro Tip: Although it may seem counterintuitive, ice cream is outrageously popular and the quality is superior in this freezing city, as it seems to be throughout Alaska. Just keep your eyes open and count the number of ice cream stores you see along your tour.
2. Winter Means Aurora Viewing Is In Season
The 24-hour vibe in Fairbanks can easily be explained by the main attraction of this Alaskan winter destination. It's the auroras or northern lights, which are a bucket list sight for thousands of people making the journey north. The aurora is a weather phenomenon and, although unpredictable, sightings are more reliable in the winter months when days are shorter and nights longer.
While seeing the northern lights is not a guarantee, the hearty should be successful. Be prepared to stay up all hours of the night, bundle up, and go hunting for the best views of the elusive aurora. If you stay up late enough, you might get lucky and see the northern lights without much effort. Of course, there are also several businesses and apps have that been developed to help wannabe aurora viewers get an edge on viewing.
Apps include My Aurora Forecast, Northern Lights Aurora Forecast, and Aurora Now. Booking a tour through an outfit like Aurora Seekers or heading to a specially designed viewing venue like Aurora Pointe means you will not only increase your chances of seeing the elusive northern lights but also be educated on this phenomenon and how best to chase it.
3. Ice Fishing Fun Without The Chill
I had always wanted to try ice fishing (just like I want to try all types of fishing!) but never imagined I would be one of those hunched over a hole cut in the ice shivering in a shack. But, ice fishing near Fairbanks in a town called North Pole, Alaska, is a blast and not at all the uncomfortable experience sometimes portrayed on film.
Rod's Alaskan Guide Service is perfectly set up for even the youngest — or in my case, inexperienced — "ice fisherperson" with its sturdy shanties and warm wood-burning stoves inside. Rods are tiny things laced with bright pink shrimp as bait that is dropped down a pre-cut hole ready for a bite. And the fish do bite. After a tasty barbecue of reindeer sausage cooked over the wood stove, all of the fish caught by the fishing guests are cooked with butter, garlic, and pepper wrapped in foil and grilled over the same stove. Guests chat, compare the size of their respective catches, and feast on the two unique Alaskan specialties.
Evening ice fishing also comes with the opportunity to do some aurora seeking, making it the perfect two-in-one experience for those willing to stay up late.
4. Stroll With A Herd Of Reindeer
Although most visitors to Fairbanks have never seen a true reindeer, Running Reindeer Ranch provides the opportunity to actually commune with a flock of Santa's finest. Lifelong Alaskan Jane and her family raise a flock of reindeer, the alternative to getting the horse their daughter requested as a teenager. Reindeer are uniquely suited to the Alaskan climate and are comfortable at 65 below zero. They are also gentle creatures, and here they have been raised almost as pets.
At the ranch, guests gather around a circle dotted with bits of Alaskan tundra as the reindeer herd is led to meet their visitors. Now you will see how the "Running" part of the ranch got its name. Initially intimidating, these gentle creatures love nothing more than to be petted, and Jane leads visitors on a tour of the ranch, explaining the uniqueness of the reindeer and the Alaskan wilderness. It is fascinating to see reindeer in their native setting, munching on plants, prancing through the woods, and playing their reindeer games.
Pro Tip: Jane likes to drag out the tour and has much to say, so dress warmly, wearing several layers of socks and warm boots. This was the only time I was really cold during the five days I was in Fairbanks, and I totally skipped the hot chocolate and cookies at the end of the tour in favor of getting warmed up indoors.
Editor's Note: Our Alaska-born editor recommends The Original Muck Boot Company's Cold & Snow boots for your winter footwear needs!
5. Dog Sledding Is An Exciting Cruise Through The Woods
There are several places around Fairbanks to visit Alaskan husky kennels where dogs are trained to pull sleds both for utility and sport. Originally a way to deliver mail and goods to remote, snow-covered destinations, today dogs compete with their handlers in races like the famous Iditarod and remain a fascination for visitors.
Uniquely Alaskan, dog sledding and the sled dogs known as Alaskan huskies, with at least a part of their genetic make-up being Siberian husky, are purpose-driven. The dogs are trained to run as a team and appear to love the chase as much as they crave the cold weather. If reindeer are happy at 65 degrees below, these dogs find their groove at about 50 below zero.
Bundling up and letting a team of dogs pull you is nothing less than a thrill. You'll be warm and cozy as you whip through trees and snowy landscapes, and this is a ride you won't want to end. I rode the sleds at Chena Hot Springs kennels but there are many outfitters in the area including one inside Denali National Park (north of Anchorage and south of Fairbanks).
Pro Tip: While in Alaska, always be on the lookout for moose. These odd, statuesque creatures appear when you least expect them and are always a marvel. One exception is encountering a moose while on a dog sled which, as you may imagine, throws both dogs and humans into turmoil. Good handlers save the day, so no need to be afraid.
6. The Alaska Railroad Train Cuts Through Denali In A Wonder Of Vistas
If you have the time and like a slow, scenic journey, hop on the famous Alaska Railroad and prepare to shoot (by camera) mountains, fields, rivers, and the occasional wild animal while sitting back in comfort having your trip narrated by a professional.
Although those pesky moose are known to shut down the tracks from time to time, take the chance and jump on either in Anchorage, taking the train to Fairbanks, or simply take the 4-hour dinner cruise from Denali. Spectacular scenery, a bar, and the dining car can easily keep you occupied while seeing parts of Alaska not seen by mere automobiles.
Pro Tip: For the best views, sit on the right side of the train as you journey toward Fairbanks and the left as you go back to Anchorage.
7. Chena Hot Springs: A Warm Oasis In The Cold
This one destination has it all. Starting as a popular hot springs destination in the freezing wilderness outside of Fairbanks, Chena now has an ice museum where visitors drink martinis out of ice glasses, plus snowmobiling, aurora viewing, the aforementioned dog sledding, hiking, fine dining, and much more.
Staying at Chena Hot Springs means you have an entire Interior Alaska experience in a one-stop shop. Visiting for the day is just as refreshing and comprehensive if you plan your activities to explore the area then come on back to the lodge and hot springs before cocktails and dinner in their charming restaurant. It's a true Alaskan immersion you won't regret. Tossing your ice cocktail glass into the snow is worth it alone!
Planning your trip to the Last Frontier? For more Alaska inspiration, consider