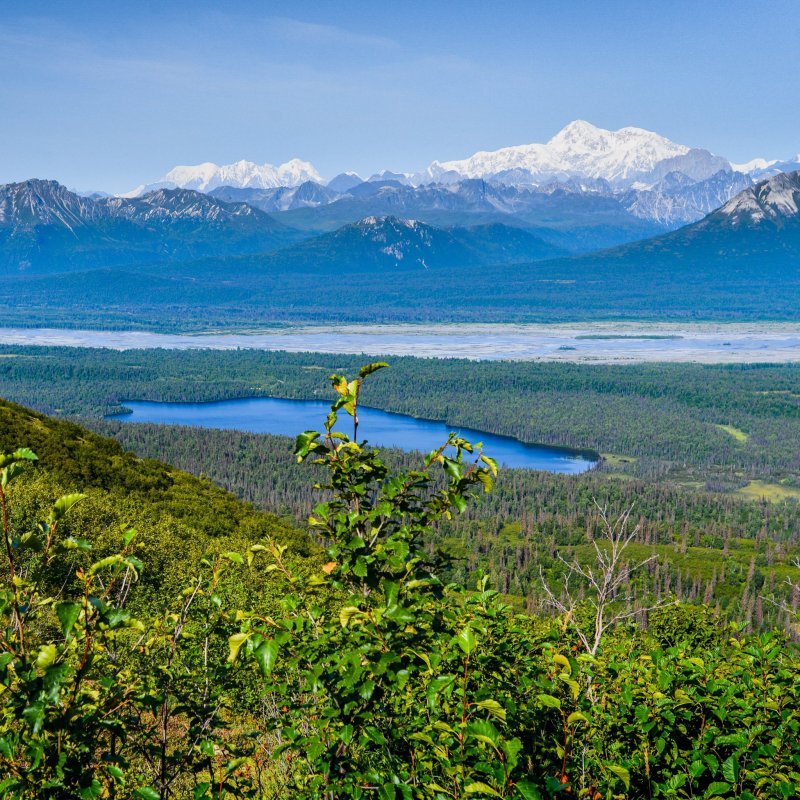 As a fourth-generation Alaskan, I often hear how spoiled I am to have grown up in the wild beauty of the 49th state. Spoiled, perhaps, but not rotten. I'm ever-captivated by the secrets she reveals, even over paths I've walked a thousand times before. Alaska is truly The Last Frontier, the ultimate bucket-list adventure of a lifetime. In the largest state in the nation, plan to go big before you go home.
1. Deer Mountain
Ketchikan
Towering over Ketchikan, Deer Mountain is perhaps the most recognizable landmark in Alaska's First City. A must-do favorite of locals and visitors alike, aptly named Deer Mountain reaches an elevation of 3,000+ feet and is categorized as difficult not only for the incline but for the occasionally treacherous terrain. Starting in the quintessential Southeast Alaskan muskeg, it gradually steepens to alpine, where loose rocks and slick tracks following the abundant "liquid sunshine" — that is, rain — that Ketchikan is famous for, can be hazardous.
While not for the faint of heart, those channeling their inner deer will experience a most spectacular seven miles filled with myriad wildlife, wildflowers, woodlands, and, at the peak, iconic sweeping views of Alaska's famed Inside Passage.
Hikers should stay on the path at all times, and waterproof shoes like the sturdy KEEN Targhee II are key to a safe and dry journey. Dogs are welcome!
2. Ward Lake Trail
Ketchikan
This is my pick for the best hike in Alaska. Check out TravelAwaits' picks for the best hikes in all 50 states here. This peaceful, two-mile easy loop walking trail takes visitors inside the Tongass National Forest, the largest national forest in the U.S., which covers most of Southeast Alaska. Hikers experience the up-close-and-personal majesty of this famous rainforest in the most user-friendly way. Abundant flora and fauna greet hikers as they circle picturesque Ward Lake, and little podiums detailing some of the points of interest dot the way. A genuinely soulful path, one is enveloped in tranquility amongst the giant trees that seem to invite guests to linger. Every step provides a completely new view of the lake, confirming why it is one of the most photographed spots in The Last Frontier. The bridge crossing over Ward Creek is perhaps the most awe-inspiring stop, providing endless Instagram stunners for envious admirers back home.
Ward Lake Trail is stroller and wheelchair accessible and dog friendly (on leash only). Kids will enjoy looking for swarms of little tadpoles at the lake's shoreline, and grills are available for outdoor barbecue fun.
3. Indian River Trail
Sitka
Sitka is the former capital of czarist Russia and home to the beautiful Indian River Trail located a short mile from town. This moderate eight-mile hike begins on the flat and gradually inclines past ubiquitous Sitka spruce and the purest waters on earth, teeming with fish, which both hikers and hungry bears will find intriguing. The final leg of the journey narrows considerably and can often be muddy and wet as though it intends to make visitors work just a bit harder for views of the magnificent 70-foot waterfall that's just around the corner. Once again, those waterproof KEENs will come in handy as the peak is reached and the reward is sweet.
This is a lightly trafficked out-and-back trail where dogs are allowed on leash only.
4. West Glacier Trail
Juneau
State capital Juneau is famous for Alaskan politics, gold, and the exquisite Mendenhall Glacier. The four-mile West Glacier Trail skips the first, hopes for the second, and guarantees splendid vistas of the third. An easy to moderate hike, take West Glacier to the West Glacier Spur Trail, watching for the pink ribbons to keep on track, and marvel at the gorgeous rainforest, waterfall, and lake views up to the lookout point over Mendenhall. Just 10 minutes on the Mount McGinnis Trail presents the glacier in an even more spectacular display, but double back because it swiftly turns into a rock climb requiring Cirque du Soleil-like ability. From the main viewpoint facing Mendenhall, keep curving to the left around the water to find where the glacier meets the rock face, and you'll encounter a startling secret — ice caves.
For the full West Glacier adventure, plan on about four hours roundtrip and exercise caution in the ice caves. They are slick. Dogs are welcome but know porcupines are abundant in this area, which can result in painful encounters for overly curious four-legged companions.
5. Mount Ripinski And Haines Cliffs Overlook Skyline Trailhead
Haines
Haines is famous as Alaska's bald eagle mecca, and photographers from all over the world flock to witness The Gathering in October, when the eagles gorge on salmon in the Chilkat River. This moderate, five-mile well-marked and well-maintained loop begins in the rainforest and inclines steeply in short order. Wooden steps assist with the ascent and make this hike a good fit for almost all ages and skill levels. Locals swear the sweeping view of sparkling fjords, glaciers, and the lovely town of Haines is one of the best trek payoffs ever.
6. Lost Lake Trail
Chugach National Forest
Just a stone's throw from the charming fishing town of Seward on the Kenai Peninsula, Lost Lake Trail is a 14-mile moderate endeavor featuring mild elevation gains and spectacular scenery. A heavily forested start gradually gives way to wider views of the tundra, Resurrection Bay, and the surrounding mountain range as lovely Lost Lake beckons. This epic trek is often described as Acadia, Cascades, and Yellowstone all rolled into one on steroids. Most enjoy Lost Lake as a six-hour day hike, but overnight camping on the soft tundra under the stars is a check off the bucket list.
Access Lost Lake Trail from Primrose Campground on Kenai Lake (Mile 17 of the Seward Highway) or from Mile 5 of the Seward Highway. Dogs are allowed on leash only.
7. Homer Spit Walk
Homer
An Alaskan beach is a fascinating new experience for many visitors, and this easy nine-mile in-and-out walk is ideal for all ages and skill levels. Homer has long held the title Halibut Capital of the World, and Homer Spit, jutting far out into Kachemak Bay, is aptly called the End of the Road. The rugged snowcapped mountains of Kachemak Bay provide a breathtaking backdrop, while the path pops with colorful wildflowers and curious sea otters entertain passersby along this famous stretch of land. Kids and adults enjoy exploring the rocky beach, particularly when the tide is out and sea treasures are left behind. On the return, a walk on the Spit would not be complete without a stop at the famed Salty Dawg Saloon, which is an Alaskan treasure in itself, but no actual dogs (or kiddos) are allowed.
Wet rocks and seaweed can be slick, so tying on a pair of sturdy KEEN waterproof shoes ensures a safe and comfortable adventure. Tides come in quickly at Kachemak Bay, so always be aware of surroundings and note dogs are allowed on leash only.
8. Kesugi Ridge Trail
Denali State Park
Considered by many to be the most beautiful trail in America, this will be the story you tell at dinner parties for years to come. Alaska doesn't always yield her beauty easily and can be quite punishing in the pursuit. This 30-mile point-to-point trek begins on the gentle side, but switchbacks are rare and the upper portions can be quite rugged, particularly in heavy rain. Most plan on a few days to complete this Last Frontier odyssey, but if you're short on time, a day hike on the open tundra still provides sweeping views of the unparalleled Talkeetna and Alaska (Denali) ranges, and there's one more check off your bucket list.
There are a few different approaches for day hiking Kesugi. One option is to start the journey at the Little Coal Creek trailhead on the George Parks Highway (at Mile 164) and end at the Byers Lake trailhead (Mile 147). A second option is via the Curry Ridge Trail accessed from the Kesugi Ken Campground a quarter mile north of the South Denali Overlook. Dogs are welcome.
9. Twin Peaks Trail
Chugiak
Stunning vistas and bountiful wildlife are the order of the day on the moderate eight-mile Twin Peaks Trail in lush Chugach State Park. Plentiful mountain goats and Dall sheep are harbingers that this is going to be a steep climb, but a variety of trail options make it doable for all ages. Shimmering Eklutna Lake is visible throughout the hike as the trail winds up the East Twin Peak Mountain and the vast Chugach Mountain range and glaciers come into view just past the tree line. Late in summer, berries are plentiful and provide delectable deliciousness as you rest on the overlook bench with bald eagles soaring overhead taking in the surrounding glory of The Last Frontier. Bears also enjoy the berries and are not particularly fond of sharing.
Twin Peaks is 97 percent uphill but worth continuing on past the benches as wildlife encounters and landscape viewing are even more remarkable with elevation. This is an out-and-back hike that is kid and dog friendly.
10. Angel Rocks Trail
Fairbanks
Gather the whole crew and head out on this relaxing four-mile loop trail appropriate for all ages and skill levels. Angel Rocks features unique geologic pillars formed over millions of years, and the path incorporates varied terrain that can be particularly steep and rocky on the second half. The trail reaches 1,750 feet at its highest point and offers unobstructed views of the sprawling landscape. If visiting in late fall, you'll have a chance to witness the miraculous aurora borealis. As a reward for a trek well done, a soak in the nearby world-famous Chena Hot Springs beautifully concludes this angelic experience.
Fairbanks is only 198 miles from the Arctic Circle on the Dalton Highway. For the bucket-list folks, it's well worth the drive to cross over to the Morris Thompson Cultural and Visitors Center to collect an official Arctic Circle Certificate.
Pro Tips For Hiking In Alaska
Alaska earned its nickname The Last Frontier for a reason. This is incredibly vast, varied, and often dangerous terrain with weather and tides that can change on a dime, so it is important to review all safety guidelines when planning an adventure. Be aware of possible wildlife encounters, which, while awe-inspiring, can go terribly wrong if you're unprepared.
Bear spray is recommended in many areas. Trails are usually clearly marked with information about any potential hazards ahead, and fellow hikers are also great resources for both exciting sights to look for and dangers to avoid as conditions can change daily. Even in summer, it can be chilly on the upper elevations and rain is frequent pretty much everywhere, so keep a raincoat and waterproof shoes handy.
Everything is bigger in Alaska, and that includes the mosquitoes, which will find you delicious. Bug spray is a must. If you are not a strong hiker, look for offshoots of more challenging trails which often provide fabulous views as well. If purchasing souvenirs, please support this beautiful state and buy Made in Alaska products distinctly marked by the mother bear and cub symbol.
This article is presented by KEEN Footwear. For my hikes, I wore KEEN's Waterproof Targhee II Mid and my 6-year-old son won't go anywhere without his KEEN Big Kids' Waterproof Targhee Low. Hiking in Alaska requires multi-tasking superhero shoes that can traverse myriad terrain, endure brutal conditions, stay dry, and also, very importantly, be lightweight. I was highly impressed by the Targhee's performance on all counts. The added support arch felt like a cloud, and the boots have an esthetic that garnered many compliments on the trail. Shop KEEN's Targhees and other hiking shoes here.