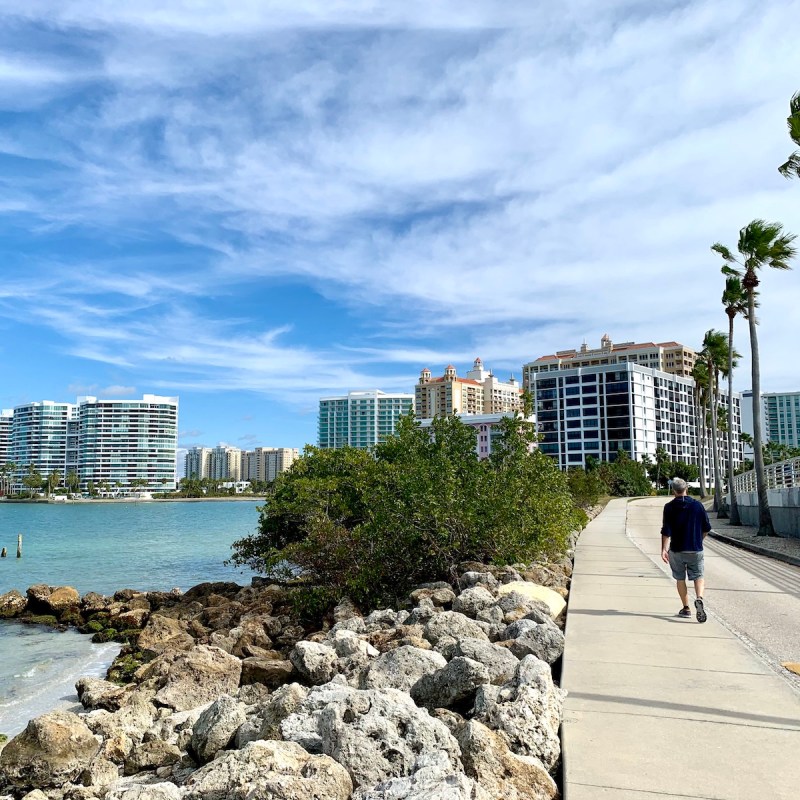 Sarasota, Florida, is a stunning place to live. The city is on the southwestern side of the peninsula — home to the warm waters of the Gulf of Mexico. It's 60 miles south of Tampa and 75 miles north of Fort Meyers. The beaches are gorgeous, including one of America's best, Siesta Key. Siesta Key consistently lands on the list of top beaches for the powdery white sand stretching for miles. It's called the "Cultural Coast" thanks in part to John Ringling's Circus legacy. Here you'll enjoy the professional symphony, ballet, opera, and thriving art scene around the urban center. With diverse restaurant options and natural attractions, there's something for everyone. 
The closest airport is in town, Sarasota-Bradenton International Airport, but visitors can choose other airports in the area such as Tampa International and rent a car to drive the hour south. Either way, it's a breeze to fly in and out of the surrounding area. I recently relocated to this beachfront paradise after living in the northeast since birth. There are many reasons why I selected Sarasota, but here are the top 10 — in no order — and why I've made it my choice in retirement. 
1. It's Easy To Get Here
Sarasota has an airport right in town. Sarasota-Bradenton International Airport is clean, modern, and convenient. Major airlines such as United, American, and Delta, as well as smaller carriers, fly in and out of the area daily. Many offer non-stop service (depending on your destination). There are nine car rental agencies, and the lots are just across the street from the arrivals gate. The main terminal offers restaurants, popular coffee chains, and shopping. The airport is 20 minutes from my current home. If I want my family or friends to fly in, or if I need to fly out, it's convenient.
2. The Weather Is Sunny And Warm
I love the outdoors. They call Florida the "Sunshine State" for a reason, and I am here for it. I lived in New Jersey and Pennsylvania, and while those states are wonderful, winter and fall are cold and wet. It's not the best option for an outdoor lifestyle. I love to ski, so I will plan to visit skiing destinations to enjoy my sport, but I want to exercise every day outdoors at home. The average temperature in fall and spring is in the 80s, and in winter it's around 70 degrees (Fahrenheit). As you head into summer, it's balmy at 90 degrees. I enjoy hot weather, but I can travel if the heat is too much during the summer months. In the meantime, I can bike, kayak, play tennis, golf, and stroll on the world-class beaches every season throughout the year.
3. My Money Will Go Further
Florida has no state or local income tax. In fact, Sarasota is one of only nine states with no income tax. That means no tax on pensions, Social Security, inheritance, or gifts. There's a sales tax of around seven percent, but overall, Florida is a tax-friendly state. Retirees can pick up part-time work if they want to and the income won't be taxed. While tourism is a big part of the economy, there are also major businesses looking to hire. You'll save thousands on your taxes each year. 
4. The Healthcare Is Excellent
According to U.S. News best hospitals data, Sarasota Memorial Hospital (SMH) has excellent marks and is considered a high-performing hospital. The hospital received awards from Healthgrades for orthopedic surgery and prostate surgery, and it is one of America's 50 best hospitals for cardiac surgery. SMH is a full-service public health system with two hospitals (another in Venice, Florida). SMH specializes in heart, vascular, cancer, orthopedic, and neuroscience services with a network of health centers and outpatient centers throughout the city.
5. Retirees Aren't The Only Residents 
Sarasota's population is around 438,000 people (and growing) according to the Sarasota County Sheriff's Office, with a median age of 49. About 14 percent of the population are snowbirds who live in Sarasota for the winter but head north during the heat of the summer. According to the Sharecare Community Well-Being Index, 40 percent of the population is 60 years or older. Retirees here feel happy, safe, and like where they live. 
Sixty percent are young professionals who also call this slice of heaven home. The schools are highly rated, so families are drawn to the area. I believe it's healthy to surround yourself with people of all ages while feeling like you fit in too. There are many ways to connect and make friends with everyone — no matter their age — but it's great to meet other retirees too.
6. The Beaches Are Gorgeous
Sarasota has 35 miles of beaches. There are six barrier islands (called keys) each with its own vibe but all with soft, sugar-white sand, and stunning sunsets. They are quite busy in season, which is February–May, but after the snowbirds fly north, the beaches are wide open. You can pick your favorite, but mine is Lido Key. The northern beach is always quiet, but the relaxed feeling and proximity to St. Armand's Circle is perfect for great meals and shopping. The main area of Lido Key has restrooms, concessions, and a public pool. South Lido Key has a picnic area and a nature trail. Siesta Key is one of the top beaches in America and has an entire village nearby for shopping and dining. It has amenities like a park, a playground, and tennis courts. If you live in downtown Sarasota, you can be on the beach in 10 minutes by car and all the beaches are free.
7. The Arts Are Everywhere
Sarasota has a vibrant art and festival scene. If you love artists, art galleries, and art shows, Towles Court is the place for you. Are you an opera fan? The Sarasota Opera has a variety of performances every season. If you love dance or musical theater, you'll enjoy the Sarasota Ballet or West Coast Black Theater.
Aside from all the performers in clubs and bars throughout the city, the Van Wezel is a performing arts center for concerts and shows of all kinds. There are various museums including the Ringling, which is part of the John Ringling Estate. It's a spectacular art museum campus donated to the city by the circus magnate and his wife Mabel. The couple amassed significant artworks from their many tours throughout Europe when scouting talent for the "Greatest Show On Earth."
8. You Can Enjoy Incredible Food
Dining options are diverse and plentiful in Sarasota. If you prefer laid-back and low-key, enjoy fresh seafood and bluegrass music at Owen's Fish Camp. If you prefer international cuisine, merely walk down Main Street to enjoy Thai, Vietnamese, Greek, Italian, Japanese, Latin, or classic French fare.
9. Golf To Your Heart's Content
There are 29 golf courses in Sarasota that include municipal, semi-private, and private golf operations. The list includes a private TPC course as well as clubs designed by Bobby Jones, Arnold Palmer, and Donald Ross (to name a few). If you're a golfer, you will feel the golf history here. Scottish immigrant John H. Gillespie created the first two holes (eventually it grew to 18 holes total) in 1886 near today's Main Street. Some say this was the first golf course in America.
10. It's A Haven For Nature Lovers
Do you love to spend time in nature? I do. Myakka River State Park covers almost 30,000 acres for bird watching, biking, kayaking, and walking. You'll observe palm trees, live oaks, alligators, and turtles on the winding waterway — Florida's first state-designated wild and scenic river. 
Oscar Scherer State Park offers all of this, plus it's a hidden nature preserve that attracts kayakers, swimmers, and hikers. Enjoy any day at the beach and observe dolphins frolicking in the water or the sea birds darting in and out of the surf. You will love all the green space and shoreline. It truly makes for a relaxing life.
Pro Tip: Sarasota is now the most popular city in Florida to retire for the second year in a row. I'm renting for the first year to experience the lifestyle. I also want to get a feel for the various neighborhoods that make up Sarasota County as they all have appealing qualities. It's important to know what you want in a home when you reach retirement. If you take your time before you purchase, you won't have buyer's remorse. 
For more retirement inspiration in and around Sarasota, check out these stories: