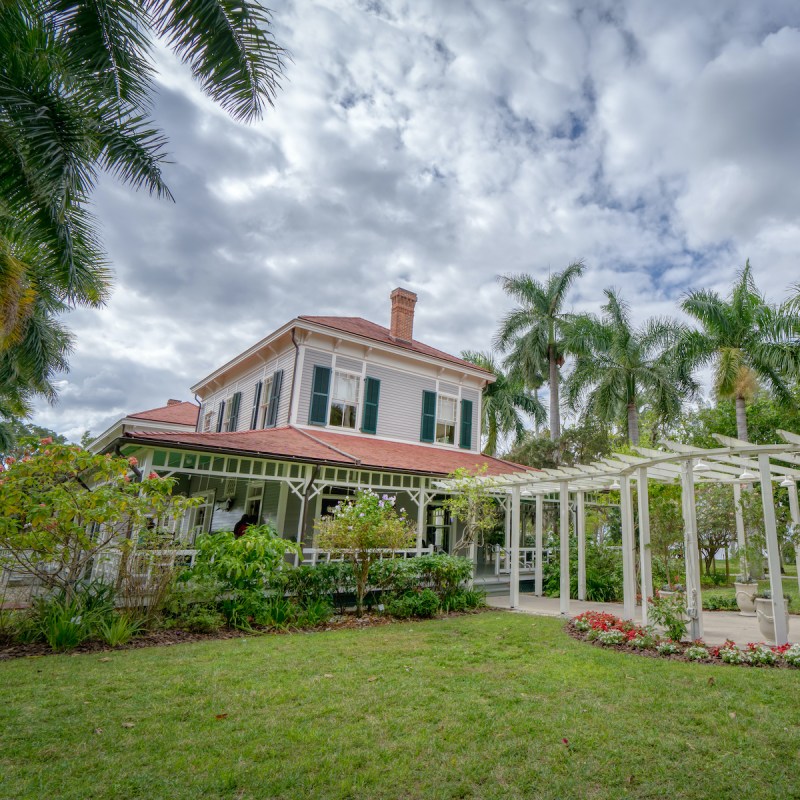 With a historic downtown whose vibrancy grows by the day and its close proximity to some of the best Gulf Coast beaches around, a 5-day stay in the Fort Myers area won't have you wondering what there is to do. More likely you will be trying to figure out how you can extend your stay to fit it all in. Based on my four decades as a full-time resident, this itinerary handpicks the best of the best for you to choose from, depending on your individualized vision of a perfect Florida vacation.
Note: I have been hosted by Luminary Hotel & Co., but all opinions expressed herein are my own.
1. Following In Edison's Shadow
Fort Myers's reputation as a historic destination emanates from the light Thomas Edison shone on it back in the 1880s when he chose the then cow town for his home. The brilliant and illustrious followed in his footsteps, and now you can too.
Edison And Ford Winter Estates
Edison's close ally, Henry Ford, followed very closely behind the prolific inventor — he moved in next door, in fact. The two historic estates make up Fort Myers's main attraction, the Edison and Ford Winter Estates on the Caloosahatchee River. Besides the original riverside homes, visitors can tour Edison's experimental and botanical gardens, his lab, a museum that showcases his inventions, early model Fords, a swimming pool, and other buildings and artifacts.
Theme Restaurants
Downtown's Ford's Garage was the launchpad for a chain of popular eponymous burger and craft beer restaurants in Florida and beyond. (There's also a nearby Edison Restaurant at the Fort Myers Country Club, but it's not nearly as popular.) Tire mogul Harvey Firestone, an Edison colleague who also set up winter headquarters in Fort Myers, inspired yet another downtown restaurant in his name that specializes in fine steaks and seafood.
Luminary Hotel & Co.
Continue your stay in Edison theme with an overnight at Luminary Hotel & Co., the newest hotel complex in the historic Fort Myers River District and part of the Marriott Autograph Collection. Historic photos of Edison and other local luminaries decorate the hotel and its lively food and beverage outlets, which have, since it opened in 2020, perked up the riverfront just blocks from the winter estates.
Be Inventive
Make like Tom and Henry at the IMAG History & Science Center in downtown Fort Myers. Build anything from a rollercoaster and castle to a gizmo of your own invention in the Hands-On Hall. Other exhibits explore sea life, weather, and local history.
McGregor Boulevard
When I say "cow town," I'm not kidding. Cattlemen drove their herds right down Fort Myers's main street. Edison is responsible for turning the street, which passed through his property, into a lovely, royal palm–lined boulevard that eventually gave Fort Myers its nickname "City of Palms." Today, the drive between south Fort Myers and downtown takes you along historic residential neighborhoods, art complexes, a city golf course, one-of-a-kind shops, and restaurants.
2. Downtown Fort Myers Dining And Revelry
A few short decades ago, downtown dwelt on death's doorstep as newer neighborhoods stole the limelight. That all changed with a redevelopment project and the Historic Fort Myers River District agency that has resuscitated its heart and infused a youthful vibe.
Street Parties
Each month, Music Walk (the third Friday) and Art Walk (first Friday) close off streets for pedestrian traffic while bringing performance and visual arts to the forefront. Watch the downtown calendar also for annual events, such as Taco Fest and Freedom Fest. With the reopening of renovated Centennial Park and its new amphitheater on the Caloosahatchee River, expect more concerts and festivities.
Party From The Rooftops
It all started with the Sky Bar atop Firestone Grill Room, where folks crowded nightly for drinks and views of the Caloosahatchee River and historic Fort Myers River District. Then Luminary Hotel introduced its 12th-floor Beacon Social Drinkery, which quickly became the hotspot. More recently, the Sidney & Berne Davis Art Center debuted a rooftop sculpture garden with its own bar four stories high.
Pro Tip: On the horizon, look for another sky bar at the forthcoming Banyan Hotel from the Hilton's Tapestry Collection.
The Veranda
Downtown's dining scene keeps pace with the party vibe as new restaurants pop up along First, Main, and side streets. One, however, has stood as an icon of Fort Myers history and dining since 1978. The Veranda lives in two restored pioneer homes and shows its class with Victorian architecture and elevated Southern cuisine.
Breakfast And Brunch
After a night on the town, you may need a good, solid culinary start to the day, and Fort Myers offers plenty of fun options. My new favorite, Ella Mae's Diner in the Luminary Hotel, takes its name from late 19th-century doctor, visionary, and philanthropist Dr. Ella Mae Piper; and its cuisine from her soul-food roots.
Or, join the working class for an affordable classic breakfast at the 30-year-old Oasis Restaurant.
Weekend brunch at The Standard is its own delicious occasion, often with live entertainment, such as Drag Queen Karaoke and Drag Me to Church events.
3. Day At The Beach
Any visit to Southwest Florida requires beach time. It's quite simply nonnegotiable.
Sanibel Island Beaches
Famously scoured for its wealth of seashells on the seashore, Sanibel's 12-mile continuum of gulf coast beach is loved also for its wildlife and undeveloped character. For the best birding, hit Lighthouse Park Beach. Shelling? Bowman's Beach.
Bailey-Matthews National Shell Museum
Once you catch the shelling bug (and you will), learn about your finds and the creatures that once occupied them at the one-of-a-kind Bailey-Matthews National Shell Museum, filled with aquariums and exhibits that explore the role of shells and mollusks through history. The museum also leads a daily guided shell walk to further your shell-smarts.
Fort Myers Beach
So close, but yet so far from Sanibel in character (think shellers vs. hellers), Fort Myers Beach (FMB) has an old-timey Florida beach feel. That's changing with the construction of a Margaritaville resort, but its playtime, party-on vibe persists, especially during spring break. Lynn Hall Memorial Park is most popular with families, anglers (there's a fishing pier), diners, and partiers.
Lovers Key State Park
Head south of FMB's hubbub to find beach gem Lovers Key State Park, where dolphins, birds, kayaking, and educational programs add dimension. Before or after the beach, stop in at its new Discovery Center to cool down and learn beach and wetlands ecology.
Beach Resorts
Just can't pull yourself away from the beach? From barefoot cottages like Gulf Breeze Cottages on Sanibel Island to destination family resorts like South Seas Island Resort on Captiva Island and Pink Shell Beach Resort on Fort Myers Beach, the options are endless.
TravelAwaits own William Stupp also compiled several beautiful Fort Myers Beach vacation rentals, all unique and accomodating of different travel needs.
Pro Tip: Best restaurants with beach views? Thistle Lodge on Sanibel Island and Fresh Catch Bistro on Fort Myers Beach.
4. Wildlife Safari
Long before ecotourism became a thing, this part of Florida attracted wildlife lovers seeking the flipside to the state's theme-park reputation.
J.N. "Ding" Darling National Wildlife Refuge
Most widely known, "Ding" Darling on Sanibel Island has attracted birders since the 1940s. Within its 6,400 acres of on-island wetlands and mangrove forests, it also harbors manatees, alligators, river otters, horseshoe crabs, and bobcats in its diverse habitats. Motorists, hikers, cyclists, boaters, kayakers, and paddleboarders have the good fortune to get within easy spotting distance of wild animals often.
For more on "Ding" Darling, see: Florida Wildlife Refuge First To Help Color Blind Visitors See Its Unique Beauty
Manatee Park
Your prospects for spotting the beloved manatee shoot way up in Fort Myers's Manatee Park during the cool months of winter, when they seek out the relatively warm waterways. Rent a kayak and paddle among the gentle giants — bulbous mammals that have survived from a prehistoric era.
Rotary Park Environmental Center
Across the river from Fort Myers, Cape Coral celebrates its population of pint-sized burrowing owls with a festival every February. Most times of the year, you can spot the ground-dwelling birds — plus butterflies, migratory birds, and alligators — at Rotary Park Environmental Center.
Pro Tip: Bringing young adults along? Read the book or watch the movie Hoot with them. Its fictional town is modeled after Cape Coral and its burrowing owls.
More Birds And Gators
Two parks in Fort Myers are known for their bird and alligator populations. Six Mile Cypress Slough Preserve leads free guided tours along its 1.2-mile boardwalk trail through wildlife-rich wetlands. At Lakes Park, you can follow biking trails and a boardwalk through bird habitat, pedal a boat in the lake, and even ride a miniature train at the Railroad Museum of South Florida.
Butterflies Aflutter
A couple of Fort Myers attractions make butterfly spotting easy with contained habitats. Both The Butterfly Estates downtown and Calusa Nature Center & Planetarium specialize in native Florida species, such as zebra longwings, monarchs, swallowtails, and gulf fritillaries. Calusa Nature Center & Planetarium also hosts other live animals, such as birds of prey, baby alligators, snakes, and bees.
5. Get Artsy
Downtown Fort Myers might be the heart of the region's artful inclinations, but you will find art centers, galleries, and theaters throughout the area's communities.
On Stage
Live performing-arts venues range from bars, like downtown's Barrel Room, to the Broadway productions and national acts that take the stage at Barbara B. Mann Performing Arts Hall at Florida SouthWestern State College. Downtown, professional Florida Rep garners raves. Along the McGregor Boulevard corridor, Broadway Palm has been performing musical dinner theater for 30 years. In September, plan on attending the county-wide Island Hopper Songwriter Fest.
Sidney & Berne Davis Art Center
Also downtown in a circa-1930 neoclassical federal building, the Sidney & Berne Davis Art Center hosts important visual art exhibitions, live music, film festivals, and special holiday goings-on.
Alliance For The Arts
Begun as a small community art facility, Alliance for the Arts has grown — and continues to do so — as the heart of Fort Myers's visual and performing art along McGregor Boulevard. From its greens market and performance stage to its spread of outdoor sculptures and annual festivals, it stays ever vital.
Pro Tip: Watch as the arts center develops its urban art-fitness facility featuring the seminal work of late street artist Keith Haring.
6. Sports Whirl
Spectator and participatory. On land and on water. Sports happen everywhere in Fort Myers.
The Home Teams
Fort Myers hosts one minor league and two major league baseball teams, plus professional hockey. The Boston Red Sox play their spring training season at JetBlue Park at Fenway South, while the Minnesota Twins compete in the Grapefruit League at Hammond Stadium in Lee County Sports Complex. In summer, Hammond Stadium hosts the Florida State League team, the Fort Myers Mighty Mussels. In nearby Estero, the Florida Everblades compete at Hertz Arena in the ECHL, a minor-league affiliate of the National Hockey League. 
Golfing
Beyond its grabbag of golf holes on courses throughout the area, Fort Myers boasts two claims to golf fame. It is the site of the first Popstroke, a mini-course on steroids developed by Tiger Woods's team. Topgolf brought its state-of-the-art concept to town in 2021, with more than 70 climate-controlled driving bays, food and drink, and the latest technology.
Watersports
With the Gulf of Mexico, bay waters, rivers, and streams, it's hard to stay out of the water in Fort Myers. I cannot imagine a visit to my neighborhood without getting out on a boat or at least a beach. Charters, tours, and rentals facilitate fishing, parasailing, kayaking, paddleboarding, surfing, water-skiing, jet-skiing, kite surfing, boogie boarding, snorkeling… the list goes on and on.
For more water activities in Fort Myers, see: The 5 Best Experiences On The Water In Fort Myers, Florida