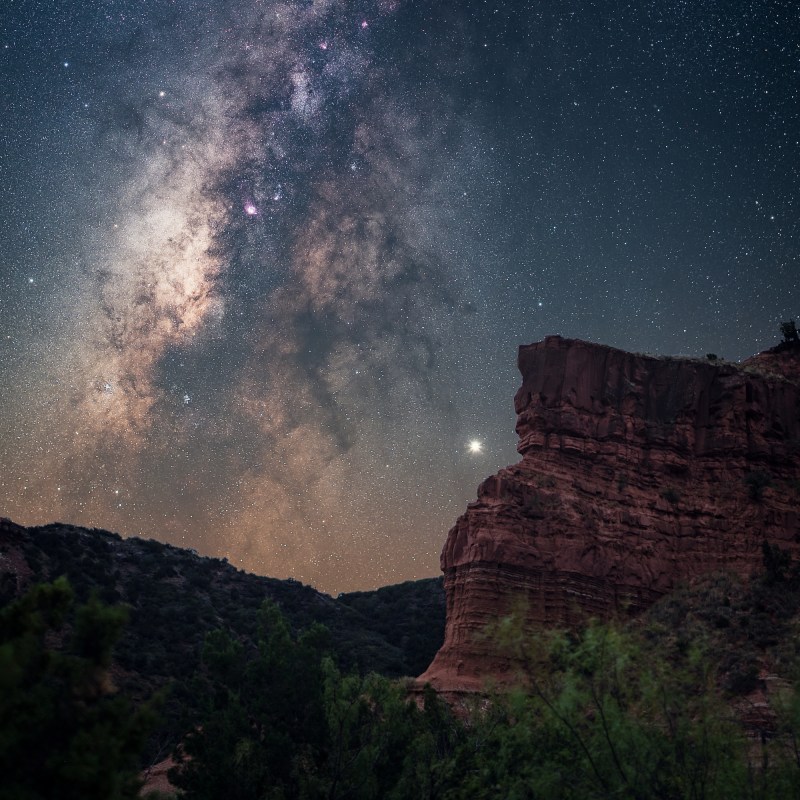 Have you ever seen the Milky Way? If not, you are not alone; neither have 80 percent of Americans. The issue is the light pollution in the nighttime skies. But the Texas Parks and Wildlife Department is doing something about that.
In partnership with the McDonald Observatory, the International Dark-Sky Association (IDA), and local astronomy groups, the department is promoting stargazing in our state parks. Natural darkness is fading. The hope is to raise awareness of night skies with educational programs about light pollution, constellation tours, and star parties.
The Bortle Scale rates how well you can see the stars in a specific location, ranking the light pollution and glow in the sky. Lower numbers indicate darker skies. Try this website, Clear Outside, to measure dark sky quality where you are. After filling in my address, my suburban neighborhood is a Class 8. Our cabin in Bosque County is a Class 3. Steven at the McDonald Observatory suggested two smartphone apps for stargazing, Sky Safari or Solarium.
Note: You may find limited cellular service in many of these remote parks, so take your telescope, tripod, and digital camera.
Explore, with me, 12 Texas state parks rated with a Bortle Scale of Class One through Class Three, listed alphabetically, for camping and marveling at the stars.
Class One State Parks
1. Big Bend Ranch State Park
Near Big Bend National Park
Big Bend Ranch State Park, west of Big Bend National Park, has the darkest night skies for stargazing in Texas. With over 311,000 remote acres along the Rio Grande in Brewster and Presidio counties, the park is the largest in Texas. Enjoy 238 miles of multi-use trails for hiking, biking, riding horses, as well as river access at several points along scenic FM 170. See a park ranger at the headquarters for the most up-to-date options for your remote camping and which roads need four-wheel drive and high clearance.
Be sure to hike the scenic Closed Canyon Trail, a 1.4-mile roundtrip, or the Ojito Adentro Trail, a 1.4-mile roundtrip with a cave, ferns, and a refreshing spring. Now is the time to go since temperatures in the summer can reach as high as 130 degrees. The best spots for stargazing are along River Road, Big Hill, at the West Contrabando Trailhead, and the Hoodoos.
Pro Tip: Located a mile and a half east of Lajitas Golf Resort on FM 170, Barton Warnock Visitor Center serves as the eastern entrance to Big Bend Ranch State Park. Named after Barton Warnock, the Big Bend biologist who cataloged much of the Chihuahuan Desert plant species, you'll find RV camping, desert wildflowers, cacti exhibits, information, maps, drinking water, and souvenirs.
2. Devils River State Natural Area
Near Comstock
The Devils River, fed by numerous springs, flows through wild and remote Texas wilderness, past brushy banks, scenic canyons, and rugged ridges north of Del Rio and Lake Amistad. The put-in at Baker's Crossing is about 50 miles north of Del Rio. River access requires a Devils River Access Permit, plus camping fees at designated campsites. All privately-owned property along Devils River enforces trespassing issues. No campfires are permitted. Campers must pack out all trash, and WAG bag use for human waste is required. I would recommend Amistad Expeditions, which offers trip planning, shuttle service, kayak rentals, and guides for first-time explorers. Devil's River State Natural Area has a "Dark Sky Sanctuary" designation from the International Dark Sky Association.
3. Kickapoo Cavern State Park
Near Bracketville
Kickapoo Cavern State Park, located under 30 miles north of Bracketville, offers cave tours with reservations, camping, bird-watching, hiking, mountain biking, and in-season bat flight viewing. The park requires day passes or camping reservations. Hike early morning for wildlife viewing on Pine Canyon, Armadillo Lookout, or Vireo Vista Loop trails. Beautiful dark sky viewing is waiting for you.
Class Two State Parks
4. Balmorhea State Park
Near Fort Stockton
Watch for the reopening of Balmorhea State Park after repairs to the pool and the addition of 643 acres of neighboring land, 57 miles west of Fort Stockton. You can bring your snorkeling gear and swim with the fishes, including two endangered fish, the Pecos gambusia and the Comanche Springs pupfish. The 25-foot-deep 1.3-acre pool, spring-fed by the San Solomon Springs, drains into two cienegas for nature watching and hiking. Camping is available, plus lodging at San Solomon Springs Courts, a retro-style motel.
5. Caprock Canyons State Park And Trailway
Near Turkey
Protected bison roam the plains at Caprock Canyons State Park and Trailway, located in the Texas Panhandle, about 100 miles southeast of Amarillo. Hike through the red rock canyons and 90 miles of trails, explore the bats roosting in the Clarity Tunnel, and enjoy no-wake fishing, boating, and swimming at Lake Theo. I would leave the mountain biking and horseback riding to the more experienced riders since sharp cliffs and drop-offs along the trails may be challenging. By reservation, campsites range from drive-in sites with electricity, hike-in primitive sites, or campsites with corrals for your horses.
6. Copper Breaks State Park
Near Quanah
Early Americans, including the Comanche and the last Chief Quanah Parker, have camped at Copper Breaks State Park near Quanah for years, amid the quiet lakes and rugged terrain. The official state of Texas longhorn herd resides in the park. Enjoy camping, hiking, mountain biking, and fishing in Lake Copper Breaks or Big Pond with no fishing license required. Enjoy gazing at the Milky Way at this International Dark Sky Park.
7. Devil's Sinkhole State Natural Area
Near Rocksprings
Devil's Sinkhole is a gigantic vertical cavern, 50 feet wide with a 140-foot deep shaft dropping into the cavern, housing three million Mexican free-tailed bats from May through October near Rocksprings, in the Hill Country. Enjoy nature walks and birding tours through the 1,860-acre natural area. Guided tours require reservations and begin at the Devil's Sinkhole Visitor Center in Rocksprings. You'll meet the San Antonio Astronomical Association members who frequent the dark skies at Devil's Sinkhole.
8. Seminole Canyon State Park And Historic Site
Near Comstock
Located east of the Pecos River High Bridge, 9 miles west of Comstock in Val Verde County, along the Rio Grande near Del Rio, you will find pictographs of early canyon dwellers on the stone walls of Seminole Canyon in the state park. Camp at one of the 46 campsites, either primitive drive-up sites or sites with water and electricity, all with restrooms and showers nearby. Enjoy hiking, mountain biking, geocaching, nature study, and history.
Class 3 Parks
9. Colorado Bend State Park
Near Lampasas
Located on 5,328 acres in the Hill Country, 2 hours northwest of Austin, Colorado Bend State Park is home to caves, springs, and sinkholes. Enjoy the beauty of Gorman Falls, take a cave tour, fish, paddle the river, or cool off in Spicewood Springs. Camping with water but no hookups are available at drive-up sites or tent sites. Hike-in sites are primitive. Composting toilets and an open-air shower are near the campground. Take advantage of the dark skies for stargazing.
10. Enchanted Rock State Natural Area
Near Fredricksburg
Legend says the Tonkawa Indians named this pink granite 425-foot monolith Enchanted Rock, believing magical ghost fires glowed at the top after a Spanish conquistador cast a spell on it. North of Fredericksburg, Enchanted Rock offers hiking, backpacking, camping, rock climbing with a permit, picnicking, geocaching, bird watching, nature study, and stargazing. Enchanted Rock is a protected International Dark Sky Park where you can easily photograph the Milky Way.
11. Lost Maples State Natural Area
Near Vanderpool
Lost Maples, 2 hours northwest of San Antonio, is known for the most vividly colorful red, orange, and yellow bigtooth maple leaves in the fall, along with red oaks and blazing red sumac trees. Throughout the year, look for wildflowers, explore the scenic Sabinal River and steep canyon walls. Camping is available at 30 campsites with water and electricity, plus hike in to primitive campsites. Fishing from the shore or the pier without a required license is fantastic fun for the kids. Enjoy birding, nature hikes, kids' ranger programs, and best of all, excellent dark sky viewing.
12. South Llano River State Park
Near Junction
Located in the southwestern Hill Country near Junction, South Llano River State Park is an excellent place for swimming, floating, tubing, paddling, and fishing the spring-fed South Llano River in the warm months. Now is the time for camping, hiking, biking, canoeing, kayaking, stargazing, birding at one of the four bird blinds, or wildlife photography. You will find one of the largest turkey roosts in Central Texas in the park, protected from October 1 through March 31. Download the Field Checklist: Birds of South Llano River State Park, and look for over 250 species of birds. You'll find another International Dark Sky Park here.
Take advantage of these dark sky parks to view the Jupiter and Saturn conjunction, appearing closest together after sunset in the southwestern sky from now through December 21, 2020, the closest together since 1623. The "Great Conjunction" of Jupiter and Saturn will form a "Christmas Star" on the winter solstice, the shortest day of the year. Happy stargazing!
Related articles: