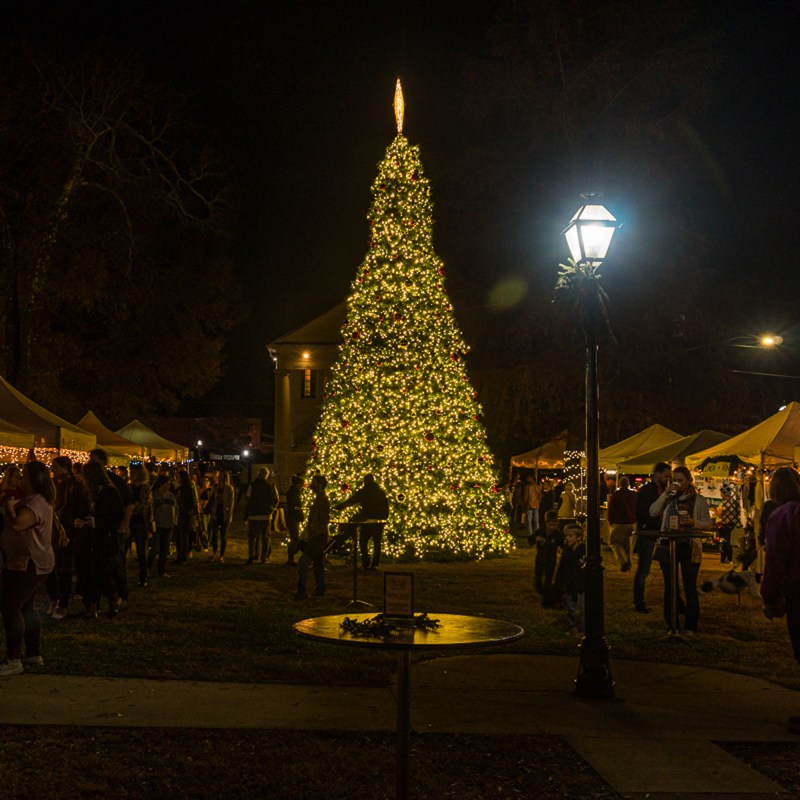 South Carolina is rich in history, beautiful beaches, friendly inhabitants, and many other good things, but snow is not among them. However, the lack of white precipitation in no way dampens the spirit in South Carolina Christmas towns, nor does it make those towns less worthy of Hallmark Christmas movie town status.
In the same way, each town has its own look, feel, and story; each also has its own individual Christmas vibe. With so many delightful destinations from which to choose, deciding among them is impossible. But here is a small sampling of shining South Carolina towns where all your Hallmark Christmas movie dreams can come true.
12 Best South Carolina Christmas Towns – Hallmark Style
1. Greenville
America's friendliest town, Greenville, ratchets up the welcoming warmth and hospitality at Christmas. Twinkling tree-lined sidewalks on Main Street. Santa glided down the street in his motorized sleigh (a converted 1993 Ford Aerostar). Ice skaters doing some gliding of their own at a mini replica of Rockefeller Center. These are a few of Greenville's favorite things, and the Hallmark movie-style happenings just keep on coming.
Christmas carolers in the streets, dozens of giant brightly decorated trees at local hotels for the annual Festival of Trees competition, as well as a community Hanukkah celebration and Menorah Lighting, create a full holiday experience. Of course, Greenville holds a parade and a Kringle Holiday Market featuring artisan vendors, rides, entertainment, visits with Santa, food, and a Biergarten at Fluor Field baseball stadium. 
Pro Tip: Stay at the Westin 4 Diamond Poinsett Hotel. In front of the building stands a statue of South Carolinian, Joel Poinsett, who brought a certain popular Christmas plant to America.
2. Pelzer
What this tiny Christmas town lacks in numbers, it more than makes up for in heart, especially during the holidays. Pelzer, without a doubt, would make the perfect setting for a happy Hallmark Christmas movie.
The holiday joy begins in mid-November with the Pelzer Christmas Market, held at the Historical Gym Property, featuring handmade crafts, candles, jewelry, gifts, and home decorations. Admission is free and a photo with Santa will set you back only $10. A petting zoo for the little ones and an assortment of food vendors round out the perfect pre-Christmas day.
By early December, Pelzer is lit up to the rafters, including some of the residents. No, it's not what you think. The Light People have been a beloved Christmas town holiday tradition for over 3 decades, spreading cheer throughout the town and at local nursing homes. These dedicated volunteers dress up in holiday outfits festooned with multi-colored LED lights and dance on roller skates to upbeat holiday music for the delight of all.
Pro Tip: The Light People could be anywhere at any time, starting in early December. Your best bet is to call the Town of Pelzer's main number to be sure you don't miss this unique, fun experience.
3. Aiken
A visit to Aiken is a joy any time of year, but during the holidays, this charming equestrian town becomes the ideal spot to star in a Hallmark Christmas movie. Even the horses trot into the holiday spirit during the Hoofbeats and Christmas Carols Parade downtown. Horses and carriages, as well as dogs walking their humans, create a festive mood with community caroling following the parade, which reminds me of another memorable Christmas parade in Maryland.
The annual Festival of Trees at the City of Aiken Visitors Center & Train Museum is a joyous family-friendly event lasting through New Year's Eve. Come see the spectacular display of artfully decorated trees and be sure to vote for your favorite. Admission is free and all children must be accompanied by an adult.
The annual Aiken Jaycees Christmas parade, Night of 1,000 Lights, and a leisurely ramble through brightly lit garden paths at the Annual Christmas in Hopelands event bring locals and visitors together to celebrate the warmth and joy of the holidays. More such opportunities can be found at the Christmas Craft Show and Christmas Crafts at the Farmers Market, where shopping and camaraderie go hand in hand.
Dreaming of Aiken – your dream vacation awaits you
Top guest reviews
Great location in quiet neighborhood, close to everything. Looks just like photos. Would stay again if back in Aiken!
As advertised the house was well decorated, comfy beds and stocked kitchen. We really enjoyed the stay!
Friends from Charloote and Hilton Head met half way point in Aiken. Great location. Easy access to the historical downtown area, restaurants, shopping, and other activities. Top notch
Our stay was amazing. The location is just a couple blocks from downtown, and the neighborhood is lovely and very quiet. The house is perfectly furnished- comfortable and well-appointed; there is a nice terrace surrounded by flowers and a big grill out back. The kitchen has everything you could want; the appliances (including the washer/dryer) look brand new. We arrived after a 7 hour drive, and there were snacks, cold sodas…very thoughtful and we so appreciated it! The house was immaculate…and the bed linens were the best. Definitely stay here if you can…I could move in permanently!! I can't wait to return.
Gray house in a great location. Very comfortable
Read Less ∧
Read More ∨
Dreaming of Aiken – your dream vacation awaits you
Top guest reviews
The loft is charming with a lot of character and in a perfect location. Walking distance to cute shops and good restaurants. The place was well stocked and had everything we needed. The king bed in the master was very comfortable. We highly recommend and will definitely be back.
Bright, cheerful, right in the middle of shops and restaurants.
It is extremely clean and has everything to meet our needs., down to ziplock bags. The bed is very comfortable. We loved the atmosphere of the loft including the many books. Checkin process was fantastic. We had no issues during our stay. We hope to come back every year for a nice getaway. Thank you for sharing the apartment.
Lovely stay but a bit disappointed that news channels were limited to one pov. Not even able tostream my preferences.
We loved our stay and everything about this charming property! The owner was easy to communicate with, the location is great and the decor is warm and welcoming. We were in town for a horse show at Bruce Field and this was a perfect location for us. Overlooking the wonderful shops and restaurants downtown and only 5 minutes from the show grounds. We will definitely be back!
Read Less ∧
Read More ∨
4. Easley
Located in Upstate South Carolina, Easley is blessed with the kind of spirit that makes it a shoo-in for a Hallmark Christmas movie.
Easley's Holiday festivities kick off the first weekend in December with its Holiday Market. This event is perfectly timed to help jump-start the season with shopping opportunities galore, free photos with some of your favorite Christmas characters, and free hot cocoa and cookies.
Downtown Easley is the site of the highly anticipated early evening Christmas Parade of Lights. This annual event is hosted by the Greater Easley Chamber of Commerce.
The entire Christmas town gets into the act when it comes to putting up brilliant holiday displays. Bright lights and dazzling colors illuminate the night from homes, churches, public buildings, and just about anywhere there's electricity.
5. McCormick
For a pretty Christmas town with a population of less than 3,000, McCormick makes the holiday season shine with big-time celebrating, just like in a Hallmark Christmas movie.
To help everyone get into Hallmark movie mode, the 2021 Holiday on Main (HOM) Christmas Parade has as its theme "Cultivating a Hallmark Christmas." Of course, Santa is primed and ready for fun and photos.
The Holiday Market at the Cotton Gin, featuring local and regional artisans selling unique handcrafted creations, as well as the Festival of Trees at the Grist Mill make excellent use of McCormick's historical sites. These sites greatly remind me of Shepherdstown, a town that invites people to experience Christmas in West Virginia.
Santa and his elves assist in the tree-lighting ceremony. And everyone is counting the days to the Chamber of Commerce Cookie Walk. A $10 advance ticket purchase buys over 25 individual cookies or baked items from participating local businesses.
6. Myrtle Beach
Who says you can't have a Hallmark Christmas at the beach? Certainly, Santa doesn't, and neither do the Myrtle Beach locals and visitors who make Christmas merry in this coastal Christmas town.
Begin with Winter Wonderland at the Beach, a holiday event featuring a covered outdoor ice-skating rink, a walk-through light experience, and other holiday happenings at the Burroughs and Chapin Pavilion Place. Then take in the magnificent display of The Great Christmas Light Show, where you can drive through over 2 million sparkling lights at the North Myrtle Beach Park and Sports Complex.
The Christmas Show of the South, a Myrtle Beach tradition, brings the warm spirit of Christmas to life with music, comedy, and dance.
If you'd like to spend your Christmas at a beach in an European country, Spain would be a great place to visit!
7. Murrells Inlet
One of the oldest and smallest towns on the Grand Strand, Murrells Inlet was once a quiet fishing village. Today, it is a popular spot for vacationers. But during the holidays, Murrells Inlet emits a definite Hallmark Christmas movie vibe.
The highlight of the season is Nights of a Thousand Candles at Brookgreen Gardens, a wondrous extravaganza of over 2,800 hand-lit candles and countless sparkling lights illuminating the magnificent sculpture gardens. Visitors stroll the pathways, marveling at the seasonal lighting and decorations. Each evening, guests can enjoy the Lighting of the Trees at 6:45 p.m. at the Leonard Pavilion.
At the annual Santa Crawl on the MarshWalk, revelers meander the boardwalk along a natural saltwater estuary, enjoying beverages and dinner specials at MarshWalk restaurants. MarshWalk is also the location for the annual Christmas Parade.
Pro Tip: Myrtle Beach lies 20 minutes from Murrells Inlet, making a double dose of holiday fun a realistic goal. And if you're a lover of small, cozy towns during the Holidays, there are number of adorable towns you can visit in Vermont that feel like a Hallmark Christmas movie!
8. Manning
Quiet streets lined with stately oaks and antebellum homes make historic Manning a delight to visit. Located approximately 65 miles from South Carolina's capital of Columbia, this picturesque Christmas town could star in a Hallmark Christmas movie.
Manning may not necessarily be a beehive of organized activity during the holidays, but the town is brightly illuminated, lovingly decorated, and full of warmth and whimsy. It's the ideal location for a relaxed, unhurried holiday.
Every year, Manning's residents gather to enjoy the Parade of Lights, which rolls through town spreading cheer right after Thanksgiving. Lighted trees cast their merry glow on Manning until early in the New Year.
"Don't Get Your Tinsel in a Tangle" is the Carolina Dance Academy's annual Christmas spectacular. The festive evening begins with an energetic gymnastics program and concludes with a lively dance performance.
9. Abbeville
The delightful little town of Abbeville knows how to think big. It's home to the Abbeville Opera House and Parson's Mountain Recreation Area. Abbeville also knows how to put on the kind of holiday celebration that would fit into any Hallmark Christmas movie.
This Christmas town goes all out to support local businesses, especially during the holidays. Handmade for the Holidays is an arts and crafts festival featuring items produced by local vendors. Christmas Market is a 2-day open house, family-friendly event at Crate and Quill, featuring holiday shopping, live Christmas music in the courtyard, and sweet treats.
The Abbeville Annual Christmas Tree Lighting involves more than flipping a switch. Holiday entertainment, hot cocoa, and cookies, all provided by local businesses, infuse the event with warmth and cheer.
The friendly folks of Abbeville look forward to their annual Breakfast with Santa, a traditional hometown Christmas parade, the Cookie Walk, and the Ugly Christmas Sweater Wine Walk. Wouldn't you?
10. Pendleton
Four miles from the college town of Clemson, Pendleton feels like a different world. Life moves at a slower pace, no one is a stranger, and the town's history is fascinating. So, the transformation into a Hallmark Christmas movie town for the holidays is, like Pendleton itself, smooth and gentle.
Every weekend from late November to mid-December finds Pendleton residents at the Christkindlmarkt, a quaint, European-style Christmas Market on the town's historic Village Green. Important holiday shopping becomes less stressful amid the bright, cheerful sights, sounds, and smells of the market. A live 40-foot Christmas tree watches over shoppers as they purchase original hand-crafted ornaments, indulge in local treats, and sip holiday beverages.
Locals turn out in force for the annual Christmas Parade and the tree lighting in the square. No Grinch in his right mind would even dream of trying to steal Christmas from Pendleton.
Pro Tip: Drop into Mama Rae's Ice Cream Shop for a special Christmas hot chocolate decked out with whipped cream and two candy canes arranged in the shape of a heart.
11. Rock Hill
The town of Rock Hill can keep visitors busy for days, especially during the holidays. Old Town magically transforms into ChristmasVille, an award-winning holiday village and outdoor art festival that makes for excellent Hallmark Christmas movie material.
Locals and visitors engage in over 70 Christmas-themed events that keep them in the Christmas spirit. Horse-drawn carriage rides, carolers, a gingerbread house-making contest, children's activities with Santa, and ice skating, are only a few of the many delights individuals and families can enjoy.
The festival is held in honor of Vernon Grant, whose magical art graced many children's books. However, he is best known for his creation of SNAP! CRACKLE! and POP! characters for Kellogg's Rice Krispies cereal brand. Vernon Grant is still an important figure in his former home of Rock Hill. His charming illustrations of gnomes, elves, and Santa make their cheery appearance throughout the festival.
12. Greenwood
Approximately 1 hour south of Greenville lies the town of Greenwood. Here, holiday cheer is alive and well with a Hallmark Christmas movie vibe that can rival any town, anywhere. The Greenwood Christmas Market features many artisan vendors who offer homemade unique products just in time for you to pick unique gifts for your loved ones.
Uptown Greenwood's Holiday Lights begin to sparkle in mid-November and brighten the nights throughout the holidays. Whether you choose to cruise through town in your vehicle or take a leisurely stroll, shopping and snapping photos as you go, you don't want to be in a hurry. Trees along Main Street and Maxwell Avenue are wrapped in sparkling bright white lights and the whimsical Uptown décor — giant alphabet blocks, a Teddy bear, a toy soldier, Santa, and more — add to the festive atmosphere.
A Cookie Crawl, Santa on Main, and other activities keep everyone blissfully occupied as the holidays unfold.
Pick the perfect, unique holiday gifts at the Greenwood Uptown Christmas Market. During the holiday season, the market is open to shop for handmade arts and crafts items that are sure to please your partner, friends, and family.
FAQs
How Cold is South Carolina at Christmas?
South Carolina is among the ten hottest states in the United States. The winter season in South Carolina begins in December and there's usually moderate rainfall, while snowfall is a rare South Carolina event. From September until December daily temperatures can reach the high 70s. During the Christmas season average highs are in the mild 46°F to 60°F range, while the average lows are between 29°F to 39°F.
Has There Ever Been a White Christmas in South Carolina?
Records show there have been white Christmases in South Carolina, but not many. The snowiest part of South Carolina are Midlands and Upstate regions where an average of 12 inches of snow falls each year. The last time cities like Charleston and Beaufort saw their white Christmas, was in 1989, when 8 inches of snow fell in Charleston and 7 inches in Beaufort. A white Christmas is not usually expected as the best chances for snow occur in late January and mid-February.
Where Does Hallmark Film Most of Their Christmas Movies?
The bulk of Hallmark movies were filmed in Canada with Vancouver being the favorite spot. Some filming locations have even gone so far as to cross the pond. For example, Christmas in Vienna was filmed in Austria. On American soil, Hallmark's heartwarming Christmas movies are often set in picturesque small towns. The South is their favorite region for filming, with movies having been shot in Georgia, North Carolina, Virginia, Texas, Kentucky, and more.
What Town in South Carolina Changes Its Name For Christmas?
Rock Hill, South Carolina, is so enamored with Christmas, that for four days during each holiday season, it transforms into ChristmasVille. Actually, it is an outdoor art festival inspired by the illustrations of Rock Hill's native whimsical artist Vernon Grant. It is always filled with festive holiday activities, charming decorations, gnomes, delicious treats, and heartwarming memories that last for a lifetime.
Does South Carolina Have Christmas Trees?
Yes, it does. Although South Carolina is not known as a winter wonderland, trees like cypress, cedar, fir, and pine varieties are planted and grown across the state. South Carolinians know some Christmas traditions just can't be broken, so each year hundreds of folks go to real live Christmas tree farms to find the perfect tree. Luckily, there are plenty of Christmas tree farms in SC that make it possible to carry on this tradition.