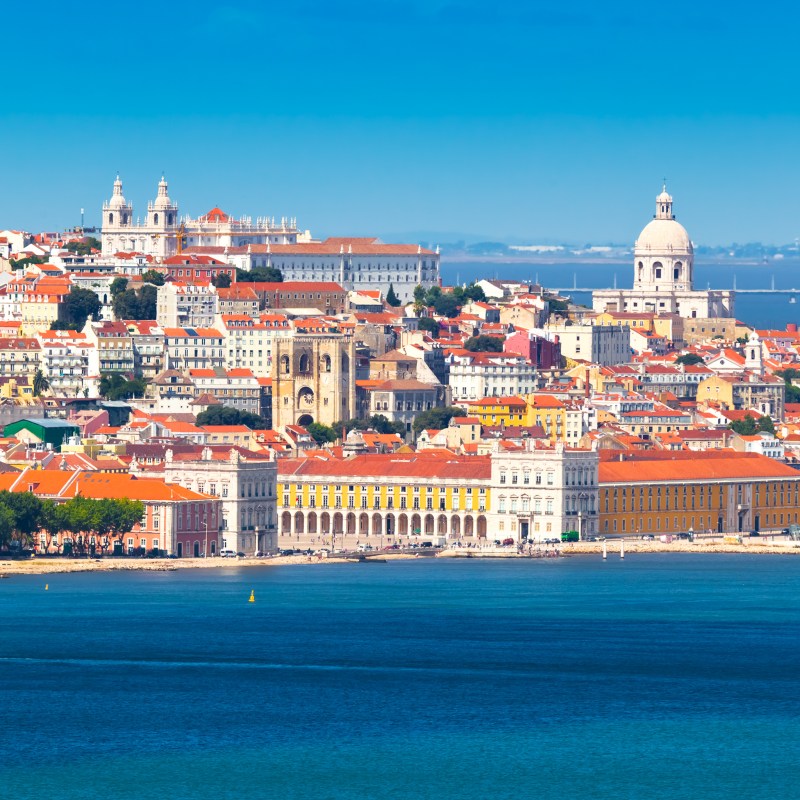 Yes, January can be a miserable month: Cold, wet, it gets dark early, and even in the daytime there is barely any light. It is the middle of winter when snuggling up on the couch with a good book is more than tempting. Yet, I love traveling in January.
For me, there are so many reasons to go at the beginning of the year, at a time when rarely anybody else is on the move. And then we have a really good reason as to why city breaks, especially, are perfect in January: There are no crowds. And, yes, it is traditionally a month when money is tight, but it is also a month when cheaper travel deals are widely available.
I do have to admit to being a dedicated fan of winter. As a northern European, I love snow. I love walking around cities wrapped up in a warm coat and comfortable warm boots, stopping off for a hot chocolate every so often, and seeing cities without the green foliage of trees.
The places listed below are great destinations to visit any time of the year, for certain. But I have chosen these cities because January presents the chance not only to see the sights without the crowds but also to see the sights in a whole new light.
Traveling in January gives you a chance to rediscover even a city you think you know well and to see its wonders from a different perspective, finding many things that are better in winter than in summer. Put on a warm coat and enjoy. (And don't miss our lists of the best European cities to visit in December and March either!)
Paris, France
Paris is always a good idea, whatever the season. But then, I am slightly biased, as I have called the city home for nearly six years. Ask any local, and they will moan about La Grisaille, the gray, damp misery that they say hangs over Paris in the winter months. But don't listen to them. Paris in winter is magical, especially if you are lucky enough and it snows.
Is there anything better than strolling through the empty Tuileries, the square trees devoid of leaves allowing you to see the fabulous architecture all around you? Stopping at Angelina's for a sinful hot chocolate, that is not so sinful if you have just worked off calories by walking a little faster than normal to keep warm? Watching or joining the ice-skaters on the Eiffel Tower or in the Grand Palais? And then there are the winter sales, where you can get a covetable Parisian fashion item at a fraction of the price. In 2021, the sales will take place between January 6 and February 2.
Pro Tip: Buy a Galette des Rois from a boulangerie. It is a fabulous almond cake traditionally eaten on January 6, for Epiphany. There are many traditions involved in eating one, and it's something you can only experience in January. Consult our list of the seven best bakeries in Paris according to a former baker to decide where to get your treat.
Venice, Italy
If you ever wondered if there are actual real Venetians living in Venice, January is your chance to see them without the hordes of tourists filling up their beautiful city. Yes, it is chilly and somewhat damp, but this is still Italy, and it does not get too cold to walk around. That said, you might want to pack some gumboots as you might get your feet wet otherwise. In January you can experience a Venice where you can see the sights and walk across the squares without having to dodge crowds, making the city even more magical than it normally is. And instead of sitting on the expensive cafe terraces, you can snuggle inside the cafes, just as the locals do. To top that, winter is a perfect time to really enjoy warming Italian comfort food, such as their risotto and pasta dishes.
Pro Tip: The famous Venetian Carnevale starts at the beginning of February, so you could either stay on to catch a glimpse or swiftly take your leave beforehand to avoid the inflated prices.
Krakow, Poland
The old city of Krakow is cold in winter, I must admit, but not so cold that you can't enjoy it. The day temperatures are around 32 degrees Fahrenheit and at night a little less, but nothing a good warm coat can't solve. Krakow in the snow is just gorgeous, with the old town's magic enhanced tenfold, and all the better without the usual queues for museums and sights. Plus, you can get hotel and tour packages at a much-reduced price. For warmth, why not try the mulled wine, or the local version called Krupnik, a honey liqueur, or, rather confusingly, Krupnik, a warming soup/
Pro Tip: If it gets too wet or cold, go for a tour underground to the incredible salt mines with their carved grottos and salt cathedral.
Dubrovnik, Croatia
Even before Game of Thrones, Dubrovnik was packed solid with day-trippers. So much so that you had to get up before dawn to enjoy the sights without hundreds or thousands of people around you. I get it, the setting is simply stunning, but It is just as stunning in winter, and you can step out. The problem is that Dubrovnik is a must-see for all the summer vacationers along the Croatian coast, and while January might not be the best time to enjoy a swim in the Mediterranean as temperatures will be around 32 degrees Fahrenheit, you can still enjoy the ancient city, its fortifications, and the beaches — even more so because you have them to yourself. Well, nearly.
Pro Tip: If you are a fan, or are traveling with a fan of Game of Thrones, the walking tours taking in many of the film locations start again on January 2.
Santa Cruz de Tenerife, Tenerife, Canary Islands, Spain
This is a wild card — not strictly speaking a city break but a city break on an island — and not a chilly location either. I offer you Santa Cruz on the island of Tenerife, in the Canary Islands. This one will probably get you the most crowds, as it is a favorite winter sun destination for Europeans due to its mild North African climate with warming sunshine and temperatures in the 70s Fahrenheit. The old port of Santa Cruz is lovely to explore, with many restaurants in the pedestrianized zone offering delectable Spanish food and drink, and the city's beach is lovely. With the rest of Tenerife to explore, including the impressive volcanic Mount Teide, you could easily make a whole week of it.
Pro Tip: Tenerife is an easy 4-hour flight from Europe, so you could even get a sunny weekend break away from whichever chillier European city you might be visiting at the time.
Lisbon, Portugal
Lisbon is an ideal winter city break location as its days are a pleasant 59 degrees Fahrenheit, and the nights get just chilly enough to sleep well. And again, the lack of crowds is one of the best reasons to go and spend some time in the city. Imagine the lovely Santa Justa elevator without its round-the-block queues, or the tram 28E with a free seat or two, and the opportunity to take a picture of the Belem tower not hidden behind the crowds. But it is not just the lack of crowds, it is the special atmosphere. You can live like the locals, who have their city back for a little while, and enjoy the intimate restaurants and bars with the soulful fado touching your heart much more when snuggled up in a warm corner with a glass of port than in the summer heat.
Pro Tip: Go and visit the Van Gogh exhibition in Belem, it ends January 31, 2021.
Schloss Neuschwanstein, Fussen, Germany
When it comes to fairy tale castles, there is none better than Schloss Neuschwanstein in Bavaria. Inspiration for Disney, the setting is pure magic, surrounded by the snow-capped mountains of the Alps, with other castles dotted along other mountains nearby, and the picturesque town of Fussen on the foothills. The castle is lovely to see any time of the year, but when the surroundings are covered in snow, which they are highly likely to be in January, it just does not get any prettier. Plus, there are fewer than 10 percent of the visitors who would arrive in the summer months. One disadvantage is that the shuttle buses up the hill to the castle don't operate in winter, and, if you are slightly unsteady on your feet or your shoes don't have a decent grip, the walk up can be slippery. But fret not, as there are horse-drawn carriages that can take you up, and that is much more romantic anyway. Just bring a warm coat, as there will be a chill in the air.
Fussen itself is small, but has some warm and inviting beer cellars, and, if you so wish, you can even walk from the town to Austria. It is a mere half-an-hour walk away.
Pro Tip: If you are coming for the day from Munich, which is 55 miles away, you can book a tour that offers transfers as well as access to the castle.